Kareem Abdul-Jabbar Felt Afraid When He Retired From the NBA and Became an Author
Eventually, Los Angeles Lakers legend Kareem Abdul-Jabbar knew the end was nearing on his playing career.
The six-time champion retired in 1989, and as he prepared for the next stage of his life, he realized something. Abdul-Jabbar, an all-time NBA great, felt afraid about whatever would come next.
Kareem Abdul-Jabbar felt afraid when he retired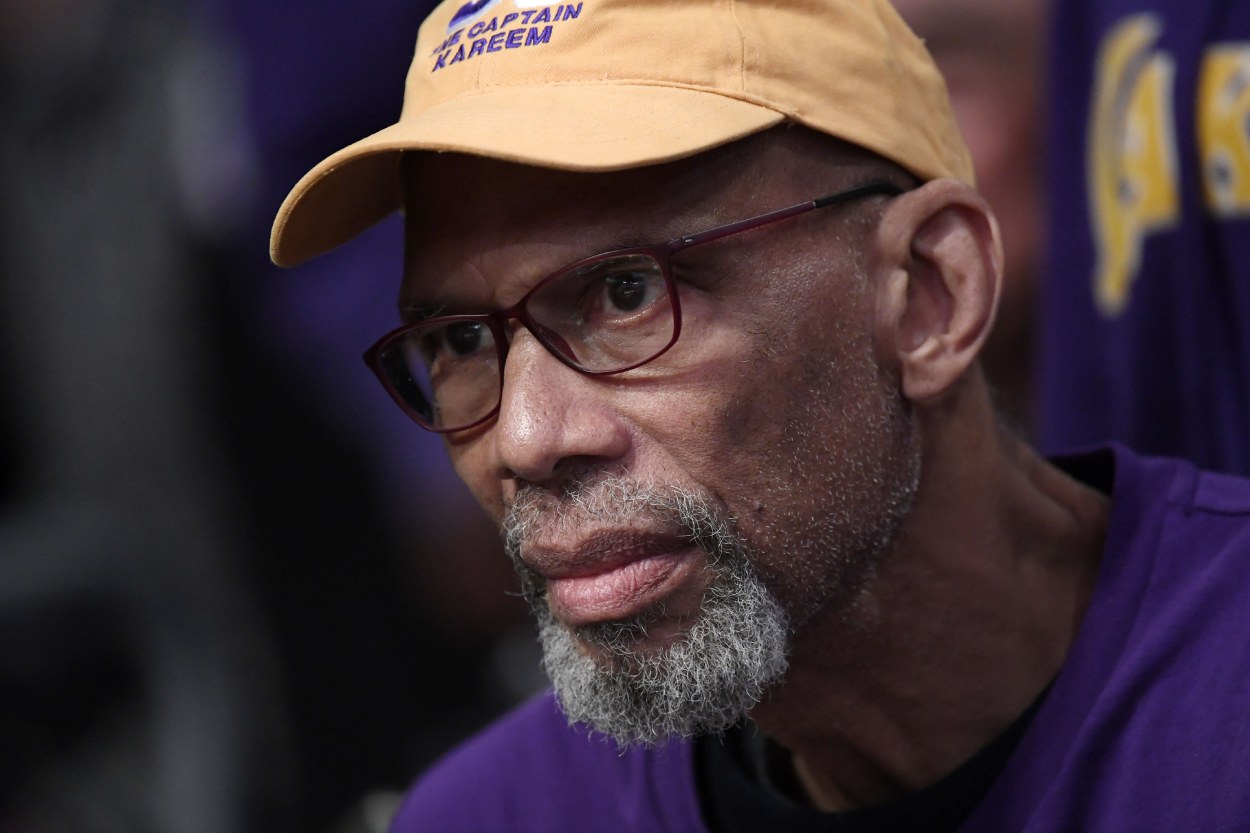 Kareem Abdul-Jabbar couldn't shake the butterflies as retirement inched closer.
NBC Sports recently transcribed a portion of Abdul-Jabbar's May 2021 commencement speech at Washington University in St. Louis. The NBA legend admitted he had a "scary feeling" in his stomach as he prepared to transition into a post-basketball life. 
"I had accomplished pretty much everything I'd wanted to in basketball, but had I accomplished everything I wanted to in helping my community? Not even close," he told the crowd.
From there, Abdul-Jabbar decided he would become an author. He spoke of writing books and documentaries that would introduce Americans to Black people, from musicians and athletes to inventors and war heroes, who significantly impacted culture.
"I knew that some people would judge me harshly for daring to be an athlete who also had opinions, especially a Black athlete criticizing the society that had given him success. But to me, how could I call myself a success if I wasn't helping others have a chance at success?"

Kareem Abdul-Jabbar
From there, the 19-time All-Star had a mission, and he dedicated his life to fulfilling those goals.
Abdul-Jabbar became a very successful author in retirement
During his NBA career, Abdul-Jabbar acted in several movies and TV shows. Perhaps most famously, he played co-pilot Roger Murdock in Airplane!, the 1980 comedy film.
In addition to acting in retirement, the NBA legend also tried his hand at writing books. A year after he retired, he worked with Mignon McCarthy on Kareem, an autobiography about his career and the end of his time with the Lakers. 
Six years later, he and Alan Steinberg partnered on Black Profiles in Courage: A Legacy of African-American Achievement. Abdul-Jabbar has also co-authored books on the 761st Tank Battalion, a primarily Black unit in World War II, and the Harlem Renaissance. 
As of May 2021, he and Anna Waterhouse have released three novels in the Mycroft Holmes series. Those mystery novels focus around a titular character who works for the government and is Sherlock Holmes's older brother.
Abdul-Jabbar turned his 2007 book, On the Shoulders of Giants: My Journey Through the Harlem Renaissance, into a film that debuted in 2011.
Every athlete eventually deals with Abdul-Jabbar's worst nightmare
Abdul-Jabbar felt afraid as retirement approached, and he almost certainly isn't alone.
The time eventually comes where the vast majority of athletes can no longer go on. Some have suffered severe injuries, and others are simply too old. Very rarely at this point do athletes, especially in the four major North American sports, go out on their own terms and as champions.
In a recent LinkedIn post announcing his retirement, former Patriots fullback Dan Vitale even said as much. He noted he felt "his body is just ready to move on." Vitale, a 27-year-old who earned an economics degree from Northwestern, said he is ready to begin the next step of his life.
LeBron James and Tom Brady may feel those butterflies and nervousness when they leave their respective sports, and rightfully so. But if that's the case, at least they know they can look to Abdul-Jabbar and how he approached retirement.
Like Sportscasting on Facebook. Follow us on Twitter @sportscasting19.