Kareem Abdul-Jabbar Is 'Kind of Angry' About Part of His Basketball Past, and That Provides an Important Lesson
Kareem Abdul-Jabbar had a legendary career on the hardwood, but, in hindsight, he feels like he might have been a bit overcoached.
While he doesn't always get the credit in GOAT debates, Kareem Abdul-Jabbar certainly has a right to think highly of himself. During his time on the hardwood, the big man proved to be both a serial winner and an incredible individual talent. That's rightfully earned him a place in the pantheon of legendary NBA players.
And while most athletes would trade almost anything to have a career like Kareem did, that doesn't mean everything was perfect. In fact, the living NBA legend recently admitted that he was a bit angry and annoyed about one part of his own basketball past.
Sound unbelievable? Not only did Abdul-Jabbar explain his sentiments, but he also provided a valuable lesson about humility.
Kareem Abdul-Jabbar is a bit annoyed that he never got to dribble the ball like Giannis
Although players are technically still labeled based on their role within the team, modern basketball has become largely positionless. That change hasn't been lost on Kareem Abdul-Jabbar, especially when he considers some of today's greats.
"Giannis [Antetokounmpo], really, as someone who really taught himself how to play the game. You know, from what I understand, he just went into the gym and messed around with it until he figured a few things out," Abdul-Jabbar told the assembled media in Los Angeles on Feb. 9, 2023. "And that has made me kind of angry cause I feel like I was overcoached. You know? I would have liked to try to do some of the things that he did."
And what are those things exactly? Thankfully, Cap continued his explanation.
"'You get the rebound, you better not try and take it down to the other end of the court if you're a frontline player,'" he added. "That was like gospel when I played. And Giannis is blowing through all of that and opened the game up. So I'm happy he's done that, but I'm annoyed that wasn't in time for me to try to get in on the fun."
When Antetokounmpo and Bucks head coach Mike Budenholzer heard those comments, they were quick to praise Kareem and his all-encompassing basketball ability. With that being said, though, I want to take us away from Xs and Os and look at a bigger concept.
Kareem's comments can sound a little self-centered, but they provide an important lesson in humility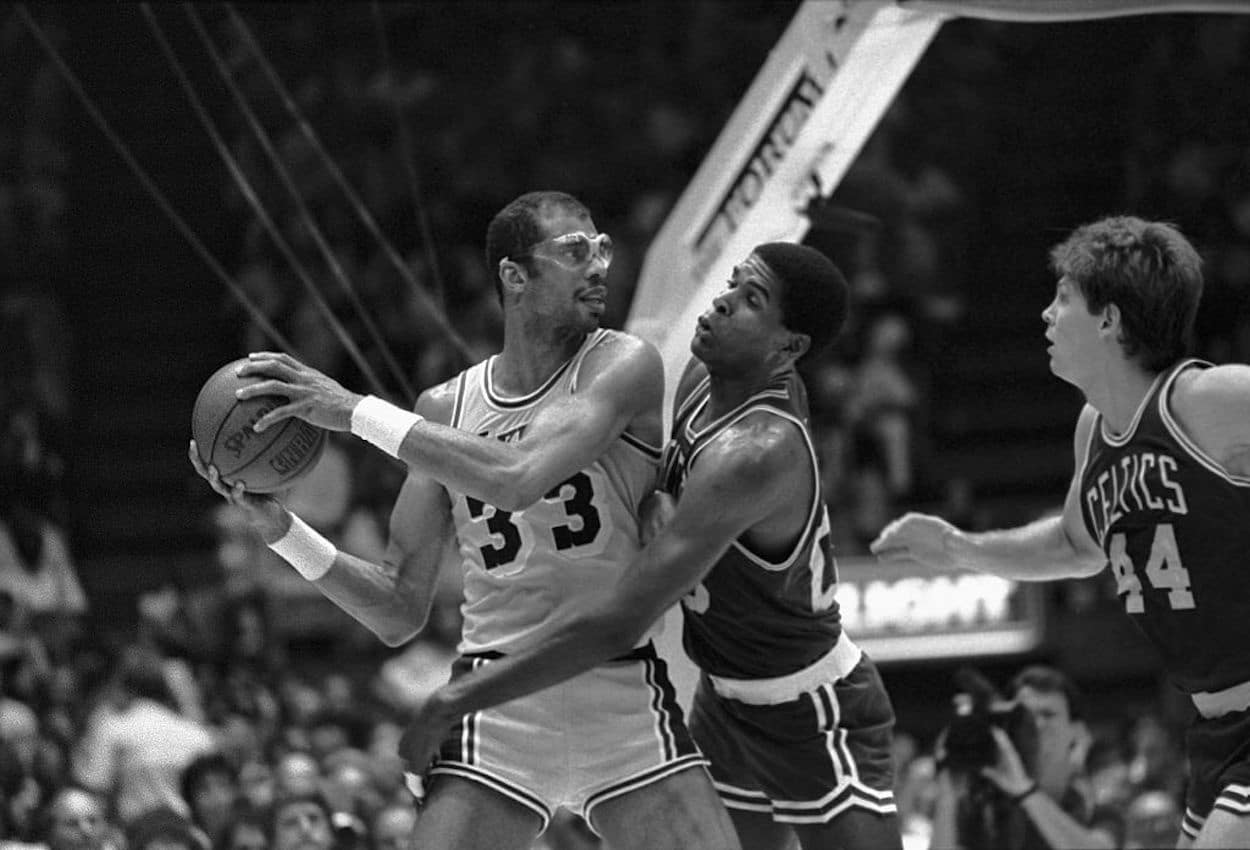 Upon your first pass over Abdul-Jabbar's words, it's easy to place the focus squarely on the living legend. He is, after all, making I-centric statements and expressing his frustration at playing during a certain era of basketball. As you push deeper, though, I'd contend there's an invaluable message lurking a bit further in the background.
Consider the places Kareem (or Lew Alcindor, depending on the timeline) played over the years. He hit the court for New York's legendary Power Memorial high school, working with Jack Donohue, before heading west to play under John Wooden at UCLA. In the Association, he suited up for both the Bucks and Lakers.
If we assume that Abdul-Jabbar received most of his coaching at the high school and college levels, that means that Donohue and Wooden were the ones who (theoretically) limited him and told him that a center's job was to rebound the ball and pass it to the point guard. Those are two legendary names who are responsible for anger, annoyance, and overcoaching.
While you could interpret the Lakers legend's comments as a criticism of those men, I gave them a more charitable reading. Instead of suggesting that Donohue and Wooden were misguided, their philosophies show the limits of time. Those bench bosses weren't acting out of malice or trying to stifle a major talent. That was just how basketball worked at the time.
Even the best ideas will seem imperfect if you allow yourself to learn and understand new perspectives.
Consider any sport, from basketball to boxing, and any perspective, be it of a player, coach, or fan. We all have our biases and preferred ways of thinking about things. "This is the way I was taught to box out." "My mentor said that you should slip a jab this way." "I watched Derek Jeter field ground balls this way, so why would the current shortstop do any different?" The list goes on and on. And while that perspective is understandable, it's also limiting. If you remain stationary, things will eventually pass you by.
While it sounds a bit Pollyanna, sports are the perfect place to keep an open mind and a willingness to learn alive. As each successive generation brings new ideas to the table, we all have a choice. Do you stick to your guns? Or realize that there's always something new to learn?
If Kareem Abdul-Jabbar, one of the greatest basketball players we've ever seen, can look at the present and see that his era wasn't perfect, what's your excuse?