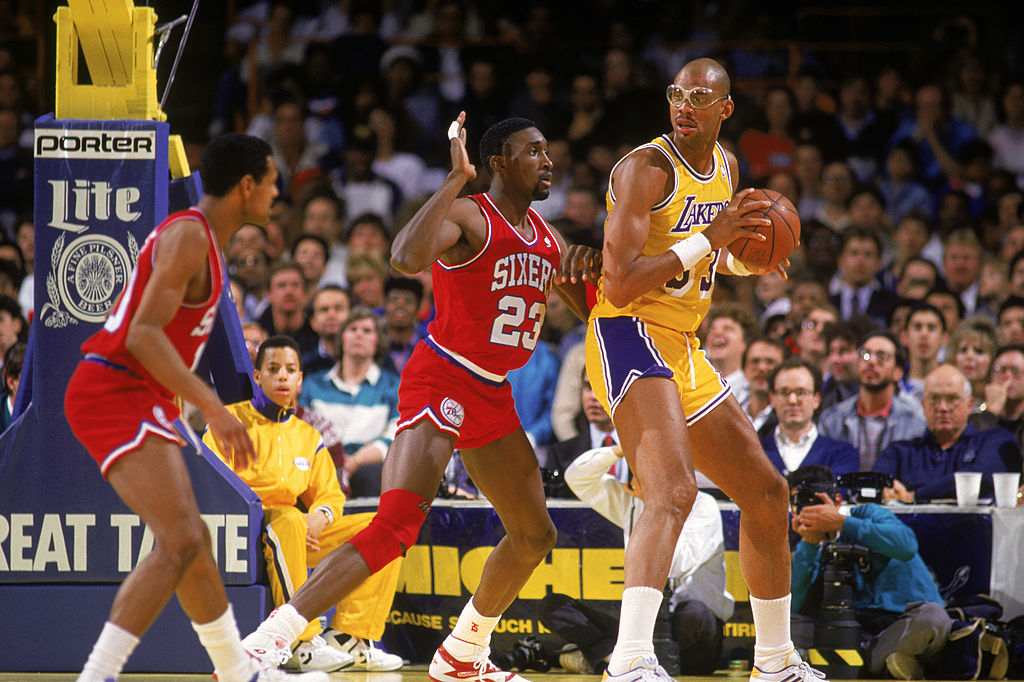 Kareem Abdul-Jabbar Once Sued an NFL Player Over His Suspiciously-Similar Name
In the world of professional sports, certain names can only be associated with one player. No one else can claim the nickname Magic, for example; Magic Johnson essentially owns the moniker. His Los Angeles Lakers teammate, Kareem Abdul-Jabbar, actually had to go to court to protect his famous name. While he was born Ferdinand Lewis …
In the world of professional sports, certain names can only be associated with one player. No one else can claim the nickname Magic, for example; Magic Johnson essentially owns the moniker. His Los Angeles Lakers teammate, Kareem Abdul-Jabbar, actually had to go to court to protect his famous name.
While he was born Ferdinand Lewis Alcindor Jr. and changed his name after converting to Islam, Kareem wasn't about to let anyone profit off of his iconic identity. That anyone even included an NFL player.
Kareem Abdul-Jabbar's legendary basketball career
While Kareem Abdul-Jabbar might have started his basketball career under a different name, no one can doubt his skills on the hardwood. Between his time at UCLA and in the NBA, the big man established himself as one of the greatest players we've ever seen.
During his time in high school, Abdul-Jabbar dominated the New York City basketball scene; that trend continued when he headed to California. After spending a season on the freshman team, Kareem spent three seasons with the varsity squad. During that time, he only lost two games while winning three straight National Championships.
Abdul-Jabbar's historic success continued in the pros. He took home Rookie of the Year honors with the Milwaukee Bucks; once Oscar Robertson joined the squad, they took home the 1971 NBA title. Kareem would eventually join the Los Angeles Lakers and win five additional championships, establishing himself as one of the best players of all time.
When everything was said and done, Abdul-Jabber played 20 seasons in the NBA, averaging 24.6 points and 11.2 rebounds a game. He also made a massive impact off the court, appearing in movies, earning the Presidential Medal of Freedom, and doing virtually everything in between.
A lawsuit over a very famous name
When you hear the name Kareem Abdul-Jabbar, you only think of the NBA player. During the mid-1990s, however, that almost wasn't the case.
From 1992 through 1995, Sharmon Shah played college football at UCLA. Toward the end of his NCAA career, however, he changed his name to Karim Abdul-Jabbar; he was selected in the 1996 NFL draft by the Miami Dolphins and hit the gridiron wearing number 33.
Despite the obvious similarities between the two athletes, the football playing Abdul-Jabbar insisted it was a coincidence. His number was apparently inspired by Tony Dorsett; his name, he explained, was chosen by an imam, not picked due to its notoriety. Kareem, however, must not have been impressed.
In 1997, the basketball-playing Abdul-Jabbar filed a lawsuit, "asking a federal judge to award him damages and stop the sale of merchandise with the Dolphins' name on it." Things, however, would eventually be settled out of court.
There's only one Kareem Abdul-Jabbar
Despite the lawsuit, both Abdul-Jabbars eventually settled things out of court. The two men agreed that the more famous Kareem "holds the trademark rights to that name for commercial purposes." The football playing Abdul-Jabbar eventually started going by Abdul-Karim al-Jabbar.
While it made sense for Kareem to protect his famous name, he probably didn't have much to worry about. Al-Jabbar only spent five seasons in the NFL; while he did manage to 33 rushing touchdowns, he only accumulated 3,411 yards during his career. That wasn't enough to remain in the league, let alone become merchandising powerhouse.
Thanks to his status both on and off the court, there's only one Kareem Abdul-Jabbar; his 1997 lawsuit, however, helped keep it that way.