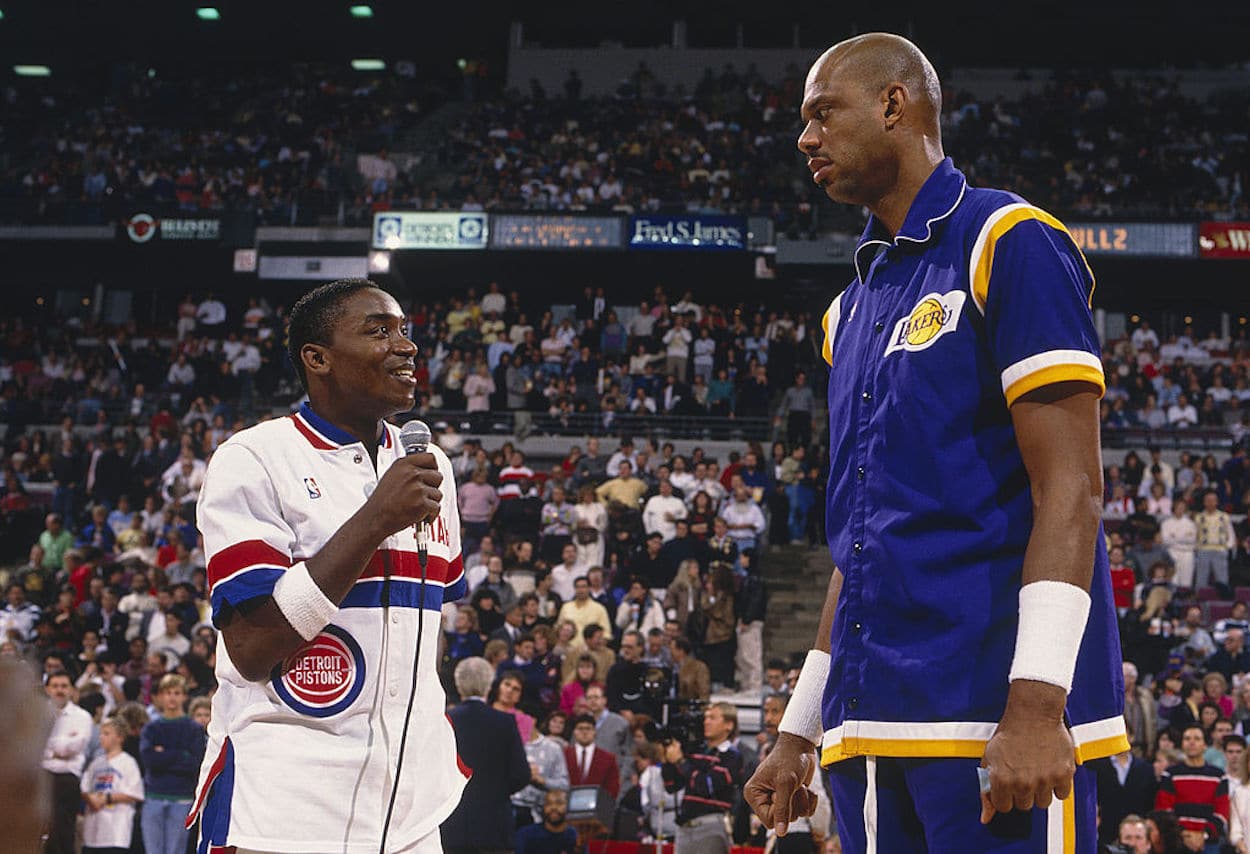 Kareem Abdul-Jabbar Once Torched Isiah Thomas With 5 Words of Trash Talk and the Perfect Pass
Kareem Abdul-Jabbar wasn't just an incredible NBA talent. As Isiah Thomas explained, he could also produce some top-notch trash talk.
If you're asked to name an elite NBA trash-talker, a few players probably spring to the front of your mind. Michael Jordan and Larry Bird were two masters of the art, needling opponents and teammates alike. More recently, Gary Payton knew how to get inside anyone's head. For all of his on-court talent, though, you probably wouldn't put Kareem Abdul-Jabbar on the list.
Isiah Thomas, however, has never forgotten one encounter with the legendary big man. Not only did Abdul-Jabbar hit his opponent with five biting words of trash talk, but he also picked out the perfect pass to set up a bucket.
Talk about a one-two punch.
Kareem-Abdul Jabbar asked Isiah Thomas if he had left Magic Johnson open before dropping the perfect dime
In Hollywood, Kareem Abdul-Jabbar and Magic Johnson formed quite the dynamic duo. Isiah Thomas experienced that reality, along with some trash talk, first-hand.
"I came in during the prime of [Kareem's] career," Thomas said during an NBA 75 segment about the center. "And, you know, when you watch him oin television, you think they're good, but then when you actually get a chance to play against him, not only do you realize how good he is but how smart he is."
Unsurprisingly, the former Piston had a perfect memory to underscore that point.
"I remember I was the designated double-teamer, so we double-teamed Kareem every time he touched the basketball. And Magic threw it in, my job was to come back and double-team," Thomas explained. "So I come back, and I double-team. My hands are up, I'm like [mimics a defensive stance], you know? And I remember [Kareem] looks me dead in my eyes and goes, 'Hey, is this your man?' And he drops it right over my head, Magic lays it up. I mean, he was so smart and just a consummate professional."
While it's not clear exactly when that took place, it apparently left an impression on Isiah.
That wasn't the only time Kareem made an impact on the guard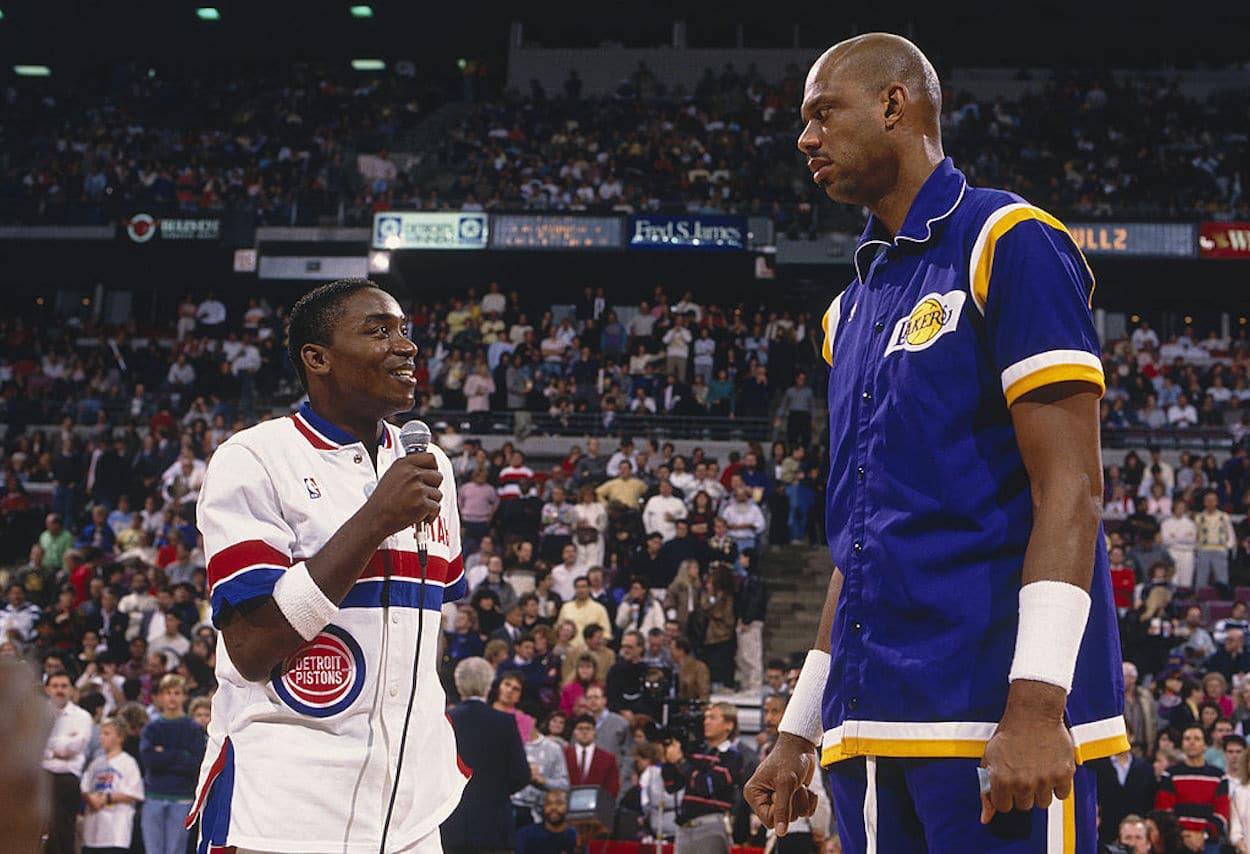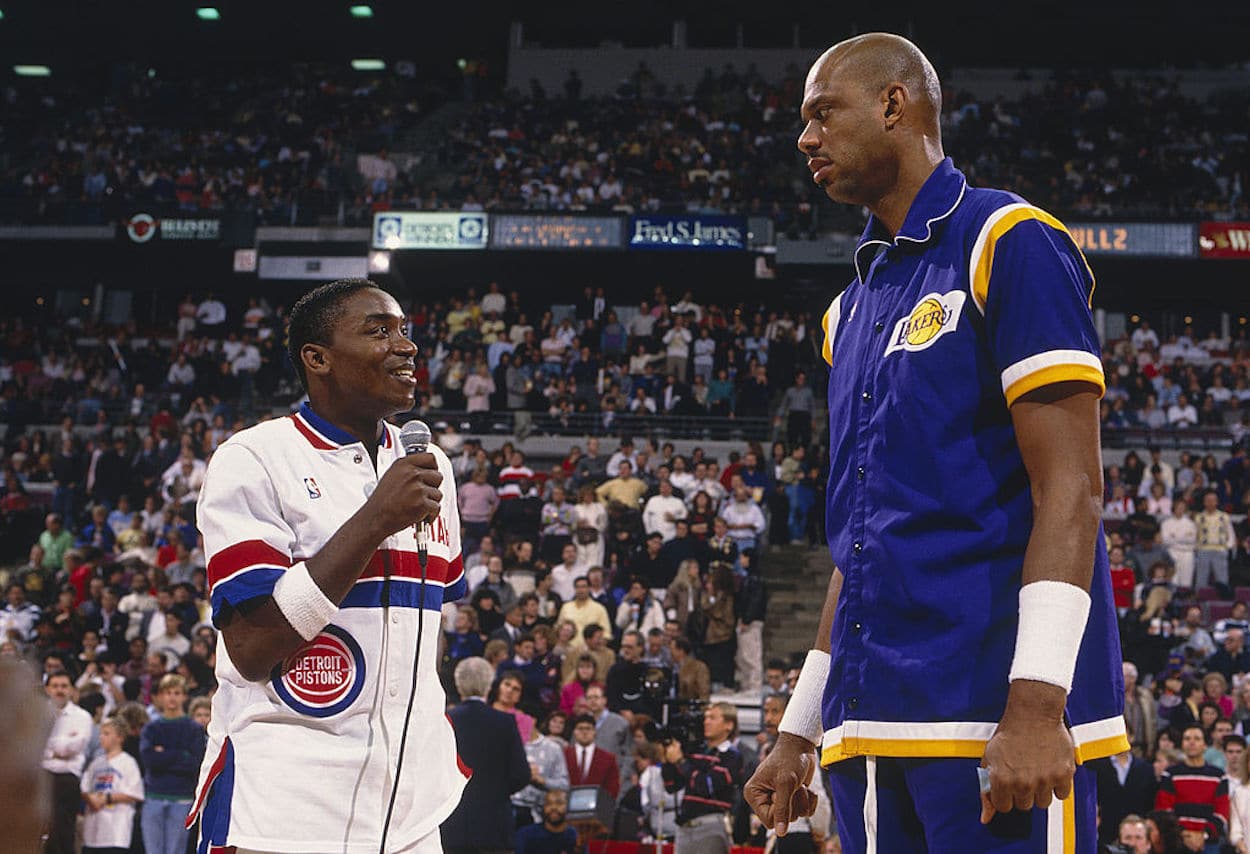 Isiah and Kareem's interactions weren't limited to on-court exchanges, though. Early in his NBA career, Thomas got to spend some personal time with the big man and learn a thing or two.
During the 1982 All-Star Weekend, the young Piston decided to reach out to Abdul-Jabbar and ask if he could pick his brain. While that may have seemed like a bad idea — the big man valued his privacy and could be a bit prickly — he allowed Isiah to come up to his hotel room. They spent roughly two hours together, and Thomas left with a new understanding of the Lakers' legend.
Not only did Thomas call the center "kind" and "gracious," but he heard stories of how Abdul-Jabbar would be called terrible things by hecklers in the crowd. That helped things click for the NBA sophomore. As the cliche says, "one bitten, twice shy." It was no wonder that Kareem didn't always let others in.
Despite that bond, though, it seems like Abdul-Jabbar wasn't taking it easy on Isiah when they hit the court. Between the lines, the big man was all business. He could even drop a bit of trash talk when the situation called for it.
Like Sportscasting on Facebook. Follow us on Twitter @sportscasting19 and subscribe to our YouTube channel.