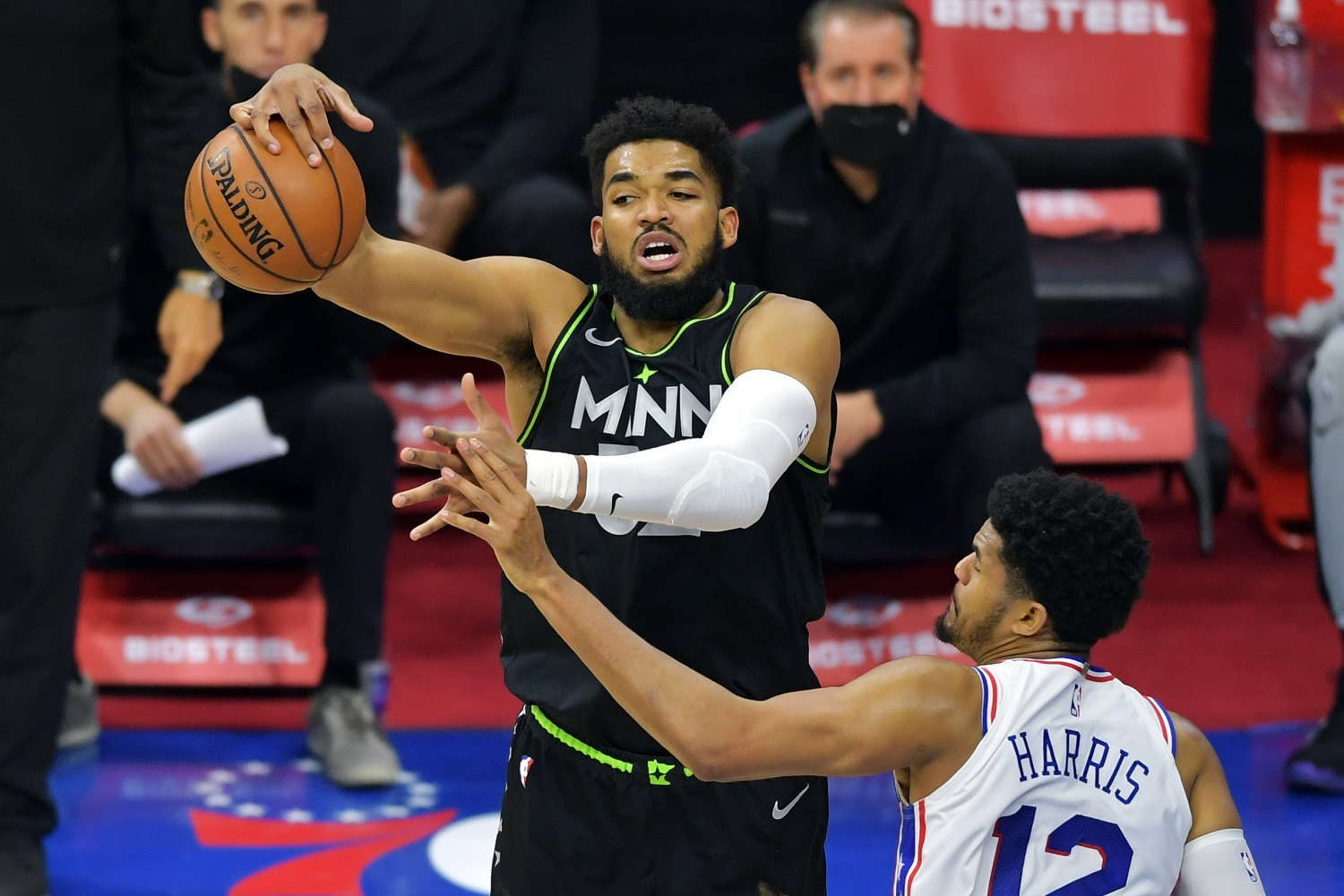 Karl-Anthony Towns' Mother Was OK With Him Being a Shoplifter
The mother of current Minnesota Timberwolves star Karl-Anthony Towns helped him shoplift an Alex Rodriguez jersey.
Let's just agree that Karl-Anthony Towns was caught up in emotion as he remembered his now-deceased mother. That puts a story the Minnesota Timberwolves star told about a long-ago trip to Walmart into some context. However, it certainly doesn't make what a young boy and his mother did right.
In fact, Towns did a disservice to parents everywhere trying to teach their children to do the right thing regardless of the circumstances. So, sorry, but his "do as I say and not as I do" admonishment is crap.
Karl-Anthony Towns has endured a horrific year
April 13, 2021, marks the first anniversary of the death of Jacqueline Cruz-Towns, the mother of young Minnesota Timberwolves standout Karl-Anthony Towns. Cruz-Towns was part of the first wave of Americans to be hit by COVID-19, which resulted in her being hospitalized and placed in a medically induced coma.
After many anxious days for the family, Cruz-Towns appeared to be recovering from the virus when she suffered a stroke. Doctors advised the player's family that she stood no chance of recovery. After family members said their goodbyes, it was left to Towns to tell doctors to remove her from the life-support apparatus.
Jacqueline Cruz-Towns died at the age of 58.
As the pandemic endured, however, Karl-Anthony Towns experienced tragedy after tragedy. Towns said shortly before the kickoff of the current NBA season that six other family members had died from pandemic-related illnesses.
"I've been through a lot, obviously starting out with my mom," Towns said, according to ESPN.
Adding to the concerns, Towns contracted COVID-19 during the current season and missed 13 games.
Karl-Anthony Towns' mother was OK with him shoplifting
The Minnesota Timberwolves were scheduled to host the Brooklyn Nets on April 12 until the NBA teams agreed to a postponement in the aftermath of a fatal police shooting. That game and a ceremony in remembrance of the mother of Karl-Anthony Towns were pushed back a day. Leading up to the day, Towns spoke to reporters about growing up in Piscataway, N.J., and memories of his mother, including one tied to Alex Rodriguez, the retired three-time American League MVP.
"I remember how big a fan I was of A-Rod. Still am," Towns said, according to the New York Post. "I went to Walmart, and Walmart had just got these new super- replica, off-the-way A-Rod jerseys. I was like, 'Mom, I got to get this A-Rod jersey.' It was like $35.
"She's like, 'Go try it on in the fitting room.' I feel like the biggest man on campus. I know damn well I can't afford one at Modell's. I know that's too much money for us. But Walmart? I may be able to finagle this. She goes, 'Great! Leave it on.' You ain't got to tell me twice. You know how bad I want this jersey?"
Mom and son shopped a little more and went to the cash register, paying only for the groceries, and he walked out the door with his shoplifted A-Rod jersey, which the player said he still has.
"I wouldn't recommend doing that," Towns said. "To the young kids watching this, don't do that. But if you are struggling, and you really like a player, I'm not going to say anything."
'KAT' is probably getting a new boss
Karl-Anthony Towns is telling children not to steal one moment and then saying shoplifting is OK the next. Any way you cut it, it's a horribly mixed message. One can only wonder how the message plays with executives at Minneapolis-based retailer Target, an official sponsor of the Timberwolves.
Do the owners of the team have anything to worry about from Towns maybe walking out of Target Center with company property? No, of course not. His career earnings will break the $80 million mark by the end of this season, and Towns still has more than $101 million left on the remaining three years of his contract.
Ironically, though, there's a new connection between Towns and Alex Rodriguez. A-Rod and Marc Lore, a recently retired Walmart executive, have an agreement in principle to buy the Timberwolves. They entered an exclusive 30-day window over the weekend to hash out the remaining issues in the deal estimated at $1.5 billion.
Like Sportscasting on Facebook. Follow us on Twitter @sportscasting19.