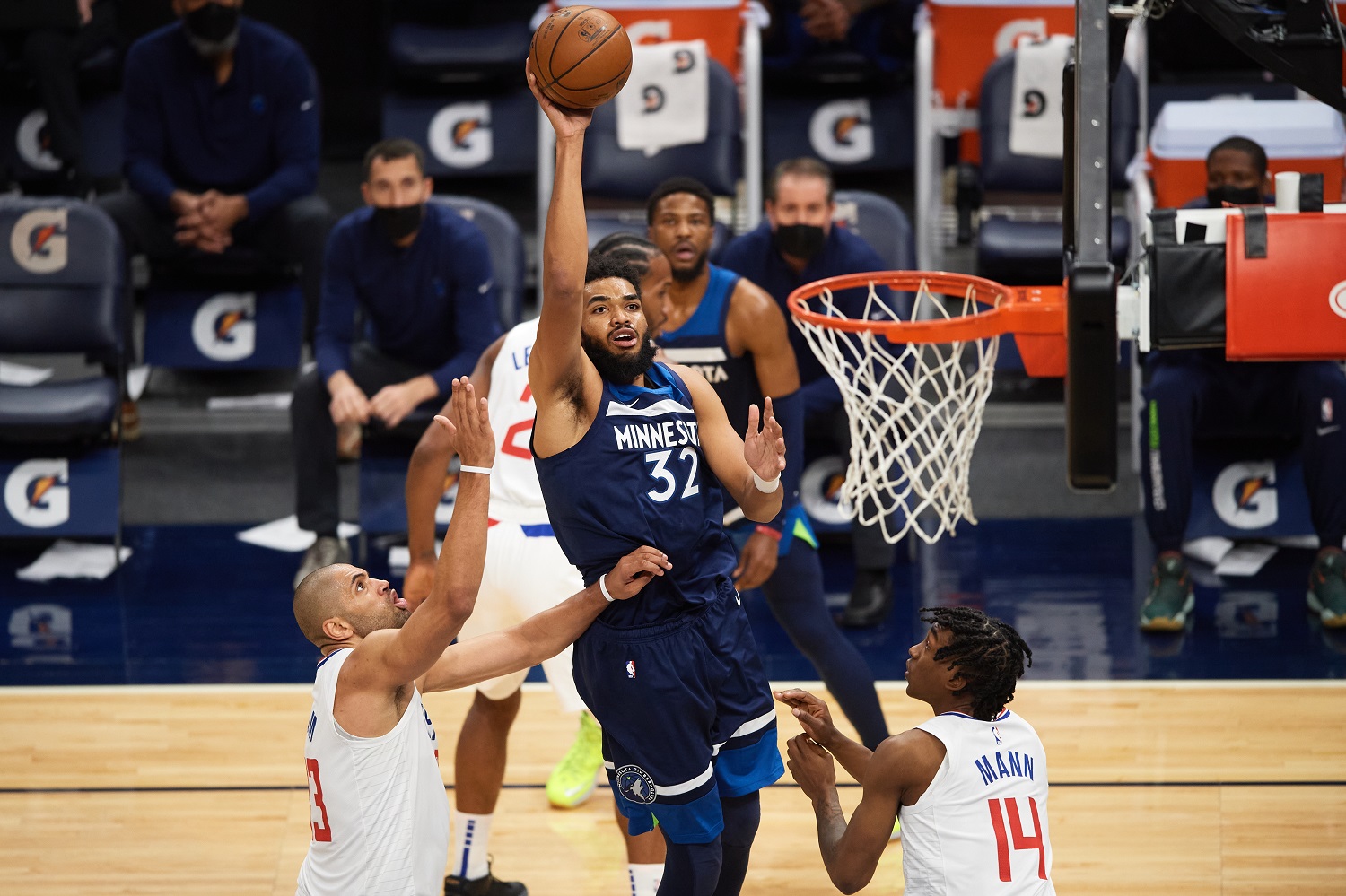 Karl-Anthony Towns Learned He Was Back in the Lineup From an Unexpected Source
Karl-Anthony Towns found out from a reporter's tweet that he was returning to action for the Minnesota Timberwolves after a COVID-19 quarantine.
It's doubtful that any athlete in the country has been touched more by the COVID-19 pandemic than Karl-Anthony Towns. It's one reason why the Minnesota Timberwolves center was understandably cautious after learning that he had also contracted the virus last month.
Imagine his surprise, then, when someone made the disclosure that Towns was returning to the NBA team's lineup before he even knew it.
Karl-Anthony Towns has been touched by tragedy
Shortly after the COVID-19 pandemic shut down the NBA for 20 weeks, Minnesota Timberwolves center Karl-Anthony Towns revealed that his mother was diagnosed with the virus and had been placed in a medically induced coma.
The situation turned worse. In a YouTube video titled, "The Toughest Year Of My Life," Towns explained that his mother was recovering from the virus when she suffered a stroke. Doctors told the player that her prognosis was grim, leaving Towns, just 24 years old at the time, with the gut-wrenching responsibility to inform the rest of the family.
"I think the worst call, the most difficult one, was calling her mom; it was calling my grandmother, telling her, 'You lost your daughter," he said.
After family members said their goodbyes, the two-time NBA All-Star performed the heartbreaking task of telling doctors to remove his mother from the life-support apparatus. Jacqueline Cruz-Towns died April 13 at the age of 58.
Shortly before the new NBA season began in December, Towns revealed that six other family members have since died from pandemic-related illnesses. In addition, his father contracted the virus but pulled through. However, the NBA standout went through the spring and summer as the point person for the family in seeking answers on how to keep remaining relatives safe.
"It's just a lot of responsibility on me to keep my family well-informed and to make all the moves necessary to keep them alive," he said.
Is Karl-Anthony Towns healthy?
On Jan. 15, barely three weeks into the new NBA season, Karl-Anthony Towns revealed he had contracted the COVID-19 virus. He told fans via social media that he received a call with the news and had immediately isolated himself.
"I pray every day that this nightmare of a virus will subside, and I beg everyone to continue to take it seriously by taking all the necessary precautions," he said.
Given the repeated tragedies within his extended family since the start of the pandemic, Towns was prudent to take every necessary precaution. He had to shut down after playing just four of the Minnesota Timberwolves' first 11 games. He was averaging 22.0 points and 12.5 rebounds when he went into quarantine.
A reporter broke the news on his return to the Timberwolves
After more than three weeks away from the Minnesota Timberwolves, Karl-Anthony Towns returned to practice. Still, the "go" date for stepping back into games remained undetermined – at least not in the player's mind. And then Shams Charania of The Athletic reported otherwise.
"After recovering from COVID-19 and missing the past 13 games," he wrote on Twitter on Wednesday, "Minnesota Timberwolves star Karl-Anthony Towns is expected to return tonight vs. the Clippers, sources tell @TheAthletic @Stadium."
Towns had his own thoughts on Charania's scoop, as noted by Awful Announcing.
"This is news to me! Last time I checked, I was gonna go through shootaround and see how I feel," Towns wrote. "Underlying conditions and Covid don't mix well."
Well, guess what? The Timberwolves apparently liked what that saw. Towns logged almost 31 minutes in his return on Feb. 10 during a 119-112 loss to the Los Angeles Clippers. He finished with 18 points on 8-for-15 shooting. He also grabbed 10 rebounds and handed out three assists.
Like Sportscasting on Facebook. Follow us on Twitter @sportscasting19.