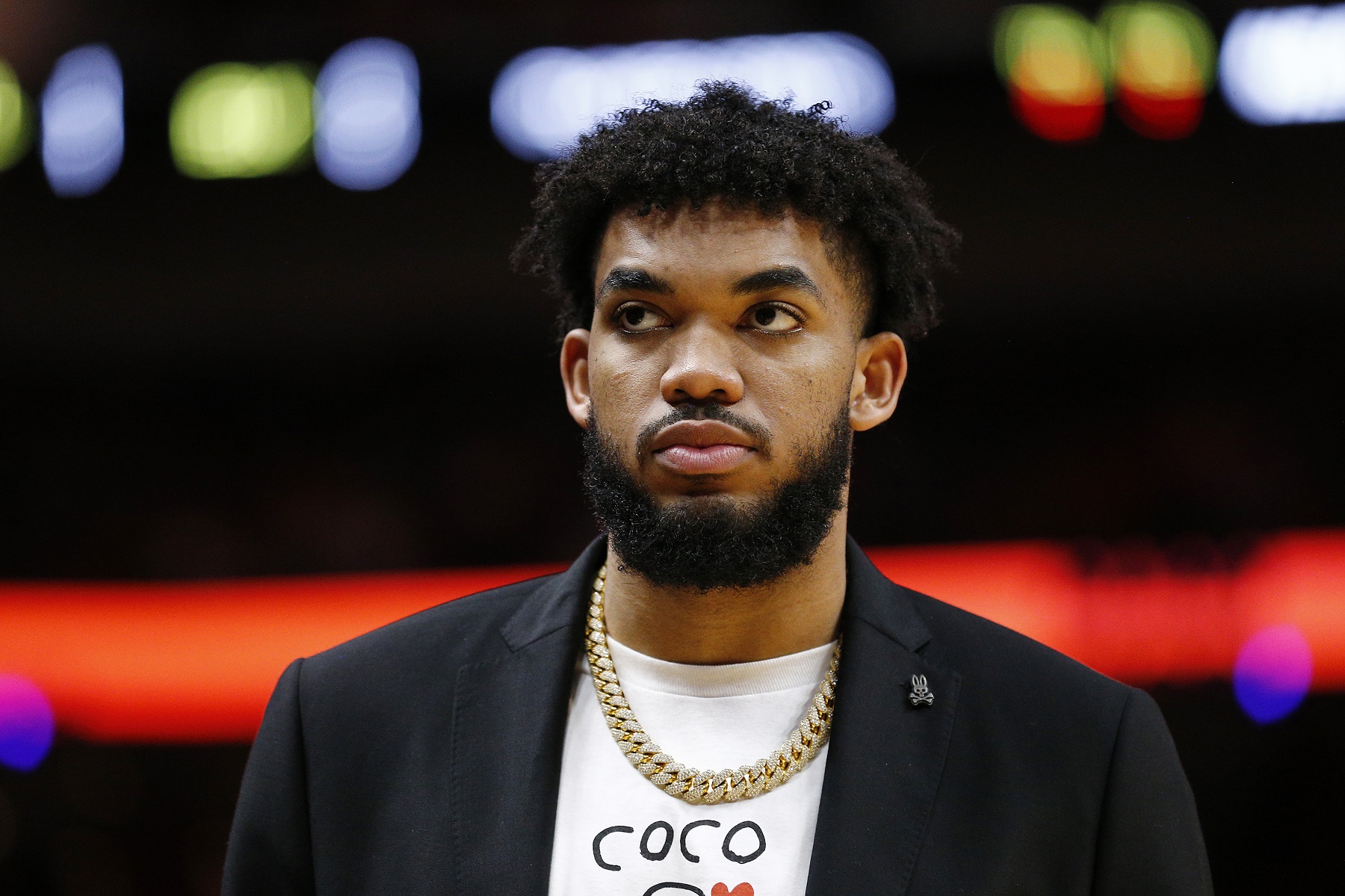 Karl-Anthony Towns Has Faced an Astounding Amount of Tragedy in 2020
Minnesota Timberwolves center Karl-Anthony Towns says he has lost seven relatives to COVID-19 since April.
The next time you casually say that you cannot wait for 2020 to end – and it's a sentiment just about everyone has shared – it would be worth keeping Karl-Anthony Towns in mind. There are few people more deserving of a respite from the COVID-19 pandemic than the young Minnesota Timberwolves star.
Towns has gone through unimaginable sorrow in a year that was already punctuated by injuries that slowed his superb NBA career.
Karl-Anthony Towns is a major NBA talent
The presumption is that it is nearly impossible for a team to screw up when it possesses the No. 1 pick in the NBA draft. The Rookie of the Year Award voting at the conclusion of the 2015-16 season confirmed that the Minnesota Timberwolves chose wisely when they took Karl-Anthony Towns. Although his numbers in a one-and-done season at Kentucky weren't outlandish — 10.3 points and 6.7 rebounds while playing barely half the game – the Timberwolves knew they would get more once they turned him loose.
The 6-foot-11 center averaged 18.3 points and 10.5 rebounds to garner all 130 first-place votes as the league's top rookie. And that was just scratching the surface. He missed a total of just five games in his first four seasons, and Towns' numbers – 22.3 points and 11.9 rebounds while logging 34.4 minutes a night — looked like hall of fame material.
However, the 2019-20 season proved to be the first speed bump in Towns' career. A knee injury in December and a wrist injury in February limited him to just 35 games before the pandemic caused the NBA to suspend its season with the Timberwolves well out of contention.
That wasn't even close to the worst development in Towns' year.
'The toughest year of my life'
Not long after the COVID-19 pandemic shut down the sports world and brought much of the rest of society to a standstill, Karl-Anthony Towns revealed that his mother had been diagnosed with the virus and had been placed in a medically induced coma.
The situation turned worse. In a YouTube video titled, "The Toughest Year Of My Life," Towns explained that his mother appeared on the road to recovery when she suffered a stroke. Doctors determined that she stood no chance of recovery, leaving the NBA star, just 24 years old at the time, with the gut-wrenching duty to inform the rest of the family.
"I think the worst call, the most difficult one, was calling her mom; it was calling my grandmother, telling her, 'You lost your daughter," the Minnesota Timberwolves center recalled.
After family members said their goodbyes, it was left to the two-time NBA All-Star to perform the unimaginably difficult task of telling doctors to remove his mother from the life-support apparatus.
Jacqueline Cruz-Towns died April 13 at the age of 58.
Cruelly, it got worse for Karl-Anthony Towns
The NBA season starts in less than three weeks. Though he has healed physically from the injuries in his fifth season, it's difficult to gauge where Karl-Anthony Towns of the Minnesota Timberwolves is emotionally.
On Friday, Towns said six other family members have died from pandemic-related illnesses since the death of his mother. While other athletes have lost relatives to COVID-19, it is likely none have been hit as hard as Towns.
"I've been through a lot, obviously starting out with my mom," Towns said Friday, according to ESPN. "Last night I got a call that I lost my uncle. I feel like I've been hardened a little bit by life and humbled."
Towns, whose father contracted the virus but recovered, has been the point person for the family in seeking answers on how to keep remaining relatives healthy in the face of so much sorrow.
"It's just a lot of responsibility on me to keep my family well-informed and to make all the moves necessary to keep them alive," he said.
By posting videos over the summer and fall and speaking to the media now, Towns hopes he's making a difference.
"I didn't want people to feel the way I felt. I wanted to try to keep them from having the ordeal and the situation I was going through. It just came from a place that I didn't want people to feel as lonely and upset as I was.

"I really made that video just to protect others and keep others well-informed, even though I knew it was going to take the most emotionally out of me that I've ever been asked to do."

Karl-Anthony Towns
All stats courtesy of Basketball Reference.