NBA
Kawhi Leonard Must Really Hate the San Antonio Spurs
Does 2019 NBA Finals MVP Kawhi Leonard hate the San Antonio Spurs? After winning a championship with the organization, Leonard had a very public falling out with the franchise.

After sitting out most of the previous season, San Antonio traded him to Toronto before the start of the 2018-19 campaign. His recent comments about the Spurs organization have us thinking there might still be a giant rift between the two. Today, we will go over those comments and determine if the relationship can be mended.

Kawhi Leonard's comments
After Leonard and new teammate Paul George finished their introductory press conference with the Los Angeles Clippers, he sat down with ESPN's Rachel Nichols. During the interview, Leonard said this:

"This is probably going to be my first time playing with an elite player of his level … You know, around the same age as me, same talent. I'm excited."

Spurs fans may think that is an outrageous statement consider he played with Tim Duncan, but is it an incorrect one?

Tim Duncan past his prime?
We think Leonard is throwing a little bit of shade at Tim Duncan with this statement. Leonard became a full-time starter in his second season in 2012-13. Duncan was 36 years old, but he was still a dominant big man. He averaged 18 points, nearly 10 rebounds, and nearly three blocks per game. That is why we don't think Kawhi Leonard's words hold at least a little bit of merit. Duncan's play continued to decline after that point. The following season Leonard was clearly the No. 1 option on the team as Duncan's career started to finish.

Leonard also played alongside Spurs greats Manu Ginobili and Tony Parker, but by the time he became a star, their time in the NBA was ending.

In Leonard's later years in San Antonio, he shared the floor with LaMarcus Aldridge. Aldridge is an above-average NBA player, but Leonard was a full-blown star when they played together for the Spurs.
Winning a championship in Toronto
When the Raptors made the gamble to trade for Kawhi Leonard, they didn't know what they were getting. Leonard played just nine games in the 2017-18 season, and he publicly disagreed with the Spurs medical staff regarding the status of his surgically repaired quad. The Raptors landed Leonard in exchange for star DeMar DeRozan, and all Leonard did was return to be one of the game's best two-way players.

While leading the Raptors to the No. 2 seed in the East, Leonard was on a very strict game and time management plan for the entire season. He appeared in just 60 games while averaging 26 points and over seven rebounds per contest.

This strategy paid off in the playoffs as the Raptors came out of the gate quickly and didn't see a real test until their second-round match up with the Philadelphia 76ers. Leonard hit a series-clinching buzzer-beater in Game 7, and the Raptors defeated the Bucks and Golden State Warriors to win the title.

The win over the Warriors brought the Raptors their first championship in the franchise's 20-year history, and Leonard earned his second NBA Finals MVP award. Leonard shared the floor with Pascal Siakam during his breakout season in 2018-19, but Leonard was undoubtedly the star for the Raptors. Siakam may one day turn into a franchise cornerstone, but Kawhi Leonard's skills were far superior to Siakam's when they played in Toronto.

Can the Clippers be contenders?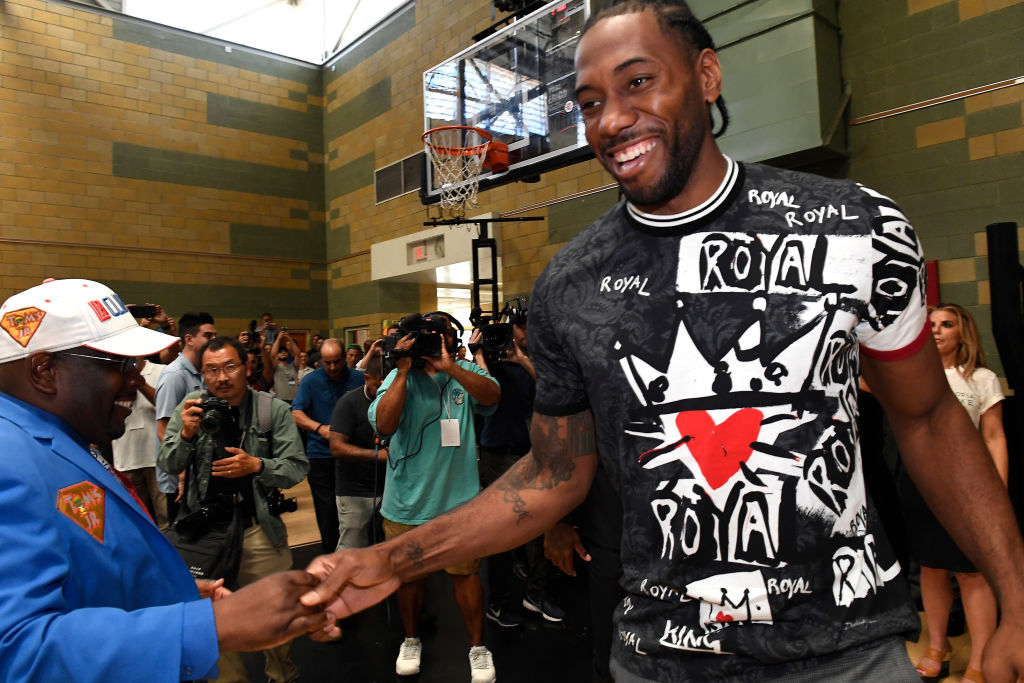 Much of the NBA free agency market focused on where Kawhi Leonard would end up since Kevin Durant and Kyrie Irving were shoo-ins to go to the Brooklyn Nets. After a week of waiting, Leonard chose his hometown team the Los Angeles Clippers. But he didn't go alone; he brought superstar Paul George with him. George finished third in MVP voting last season and is one of the 10 best players in the NBA according to most media outlets.

Pairing the two together while keeping the main core of last year's No. 8 seed in the West instantly puts Los Angeles at the top of the Western Conference on paper.

How do you feel about Kawhi's comments?
Do you think Leonard was right in saying Paul George is the only elite talent he has played with? He might be partially right. We think Duncan still had a bit left in his tank the first two seasons Leonard was a starter, but his career was ending soon after. Same with Parker and Ginobili.

Kawhi Leonard was the star during his later years in San Antonio, and there's no doubt he was the cornerstone of the Raptors' title run.