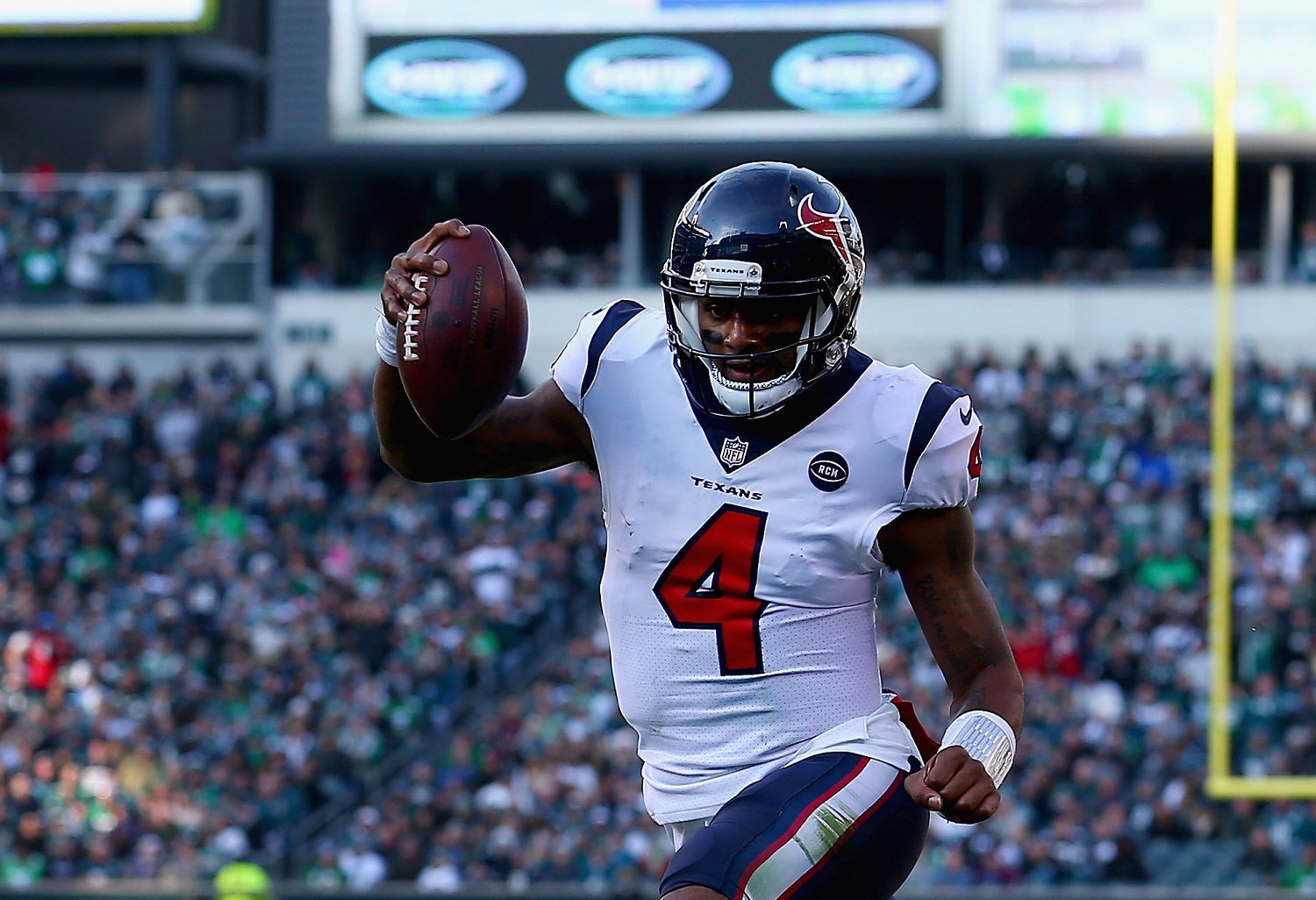 Keeping Deshaun Watson Is Even Less Likely for the Houston Texans Based on a Crazy David Culley Statistic
If Deshaun Watson remains with the Houston Texans in 2021, he will be saddled with a head coach whose receivers tied a dubious NFL record in 2014.
The Houston Texans are sitting on $29.3 million of cap space, a fact that ordinarily would excite their fans. But with dynamic young quarterback Deshaun Watson adamant that he has taken his last snap there, the Texans have more important questions to resolve than which free agents to pursue.
Add one more question to the pile: Did anyone in the Texans organization take a gander at the 2014 Kansas City Chiefs before hiring David Culley as their new head coach?
David Culley is in and Deshaun Watson wants out
The chronology of events leading to Deshaun Watson deciding he'll no longer play for the Houston Texans is well known, beginning with then-coach Bill O'Brien's decision to trade DeAndre Hopkins (getting little in return) not long after Watson had signed his contract extension.
O'Brien also made deals draining the Texans of valuable draft picks, and an 0-4 start to the 2020 season cost him his job. It was at that point, however, that it became apparent that there were no adults left to call the shots for the organization. They were rudderless at the top.
Watson believed he would have at least some input on the selection of the next head coach. He was as surprised as anyone else when the Texans hired David Culley, who began coaching in college in 1978 and in the NFL in 1994. Culley, whose most recent job was with the Baltimore Ravens, has worked almost exclusively with wide receivers and quarterbacks, and he was never an offensive coordinator.
The Culley hiring was perceived in some quarters as an indication that no one else wanted to work for the Texans; the few others who might have been interested saw a pair of 5-11 seasons and an imminent firing ahead.
The Houston Texans' Deshaun Watson drama should end this week
The market for free-agent quarterbacks will dry up quickly once NFL free agency officially begins. That's problematic for the Houston Texans, who still need a trade partner. The presumption all along has been that the Texans will get a quarterback as part of the package they receive for Deshaun Watson. But some potential trade partners have to be impatient by now.
If the Texans don't move Watson by March 17, the first day free agents can sign, at least one or two teams will be inclined to stick with what they have or sign a stop-gap QB. Teams could also use salary-cap space intended for Watson to sign free agents addressing other needs; if they don't recruit help, then they're going to need to hang on to the draft picks that would have otherwise been packaged in the trade with the Texans.
As inept as management has been, even the Texans realize that they have three days to patch things up with Watson, which seems impossible, or finally make their more in the trade market.
A 2014 Kansas City Chiefs statistic in relevant and preposterous
One of David Culley's 14 previous stints on college and pro sidelines was as the wide receivers coach for the Kansas City Chiefs from 2013-16. In 2014, Andy Reid was the head coach, Doug Pederson was the offensive coordinator, and Alex Smith was the quarterback. We mention that out of a sense of fairness since they all must share in the blame with Culley for the following list:
Jamaal Charles (5)
Travis Kelce (5)
Anthony Fasano (4)
Joe McKnight (2)
Anthony Sherman (1)
Knile Davis (1)
What's so special about that list? It's the rundown Kansas City players who caught a touchdown pass in 2014. Every player on the list was a tight end or running back. None of the wide receivers coached by David Culley made a scoring reception that season despite Dwayne Bowe catching 60 balls.
Yes, it was vintage Reid offense at the time, built around a 1,000-yard rusher (Charles) and a game manager at quarterback. But going an entire season without a TD catch by a receiver was nearly unprecedented. According to The Sporting News, the last team to do it had been the New York Giants half a century earlier.
Again, Culley cannot be assigned all the blame. Still, does anyone think that hiring a head coach with that anomaly on his resume instills confidence in Deshaun Watson or anyone else on the Houston Texans' offense in 2021?
Like Sportscasting on Facebook. Follow us on Twitter @sportscasting19.