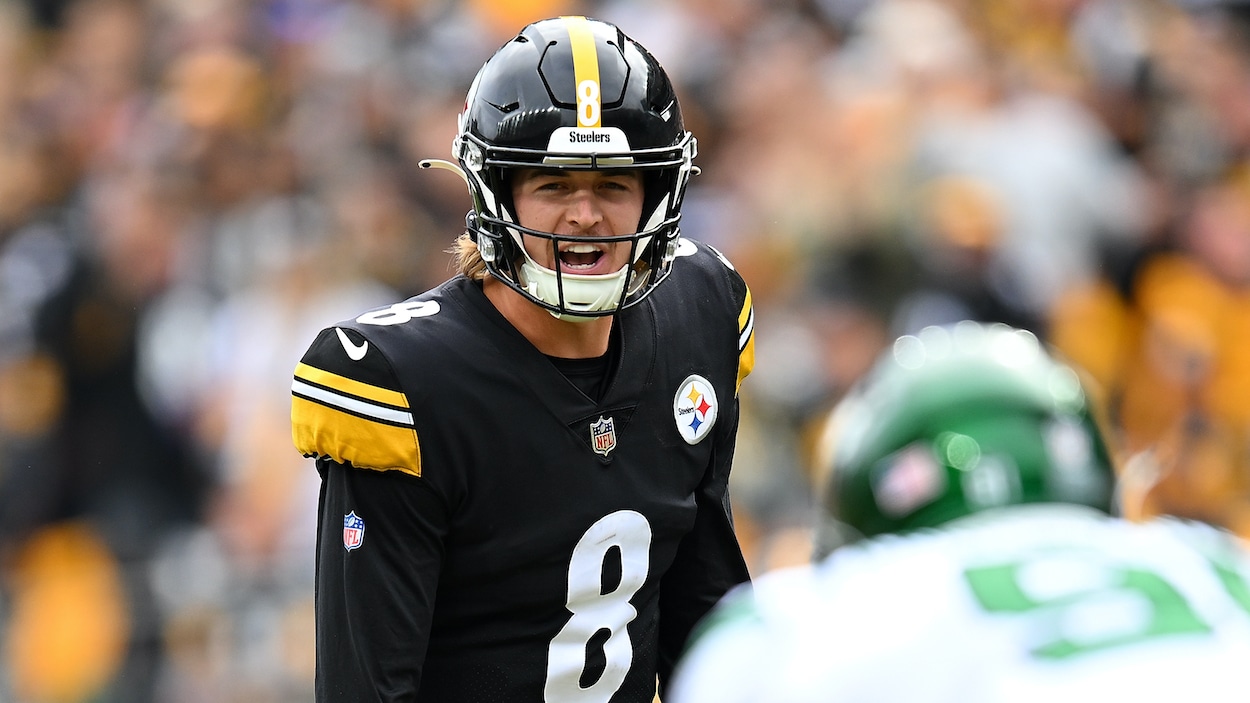 Kenny Pickett is Set to Embark on the Toughest Debut by a Rookie Quarterback in NFL History
Steelers rookie QB Kenny Pickett is about to face the toughest gauntlet any rookie QB has ever seen, but he has Steelers history on his side.
There are two schools of thought when developing a rookie quarterback in the NFL. A team can let them sit and watch for a season or two (Aaron Rodgers, Patrick Mahomes) or throw them in the deep end in Year 1 to see if they sink or swim (Peyton Manning, Ben Roethlisberger). The 2022 Pittsburgh Steelers tried to do the former with first-round pick Kenny Pickett, but it now looks like they'll have to do the latter. The problem is, no team in NFL history has ever thrown a rookie QB in a deeper deep end than Mike Tomlin is about to throw Pickett into.
Kenny Pickett has a brutal early schedule as a first-time starter
After replacing Mitchell Trubisky at halftime of a 24-20 loss to the New York Jets, Mike Tomlin announced rookie first-round pick Kenny Pickett would be the team's starter moving forward, beginning with the team's game at the Buffalo Bills.
This is far from ideal for a team that tried to bring along its rookie signal-caller slowly.
The Bills are one of the best teams in the NFL this season with, arguably, the best defense. Despite several injuries to key players (Micah Hyde, Tre'Davious White, Ed Oliver), the Bills defensive unit has still thrived this season.
The Bills D is second in points allowed (58), tied for first in yards allowed (938) and interceptions (seven), and first in passing yards allowed (603). It is a fearsome unit that has to be licking its lips at the prospect of facing a rookie who threw three interceptions in his debut.
And after playing one of the best teams in the league — if Pickett leaves Western New York still the Steelers starter — the QB faces a schedule unseen by a rookie QB since 1950.
Including Buffalo, the Steelers' next seven games feature teams that had a winning record last season. This run includes:
Week 5 @ Buffalo Bills
Week 6 vs. Tampa Bay Buccaneers
Week 7 @ Miami Dolphins
Week 8 @ Philadelphia Eagles
Week 10 vs. New Orleans Saints
Week 11 vs. Cincinnati Bengals
Week 12 @ Indianapolis Colts
Outside of the Colts and maybe the Saints, these teams weren't just good last year. They're good this season, too. Those seven teams also represent four of the top 10 defenses in the league (Bills, Buccaneers, Bengals, Eagles).
This gauntlet will likely show everyone everything they need to know about Pickett. If he shrinks from the moment, he's a long-term project at best. If he meets the challenge and impresses, though, the Steelers likely will have their guy.
And the silver lining in Pittsburgh is that this is historically how it's worked out in the past.
The history of Pittsburgh Steelers rookie quarterbacks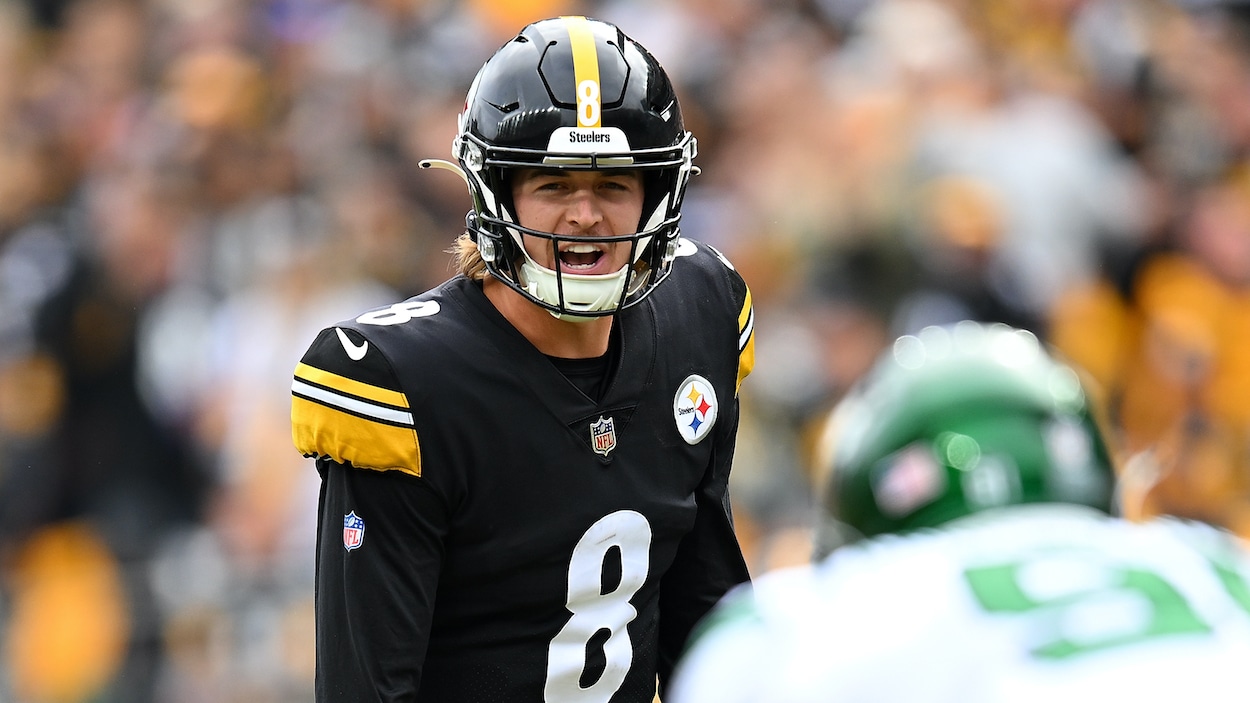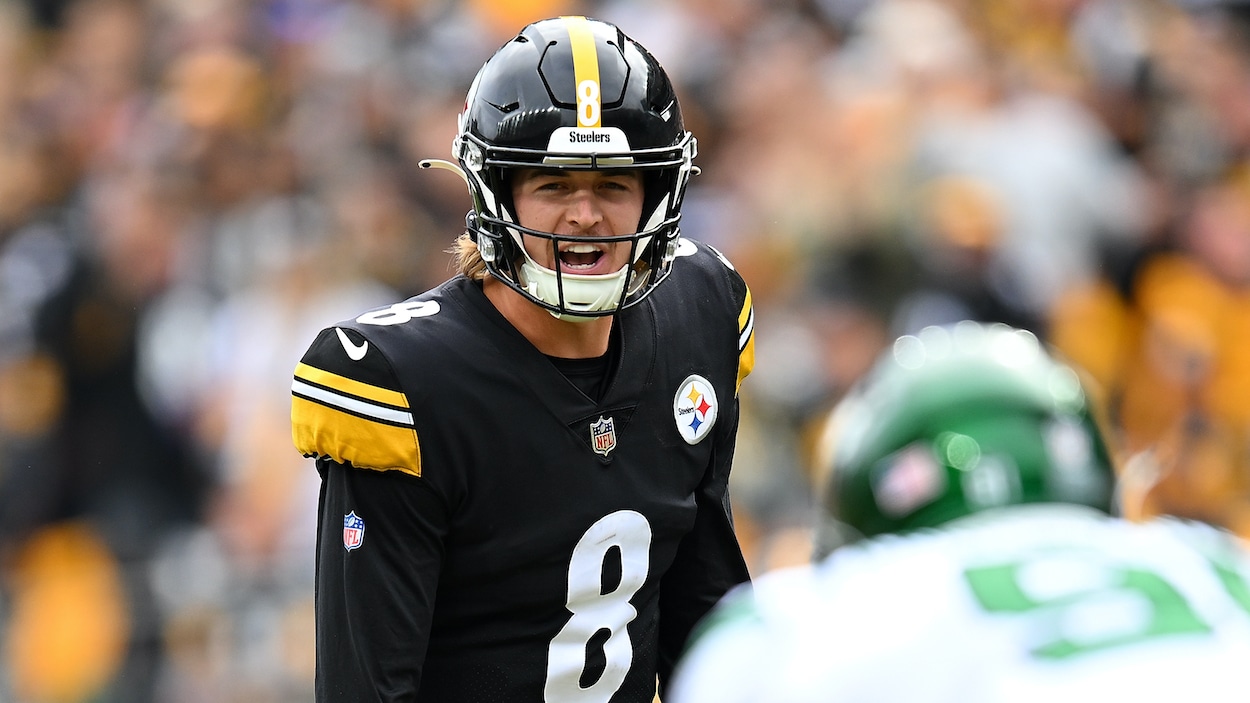 Drafting a quarterback, especially in the first round, is an inexact science at best. However, up until this point, the Pittsburgh Steelers — while they haven't done it often — have done it perfectly.
Former Pitt Panther QB Kenny Pickett will be just the third first-round quarterback to start a game for the Steelers in the Super Bowl era (since 1966). Who were the other two?
Terry Bradshaw and Ben Roethlisberger. And those two worked out pretty well for the Steelers.
Bradshaw, the No. 1 overall pick in the 1970 NFL Draft, played 14 seasons in the black and gold, throwing for 27,989 yards with 212 touchdowns. He made three Pro Bowls, one All-Pro team, and, most importantly, led the Steelers to four Super Bowl wins in the 1970s. He is now a member of the Pro Football Hall of Fame.
Just over 20 years after Bradshaw retired, the Steelers took another QB in Round 1, drafting Ben Roethlisberger out of Miami (OH) No. 11 overall in 2004. Like Bradshaw and now Pickett, Big Ben started his rookie season, and he went on to win a Super Bowl in Year 2. He also won another Lombardi Trophy in 2008. Roethlisberger retired after last season with six Pro Bowls, 64,088 passing yards, and 418 touchdowns.
Now Pickett is tasked with continuing this legacy and has to start by trying to beat the No. pass defense in the NFL with the Buffalo Bills.
There is one more silver lining here, though, too. Who was the last NFL rookie to beat the league's No. 1 passing defense? Ben Roethlisberger at the Miami Dolphins in his first-ever career start in 2004. The Steelers won that game 13-3.
Like Sportscasting on Facebook. Follow us on Twitter @sportscasting19 and subscribe to our YouTube channel.