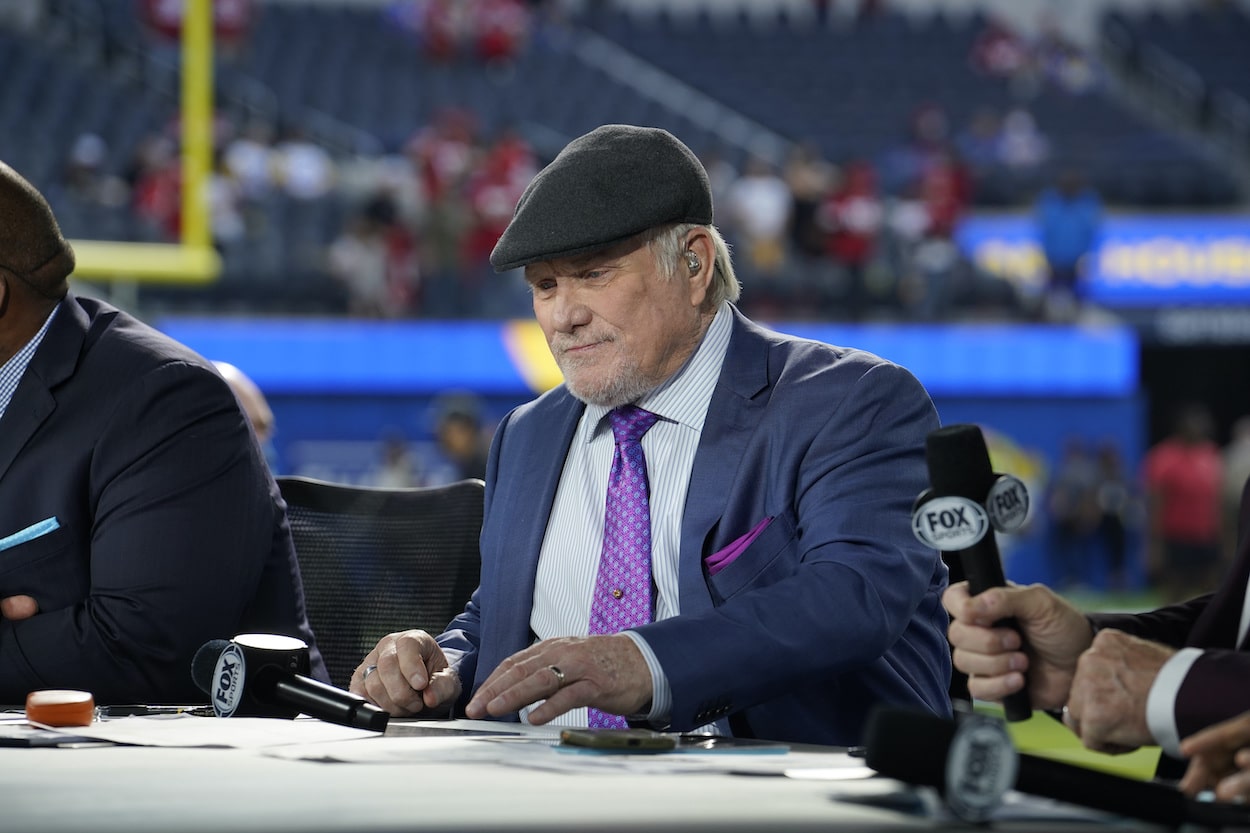 Terry Bradshaw Shares Shocking Health Update on 'Fox NFL Sunday' Pregame Show
Hall of Fame Steelers QB and beloved NFL analyst Terry Bradshaw shared some scary health news but assured fans he's fine and feeling good.
Former Pittsburgh Steelers quarterback, Pro Football Hall of Famer, four-time Super Bowl winner, and iconic NFL analyst Terry Bradshaw is one of the most beloved former players in the NFL universe. He's been on TV talking football since 1984, but at age 74, Bradshaw's definitely slowed down a bit in recent years.
His appearance on the Fox NFL Sunday pregame show ahead of Week 3 seemed different, though, and sparked health concerns from fans. On the Week 4 version of the show, Bradshaw addresses these issues with a shocking health update on his two cancer diagnoses in the past year.  
Terry Bradshaw shared his double cancer diagnosis on Sunday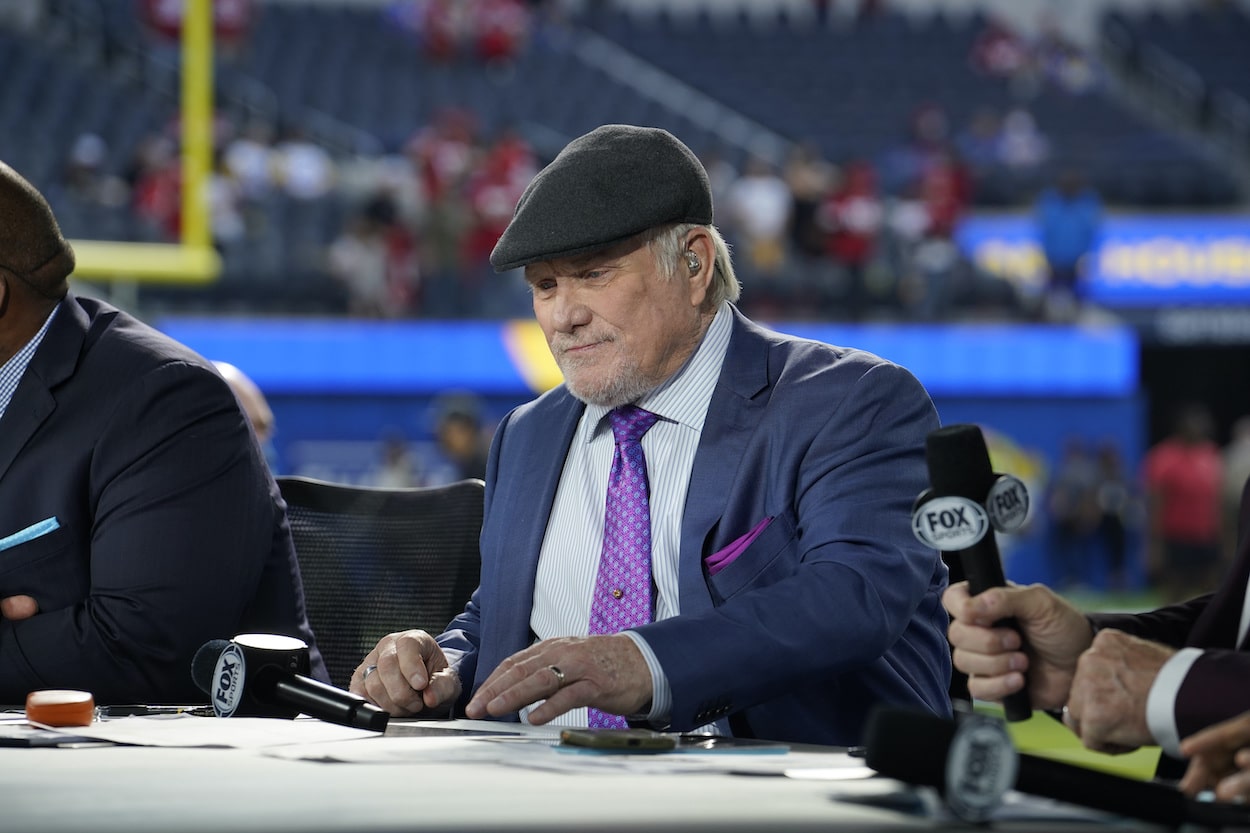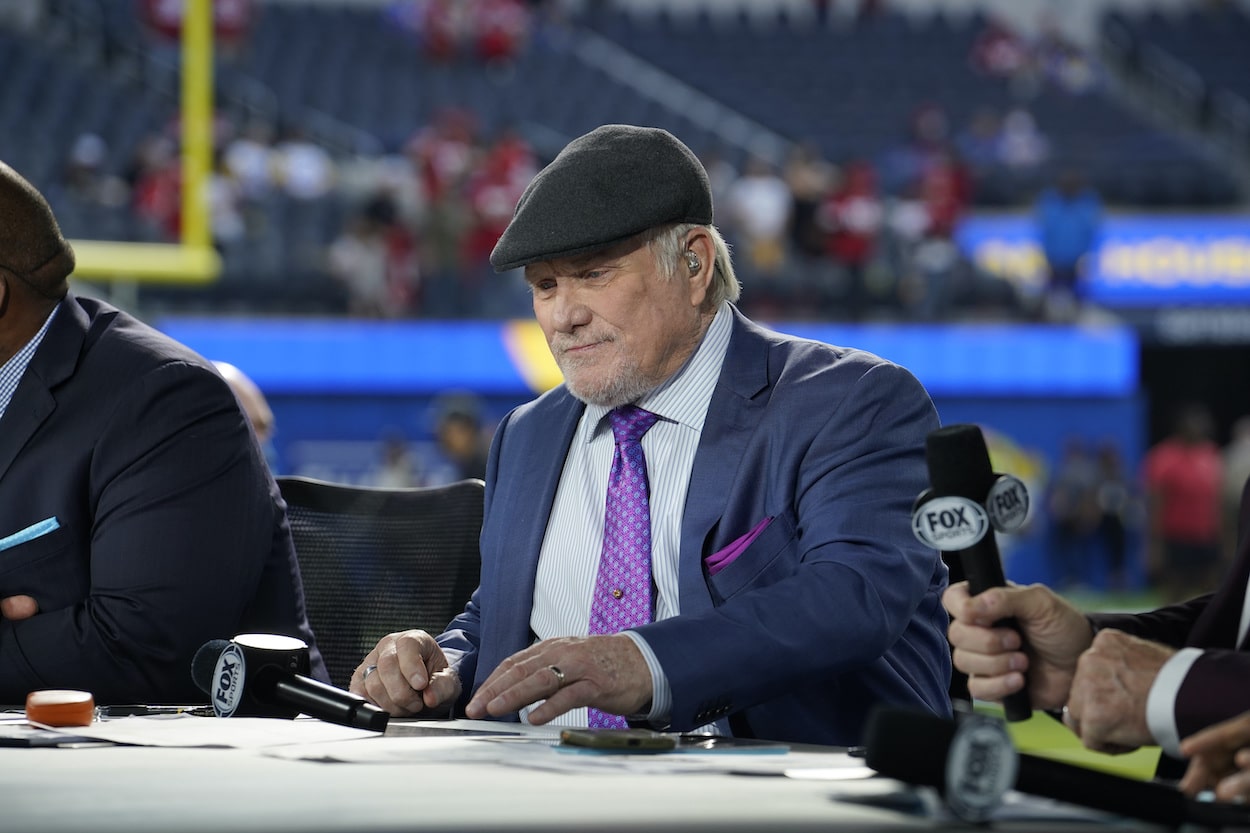 After sparking health concerns prior to the NFL Week 3 slate (more on that below), Terry Bradshaw shared a shocking health update on the Week 4 Fox NFL Sunday pregame show.
The crew — Terry, Curt Menefee, Howie Long, Michael Strahan, Jay Glazer, and Jimmy Johnson — opened the show talking about the Tua Tagovailoa head injury but pivoted to Bradshaw's health immediately following that.
"Last week on this show, I ran out of breath, and Howie helped me up, and a lot of people [are] asking what's wrong with me? What's happened to me physically? I just want to address it and let you know what is happening in my life," Bradshaw started.
"In November, I was diagnosed with bladder cancer," Bradshaw revealed. "I went to the Yale University Medical Center. Surgery, treatment, and as of today, I am bladder cancer free. Alright, that's the good news. Then in March, feeling good, I had a bad neck. I get an MRI, and now we find a tumor in my left neck, and it's a Merkle cell tumor, which is a rare form of skin cancer. So, I had that surgery done at M.D. Anderson in Houston."
After sharing his scary diagnosis, the Hall of Fame QB gave fans some solace about the current state of his health.
"Folks, I may not look like my old self, but I feel like my old self," he said. "I'm cancer free. I'm feeling great. And, over time, I'm going to be back to where I normally am. So, I appreciate your prayers and your concerns."
The entire Fox pregame crew shared their love and support of Bradshaw following his admission, and the program went to commercial before moving on to the NFL business the show does every week.
The former Steelers QB sparked health concerns on last week's Fox NFL Sunday pregame show
Terry Bradshaw didn't look good at times on the Week 3 Fox NFL Sunday pregame show.
At times during the broadcast, the former QB appeared short of breath. At one point, after a strenuous segment where he played quarterback to emulate Lamar Jackson, he steadied himself and rested his head on his good friend Howie Long's shoulder.
While his analysis was sharp, many fans noticed Bradshaw's physical struggles.
Many of these fans took to Twitter to share their thoughts on the situation. These unsolicited opinions ranged from the more callous "he should retire" takes to genuine concern and prayers for the former Steelers' health.
Now that Bradshaw has shared that he's feeling well after his cancer diagnosis and treatment, hopefully, for his sake, he'll start looking and sounding better on TV as well.
Bradshaw moved from an in-booth NFL analyst to a studio show co-host in 1990. He's been a fixture before 1:00 pm ET kickoffs for the 30-plus years since. NFL fans should all hope that after this positive-sounding Terry Bradshaw health update, he'll continue to grace our screens for years to come. Because when Bradshaw retires from TV, it will truly be an end of an era.
Like Sportscasting on Facebook. Follow us on Twitter @sportscasting19 and subscribe to our YouTube channel.