Howie Long Delivers Touching Tribute to His Fellow Former Raider and FOX Broadcaster John Madden Ahead of 'ALL MADDEN' Premier: 'At His Core, He's a Coach, He's a Football Coach'
If you are an NFL fan, you know the name John Madden. From 1969 when he took over as head coach of the Oakland Raiders, to his time as a broadcaster, to right this second while some kid, somewhere, is learning the difference between a 3-4 and a 4-3 defense by playing the Madden video game, Madden has been the most important name in football history. On Sunday, ahead of FOX's upcoming ALL MADDEN documentary, Howie Long delivered a wonderful tribute to the legend. 
John Madden is an NFL legend on so many levels 
No one — no one — has had as much influence on the game of professional football in America as John Madden. 
If you are in your 50s or older, you've experienced the legend in all his incarnations. If you're in your 30s or 40s, you've known of Madden your whole life but may not realize what a great coach he was. 
For those of you in your 20s or younger, you never saw Madden coach. You likely have little to no recollection of him as a broadcaster, but you absolutely know the name. That's because nearly every NFL fan born from 1980 on learned the game — at least in part — by playing the Madden video games. 
Becoming the most influential person in NFL history looked like a long shot in 1958. That's when the California native, then a two-way All-Conference player out of California Polytechnic College at San Luis Obispo, injured his knee practicing with the Philadelphia Eagles before ever playing an NFL game. This ended his short-lived playing career, per ProFootballHOF.
He jumped right into coaching, though. And, after a few years at the junior college then Division I level as an assistant, he got a job as linebackers coach for the Oakland Raiders of the AFL. Two years later, owner Al Davis promoted him to head coach. 
As the man in charge, he guided the franchise during its transition from the AFL to the NFL. He also won a Super Bowl in 1976. 
Done with coaching but not wanting to leave the game, Madden retired from the NFL in 1978 at the age of 42. With an impressive lifetime record of 103-32-7, he went into the broadcast booth. 
For the next three decades, along with longtime partner Pat Summerall, he was the voice of the NFL on TV. The duo worked together at CBS and FOX. Then, he partnered with Al Michaels at ABC followed by NBC during the back half of his career.
Despite all these impressive and influential accomplishments, his most lasting legacy comes from a deal he made in 1988. 
Madden agreed to lend his name to a new football video game. His only condition was that it featured 11-on-11 "real football." The Madden video game franchise was born, and the rest is history. 
Howie Long delivered a tribute to the coach, broadcaster, and video game icon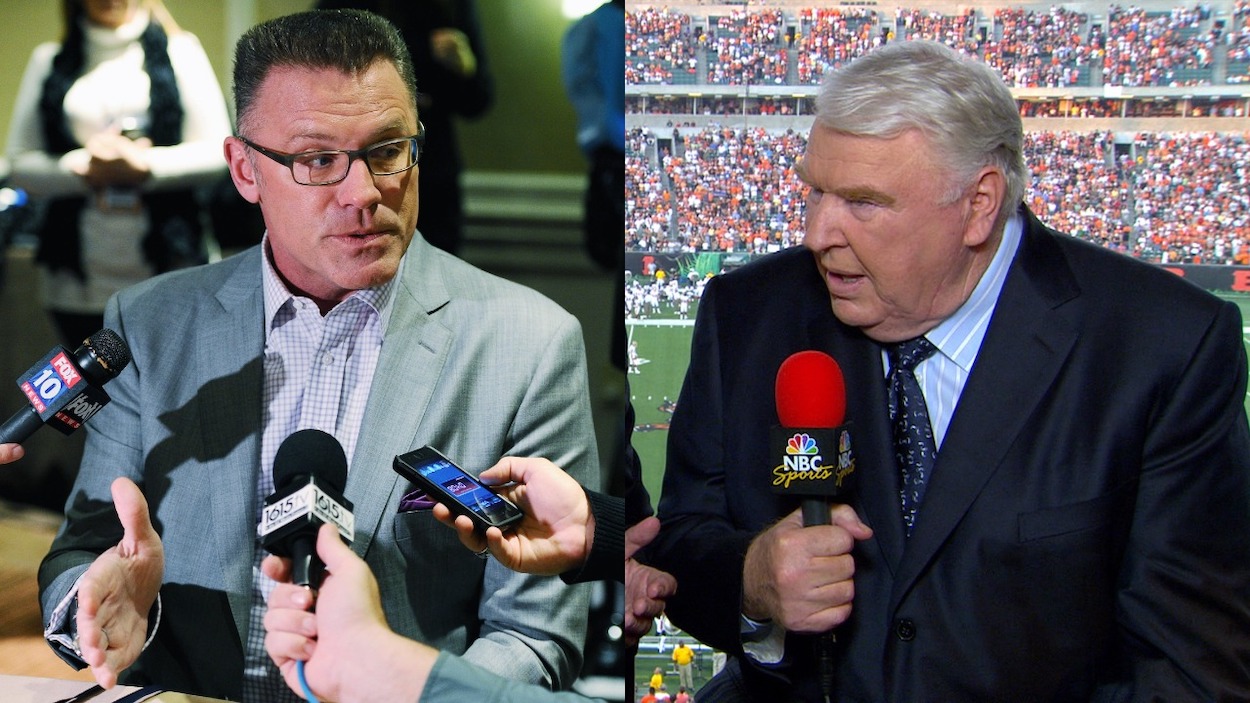 Howie Long played his entire career with the Raiders, a franchise that John Madden put on the map. After his playing days ended, Long began a 27-year-and-counting TV career with the network Madden helped build, FOX. 
On the FOX NFL Sunday pregame show this week, Long gave a touching tribute to Madden. He did a great job explaining who he is and why he is so important. 
Long touched on his coaching career:  
John coached in some of the most memorable games in football history and some of the most iconic and memorable players he coached also. He won a Super Bowl in '77, decided to retire at 42 but not get away from the game. 

Howie Long on John Madden as a coach
On his role as a broadcaster: 
He decided, 'I'm gonna buy a bus, and I'm gonna get into broadcasting.' Well, he changed the in-game broadcast experience in a way with his personality I think will never be duplicated. Twenty-eight years ago, when [FOX] bought the rights to the NFC package here, I think John brought us instant credibility as a football organization. I think, more importantly though, John was the conscience of our football presentation. 

Howie Long on John Madden as an announcer
On the importance of the Madden video game franchise:
Through his game over the last 30 years, he's brought millions upon millions of young fans to his video game. And, also, at the same time, educating and making them fans of the game. 

Howie Long on the Madden video game franchise
And on why Madden resonated with football fans for decades: 
John's an icon, and I think the most important thing to remember is who John is at his core. He's a coach. He's a football coach. 

Howie Long on John Madden's legacy
This tribute from Long was part of a promo for what should be an illuminating documentary about Madden — ALL MADDEN — that comes out on Christmas Day. 
'ALL MADDEN' comes out on Christmas Day 2021 on FOX 
On Christmas Day 2021 at 2:00 PM EST, football fans everywhere will get an even greater understanding and insight into who John Madden is and why he's so important to the NFL. That's when the ALL MADDEN documentary premiers on FOX. 
Early in the trailer for the documentary, you hear Howie Long's voice saying, "You can't write the history of professional football without John Madden." 
The trailer goes on to paint a brief picture of the icon's legendary career. It also starts to show some of the qualities that made him who he is. 
The doc is jam-packed with football and sports media luminaries. This list includes, but is not limited to Joe Montana, Lawrence Taylor, Peyton Manning, Tom Brady, Bill Belichick, Troy Aikman, Rodger Goodell, Bob Costas, Joe Buck, and, of course, Madden himself. 
For any NFL fan — whether you're a Coach Madden, Madden in the booth, Madden video game, or all of the above person — ALL MADDEN is a must-see TV event on Christmas Day. 
Like Sportscasting on Facebook. Follow us on Twitter @sportscasting19