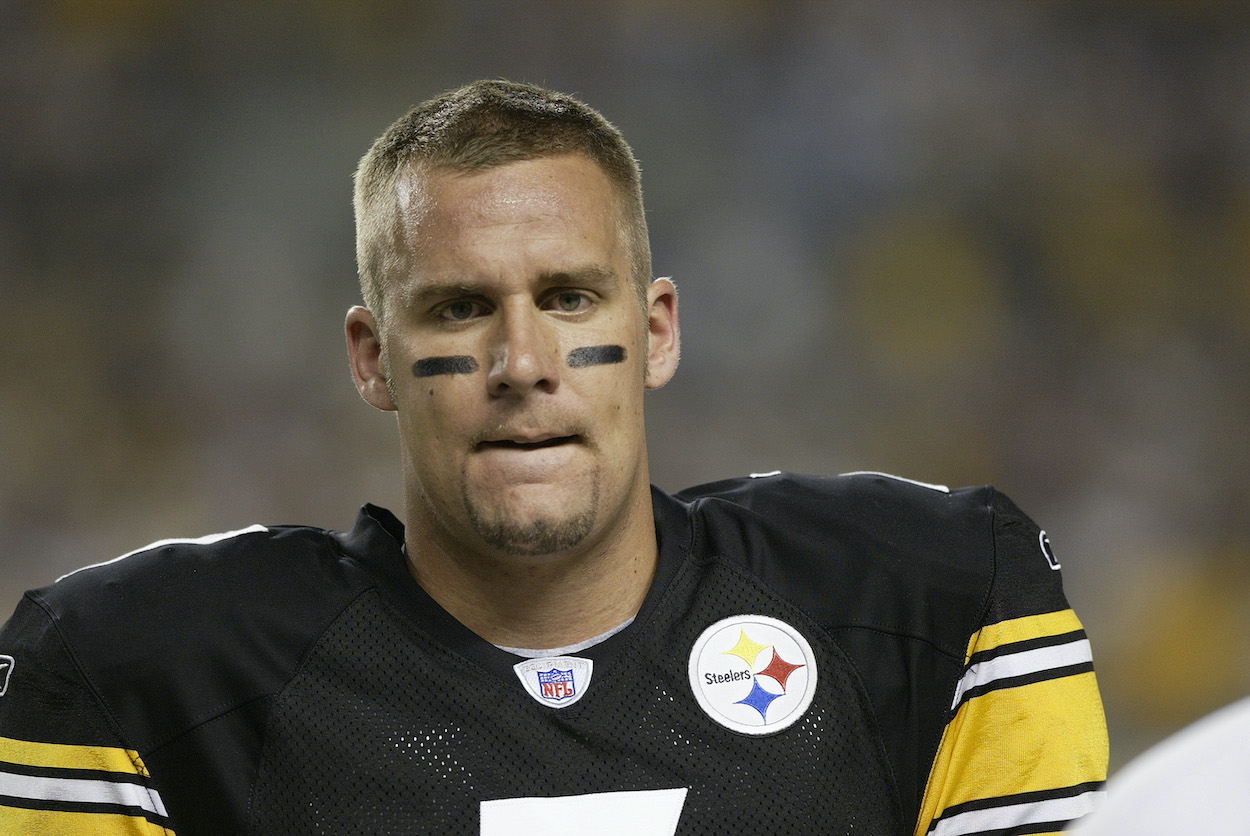 Former NFL Lineman Ross Tucker Reveals Ben Roethlisberger Didn't Work Hard as a Young QB: 'He Got by Playing Street Ball'
Pittsburgh Steelers QB Ben Roethlisberger officially retired from the NFL, which leads to discussion of his polarizing career and work ethic.
Ben Roethlisberger hung up his Pittsburgh Steelers jersey for the last time when he officially announced his retirement after 18 seasons under center in the Steel City. Now, the conversation turns to whether he should be in the Hall of Fame and how soon he should get there.
One challenge the former Miami (OH) quarterback will face when his time to get into Canton comes is that he wasn't exactly a workaholic, especially early in his career, like some of his signal-calling peers. Former NFL lineman Ross Tucker recently explained the narrative surrounding Big Ben's practice habits and how it affects his legacy.
Ben Roethlisberger inarguably had a great career on the field 
The numbers speak for themselves when you look at Ben Roethlisberger's career. He is retiring with the fifth-most passing yards in NFL history (64,088). The Pittsburgh Steelers QB is also fifth in completions (5,440), eighth in passing touchdowns (418), 16th in career passer rating (93.5), and third in fourth-quarter comebacks (41).
Roethlisberger posted a 165-81-1 record as a starter. He made the playoffs 11 times and walks away with a winning postseason record (13-10) and two Super Bowl trophies.
Most impressively, he never suffered a losing season with the Steelers.
Despite all of this, pundits often don't talk about Roethlisberger in the same breath as the other great signal-callers of his generation.
Part of the reason is that he doesn't have the squeaky-clean off-field track record that contemporaries like Tom Brady, Drew Brees, Eli Manning, and Philip Rivers do. The sexual assault allegations Roethlisberger faced early in his career have to be mentioned in any discussion of the quarterback's career.
On a far less serious note, another issue that will come up in Hall of Fame discussions surrounding Big Ben is his lack of hard work outside of game days at points in his career.
Ross Tucker says that Big Ben didn't work that hard early in his career 
Former NFL lineman-turned-analyst Ross Tucker joined the Dan Patrick Show on the day Ben Roethlisberger officially announced his retirement.
The host asked the Princeton grad what Roethlisberger's ultimate legacy will be. Tucker responded by relating what he heard about the quarterback and his work ethic early in his career:
When he was first [in Pittsburgh] … he was the last guy to get there and the first guy to leave. That's what I was told. And, some of the years, I was told his weight would get up there during the season to 260, 270, 275. And I remember distinctly thinking, "There's no way this guy plays more than like 10 years." What a terrible combination of not watching what you eat and your weight ballooning up and, you don't put the time in to really be able to excel at the mental aspect of the game. He got by playing street ball early in his career.

Ross Tucker on Ben Roethlisberger
After going through Roethlisberger's early-career work habits, though, Tucker explained that he would remember the 6-foot-5, 240(ish)-pound QB for "his ability to mature" both on and off the field throughout his career.  
Tucker's overall conclusion is that Roethlisberger is a first-ballot Hall of Famer. The question is now, should he be?
Roethlisberger is a first-ballot Hall of Fame player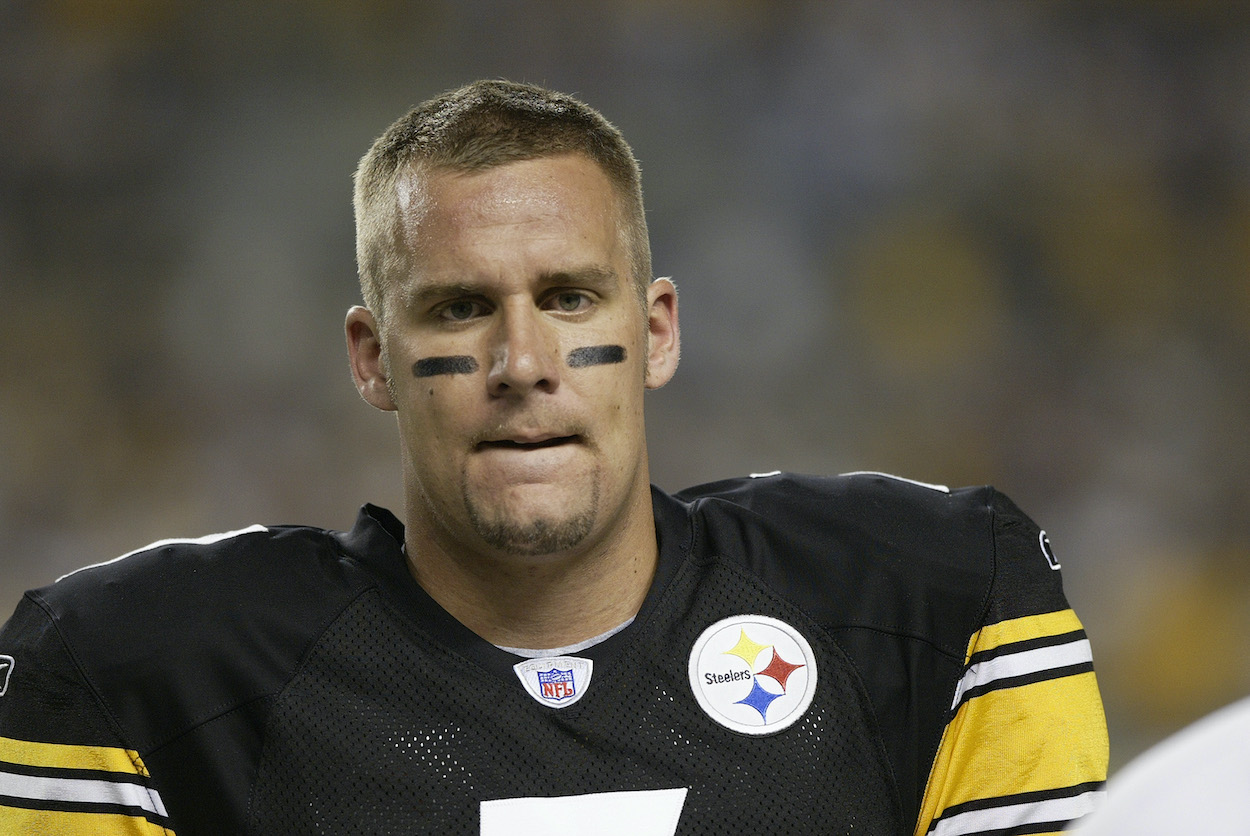 When deciding whether you would want a specific quarterback for your favorite team, there are plenty of personal or process arguments you can make against taking a signal-caller. Getting into the Pro Football Hall of Fame, though, should only be determined by results-based arguments.
And the results "Big" Ben Roethlisberger produced are unimpeachable.
Statistically, in the last 20-plus years, only Peyton Manning, Tom Brady, and Drew Brees are demonstrably better. Aaron Rodgers and Philip Rivers are close, but Roethlisberger is right there.
From a winning perspective, only four QBs have more Super Bowls than Roethlisberger. These players are Tom Brady (seven), Joe Montana and Terry Bradshaw (four), and Troy Aikman (three). Seven other signal-callers have two Lombardi Trophies like Big Ben. The only ones with a pair from his era are the Manning brothers.
Taking all this into account, Roethlisberger is the best QB to come out of the legendary 2004 NFL Draft. He is no worse than the fifth-best quarterback of his generation (2000-20) and easily one of the top 20 passers of all time.  
The numbers make Roethlisberger a no-doubt first-ballot Hall of Famer despite what you may think of him personally or professionally.
And if this doesn't happen when his time comes because of voters' personal feelings about the Pittsburgh Steelers QB, well, then Canton will become as big a joke as Cooperstown.
All stats courtesy of Pro Football Reference