Ben Roethlisberger Shows Up to Training Camp Looking 'Especially Well and Fit' According to Steelers Insider
NFL training camp time is upon us. Most veterans around the league officially report on July 27, while the Hall of Fame Game participants, the Tampa Bay Buccaneers and Dallas Cowboys, report on July 24. As we wait for camps to officially kick-off, we're left to salivate over stories of players who show up looking fit and in fighting shape for the season ahead. One of these players in 2021 is 30-year-old "Big" Ben Roethlisberger.
Roethlisberger showed up to camp looking slim and trim compared to last year. And that's coming from a Pittsburgh Steelers expert who's watched Roethlisberger walk into camp since his rookie season out of Miami (OH) University.
Ben Roethlisberger went from MVP candidate to looking washed in 2020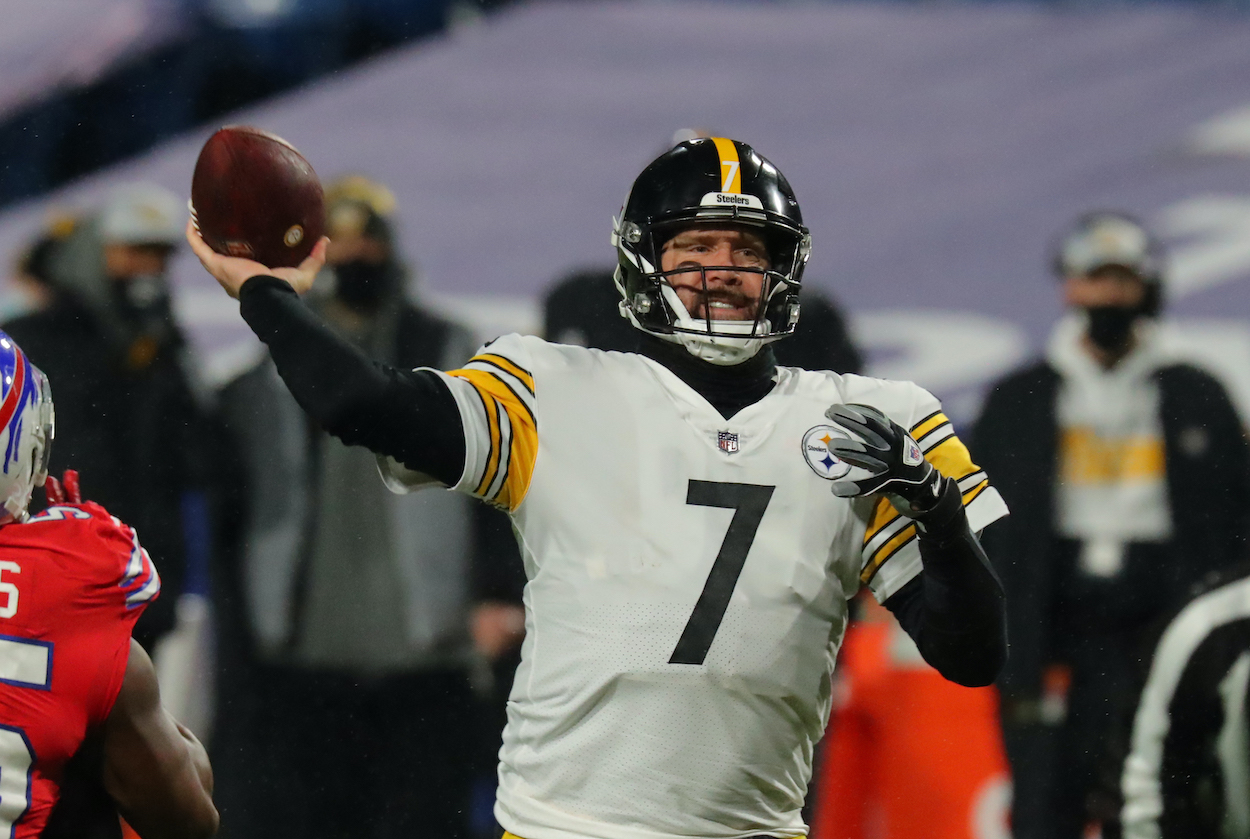 The 2020 season for Ben Roethlisberger and the Pittsburgh Steelers was a tale of two halves (or really, the first two-thirds and the final third).
Pittsburgh jumped out to an incredible 11-0 start in 2020. Roethlisberger was an MVP candidate, and talk turned to whether the team could go undefeated.
Then, a Week 12 loss to the Washington Football Team exposed Roethlisberger and the Steelers and started a three-game skid that turned into losing five of their next six. This includes a 48-37 playoff loss to the Cleveland Browns, where Roethlisberger threw four picks.
The long-time QB wasn't pushing the ball down the field anymore. Instead, he relied on short passes. He ended the season with 6.3 yards per attempt, a career-low outside of the season he only played in two games. NFL defenses figured this out and forced him to throw deep, which led to eight of his 14 interceptions in the last six games.
After the end-of-the-year struggles, there was a lot of speculation that the QB might be cooked. Roethlisberger had to take a pay cut in order to return to the Steelers for the 2021 season.
A long-time Steeler reporter thinks Roethlisberger looks good
Gerry Dulac from the Pittsburgh Post-Gazette and the host of the Steelers Radio Network joined The Dan Patrick Show to discuss players trickling into Steelers camp and the team's prospects for the upcoming season.
Roethlisberger looks good coming into his 18th training camp, which impressed Dulac:
I will tell you, Dan, that despite what people think, the last three or four years, he has come to camp in wonderful shape. He's hired a nutritionist, he's hired a trainer, he looks especially good now, especially trim. People forget he's a big man. He's a 6-foot-5, 250-pound guy. But, I have to admit, as well as he has looked every year coming to camp, he looks especially well and fit yesterday, certainly in that picture.
Looking fit coming into camp is a good sign, but it isn't the most telling one. Once Roethlisberger puts the pads on and starts throwing, we'll see if this new physique translates into more downfield throws than in 2020.
'Is he the fourth-best quarterback in his own division?'
After hearing the raves about Roethlisberger's trim look, Patrick followed up by asking Dulac, "Is he the fourth-best quarterback in his own division?"
With former MVP Lamar Jackson, and two former No. 1 overall picks in Baker Mayfield and Joe Burrow, in the division, it's not unreasonable to think that Roethlisberger could be the worst signal-caller in eth AFC North in 2021. Dulac strongly disagreed:
Yeah, I think that's a bunch of bologna. That's just based on future possibilities, but Ben's a proven winner: three Super Bowl appearances, two Super Bowl titles, a number of playoff victories. His numbers speak for themselves.
The three other QBs in the AFC North are the future of the division, and some or even all of them could be the future of the NFL. For now, though, none of them have proved they can guide their teams to lofty heights season after season like Roethlisberger has.
Roethlisberger's best days are behind him, but with a revamped O-line, a first-round running back, and a deep receiving corps, the QB could have another good year. The point is, it's still Big Ben's division until Jackson, Mayfield, or Burrow truly prove otherwise.  
All stats courtesy of Pro Football Reference