Kevin Durant Channels His Inner Charles Barkley After Getting Called Out for Foolish, Immature Tweet
Kevin Durant has been called out before for some of his social media posts. The Brooklyn Nets star is thin-skinned when it comes to taking heat in the Twitter world. It all happened again this week when a photo of his new sneakers was posted online, but the topic quickly turned to his "ashy" legs. After numerous posts and memes popped up about his legs, Durant got fired up, firing an "f*** you" to the keyboard warriors before channeling his inner Charles Barkley.
Kevin Durant hasn't had a whole lot of luck in the social media world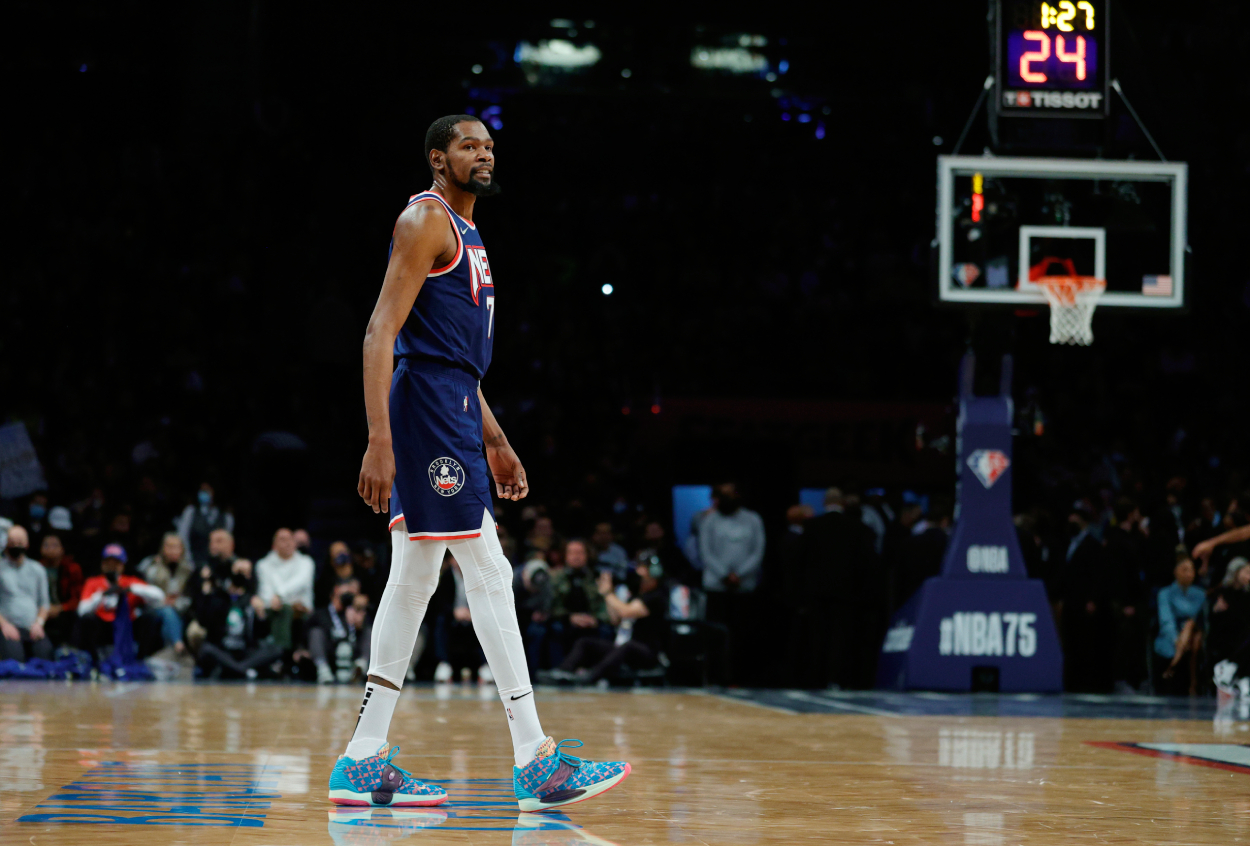 While Durant has proven to be one of the best players in the NBA, his off-the-court antics have also taken center stage. Perhaps Durant's most famous online encounter came when he and Michael Rapaport exchanged pleasantries. In March, the actor/comedian shared a wild, expletive-filled rant by Durant on Twitter.
Durant was seemingly unhappy with Rapoport when he criticized the basketball star after a postgame interview back in December 2020. Rapoport called Durant "super sensitive" about everything, prompting the ugly encounter.
Rapaport called out Durant in March, posting screenshots of the dialogue. He wrote, "I receive threats and disgusting messages DAILY, but never in my wildest dreams did I think @KDTrey5 would be among them. The (snake) himself is now threatening me, bringing up my wife and wants to fight. This is supposed to be America's sweetheart right?"
In 2017, Durant was caught using a burner account — solidifying his thin skin. Under that account, he called out his former coach Billy Donovan and is former team, the Oklahoma City Thunder. He admitted to using the account, and in 2020 admitted he still uses a fake account.
"I don't regret clapping back at anybody or talking to my fans on Twitter," he said, according to The Guardian. "I do regret using my former coach's name and the former organization I played for. That was childish. That was idiotic, all those type of words. I apologize for that."
Kevin Durant slaps back at fans over his 'ashy' legs
An innocent Twitter post turned into a Durant-bashing party. The Nets' star finally had enough. A tweet was posted by SLAM Kicks seemingly to highlight Durant's Nike Zoom Air sneakers right before Monday's Nets vs. Cavaliers game.
Between Durant's socks and compression leggings showed a small portion of Durant's skin that turned out to be the topic of discussion. Many, including former NBA All-Star Isaiah Thomas, chimed in at how "ashy" or dry Durant's legs were.
The comments and memes came in droves. Some commenters questioned Durant's health. Some told him where the nearest place to buy lotion was. The comments got so out of hand that Durant issued a tweet that clearly showed his immaturity and lack of ability to handle confrontation.
He went the I-make-more-money-than-you route and threw in an expletive for good measure.
"I'm bouta pull my 'y'all broke' card in a second. F*** y'all," he wrote.
After the embarrassing response, Durant went the Charles Barkley route
One Twitter user called out Durant for his post, saying, "That is a classy post! Remember, kids that look up to you read this!"
That, too, generated a response from Durant. This time, however, the response wasn't profane. It was similar to one of Charles Barkley's famous quotes.
"I'm not a role model," Durant tweeted.
Barkley famously used that line during a controversial Nike commercial in 1993.
"I am not a role model," Barkley said in the ad. "I'm not paid to be a role model. I'm paid to wreak havoc on the basketball court. Parents should be role models. Just because I dunk a basketball doesn't mean I should raise your kids."
Barkley and Durant might not want to be role models, but kids do look up to them.
While Barkley and Durant had similar responses, the two are quite different. Sir Charles is able to take the heat. Durant clearly can't.