Kevin Harvick Appears on Dale Jr. Download, Blames Chase Elliott for Costing Team Hundreds of Thousands of Dollars, and Bluntly Admits Feud Isn't Over
The 2021 NASCAR Cup Series season will be remembered for several things, including the dominance of Kyle Larson and the feud between Kevin Harvick and Chase Elliott. With the season over, most would expect the two drivers to have moved on and put the conflict behind them. 
During Harvick's appearance on the season finale of the Dale Jr. Download, he suggested that's not the case. The 2014 champion blamed the 2020 champ for costing his team hundreds of thousands of dollars and provided a unique perspective on what happened that night in Bristol, including a behind-the-scenes look at the trip inside Elliott's hauler. Then, surprisingly, the veteran driver admitted that the feud is not over as far as he is concerned. 
Kevin Harvick details initial moments of Chase Elliott feud
The Bristol night race was unquestionably one of the most exciting races of the 2021 season. It got even more intriguing in the race's final laps when Kevin Harvick and Chase Elliott had issues with each other that carried over into multiple face-to-face confrontations immediately following the race.
During Harvick's much-anticipated appearance on the season finale of the Dale Jr. Download, the driver described what happened in those moments after the race, including what prompted the decision to go inside Elliott's trailer.
"Yeah, I invited him into his trailer," Harvick admitted. "I got into the trailer and I'm like, 'Oh man, this might not have been a good idea.' There was nobody in there, and there was nothing productive that was happening with everybody else that was around. You know, I was mad. He was mad. What he was mad about. What I was mad about." 
Earnhardt suggested that the conversation inside the trailer obviously didn't fix anything and then jumped ahead to what happened several weeks later at the Roval. Harvick, however, stayed on that night at Bristol and made an interesting comment that caught the attention of Earnhardt and show co-host Mike Davis.
"That conversation, he understood where I was coming from," Harvick said. "I understood where he was coming from, but in the end, he took hundreds of thousands of dollars out of everybody's pocket. All the team guys were mad."
"Explain that," Earnhardt interjected. 
"The team guys are mad," Harvick said. "Everybody in the company gets a bonus for winning the race. Everybody there was mad. And those particular instances, you have to do what's right for your team. You have to pick and choose those battles. At the Roval, it was just the way that it went."
Kevin Harvick wants to have another conversation with Elliott before 2022 season
While both drivers offered multiple comments on the conflict, including Elliott wishing Harvick a merry offseason after the incident at the Roval, the 45-year-old driver told Earnhardt that he thinks more dialogue in the future is important.
"There still needs to be another conversation before we start the next season," Harvick suggested frankly. 
"Between you and him?" Earnhardt questioned. 
"Yeah. Absolutely," Harvick said. "Look. When I started and started acting like a complete ass, started in Cup, it was a different rule of law. And it started in 2001 for me. And I think the first time you really saw how it worked, I spun Bobby Hamilton in Martinsville. He was mad for a long time, and eventually, we became good friends.
"And it was really just, look man, you can't do stuff this way. You've got to really think about what you're doing. And it was a conversation that Bobby had with me about how the world turned, and from that point on, we were always good friends. When you look at those conversations, they're good."
Will keep looking out for his team in 2022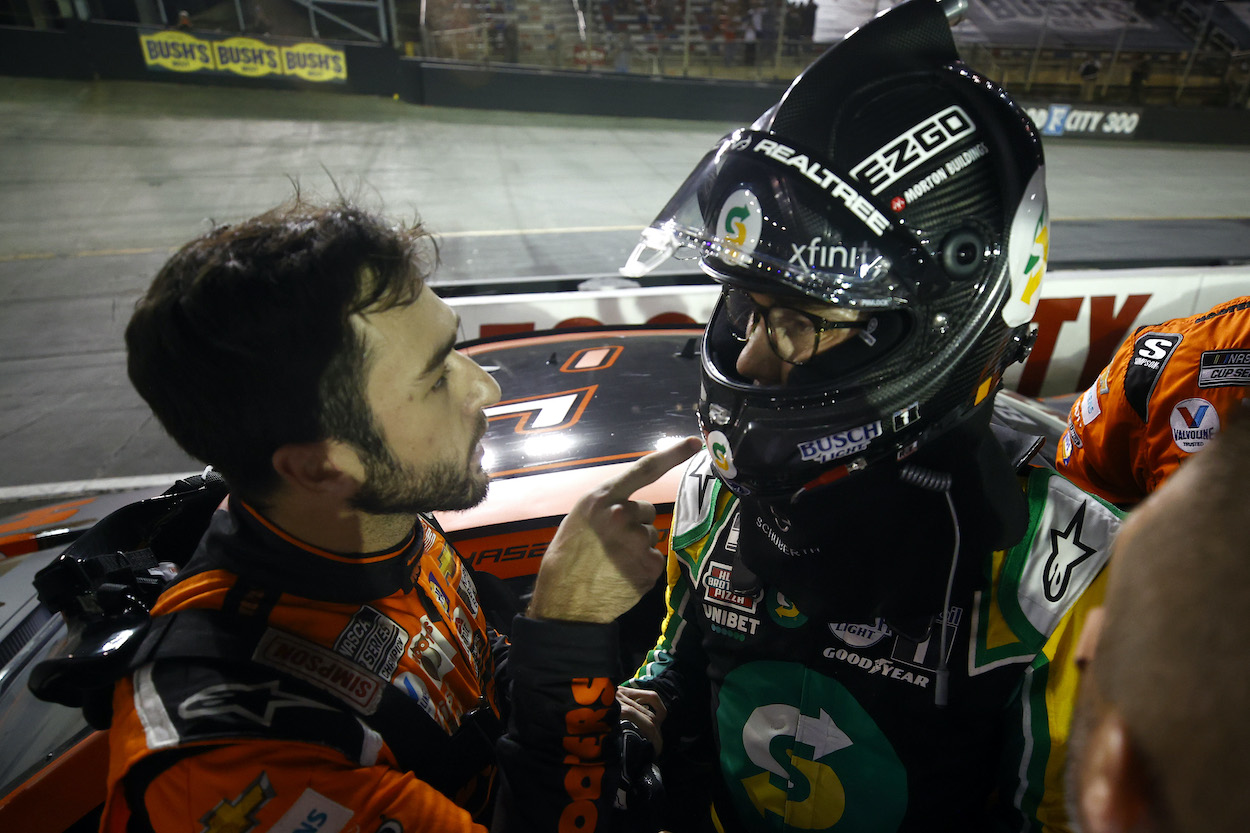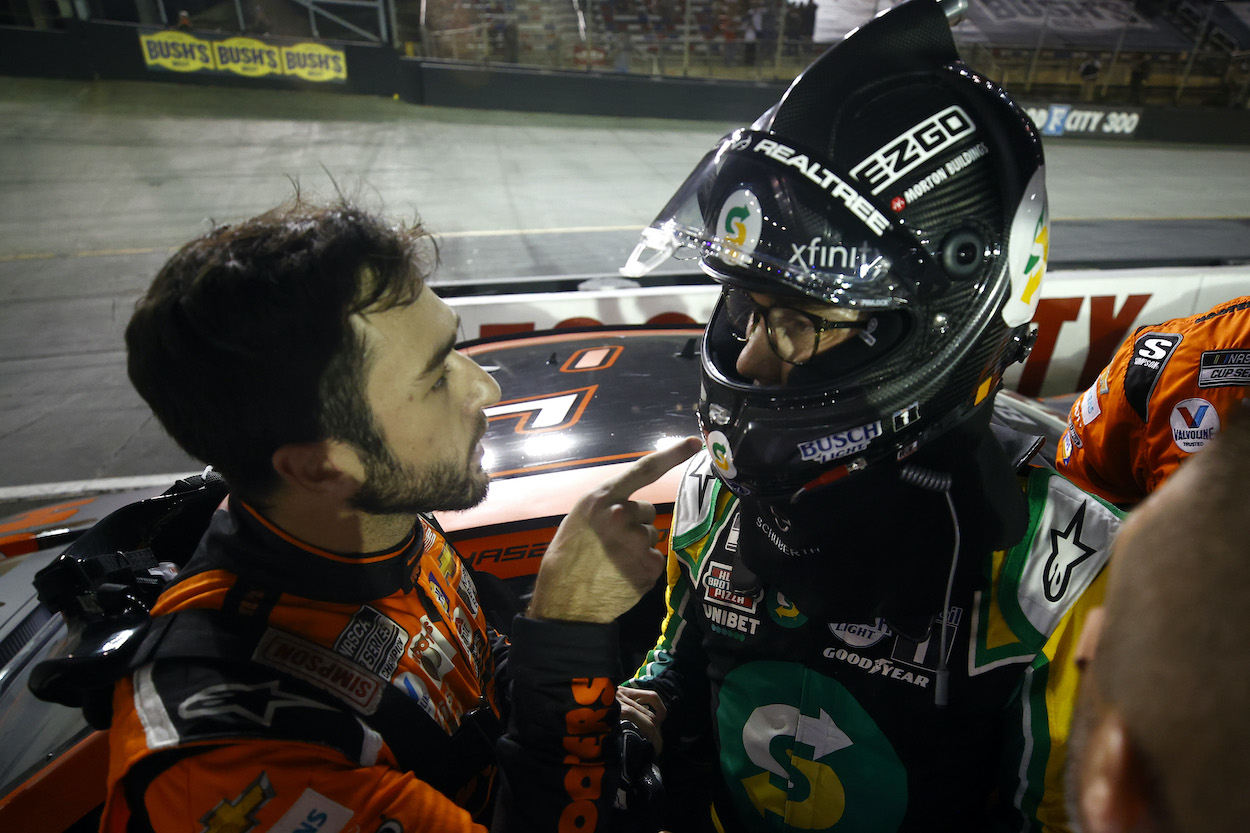 Conversations aside, when Earnhardt suggested that the conflict was over, the veteran driver hedged and said he's always going to do what he believes is best for the team. 
"It's not in anybody's best interest for your race teams to go forward, but you still have to do what's right for your team," Harvick said. "Because in the end, the team is what matters. Those guys are the ones that are there, and in my case, that's probably the biggest reason that I still race."
Many fans will remember the feud between Kevin Harvick and Chase Elliott in 2021. But will they also remember it in 2022?