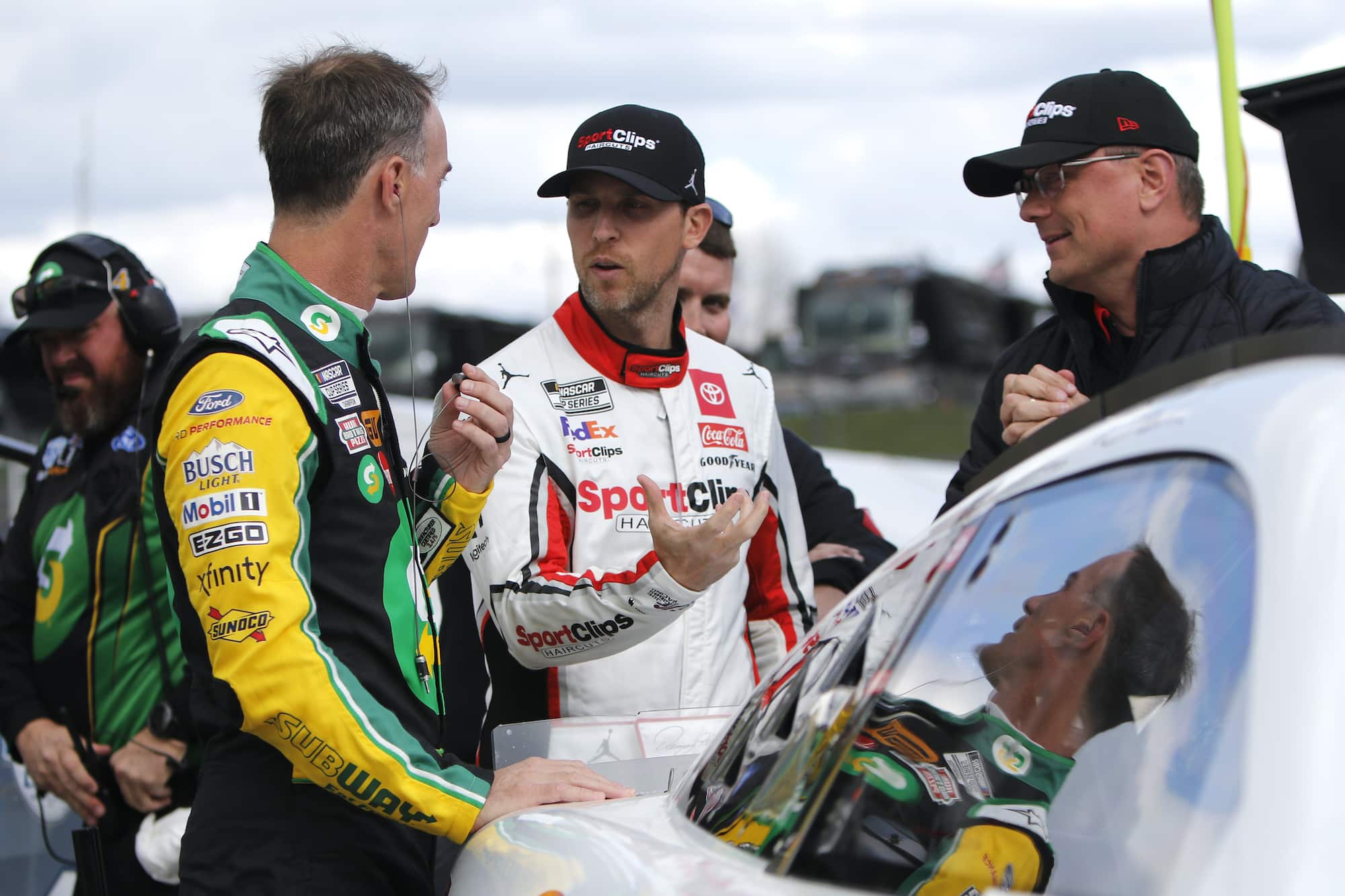 Kevin Harvick and Denny Hamlin Completely Proven Wrong About Fighting With NASCAR's Decision This Week 
Kevin Harvick and Denny Hamlin have both expressed their positions on fighting in NASCAR. This week, the sanctioning body proved both drivers are completely wrong.
The history books will show that Kevin Harvick and Denny Hamlin displayed their veteran leadership by being vocal in expressing concerns about safety issues with the Next Gen car, both before its debut and months after the new car ran its first race when it, unfortunately, confirmed some of those earlier fears were warranted, ala concussions. 
With their years of experience and the wisdom that comes with it, the two drivers have earned the respect of their peers. The pair were outspoken recently on the subject of respect in the garage and physical confrontation serving as one way to achieve it. Both said that's not an acceptable response and offered reasons why. 
This week, they were both proven wrong. 
Kevin Harvick and Denny Hamlin say fighting isn't acceptable
With the conversation on respect in the garage a hot topic this season, drivers visited with the media at Richmond last month and discussed the past ways it was handled and how things have changed. 
"There's a lot of things that have changed within our sport. They frown upon hand-to-hand combat after the event. They frown upon retaliation on the racetrack," Hamlin said. "So, really, what's the worst that can happen? There's just no repercussions, and you really don't have to face that person when you get out or next week on the racetrack." 
Kevin Harvick was asked by Fox's Bob Pockrass why more drivers weren't willing to get physical and resolve their differences through fighting.  
"How many guys have you really seen get popped in the face?" Harvick asked. 
"I thought in the 90s," the reporter said before Harvick interrupted.
"We aren't in the 90s. How many guys have you really seen get popped in the face in the last 10 years?" the driver asked.
"I'd say two or three," Pockrass answered. 
"At the most," Harvick said. "So that's really not — is that really realistic in today's society to walk over and punch a guy in the mouth? Is that real?"
Noah Gragson and Ross Chastain receive no penalty for fighting
Is that real?
Enter Noah Gragson and Ross Chastain.
When the rookie driver walked down pit road and confronted the Trackhouse Racing driver after Sunday's race in Kansas, most assumed it would be the typical meeting where drivers get heated for a few minutes, say some words, but then walk away agreeing to disagree. Or, the way Harvick and Hamlin suggest it happens in today's NASCAR. 
Gragson never appeared to want to have any lengthy discussions with the watermelon farmer and that became quite evident when he grabbed his firesuit and started pushing him backward within seconds of initiating conversation. And we know how Chastain felt when all that started happening based on his response, a stiff right hook to the face. 
That brief altercation revealed a couple of things. First, some drivers are still willing to go old school and let their fists do the talking and earn some respect, unlike what Harvick suggested. And second, and most importantly, NASCAR didn't do anything about it, and both brawlers went unpunished, unlike what Hamlin mentioned.
NASCAR has a track record on fighting and penalties  
While Sunday's fight and NASCAR opting not to penalize either driver for their participation proved the arguments of Harvick and Hamlin wrong, both veterans should have never been making their arguments in the first place. 
That's because their remarks completely ignored what happened a couple of times just last year in the Xfinity series, with Ty Gibbs punching Sam Mayer after the race at Martinsville in the spring race and Austin Hill delivering a haymaker to Myatt Snider on the same track at the race later in the year. 
In both situations, neither puncher was penalized.
Chastain didn't get penalized for his punch and Gragson didn't get punished for instigating the incident. Both of those were the right calls and consistent with how NASCAR has ruled in the not-so-distant past. 
In other words, drivers can stop making excuses about physical confrontation and how it isn't a method to address a situation and earn respect because it's not something that happens in today's NASCAR and the sanctioning body isn't going to allow it. Those theories were both proven wrong this week. 
To stay up to date on the latest happenings in NASCAR, including breaking stories you can't find anywhere else, follow Kyle on YouTube and Twitter.