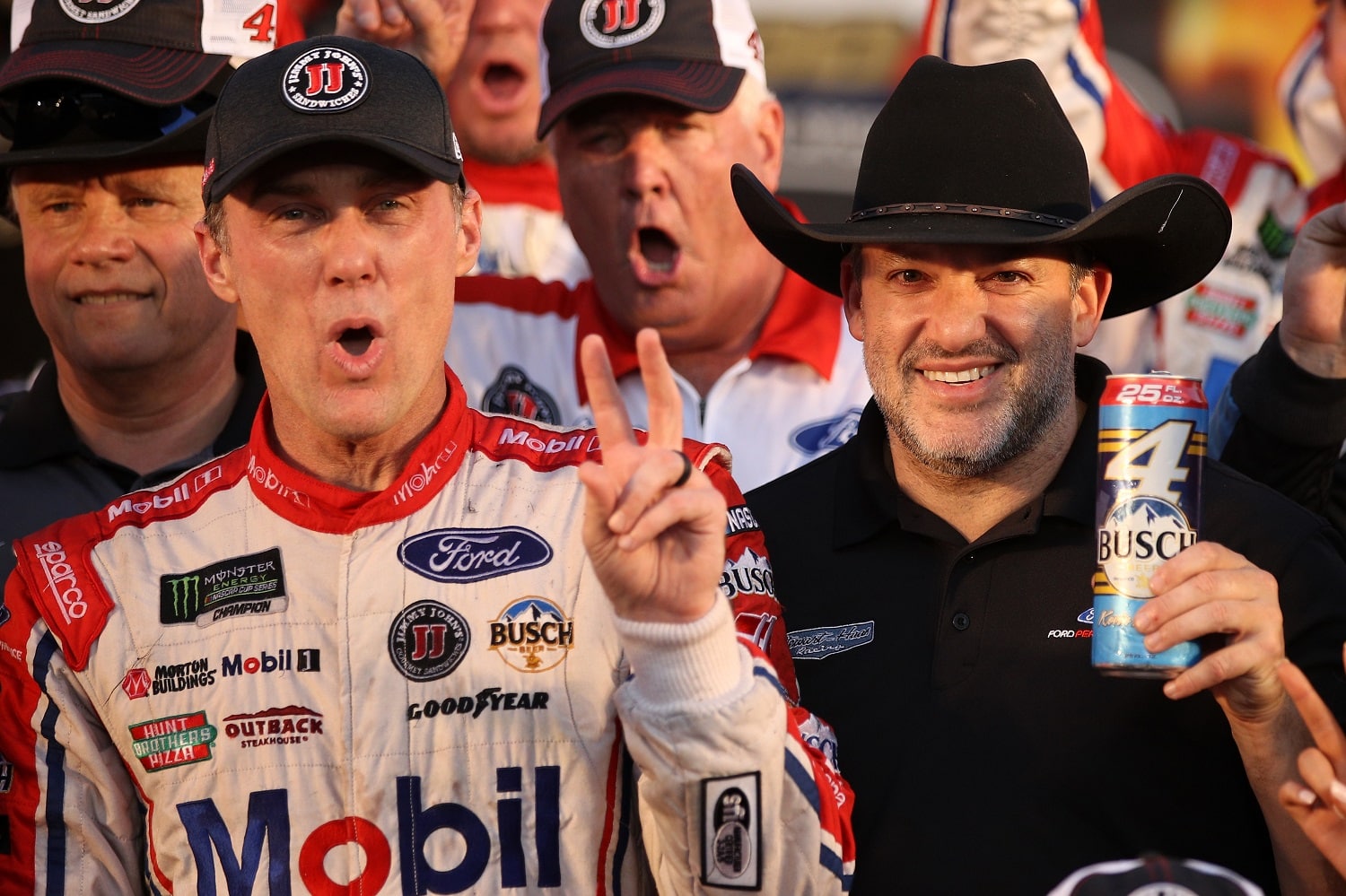 Kevin Harvick Started the NASCAR-to-SRX Parade for 2023, but Who's Fared Best in the Past?
Tony Stewart has made it easier for active Cup Series drivers to race in the SRX Series, and Kevin Harvick was the first to hop aboard for 2023.
Kevin Harvick was the biggest "get" for the Superstar Racing Experience (SRX) … for about 15 minutes until Kyle Busch crashed the party, too. That's OK, though. There's lots of room for NASCAR Cup Series stars in the IROC-like summer series, which could use its third season as a springboard toward future expansion.
Tony Stewart has a good thing going with the SRX Series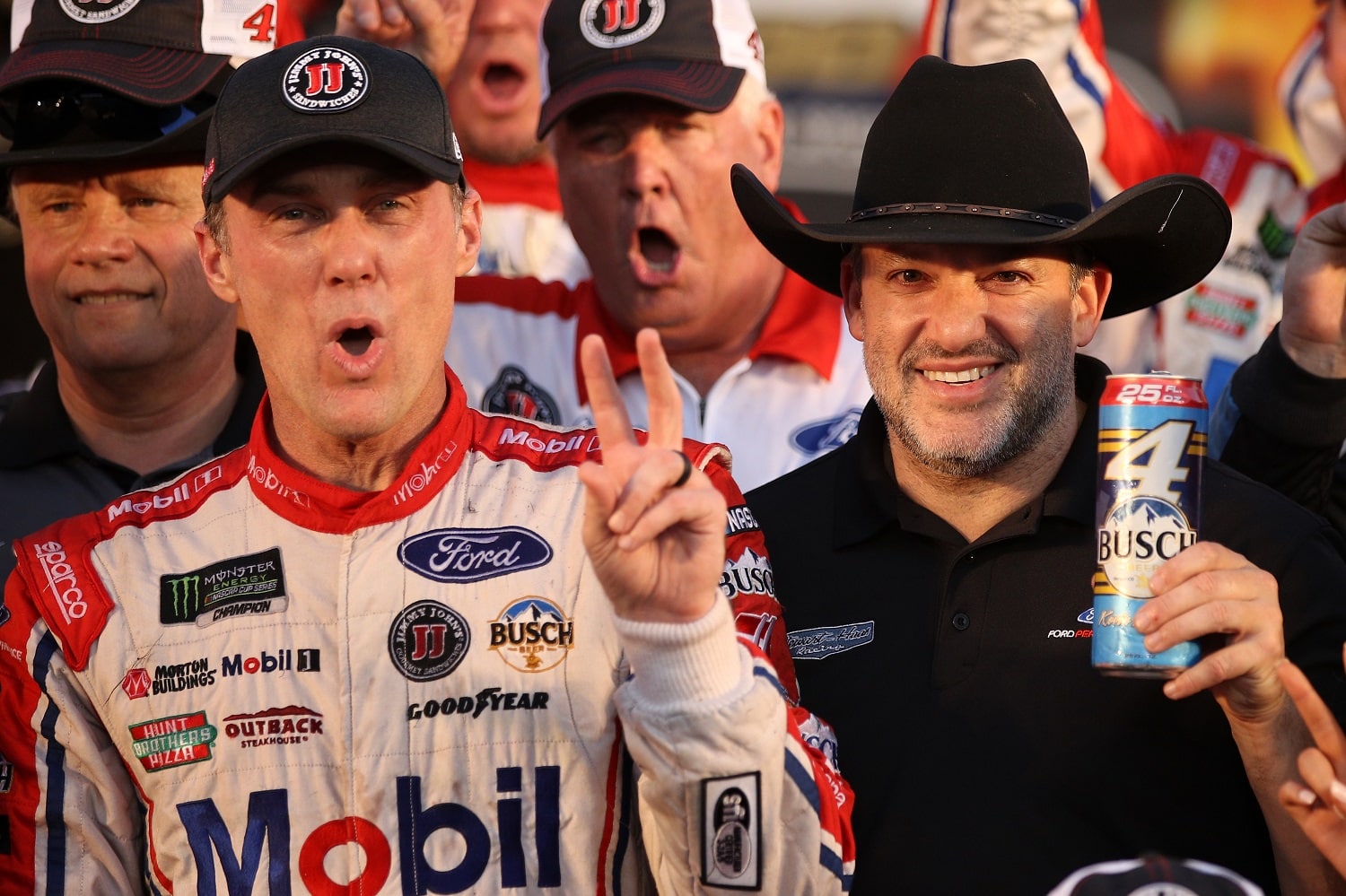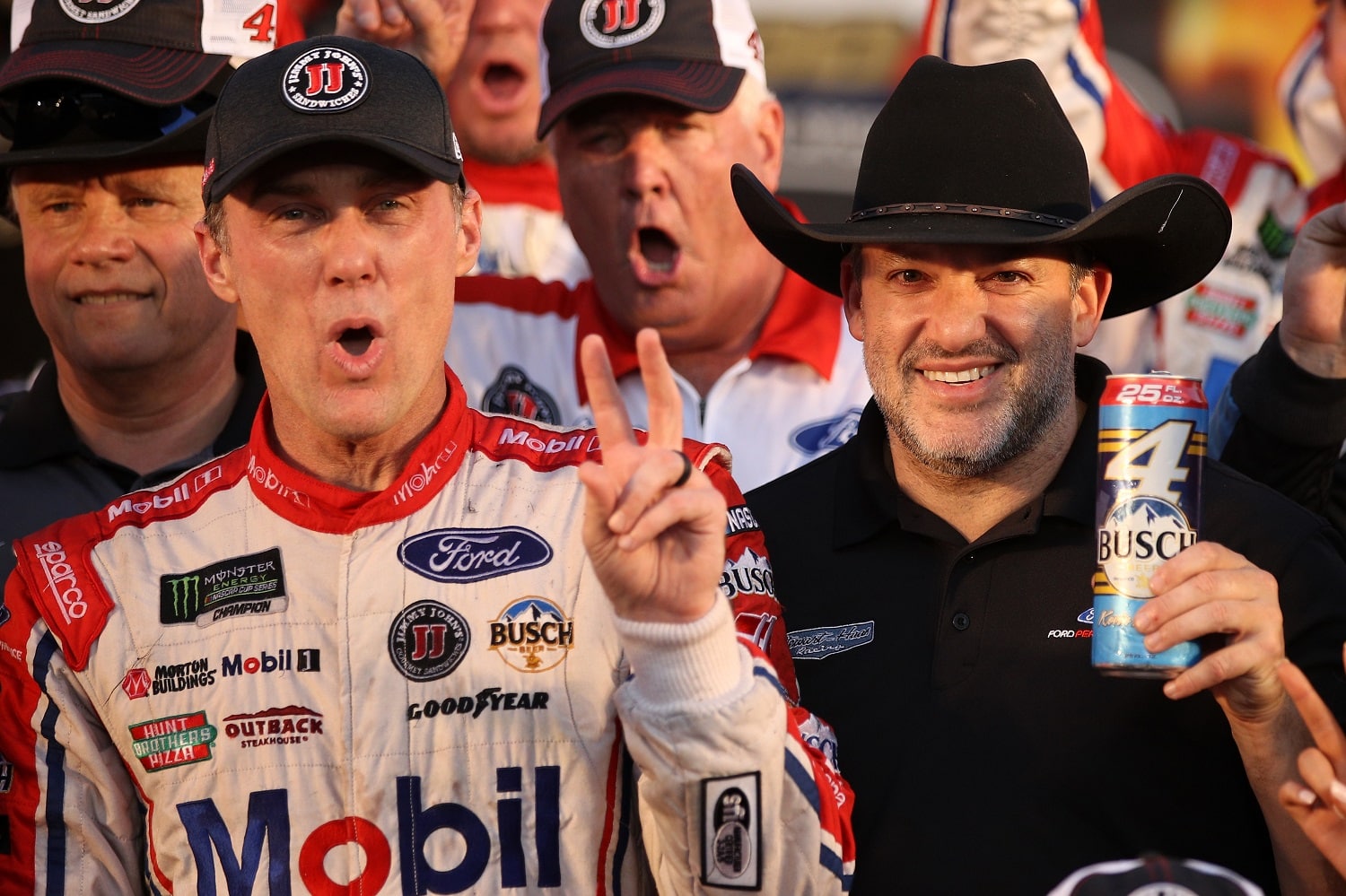 Never let it be said that Tony Stewart doesn't hustle. The retired NASCAR Hall of Fame driver has hopped into multiple racing ventures over the years. He's owned and operated regional racing series and small tracks, and he even jumped into NHRA last season.
Of all the "small" projects on his plate – i.e., anything smaller than operating Stewart-Haas Racing in NASCAR – the Superstar Racing Experience likely has the most potential for exponential growth, and Stewart is nurturing it in strategic fashion.
Stewart co-founded the IROC-like series, which made its debut on CBS with a six-race summer schedule in 2021 on Saturday nights. He moved it around to some new tracks last year and turned over some of the driver roster, and it continued to gain a foothold among racing fans even though it was going up against the bigger, more established Xfinity Series.
This year's changes point to the potential for big gains
One of the criticisms/concerns about the SRX in its first two seasons was that its Saturday night schedule put it in competition with local track owners, who need fans in the seats to pay bills.
Tony Stewart addressed that this year by moving the series to ESPN on Thursday nights, which is a win all the way around. He's no longer competing with small tracks for an audience, and he's no longer head-to-head with NASCAR on television.
An even better demonstration of Stewart's growing business sense is his strategic scheduling. Five of six 2023 SRX races are at tracks within a reasonable distance of the week's NASCAR Cup Series races. That makes it easy for some of the most recognizable names in NASCAR to compete in the SRX and get to the Cup Series track by the following morning without long flights.
Bingo! Kevin Harvick was the first driver to announce his participation in a race this season, and Kyle Busch quickly followed. Even Clint Bowyer, no longer an active driver but easily recognizable because of his role at Fox Sports, has signed on for a pair of races. Speaking of retired drivers, Stewart is a safe bet to suit up for the full schedule for the third time.
It should add up to a big win at the turnstiles and in TV ratings.
How have active Cup Series drivers fared in the SRX Series?
Kevin Harvick didn't break new ground for active NASCAR Cup Series drivers by becoming the first to commit to a race in the 2023 Superstar Racing Experience, though he stirred up instant attention.
In fact, active drivers did compete in the first two seasons, and Chase Elliott scored a pair of wins. Here's the rundown:
Attracted to a one-off appearance because of his father's participation, Elliott won on July 17, 2021, at Nashville Fairgrounds Speedway, taking the checkered ahead of Tony Stewart and Bill Elliott.
On July 23, 2022, at Sharon Speedway in Ohio, Elliott triumphed once more, with Stewart again finishing second.
The twist in the latter was that the father-son combo that night was Team Penske's Ryan Blaney finishing seventh and Dave Blaney coming in 12th.
Kevin Harvick will become the third active Cup Series driver on July 13 at Stafford Motor Speedway in Connecticut, an easy hop from New Hampshire Motor Speedway.
Got a question or observation about racing? Sportscasting's John Moriello does a mailbag column each Friday. Write to him at [email protected].