Kevin Harvick Talks Emotional 2001 Atlanta Win and Shares Favorite Story About Dale Earnhardt and How The Intimidator Once Refused to Drive a Faster Car: 'You Put That F****** Car in the Trailer Right Now'
Kevin Harvick was supposed to run his first-ever NASCAR Cup Series race at Atlanta in 2001. Unfortunately, Dale Earnhardt's tragic death changed the timeline, and the 25-year-old driver sat in the seat of the No. 29 car at Carolina in the second race of the season. Two weeks later, the rookie shocked the NASCAR world when he won at Atlanta Motor Speedway.
This week, the Stewart-Haas Racing driver talked about that race, how it ended, and the emotions that came with it. He also discussed his favorite Earnhardt tale, and how The Intimidator once refused to run a faster car.
Kevin Harvick has memorable moment after his first Cup Series win at Atlanta
As part of his final year competing in NASCAR, Kevin Harvick is revisiting various moments in his career on Stewart-Haas Racing's YouTube channel. This week before the first race of the year at Atlanta, the 2014 Cup Series champion flashed back to his first-ever Cup race at Atlanta Motor Speedway when he pulled off the improbable and won.
He admitted that much of it is a blur because there were so many emotions involved and the only way he remembers many things from the race is by watching replays. However, there was something he vividly recalled.  
"After my burnouts, that was the only race that I ever remember that the crowd was so loud, you could hear the people screaming and hollering over the engine of the car — not at full speed but while I was just idling around there you could physically hear the crowd," Harvick said.
"And I think that was just because everybody was just so emotionally confused. People were screaming. They didn't know whether they should scream because they were happy or sad and it was just one of those moments that everybody didn't expect to be in. And there we were."
Harvick shares his favorite Dale Earnhardt story
Before Earnhardt's untimely death, Harvick got to work with the legendary driver at Richard Childress Racing while he competed in the Busch/Xfinity Series. While there were plenty of interesting stories with The Intimidator, one, in particular, stands out.  
"We used to go to Kentucky Speedway all the time and at Kentucky Speedway, we did a lot of development work with General Motors," Harvick said. "It was different than it is today because of the fact that you could develop the shocks, you could develop the suspension, you could develop all of the pivot points in geometry and things. There was just this huge window of opportunity to develop things. 
"So General Motors and RCR, we would spend a lot of time at Kentucky Speedway. We developed a car and we developed some shocks and springs and things that we'd been working on in the Busch Series and we developed them in the Cup car. And then we sent everything that we'd done; we took my seat out of it, put Dale's seat in it, and they took the car to Indianapolis.
"Dale ran his car the first run, and then he ran the car that we had been working on the second run. And he ran almost a second faster in my car. He asked them what springs and shocks are in the car, and he said, 'I don't care how fast this car went, you put that f****** car in the trailer right now. I am not driving it.' So that was always my favorite Earnhardt story."
Wrote his own impressive career story after starting under the worst of circumstances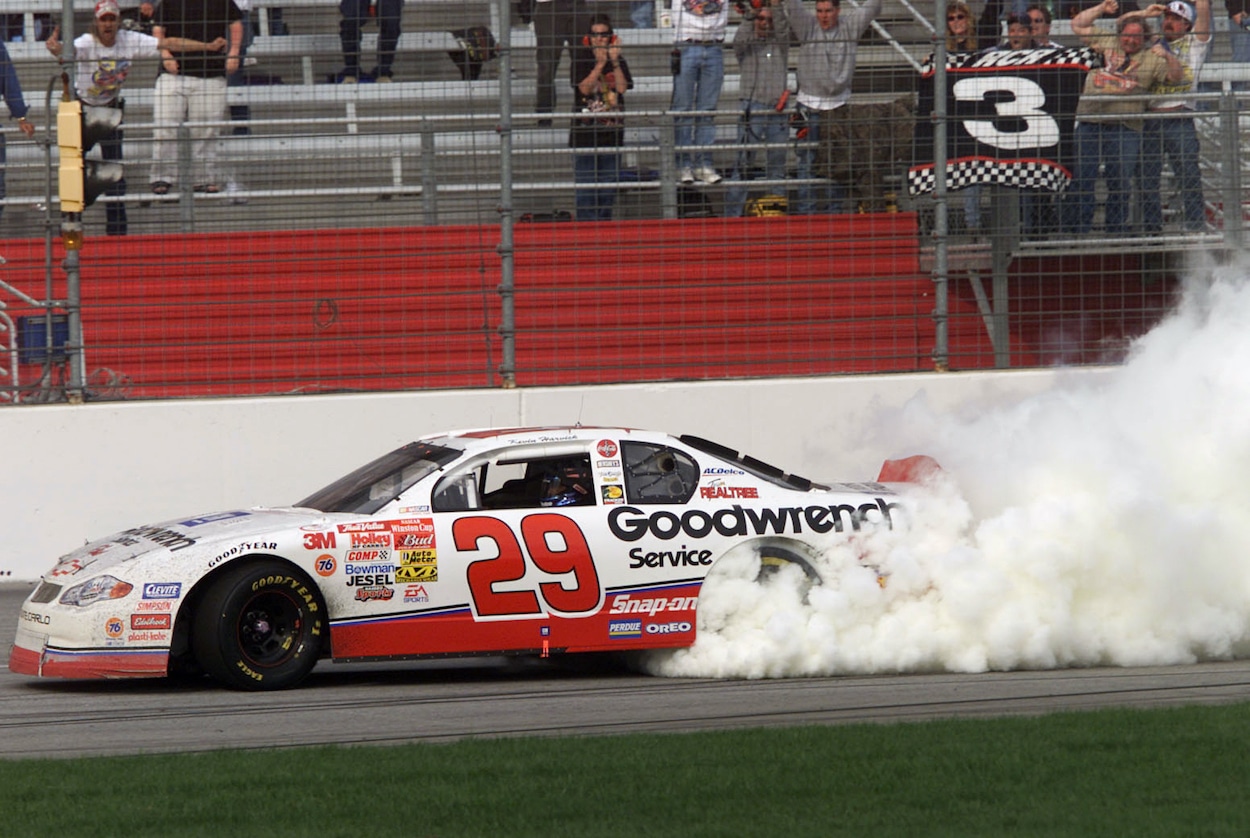 Kevin Harvick will be in the NASCAR Hall of Fame in the future. He'll be remembered for having won at least 60 races, including the 2007 Daytona 500, and collecting the 2014 championship. But those are just the numbers.
What he had to overcome was unthinkable. He had to replace arguably the greatest driver in the sport's history and do so under the absolute worst possible conditions – days after his shocking death. 
Harvick could have easily faltered under the pressure of the moment and no one would have blamed it on him but the circumstances. He didn't. He didn't fail but flourished. 
He blazed his own very successful career and is now considered one of the greats himself in the top 10 of all-time wins at 60. He could add more this year. But if he doesn't, it won't matter. He's already earned the respect of the NASCAR community for what he did that day in Atlanta and, more impressively, over the next 23 seasons.  
For the latest breaking news and information about NASCAR's three national series, check out @kdsportswriter on Twitter.