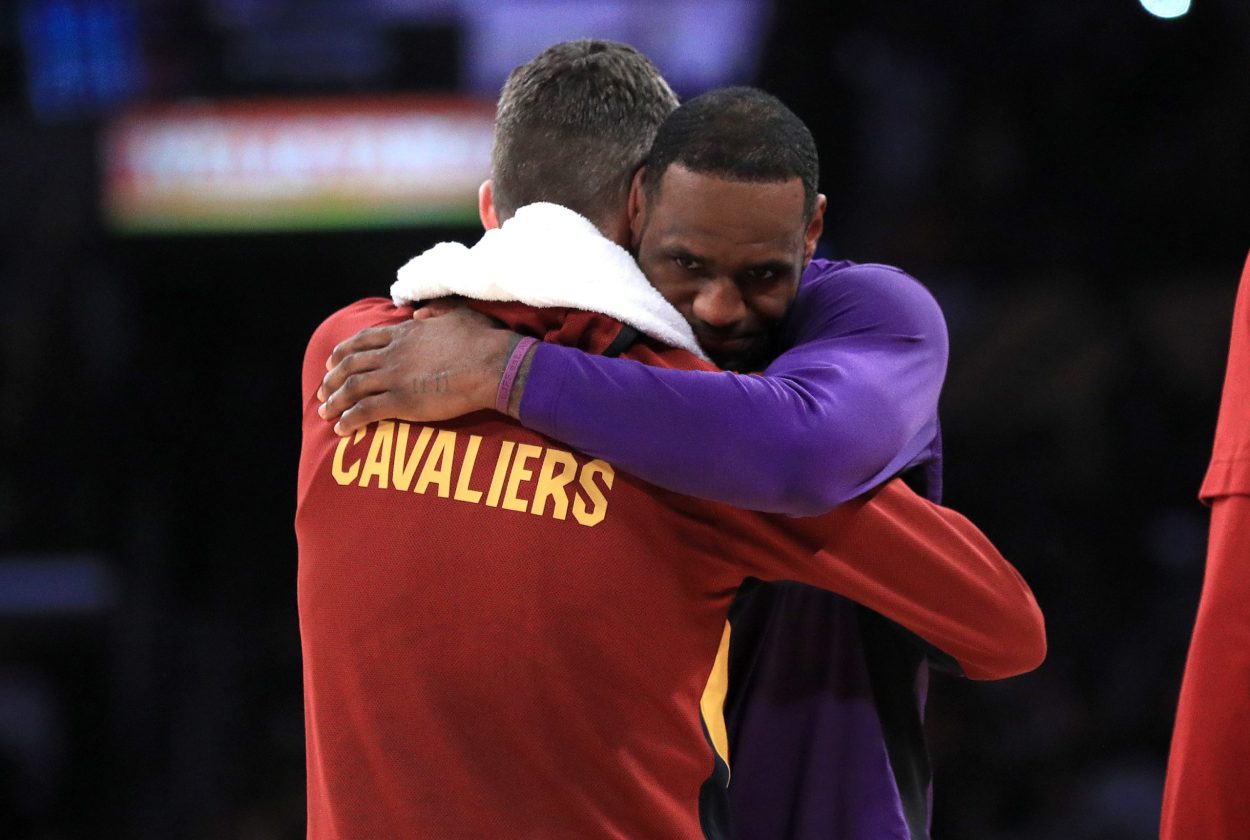 Kevin Love Sneakily Suggests That LeBron James Make 'Storybook' Return to Cleveland
Kevin Love stated a desire for LeBron James to eventually end his NBA career with the Cleveland Cavaliers
Kevin Love is enjoying a resurgent season for a Cleveland Cavaliers franchise that is finally having some success without LeBron James. Still, while the Cavs might want to build something without King James, Love wouldn't mind seeing LBJ return to Cleveland. In fact, he thinks it could be the perfect capper for LeBron's career.
While James first achieved championship glory with the Miami Heat and won his fourth ring as a member of the Los Angeles Lakers, he will always be the pride of Akron, Ohio, and Cleveland's favorite son. Love doesn't know what James' future holds, but he thinks the final chapter should take place back where LBJ's journey first began.
Kevin Love and LeBron James were Cavaliers teammates for four tumultuous seasons
Love and James went through all the highs and lows in their four seasons with the Cavaliers.
Cleveland indicated its intent to win a championship by trading the No. 1 pick in the 2014 NBA Draft, Andrew Wiggins, to the Minnesota Timberwolves in exchange for Love, at the time one of the best forwards in the league. So began a tumultuous journey.
The Cavaliers' new big three of James, Love, and Kyrie Irving came up short in the 2015 NBA Finals, primarily because of injuries to Love and Irving. That season proved difficult for Love, who had to go through an adjustment as the third option while taking in all the scrutiny that came with being on a LeBron-led team. He also felt irked by a subliminal LBJ tweet demanding he find a way to fit in.
Cleveland experienced more drama at the start of the 2015-16 season, as Cleveland fired head coach David Blatt after a 30-11 start to the season. But it ended in glory, as LeBron's remarkable three-game run helped the Cavs overcome a 3-1 Finals deficit against the Golden State Warriors. Love came up huge with terrific defense on Stephen Curry late in Game 7.
The following two years proved every bit as challenging. Although the 2016-17 Cavs were arguably better than the championship team from the season before, they stood little chance against a Warriors team that added Kevin Durant in the 2016 offseason.
Chaos promptly ensued. Irving demanded a trade in the summer of 2017 and was dealt to the Boston Celtics. The Cavaliers struggled to start the 2017-18 season, leading to a deadline in which they practically cleaned house. James practically dragged Cleveland to the Finals, only to again fall at the hands of the Warriors. The LBJ-Love partnership ended that summer after The King signed with the Lakers.
That era of Cavs basketball contained a whole lot of theater. Still, Love might welcome it all for the chance to play with LeBron again.
Love would love to see James play for the Cavs again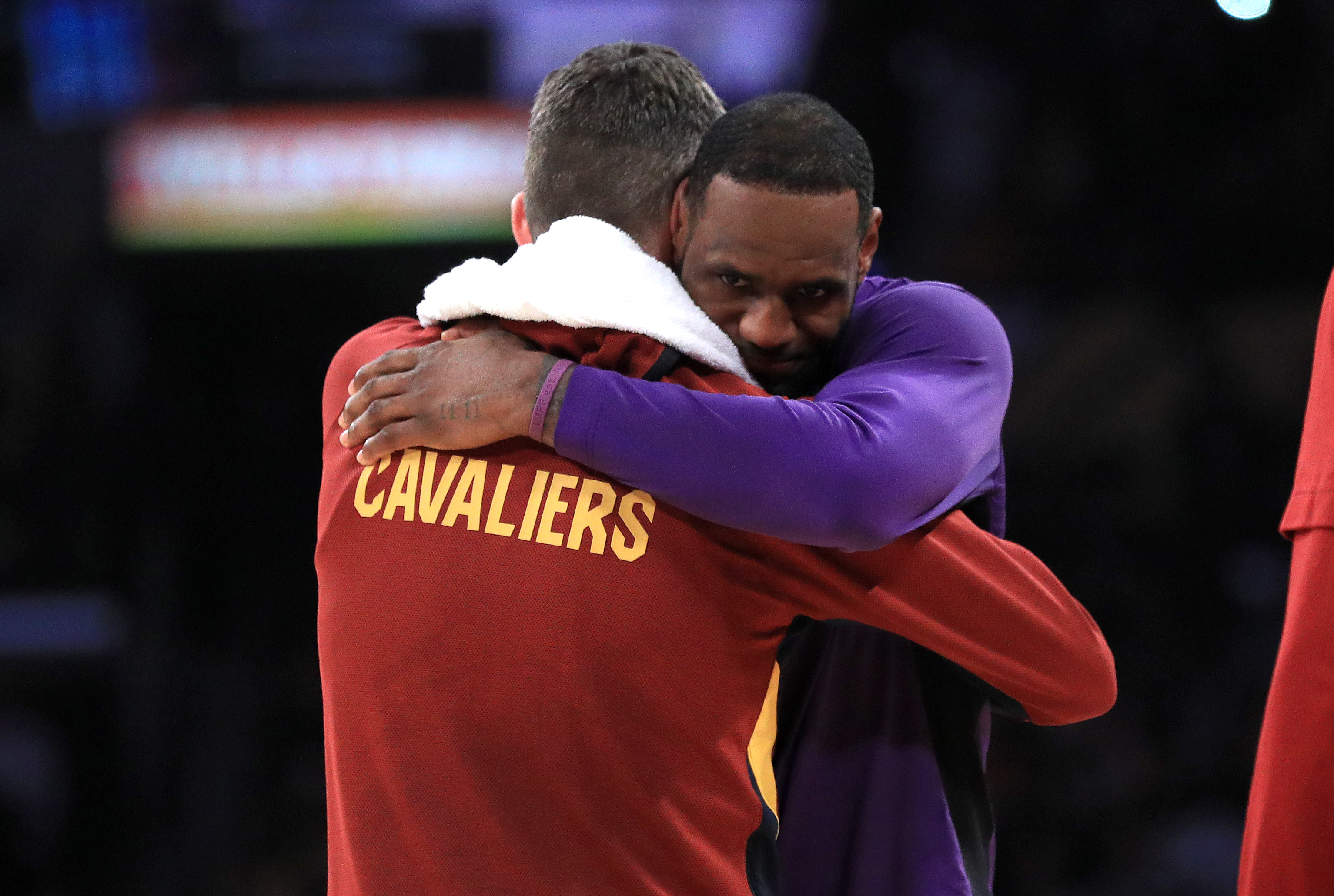 Kevin Love has survived countless trade rumors and melodramas on losing teams. Now, he plays a key role for a club that should contend for years to come.
Love believes LeBron James would fit right in with this current Cavaliers group. The five-time All-Star told FanSided he'd love to see LBJ back in Cleveland, further appealing to James' sensibilities by bringing up the hypothetical of Bronny James playing for the Cavs.
"I mean, that's like a storybook ending for him. I don't want to project what he may or may not want to do, but where our team is trending and how we're set up to win for a very long time and how much you know, Cleveland and Akron and all of Ohio loves him. It'd be great to get Bronny over here too and then we'll call it a day."

–Kevin Love to FanSided on a possible LeBron James Cavaliers reunion
James said earlier this season he hopes to play with Bronny before calling it a career. He also hinted during All-Star weekend that he'd be open to a Cavaliers return.
With the Lakers' future looking dire and Love playing the recruiter role, could James eventually find himself back in Cleveland?
Lots of uncertainty for LBJ
In separate comments made to Sports Illustrated, Kevin Love said he doesn't currently see LeBron James returning to the Cavaliers. But it's not out of the realm of possibility.
If the Lakers fought their way into the NBA play-in tournament and had a respectable playoff showing, speculation about James' future might die down some. But LA is stuck in purgatory.
The Lakers are saddled with a Russell Westbrook contract that might be untradable unless they part with even more draft capital, and they have so little to play with already. Plus, LA already has to do salary-cap gymnastics because of money owed to James and Anthony Davis.
It probably makes the most sense for LBJ to sign a new "1+1" extension with LA this summer that buys the Lakers time while still allowing King James to possibly opt out in 2023. But nothing feels guaranteed after LA's epic collapse to end the 2021-22 regular season.
Cleveland might be reticent about bringing James back when they've only just started building something without him. Still, if Love — though he is an unrestricted free agent in 2023 — and Co. want to play alongside LeBron, Cavs general manager Koby Altman might have to find a way to get something done.