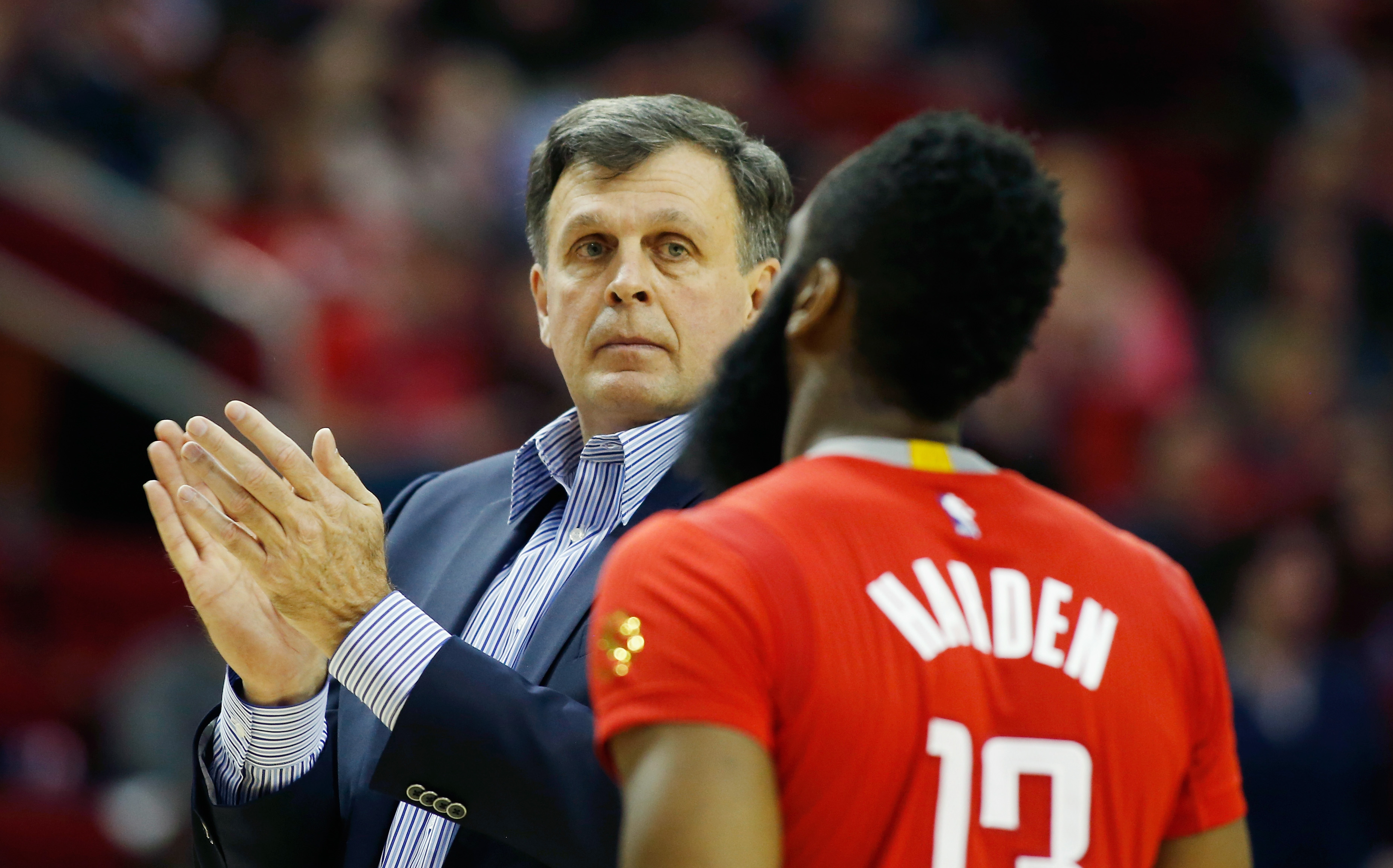 Kevin McHale Recalls When James Harden 'Had a Plan' After Getting Benched During the Playoffs With the Houston Rockets
Kevin McHale is far from surprised with the way James Harden is handling himself with the Philadelphia 76ers.
Kevin McHale knows a little bit about the James Harden we've seen in the headlines recently. Harden made news recently, calling Philadelphia 76ers president Daryl Morey a liar and saying he'll never play for him again.
McHale, the former Boston Celtics star, coached Harden with the Houston Rockets for more than three years and has seen these antics from Harden before. He told Steve Bulpett of Heavy Sports that Harden "had a plan" after McHale benched him during the fourth quarter of a 2015 playoff game.
Kevin McHale feels sorry for Joel Embiid after Harden's recent outburst
James Harden opted out of his deal and took a significant pay cut last season, expecting to ink a much wealthier extension in the offseason. It never happened, and Harden blamed Morey. He also didn't hold back in his feelings on the matter.
"Daryl Morey is a liar, and I will never be a part of an organization that he's a part of," Harden said during a recent trip to China. "Let me say that again. Daryl Morey is a liar, and I will never be a part of an organization that he's a part of."
Kevin McHale said Morey might not even be the one Harden should be mad at.
"I've been involved in a million meetings as a coach and GM, and, you know, players hear what they want to hear a lot of times. And Daryl's smart," McHale said to Heavy Sports. "My whole take on the thing is I think Daryl's really hooked up with James, but I think ownership looked at it. Let's face it, if the owner looks at you and says, 'We're signing that dude,' you're signing that dude. Story's over. And if the owner looks at you and says, 'We're not signing that dude,' you're not signing him.
"James wanted a big extension from Philly, and Philly wouldn't give it to him, and that's not a Daryl decision. Daryl's got a part of that, of course, but that's an owner decision."
In all of this Philadelphia mess, McHale said he feels sorry for star center Joel Embiid.
"The person I mostly feel bad for is Joel Embiid," said McHale. "This guy's coming off an MVP season, but when you're team is fractured at the top — when one of the top two players is like, 'I'm out of here. The guy's a liar' — you've got no chance of winning."
McHale said Harden 'had a plan' after playoff benching in 2015
In the 2015 Western Conference Semifinals, Harden's Rockets trailed the Los Angeles Clippers 3-1 in the best-of-seven series. After winning Game 5, McHale benched a struggling Harden in the fourth quarter of Game 6. Harden shot 5-for-20 in the game, but the Rockets outscored the Clippers 40-15 in the fourth quarter to win 119-107. Houston went on to win the series but fell to the Golden State Warriors in the conference finals.
"The next year he came to camp, he was fat and didn't feel like playing, and I got fired (11) games into the season," McHale said. "He had a plan."
McHale has seen this before with Harden, so he isn't surprised by what's going on in Philadelphia. He said working with Harden overall wasn't too bad.
"But overall with James, it wasn't that bad," he said. "The year he came to camp heavy and didn't feel like playing, that was hard.
"I remember looking at him and saying, 'Ugh, it's going to take to December before he's in shape.' But whatever situation you're in, you just have to find a way to work through it if you want to be successful."