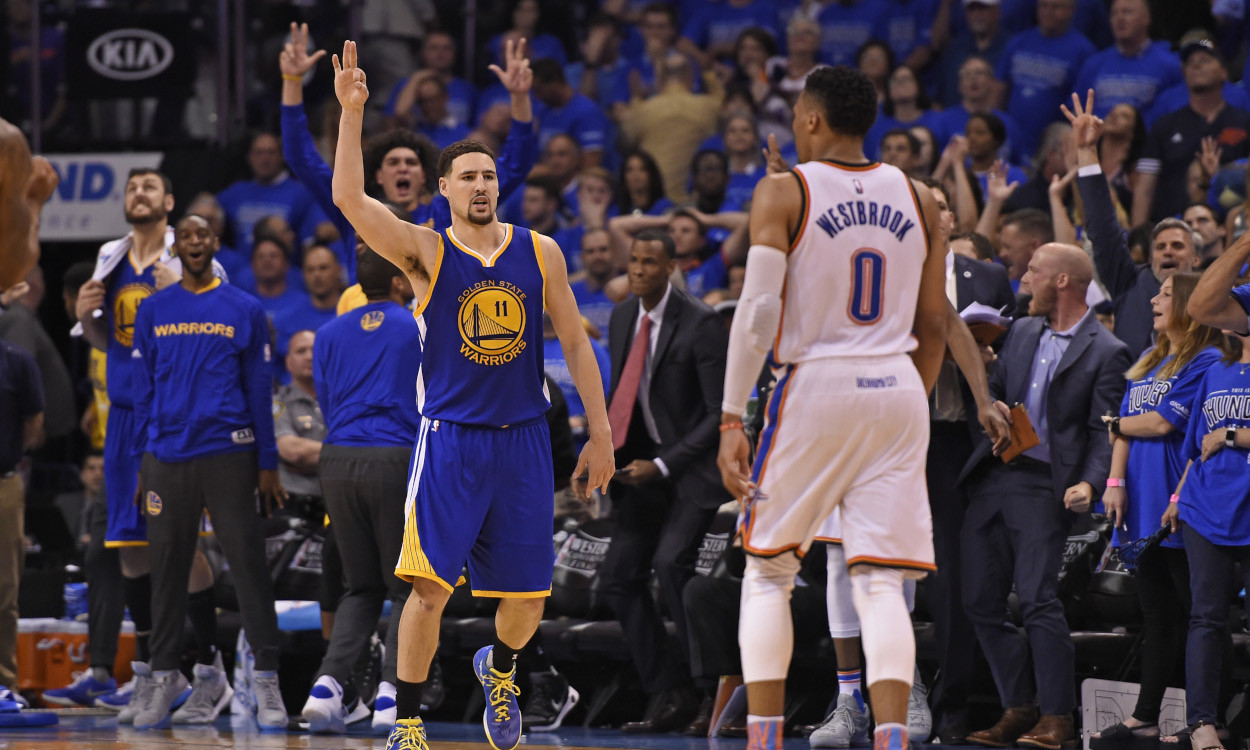 Klay Thompson's Epic Game 6 Performance Against the Thunder Prompted Charles Barkley to Coin an Awful New Nickname
Klay Thompson's 19-point fourth quarter to keep the Golden State Warriors alive in the 2016 Western Conference Finals and inspired Charles Barkley to throw out an awful nickname.
Golden State Warriors' long-lost star Klay Thompson aims for a comeback around Christmas Day, meaning it will be more than two years between NBA games for the two-time All-NBA sharpshooter. He tore an ACL during Game 6 of the 2019 NBA Finals before rupturing his Achilles' tendon while rehabilitating from the first injury. But he is known for his epic shooting performances, and after one such outing, he sent Inside the NBA's Charles Barkley into a frenzy.
Thompson has three 50-point games in his career, and his legendary 60-point game against the Indiana Pacers in December 2016 was a master class in catch-and-shoot basketball. He scored 60 points in 29 points and dribbled the ball 11 times. It was a playoff performance during their unsuccessful 2016 title defense that caught Barkley's eye, prompting one of the worst on-the-spot nickname misadventures in recent years.
Klay Thompson delivered a massive effort in an elimination game
Backed into a corner during the 2016 Western Conference Finals, the Golden State Warriors were in a 3–1 series hole after back-to-back blowout losses on the road against the Oklahoma City Thunder. Kevin Durant scored 40 points in Game 5 at Oracle Arena to force a Game 6 back in OKC.
Thompson put on a show in the fourth quarter of Game 6. Oklahoma City had Golden State on the ropes, leading by seven with less than six minutes remaining.  Killa Klay took over from there, scoring 10 points in the final 5:33 as the Warriors finished the game on a 21–7 run. They completed the comeback at home in Game 7 before turning around and coughing up a 3–1 edge in the NBA Finals to the Cleveland Cavaliers.
Thompson played all 12 minutes in the fourth, scoring 19 points on 6-of-9 shooting. That included draining 5-of-6 from beyond the 3-point line. He finished with a playoff career-high 41 points/
Charles Barkley was blown away by Thompson's performance.
Charles Barkley tossed a horrible nickname on Klay Thompson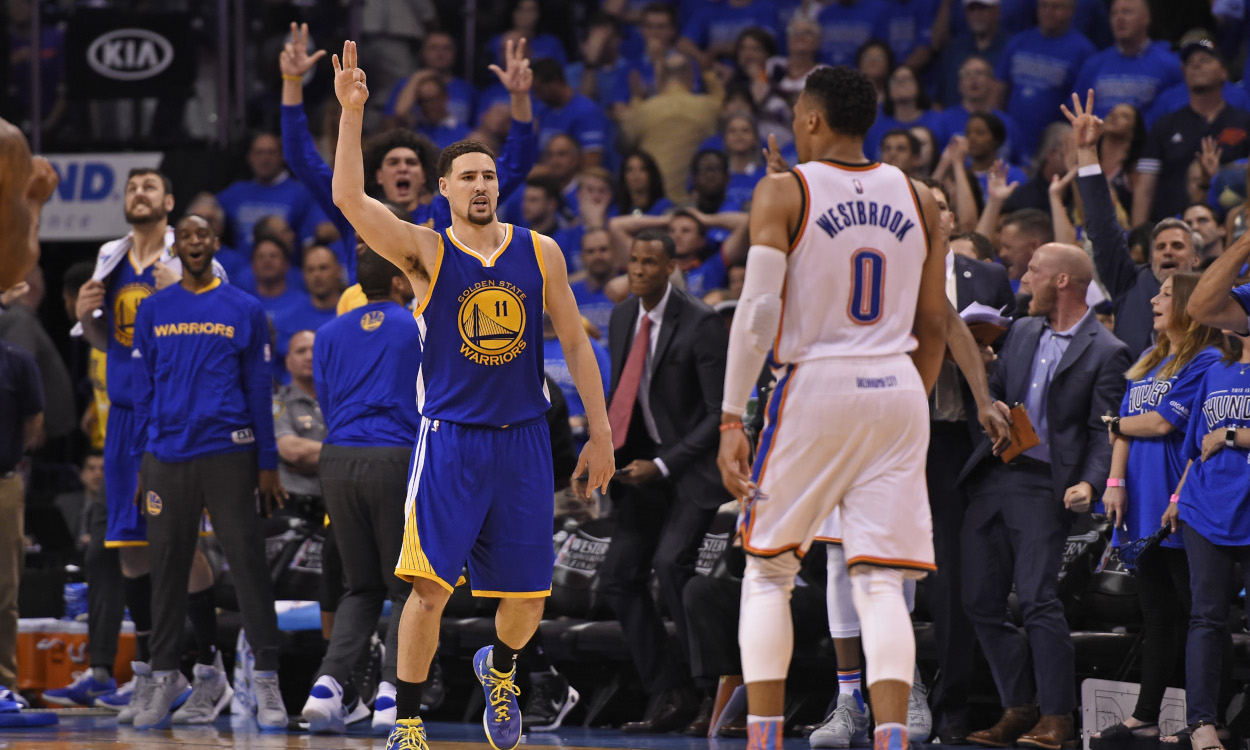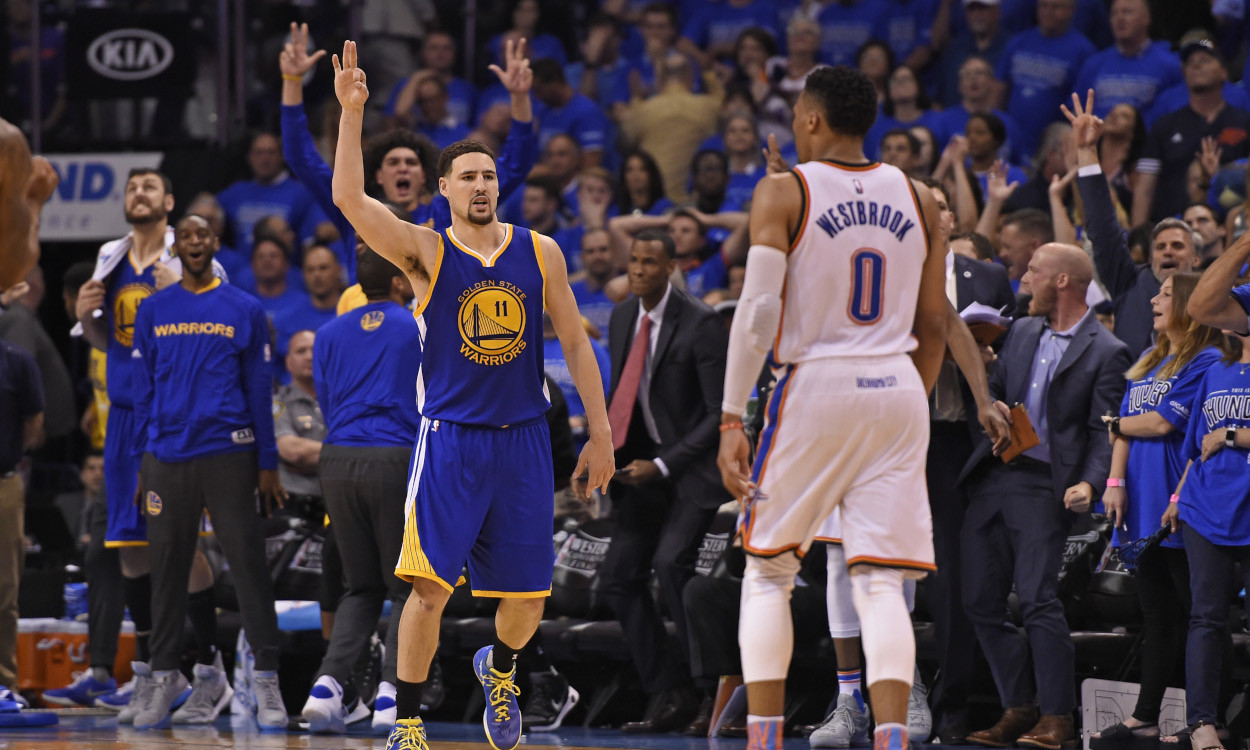 After the game, the Inside the NBA crew did its thing, breaking down the game. Charles Barkley couldn't say enough good things about Klay Thompson. He capped his heaping helping of praise with a nickname that was so awful it didn't make Thompson's list of monikers at Basketball Reference.
He did come out of that effort with a name that stuck, as "Game 6 Klay" became a thing. That's good for Thompson because Barkley's action could have stripped him of any credibility he had.
Barkley wanted to call Thompson "The Fisherman." His logic was solid. It was the execution that was flawed.
"What do you think about Klay Thompson nicknamed 'The Fisherman' 'cause he got catch and release."

Charles Barkley in 2016
As far as nicknames go, it's one to throw back. And never catch again.
Nicknames are a consistent go-to for Charles Barkley
In his role as a studio analyst for TNT, Charles Barkley isn't shy about throwing out nicknames for players. Those names are captives of the moment and may not reflect everything a player is. Sometimes they do. During the 2021 NBA Playoffs, Barkley took a vicious shot at Los Angeles Lakers big man Anthony Davis. He referred to the oft-injured star "Street Clothes."
After three-time Sixth Man of the Year Lou Williams ended up in COVID-19 protocols following a trip to Atlanta's notorious Magic City strip club. But his defense was that he was only there for the chicken wings. Right, and we read Playboy for the articles, too.
Kenny Smith fired the first shot at Sweet Lou.
"He tried to fool everybody; he's going there for the wings. He really went there for the legs and the thighs."

Kenny Smith
Barkley's follow-up was gold.
"But did you notice one thing when the Clippers got going, and they took Kawhi Leonard and Paul George out of the game? That's when they really missed Chicken Wing Lou Williams."

Charles Barkley
That was a far better effort than The Fisherman, to be sure.
Statistics courtesy of Basketball Reference and Stathead.