Shaquille O'Neal Gets Real on Why He Throws His Rings in Charles Barkley's Face: 'He Really Doesn't Know What It Takes to Get to That Next Level'
Much of the friction between Inside the NBA co-stars Shaquille O'Neal and Charles Barkley is merely made-for-TV drama (after all, TNT knows drama). But sometimes, the beefing takes on a more personal edge. This edge is particularly noticeable when O'Neal invariably brings up his championship ring tally.
Barkley famously retired in 2000 as one of the greatest NBA players never to win a championship. O'Neal grabbed the big gold trophy four times in his 19 seasons, earning NBA Finals MVP honors three times in the process. It's a gaping hole on Barkley's resume, and it's a sore spot O'Neal doesn't mind grinding some salt into on occasion.
Shaquille O'Neal and Charles Barkley once got physical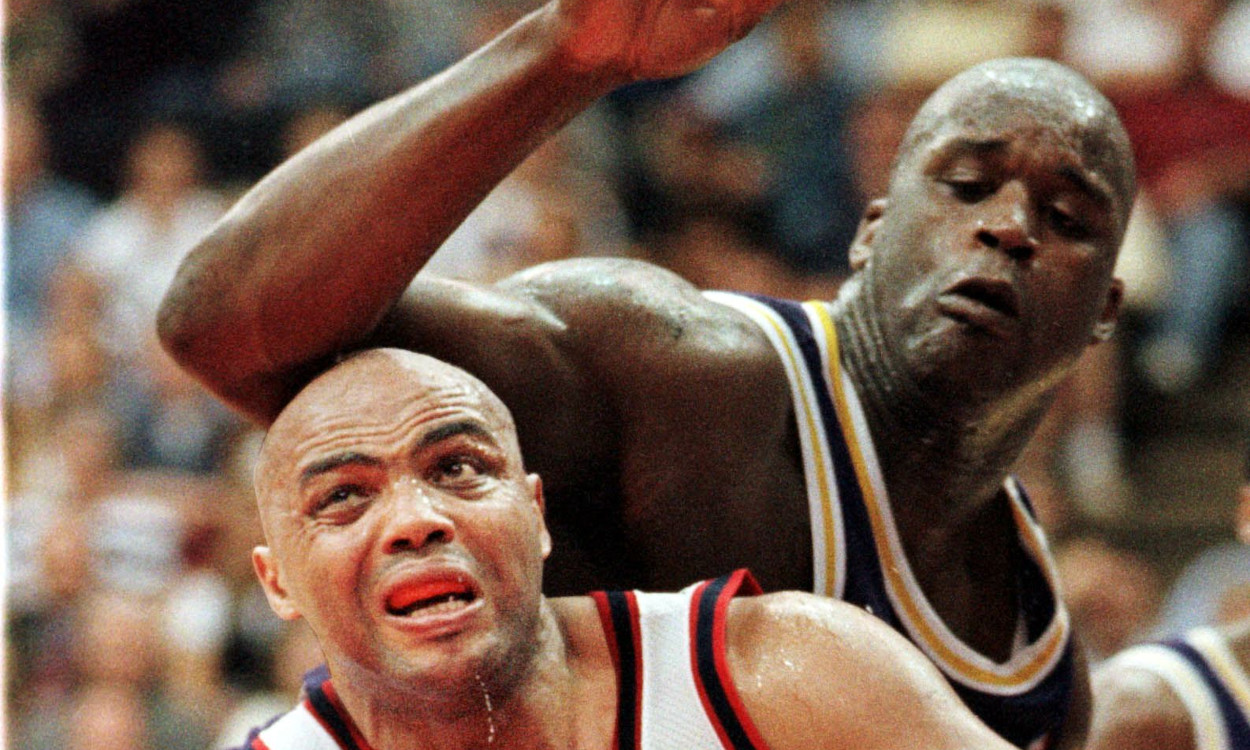 The 16-year NBA career of Charles Barkley overlapped the 19-year stint of Shaquille O'Neal's for eight seasons, from 1992–2000. The Hall of Famers met 15 times in the regular season, with O'Neal's side (either the Orlando Magic or Los Angeles Lakers) coming out on top 8–7 over Barkley, who played with both the Phoenix Suns and Houston Rockets during that time.
In the postseason, the pair met just once, a four-game win by Shaq's Lakers in the 1999 Western Conference first round. That series marked the end of the short-lived Rockets superteam of Hakeem Olajuwon, Clyde Drexler, Scottie Pippen, and Barkley. Drexler retired after the series, and Pippen moved on to the Portland Trail Blazers, carrying a lifelong beef with Barkley.
Early in Barkley's final season, the rivalry came to a head. During a November 1999 game in Houston, the two stars scrapped after Barkley fired the ball at O'Neal's head. Ejections Afterward, neither player saw the end of the game, and the situation went to mediation in a typical youth-league fashion. The players' mothers got involved.
Fast forward to a 2011 reunion on the set of Inside the NBA.
The verbal battles continue between Shaquille O'Neal and Charles Barkley
One could piece together a feature-film-length video of the sparring matches between Shaquille O'Neal and Charles Barkley on the set of TNT's venerable NBA show. Whether it's merely for effect or because they genuinely disagree that often, O'Neal and Barkley are on the opposite sides of the discussion most of the time.
And most of the time, O'Neal's trump card is, as they would say on social media, #rangzzzzz. Shaq has four, Barkley has none, and the big man is never shy about letting the slightly less big man hear about it.
During an appearance on Conan O'Brien's Conan Needs a Friend podcast in March 2021, O'Neal explained why the championship tally is his go-to weapon of choice.
"Charles is a great player, one of the top 50 greatest of all time but, he really doesn't know what it takes to get to that next level, and that's why I tell him, 'You're over here yelling and screaming, and you think your word is the law, but no, you didn't get to the mountain top.' Not only was I at the mountain top, but I was king of the mountain top."
It's true. As O'Neal reminds Barkley occasionally, you can Google it.
Barkley and O'Neal are close friends
The bottom line is that Charles Barkley and Shaquille O'Neal are, off-camera at least, good friends. Much of their banter is playful, and there seems nothing either of them enjoys more than getting a good shot in at the other.
Barkley teases O'Neal about his dating game. Shaq claims to believe in UFOs because Chuck looks like an alien. And on it goes.
In these exceedingly polarized times in which we live, Shaquille O'Neal and Charles Barkley can provide a great object lesson. It's still possible to disagree without becoming disagreeable.
Statistics courtesy of Stathead.