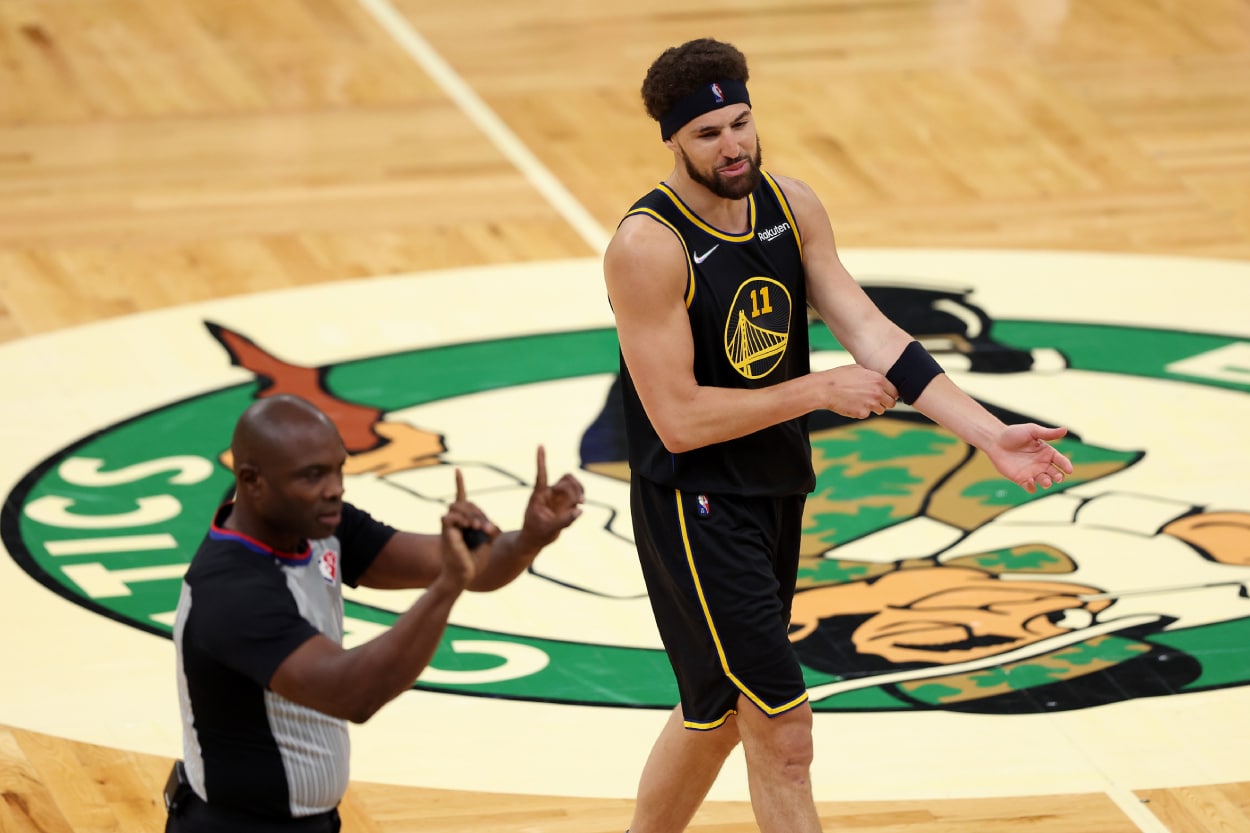 Klay Thompson Set Himself Up for a Rude Awakening at Game 4 With the Boston Celtics
The Boston Celtics crowd will likely add Klay Thompson to its list of chants Friday night.
The Boston Celtics stole homecourt advantage from the Golden State Warriors after a 120-108 victory in Game 1 of the 2022 NBA Finals. So far, they made the most of it after Wednesday night's 116-100 win that gave them a 2-1 series edge.
After the game, Warriors guard Klay Thompson complained about the crowd. He sarcastically called Boston fans "classy" after drowning Golden State forward Draymond Green with F-bombs. If Thompson thought Wednesday night was rough, he's in for a rude awakening Friday.
Klay Thompson and the Golden State Warriors look to even the series with the Boston Celtics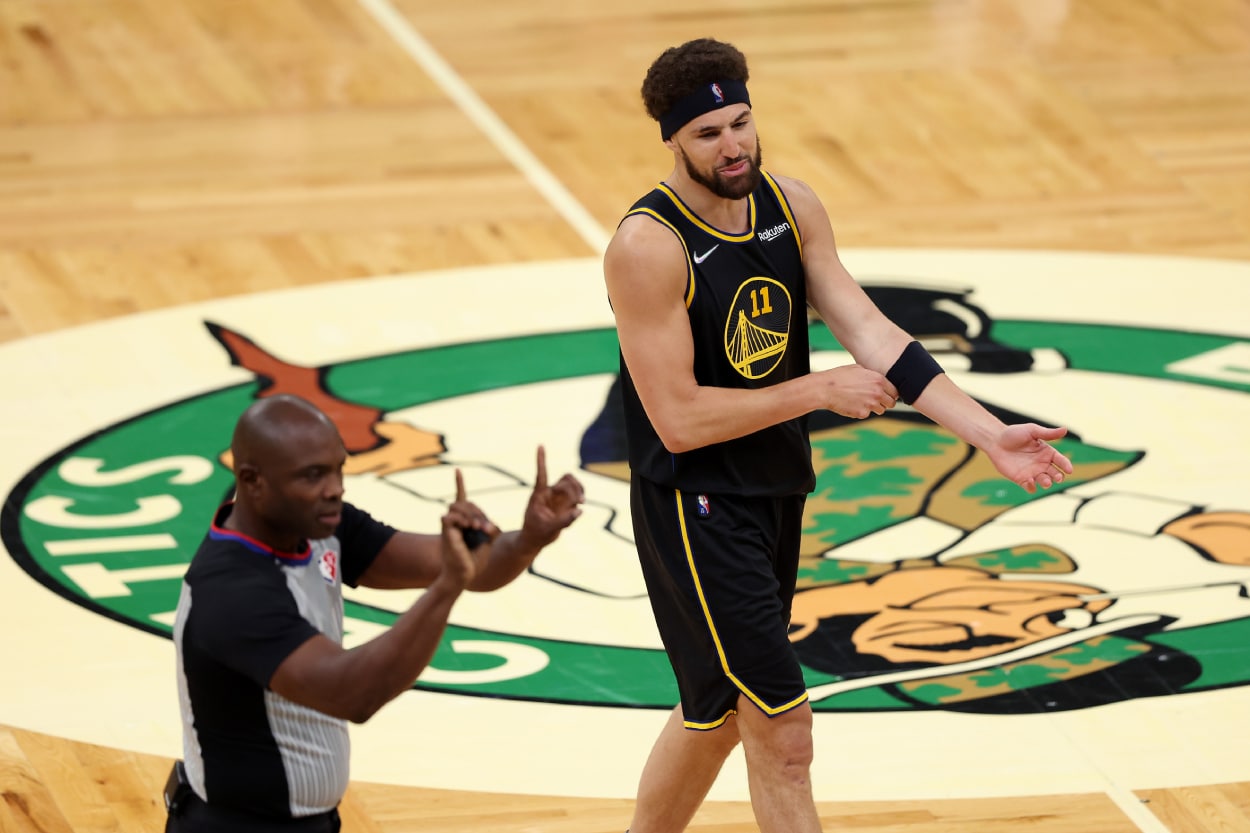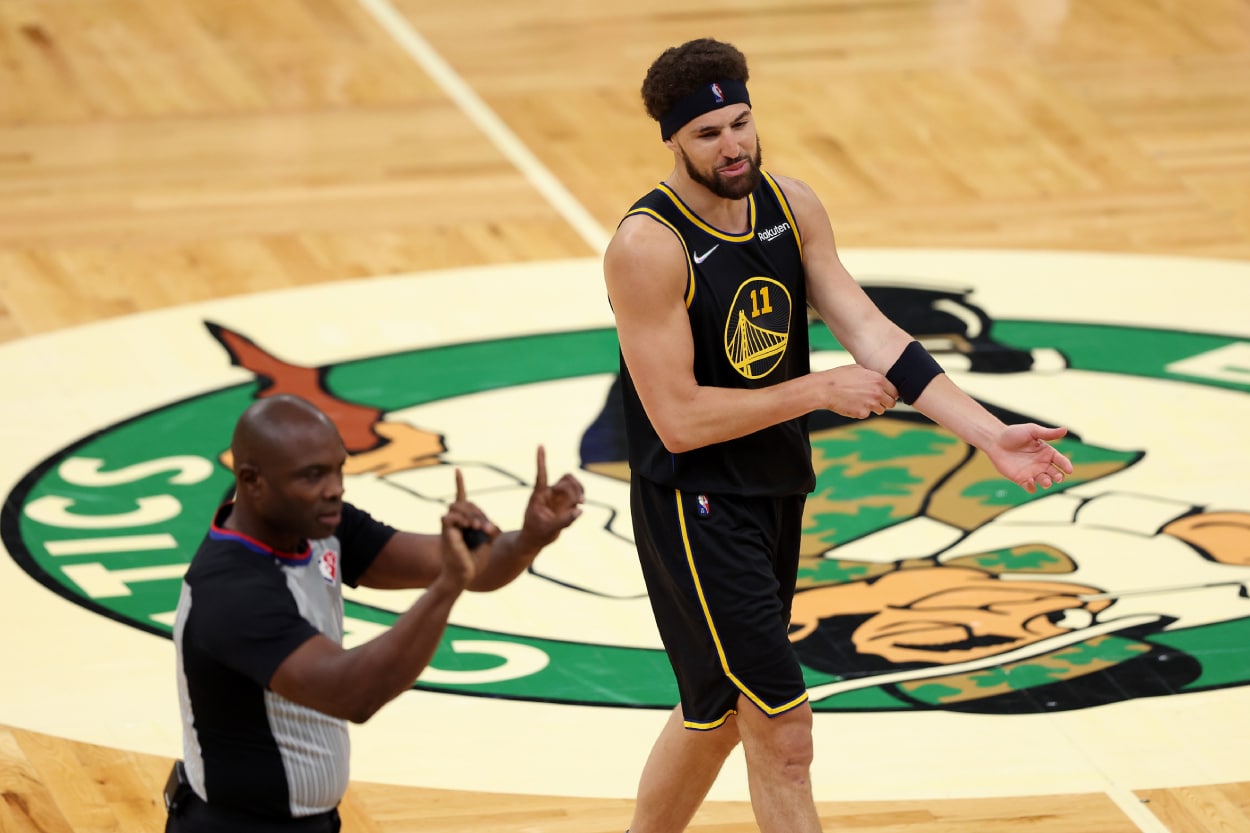 Thompson has had his share of struggles in the series, especially with his long-range shooting. He picked things up in Game 3, going 5-for-13 from three-point land. That came after a 1-for-8 performance in Game 2.
Also struggling for the Warriors is Green, who had two points, four rebounds, and six fouls in Wednesday's loss in Boston. The Warriors need to play desperate basketball to avoid getting down 3-1 in the best-of-seven series.
Golden State was in desperation mode in Game 2. The Warriors couldn't afford to drop the first two games at home and head to Boston for Games 3 and 4. Desperation showed as Green did all he could to get under the skin of many Celtics players. He antagonized players all game.
Stephen Curry carried the load for the Warriors with a 29-point effort in a 107-88 victory. Defensively, the Warriors clamped down, holding three starters — Robert Williams, Marcus Smart, and Al Horford — to two points apiece.
Thompson and Green need to step things up offensively, and the Warriors need that defensive mindset they had in Game 2 if they want to head back to the West Coast even in the series.
Thompson and the Warriors will face another hostile Boston crowd
Green was the target of the Boston fans Wednesday night. He made a fool of himself in Game 2 with his antagonistic style of play. Celtics fans didn't forget.
They booed Green throughout the night during the first meeting in Boston. They even chanted "f*** you Draymond" at various times. Green said he expected a rough treatment. Thompson blasted those fans for their behavior.
"We've played in front of rude people before," Thompson said during his postgame press conference. "Dropping F-bombs with children in the crowd… Real Classy. Good job, Boston."
Well Klay, be prepared for Round 2 on Friday. Celtics fans always get behind their team. They are loud, passionate, and will drop an F-bomb or two or 17.
Now that they know Thompson was bothered by the four-letter word, you can bet TD Garden will be even louder Friday night.
Green has embarrassed himself with his on-court antics. Thompson embarrassed himself with his off-court comments. Look for the Celtics crowd to get into it a little more Friday night, with Thompson having some of those chants directed at him.
Like Sportscasting on Facebook. Follow us on Twitter @sportscasting19 and subscribe to our YouTube channel.