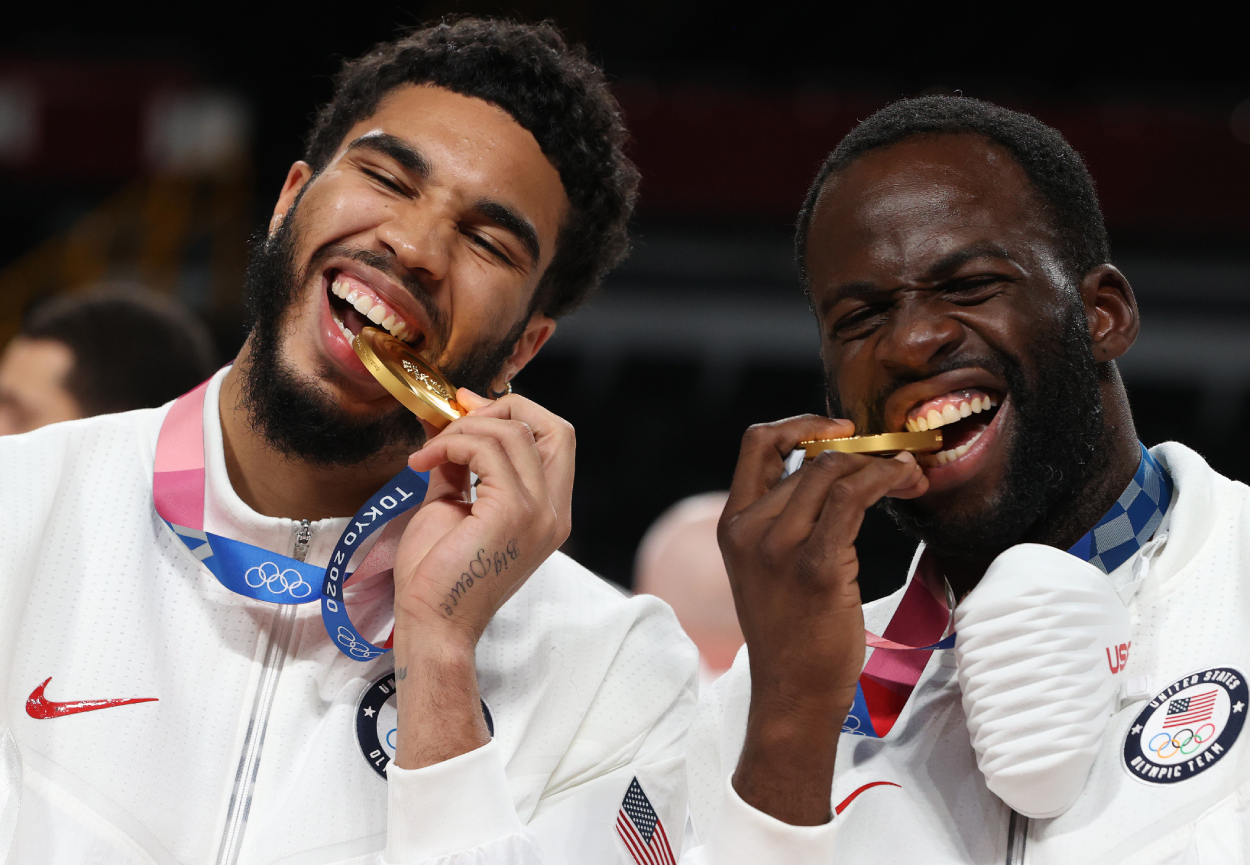 Draymond Green Says Jayson Tatum Should Have Only 1 Goal Next Year — and It's Not to Win a Title
Jayson Tatum recently got some advice from Golden State Warriors forward Draymond Green.
Draymond Green has been in the NBA for 10 years. He knows a thing or two about what it takes to win a championship. The Golden State Warriors forward recently had Boston Celtics star Jayson Tatum as a guest on The Draymond Green Podcast.
Green gushed over the growth of Tatum. He was impressed by the turnaround of the Celtics. Green told Tatum he should only have one goal for next year.
Draymond Green impressed by the turnaround of Jayson Tatum and the Boston Celtics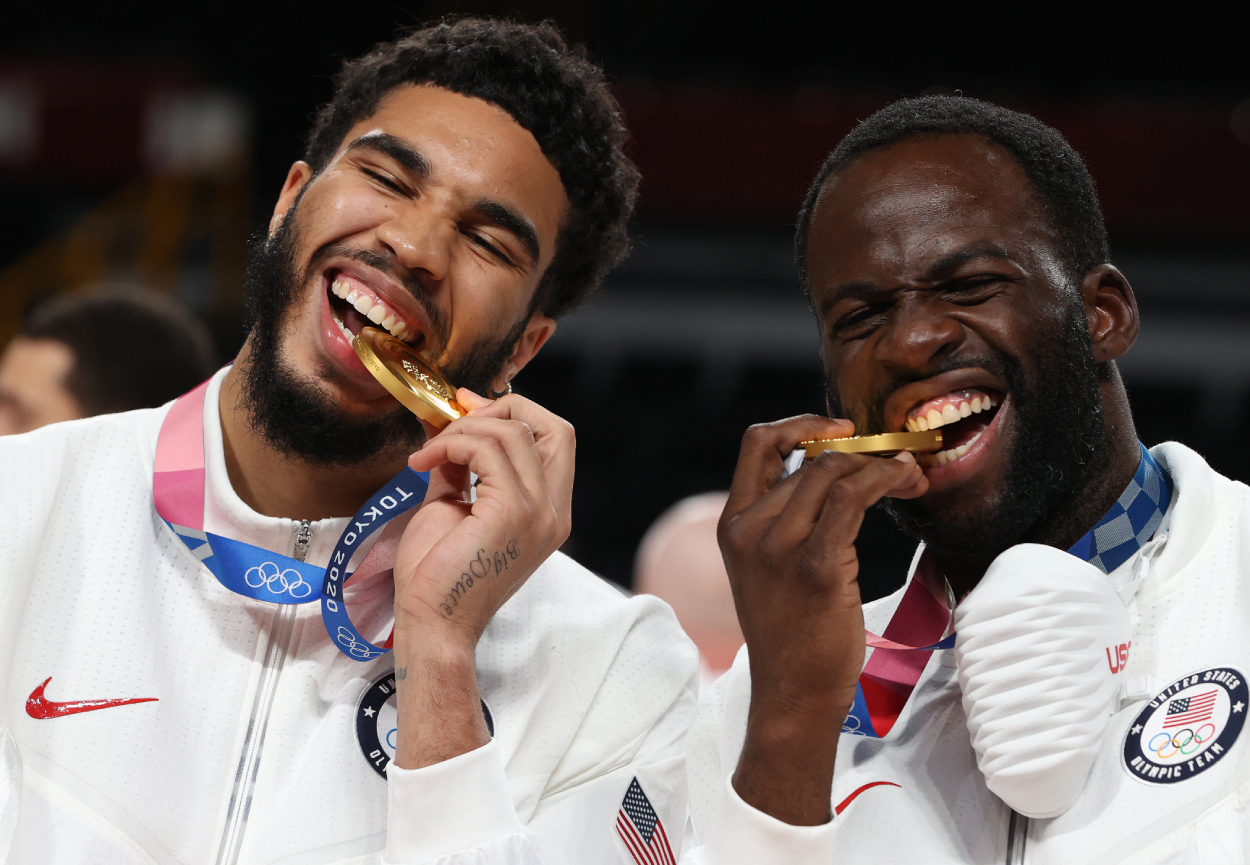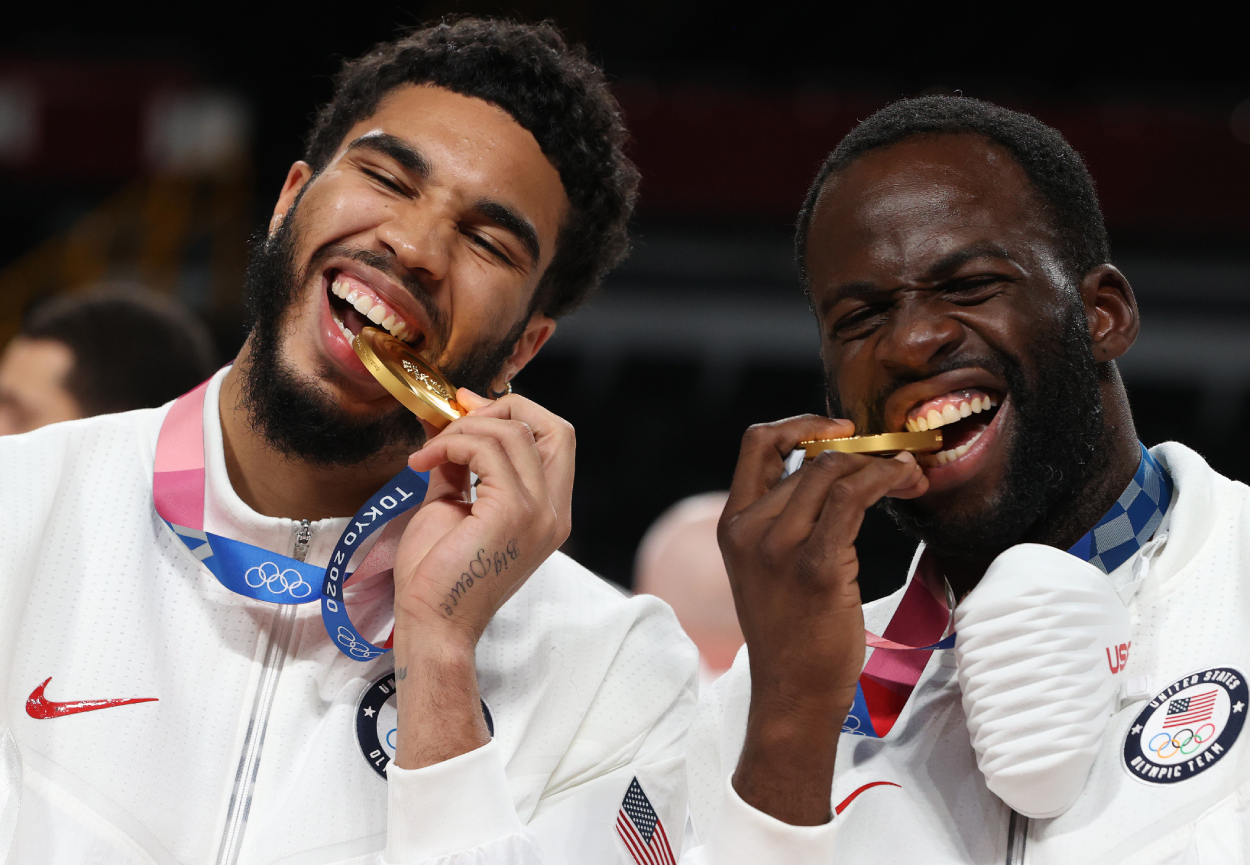 Back in December, Green and the Warriors came to TD Garden and knocked off the struggling Celtics 111-107. The loss was the fourth in five games for Boston. The Celtics fell to 14-15. Things were tough in Boston during Ime Udoka's first year as head coach of the team.
Even with young stars Tatum and Jaylen Brown, the Celtics struggled to get past the .500 mark. They weren't able to do it for good until a Jan. 29 win at the New Orleans Pelicans got them to 26-25. That victory was the first of a nine-game win streak that changed the course for Boston.
Since then, the Celtics have also put together win streaks of five and six games. They began their six-game spurt with a convincing 110-88 win over the Warriors. Green was amazed with the turnaround.
"It's incredible," Green said to Tatum. "I mean, to see where y'all team has gone from even like when we played y'all in Boston. Totally different team."
Green praised Tatum, but he also gave props to Udoka.
"I think it all starts on the defensive end," Green said. "You know when a coach is good, you can judge a coach off their team's defense. If a team can't defend, look no further than the coaching staff. Coaches teach defense. It's a sign of accountability. It's a sign of your team's toughness, mental focus."
Draymond Green said Jayson Tatum should enter next season with one goal in mind
Tatum has certainly gotten the notoriety of being one of the best players in the league. He just hasn't been able to win a championship or even get to the NBA Finals.
According to Green, that shouldn't even be his biggest goal for next season.
"Regardless of whatever happens this season, the playoffs, you should be dedicated to having the absolute best summer of your life," Green said. "You already work, but there's more to be done. Your only goal going into next year should be I'm 100 percent going to be the MVP of the NBA. You should be the MVP of the NBA next year with your skill level.
"A lot of people don't realize how young you are. I didn't either until we got to the Olympics. You've been doing this at this level ever since you came into the league your rookie year, which is, what, five years? People tend to think you just one of us"
Green talked about Tatum asking tons of questions when they were Olympic teammates last summer. He was happy to help answer them, especially knowing how talented Tatum is.
"It's one thing to share a game to a young dude," Green said. "It's a totally different thing to give some game to a star. I think that should be your number one goal going into next year. You should be thinking nothing else."
Tatum and Ime Udoka respond to Green's comment
Tatum said he's looking forward to this summer because it's the first one where things won't be so crazy.
"You definitely right," Tatum said regarding Green's advice. "I think this is going to be my first kind of full summer since I've been in the league. I played on the FIBA team in 2019 and got injured. Then 2020 comes around and COVID hit, and that was the shortest offseason in NBA history. Last year, we was in training camp with USA while the season was still going on. It's always been something.
"I'll handle this season first, but this offseason coming up is something I'm really, really looking forward to."
Udoka said he had no problem or concern with Green telling Tatum he should focus on winning the MVP next year.
"Everybody has individual goals," Udoka said in a press conference before Friday's game with the Indiana Pacers, per CLNS Media. "What he is trying to do is obviously play at a certain level and maintain that. The way he's playing now and the way he's been playing lately, he would love to come into the season with that.
"The numbers were down earlier, percentage-wise, and a little bit of a slow start, so to play at that high level the whole time would get your name in the race, obviously. No problem with that at all. Guys should try to attain and achieve certain things. JT is not a guy I'm worried about stat-chasing or doing anything a specific way. He's playing the right way."