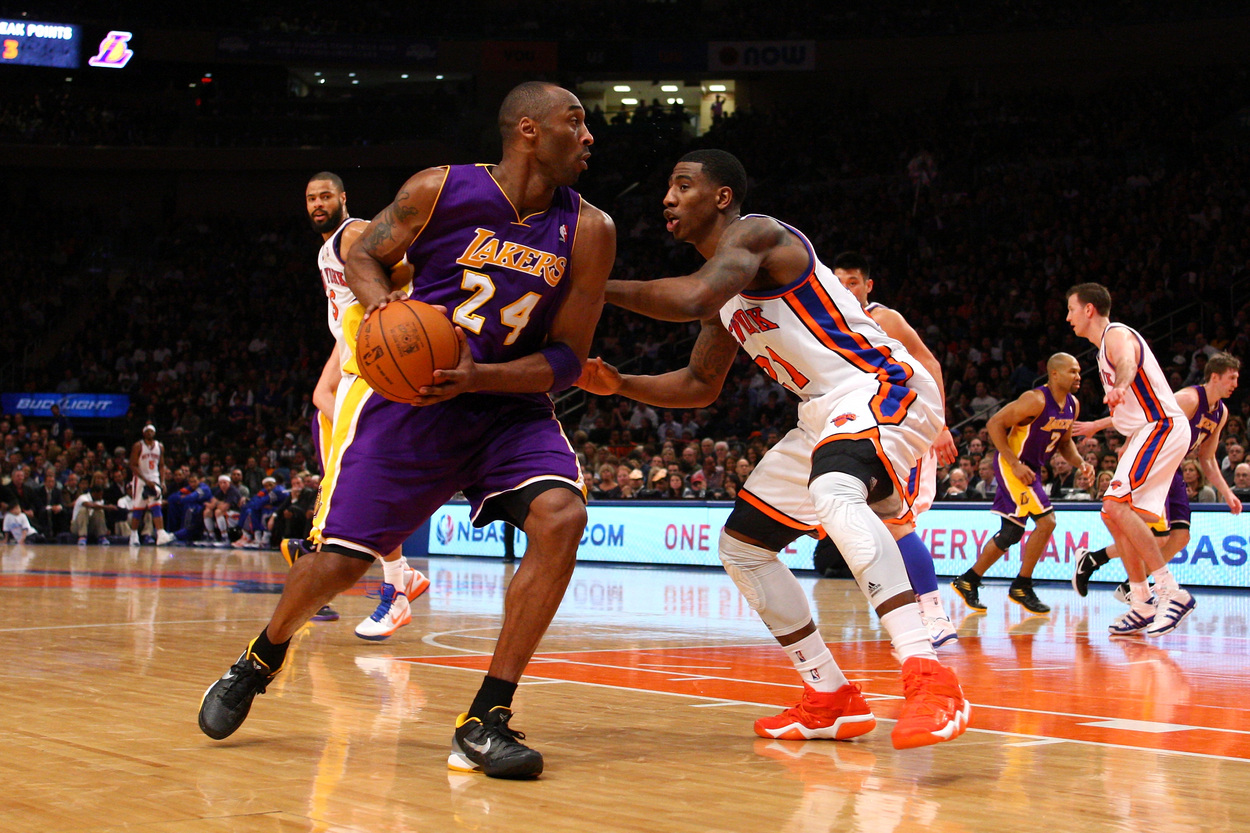 Kobe Bryant Said 5 Words to Iman Shumpert Before Dismantling Him in the 4th Quarter
Kobe Bryant quickly got into Iman Shumpert's head with simple yet effective trash talk.
When it comes to talking trash and backing it up, few players in NBA history top Kobe Bryant.
The Los Angeles Lakers great had no shortage of confidence throughout his 20-year NBA career. Even on down nights, Bryant could seemingly flip a switch and turn things around. All while letting his opponents know who was in charge.
As Kobe's skills began to diminish late into his 30s, Iman Shumpert was developing a reputation as one of the NBA's top young defenders. But even Shumpert realized that keeping the Black Mamba contained for 48 minutes was an impossible task, especially after the Hall of Famer found a way to get inside his head.
Kobe Bryant loved playing at Madison Square Garden
With 18 All-Star appearances, two scoring titles, and an MVP, Bryant was able to find success in any arena he took the floor in. He just happened to love playing under the bright lights at Madison Square Garden in New York City.
In 16 career games at MSG, Bryant averaged 29.9 points, 5.9 rebounds, and 3.9 assists per game on 42.9 percent shooting from the field and 44.5 percent from three. That's nearly five points higher than the 25.0 he averaged across 20 NBA seasons. He also led the Purple and Gold to 10 victories in those 16 contests.
Kobe had six 60-point outings in his career, one of which was at the Garden. On February 2, 2009, the Black Mamba dropped 61 points in 37 minutes of LA's 126-117 victory.
Bryant really enjoyed playing the Knicks, Shumpert's original team. Per Basketball Reference, the legend's 117 career offensive rating against New York was higher than his rating against every other team in the league.
Iman Shumpert told a story about Kobe's epic five-word statement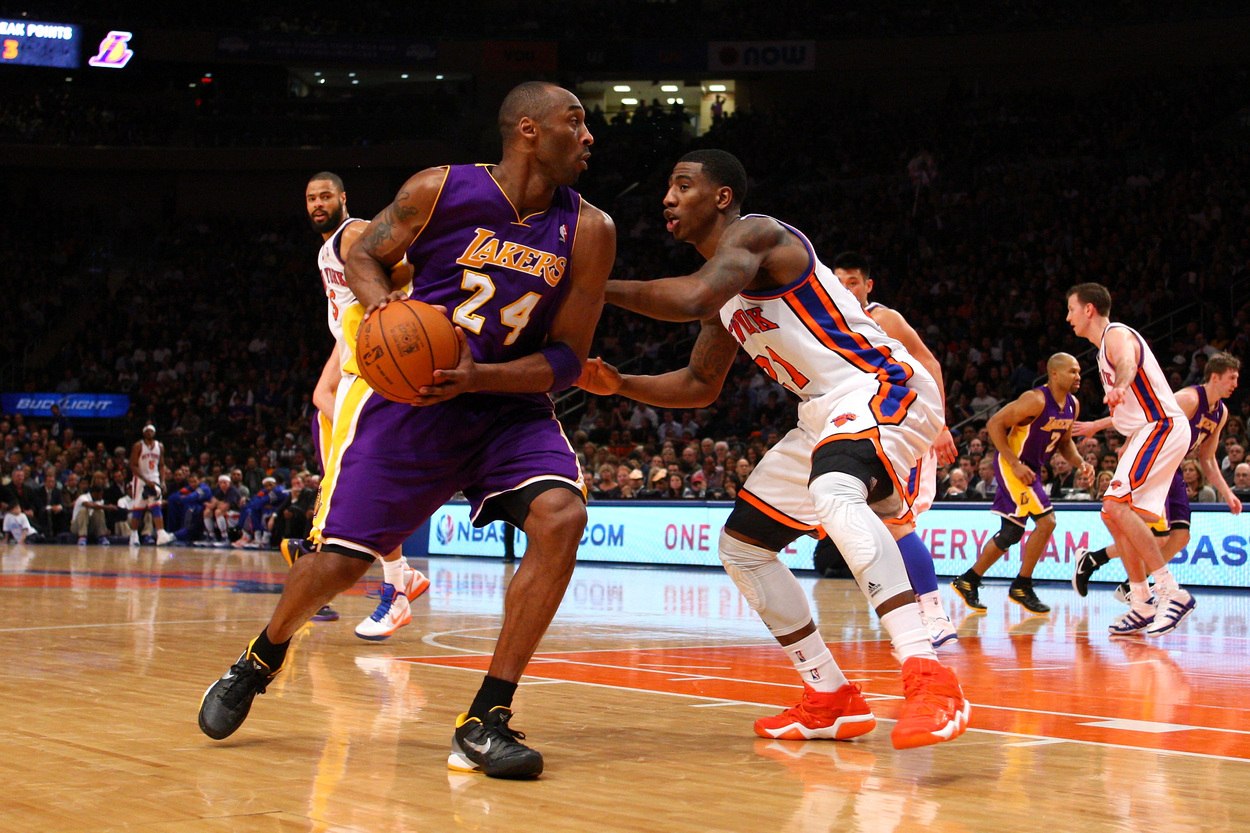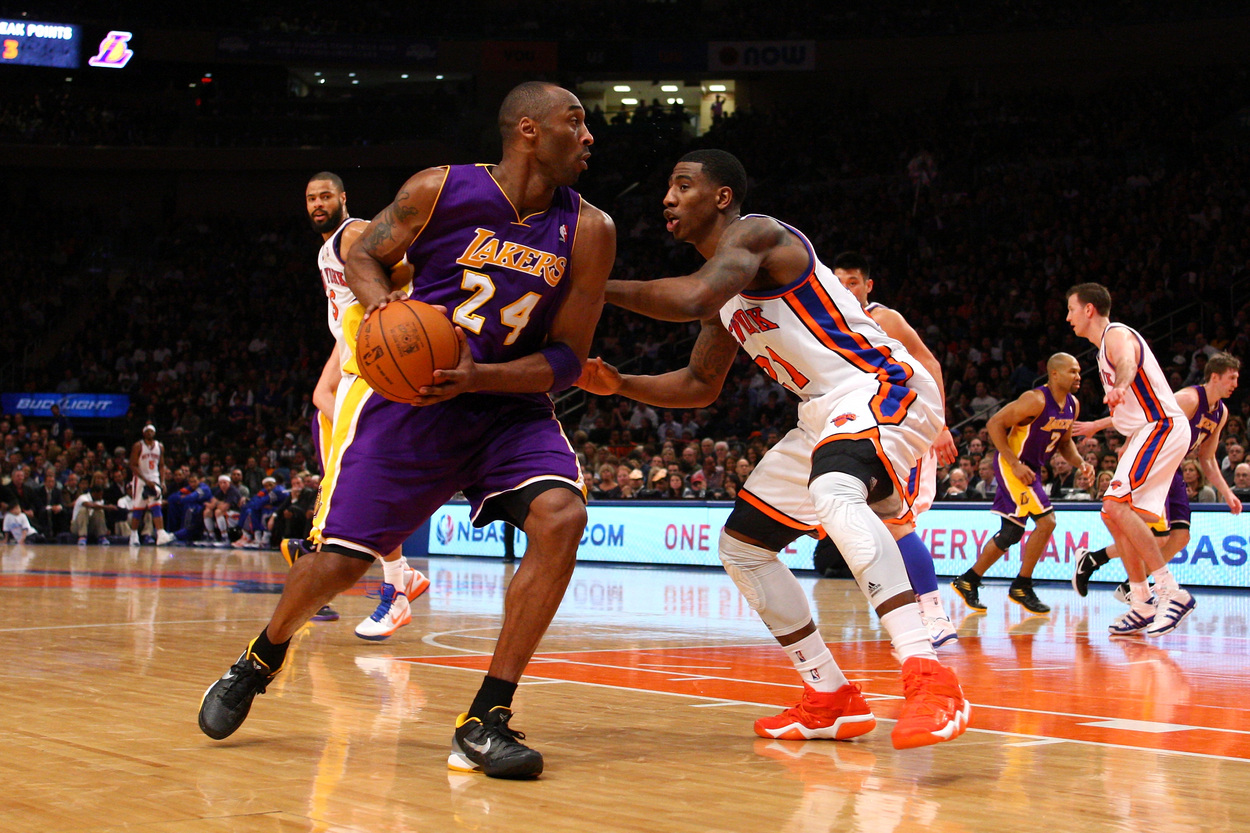 As you can see, Bryant loved suiting up at the Mecca. But every now and then, he would still have an off night.
Shumpert, New York's first-round pick in 2011, sat down for an interview with Peter Rosenberg of Hot 97 in 2020. The former NBA guard got on the subject of Bryant, sharing a story about the time he locked up the superstar for three quarters at MSG.
"I guarded Kobe in the Garden," Shumpert explained, referring to the battle between the Knicks and Lakers on Feb. 10, 2012. "I can't remember how much he had, but I know I had multiple steals against him, to where in the game, in my head, all I'm thinking of is when I'm having this conversation with my brother after the game, how I'm going to tell him I stole a ball from Kobe. How I stripped Kobe before he was going to take a shot, [and] how I drove by Kobe and got a dunk."
However, Kobe needed just five words to take back control.
"The fourth quarter starts, and Kobe said, 'You had a great game.' … I swear I looked at the clock like, 'There's 12 minutes [left], what are you talking about?' What was that, you know what I'm saying? You ain't said nothing the whole game. I've been talking [expletive], I done stole the ball, I'm hyped as hell, it's Kobe Bryant. He ain't said not one word to me."

Iman Shumpert
"The man comes down. He went shot fake, shot fake, threw it off the glass, caught it, threw it to the corner [for the assist]," Shumpert said. I'm like, 'Bro, what you on? Like, bro, you been regular all game!'"
Bryant scored 14 points in the fourth quarter alone, finishing with 34 for the game. However, Shumpert and the Knicks actually pulled out the 92-85 victory thanks to Jeremy Lin's 38 points at the height of "Linsanity."
Kobe Bryant was a trash-talk wizard
Where some players only feel empowered to talk smack when things are going right, Kobe wasn't afraid to let players hear it no matter the circumstance. Granted, it helps that he had the talent and willpower to back up his words.
Over the course of his career, the Black Mamba mixed it up with Michael Jordan, the legend he most emulated. Sometimes, he learned a different language to mess with foreign-born players, as he did with French point guard Tony Parker. He even went after his own teammates for being "soft like Charmin."
Not any player can pull those off and still earn the respect of his NBA peers. But few players have matched Kobe's career. And as Shumpert proved, Mamba doesn't need to say a lot in order to strike fear in his opponent's heart.
All statistics courtesy of Basketball Reference.