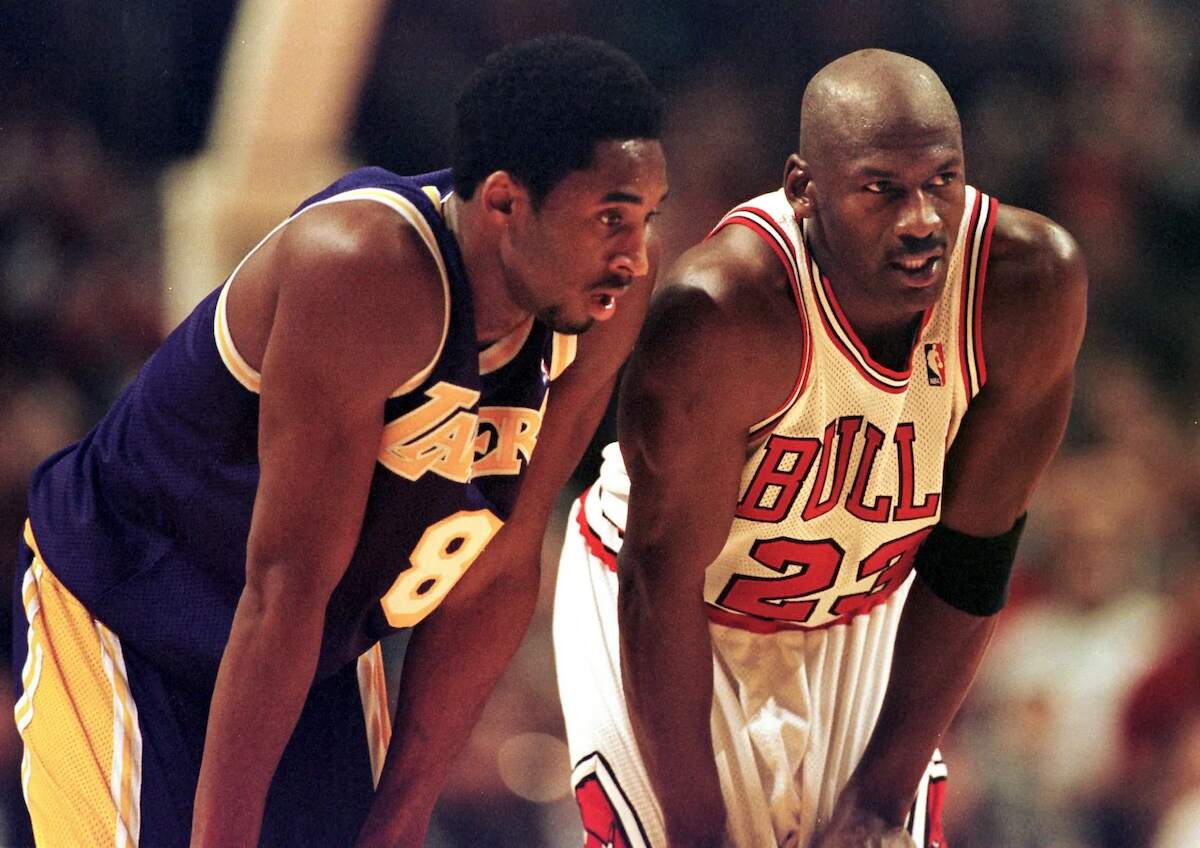 Kobe Bryant Revealed His Plans for an NBA Future Involving Michael Jordan to Seth Davis as a High School Senior
When he was still in high school, Kobe Bryant told a Seth Davis about his NBA plans involving Michael Jordan.
Even if you're not a hardcore basketball fan, you probably know all about Kobe Bryant and his Mamba Mentality. While the legendary No. 8 didn't officially coin the term until later in life, elements of it already existed during his time in high school. Just ask Seth Davis about that.
While Seth Davis has risen through the ranks to become a major name in sports media, he started out as an entry-level reporter at Sports Illustrated, writing stories about a variety of topics. One of those put him in contact with Kobe Bryant, who already had a specific plan for his NBA future.
Kobe Bryant became famous for his Mamba Mentality
When you think of NBA players who needed to win Michael Jordan is probably the first name that springs to mind. Kobe Bryant, however, also took things pretty seriously behind the scenes.
During his time with the LA Lakers, Bryant created his "Black Mamba" persona. That, in turn, helped bring Mamba Mentality into the public eye.
According to Kobe, Mamba Mentality meant "focusing on the process and trusting in the hard work when it matters most." While it's easy to view that as a great marketing tagline to create a certain image of oneself on social media, Bryant actually did the work when no one was looking.
During his time in the NBA, plenty of players and coaches shared stories about Kobe's willingness to do whatever it took to be great. From hitting the gym in the wee hours of the morning to studying the referee's handbook in order to gain a tiny advantage, Bryant was always ready to get to work.
Seth Davis got an early glimpse at the Black Mamba's signature swagger
These days, Seth Davis is one of the top names on the college basketball media scene and Kobe Bryant has unfortunately passed away. Years ago, however, both men were in much different situations.
After graduating from college, Davis landed his dream job at Sports Illustrated. "As soon as I got there, I looked for every which way I could to get published," he recalled in a 2017 open letter reminiscing about his time at the publication. "Back in that pre-internet Stone Age, SI produced special preview issues for various sports, giving entry-level reporters like me an opportunity to write articles—which I did for the college football, NFL, and college basketball issues."
That beat brought him into contact with plenty of future stars. After Kevin Garnett jumped directly from high school to the pros, Davis "pitched a piece to the Scorecard folks predicting that all of the top high school players in America would want to follow suit." While working on that story, he found himself talking to a young Kobe Bryant, who was already displaying some signature swagger."
"One of the kids I interviewed on the phone for that item was Kobe Bryant, a rising senior at Lower Merion High School in Pennsylvania," Davis recalled. "Kobe confirmed that he was indeed hoping to make the same leap to the pros because 'I want to get to the NBA before Michael Jordan gets too old."
Kobe Bryant, of course, did just that and more
As we all know, Kobe Bryant did bypass high school and head directly to the NBA. While the young guard did arrive in time to face Michael Jordan, he did quite a bit more than that.
Kobe, of course, went on to become a modern NBA legend. He spent 20 seasons in the pros, all of them with the LA Lakers, winning five championships along the way; he also averaged 25 points per game for his career, took home the 2008 NBA MVP crown, and won just about every individual award imaginable.
Bryant also formed quite a bond with Michael Jordan over the years. His Airness took Kobe under his wing and the two men even came to consider themselves brothers. At the Lakers legend's memorial ceremony, MJ even went as far as saying "a piece of [him] died" in that tragic helicopter crash.
As a high school senior, it's easy to talk a big game. Kobe Bryant, however, managed to make the plans he shared Seth Davis during that fateful phone call.
Stats courtesy of Basketball-Reference