Kobe Bryant's Torn Achilles Serves as a Cautionary Tale of Load Management
The late great Kobe Bryant was known for his unrelenting "Mamba mentality." While there's no doubt the Lakers star was tough, this toughness may have been a detriment to the longevity of his NBA career. Let's look at how Bryant's torn Achilles and subsequent injuries serve as a cautionary tale of load management. 
Load management is a hot topic in the NBA
The NBA's regular season runs from October to April, with the playoffs extending into June. This means players are expected to stay fit and healthy over the course of 82 regular season games and beyond. Throughout the history of the league, fans have seen players like Bryant push themselves to the brink. While the Black Mamba had an unmatched mentality, could he have achieved more with less? Sports science says, "Yes!" 
In recent years, the league has been putting more emphasis on players' health and longevity based on sports science research. This research has led to the concept of "load management" infiltrating the NBA. The idea of load management all comes down to "less is more."
According to Stack, a more scientific definition of load management is "the deliberate temporary reduction of external physiological stressors intended to facilitate global improvements in athlete wellness and performance while preserving musculoskeletal and metabolic health." 
Essentially, research shows that reducing an athlete's training allows them to recover better, perform better, and extend their careers. However, not everyone in the NBA is keen on the idea of load management.  
Kobe Bryant could have benefited from better load management during the 2012-13 season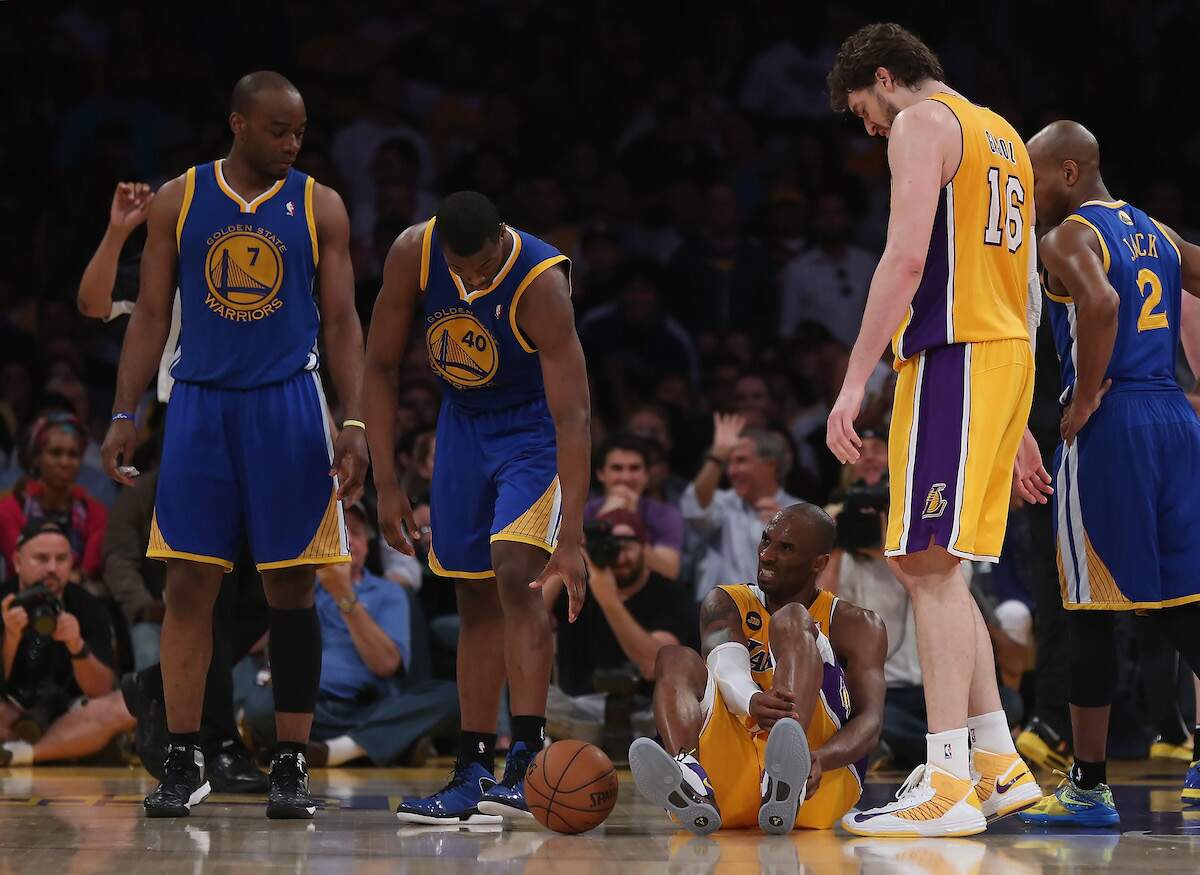 While not everyone agrees on the value of load management, one athlete who could've benefited from implementing load management is Bryant. During the 2012-13 NBA season, Bryant was 34 years old, in his 17th pro season, and had already clocked 42,377 minutes in his career. Despite these factors, Bryant did not give his body any rest heading into the 2012-13 season. 
According to 247 Sports, Bryant started the season phenomenally, averaging 27.3 points per game and 6.0 assists per game. He even scored over 30 points in 10 consecutive games this season. At the time, this was the longest streak by an NBA player after turning 34 years old.
Bryant was simply on fire. However, as he pushed to get the Lakers into the playoffs, his season abruptly ended with an Achilles' tear. Could Bryant have avoided this injury with proper load management throughout the regular season? Probably. 
The 2012-13 season was Bryant's last good season. He even considered it to be the best season of his career, telling ESPN, "It's the season where I ruptured my Achilles. I felt like I was playing the best basketball I've ever played in my entire career."
Following the 2012-13 season, Bryant suffered from a season-ending knee injury. The following season, he suffered from a rotator cuff tear, which once again ended his season early. Of course, Bryant retired at the conclusion of the 2015-16 season, citing physical decline. 
Not everyone in the NBA likes the idea of load management 
Did Bryant force himself back too early after experiencing his Achilles tear? Probably, and it may have led to his two subsequent season-ending injuries. Could Bryant have extended his career by implementing load management early in his career?
With LeBron James implementing load management into his strategy and still putting up 30 points a night at 38 years old, once again, probably. 
However, before his death in 2020, Bryant scoffed at the idea of load management. In 2019, Bryant told The Athletic, "The only time I took a game off is when I couldn't walk…If you can walk and perform, get there and perform."
There's no telling if Bryant would have eventually changed his mind when it comes to load management, but one thing is for sure. Many within the league won't get behind the idea of load management, despite its benefits for individual players.
According to Basketball Network, Devin Booker was asked by The Athletic reporter Sam Amick why he played 40 minutes against the Kings during a December 2022 game when it was already the third outing in four nights for Booker and the Suns.
Booker laughed at Amick's question about load management, sharing:
"I'm not a part of that, man. "I'm 26 years old, man. I train hard. I spend a lot of time in the summer making sure my body's right to be able to take that load on, so I want to be out there, and I want to win basketball games and do what I have to do to help the team. That's just how I've always been."
While Booker might keep his Mamba mentality in regard to load management, he would probably be better served to embrace the concept of load management as he inches closer to being 30 years old.