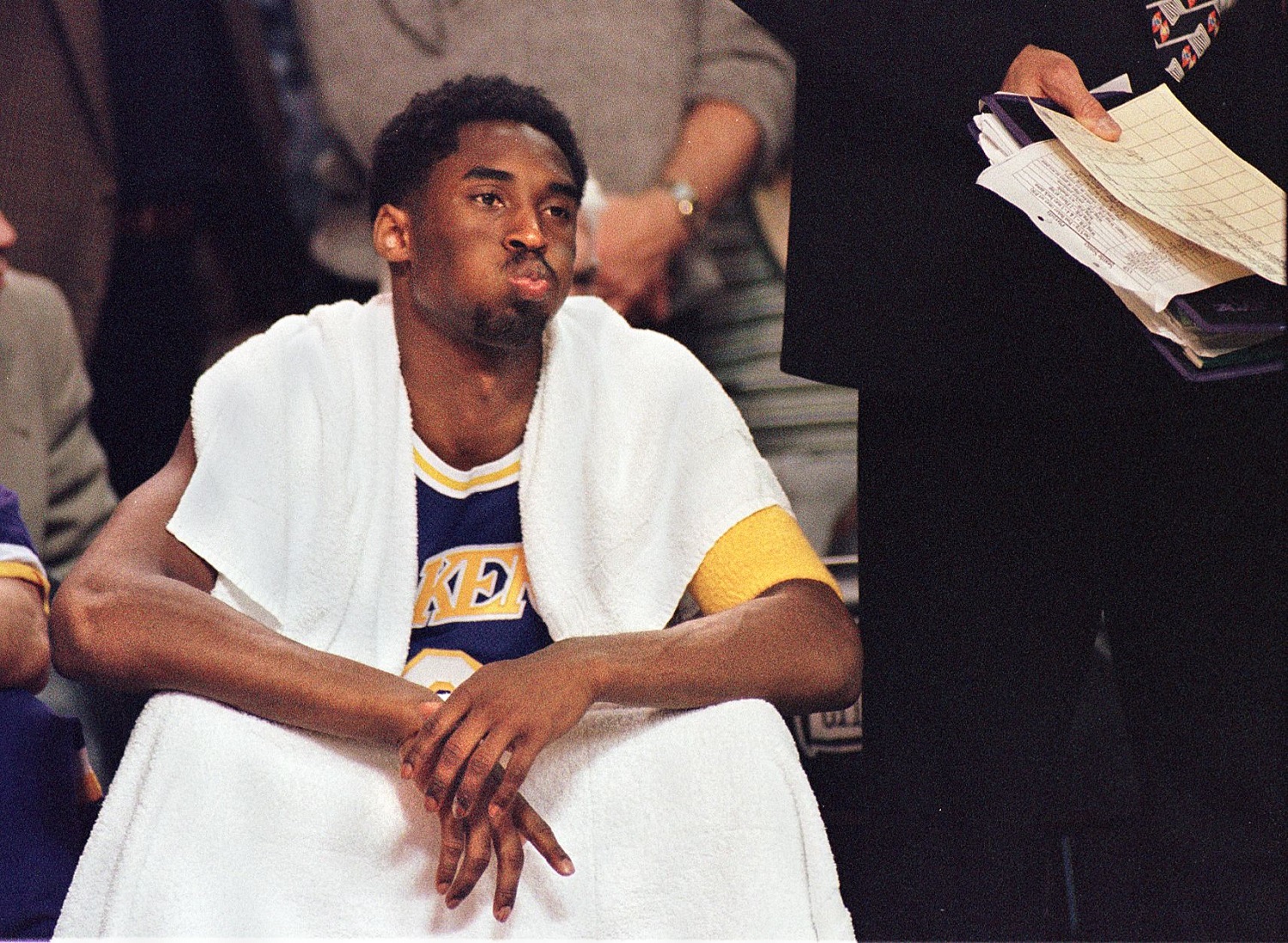 Kobe Bryant's Initial Introduction To Shaq and the Rest of His Lakers Teammates in 1996 Got Super Awkward in a Hurry
A look back at Kobe Bryant's initial introduction to Shaquille O'Neal and the rest of his Lakers teammates in 1996, which got pretty awkward.
The late, great Kobe Bryant is widely considered to be one of the greatest players in NBA history. But before the titles and the All-Star selections and the seemingly endless amount of accolades he earned over the course of a 20-year career, Bryant was once just an 18-year-old rookie with the Los Angeles Lakers with a lot to learn.
But even at such a young age, the phenom out of Lower Merion High School showed no fear when he entered the league in 1996. Knowing he possessed the ability to become one of the all-time greats, Bryant exuded confidence, although his Lakers teammates, including Shaquille O'Neal, saw it as arrogance in the beginning. When most rookies come into the NBA, especially rookies that young, they're usually a bit humble and stay mostly quiet. That was certainly not the case with Kobe Bryant, who made things very awkward when he first introduced himself to his teammates.
Kobe Bryant was taken with the 13th pick in the 1996 NBA draft by the Hornets and traded to the Lakers
Kobe Bryant was an absolute star for Lower Merion High School, which is located just outside Philadelphia. Unlike his hero and mentor, Michael Jordan, Bryant played all four years of prep ball on the varsity squad for the Aces. The team went 4-20 during Bryant's freshman year but the next three seasons would be completely different. Over the next three years, Lower Merion compiled a 77-13 record and Kobe became quite the attraction.
As a junior, he averaged 31.1 points, 10.4 rebounds, 5.2 assists, 3.8 blocks, and 2.3 steals, earning Pennsylvania Player of the Year honors. As a senior, he led Lower Merion to their first state title in 53 years, averaging 30.8 points, 12 rebounds, 6.5 assists, four steals, and 3.8 blocks. Bryant won just about every major award there was to win and was also named a 1996 McDonald's All-American. Kobe became just the sixth player in history to go directly to the NBA from high school and then-Lakers general manager Jerry West knew he had to somehow find a way to bring him to LA.
Already looking to unload center Vlade Divac to free up salary cap room to sign Shaquille O'Neal, West worked out a deal to send Divac to Charlotte in exchange for the Hornets' No. 13 pick in the 1996 NBA draft. West told Charlotte to draft Kobe Bryant with that 13th pick, which they did, and although there were certain factors that nearly held up the deal, Bryant was officially traded to the Lakers a few weeks later.
Kobe Bryant's initial introduction to Shaq and his Lakers teammates got awkward very quickly
Back in 1996, the Lakers held training camp in Hawaii (which they did for years) but Kobe Bryant came to the Aloha State that October nursing a broken wrist, an injury that had occurred a month earlier in a pickup game in Venice Beach. So he was already coming in at a disadvantage. Then-Lakers head coach Del Harris already knew that Bryant would be coming off the bench behind Eddie Jones and Nick Van Exel and not having Bryant available at the start of camp only justified that decision.
But the broken wrist certainly did nothing to hinder Kobe Bryant's swagger. As Jeff Pearlman wrote in his new book, "Three-Ring Circus: Kobe, Shaq, Phil, and the Crazy Years of the Lakers Dynasty," Bryant didn't exactly endear himself to his new teammates in his initial introduction. Here's a quick excerpt:
"The assembled talent before Del Harris was breathtaking. Harris asked each man to stand and introduce himself.

"Shaquille O'Neal, jolly and giggly, stood first, nodded, said, 'What's up? I'm Shaq. Let's do this.'

"One by one, the other men followed.

'Hey, I'm Derek Fisher. Rookie. From little ol' Arkansas. Ready to get to work.'

"Next.

"'Nick Van Exel. Fourth year here.'

"Next.

"'Eddie Jones. I'm from Florida. Went to Temple …'

"Next.

"'I'm Jerome Kersey. This will be my — what? — 13th year in the league. Crazy.'

"Next.

"'I'm Ced.'

Next.

"'Yo, I'm Kobe. Kobe Bryant. I'm from PA — went to Lower Merion High School, dominated everything.' (Pause.) 'I just want y'all to know, nobody's gonna punk me. I'm not gonna let anyone in the NBA punk me. So be warned.'

"Awwwwkward."

Jeff Pearlman, author of "Three-Ring Circus: Kobe, Shaq, Phil, and the Crazy Years of the Lakers Dynasty"
Pearlman went on to write that Kobe Bryant's introduction certainly didn't go over well with his Lakers teammates, especially the veterans. While most rookies would look for approval from older teammates, Bryant never seemed to need it or want it. Shaq started calling him "Showboat" and it certainly wasn't a term of endearment.
Nevertheless, Kobe Bryant soon proved that he did have the talent and the ability to back up his words and went on to have one of the greatest careers in NBA history.
The Black Mamba went on to have a pretty decent career
Kobe Bryant finally made his Lakers debut near the end of camp in an exhibition game against the Dallas Mavericks in Fresno and he was off and running from there.
In 20 years with the Lakers, Kobe Bryant won five NBA titles, including three alongside Shaquille O'Neal from 2000-2002. He scored 33,643 points, good for fourth on the all-time scoring list, was an 18-time All-Star, a four-time All-Star Game MVP, a 15-time All-NBA selection (11 First Team, two Second Team, two Third Team), a 12-time All-Defensive selection (nine First Team, three Second Team), a two-time NBA Finals MVP, a two-time scoring champ, and the 2008 NBA MVP.
Kobe Bryant tragically passed away at the age of 41 on January 26, 2020, in a helicopter crash that also killed eight others, including his 13-year-old daughter, Gianna. Both his No. 8 and No. 24 jerseys were retired by the Lakers in 2017.