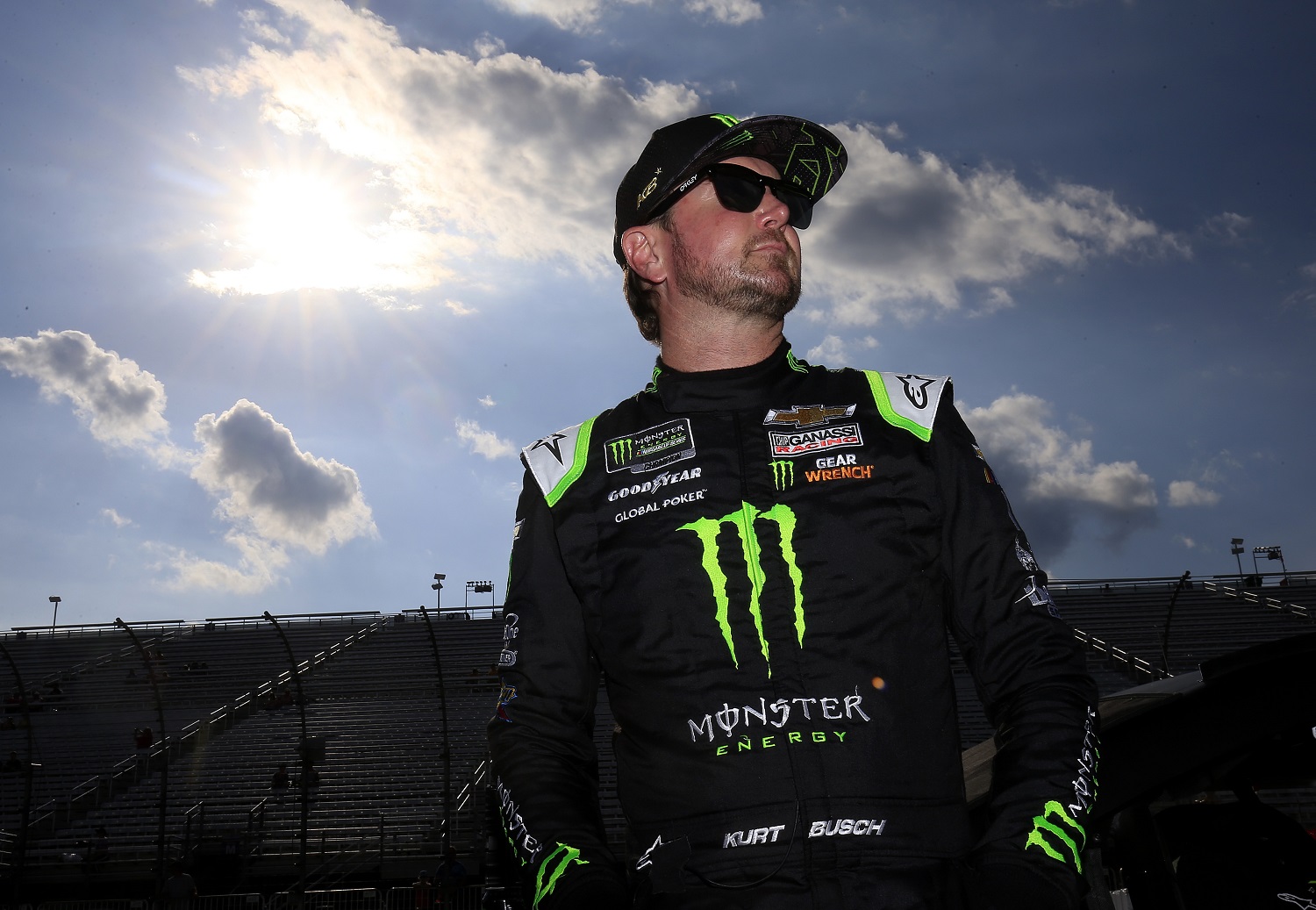 Kurt Busch Pumps the Brakes on NASCAR's Hottest Rumor
Veteran driver Kurt Busch admits hearing from 23XI Racing about competing for that team in 2022, but he also has other possibilities in the NASCAR Cup Series.
"Slow down!" seems to be an odd admonishment in NASCAR circles (ovals?), but it's worth suggesting as Silly Season kicks in and fans wonder what's in Kurt Busch's future. Speculation has the veteran moving on to his seventh motorsports organization, but talk is cheap – a lot cheaper than what it will take for a couple of teams with big ambitions.
While Busch is confirming the possibility of a rumored move to Michael Jordan's 23XI Racing team is in play, he warns that there is much to sort out before having that conversation with Jordan and Denny Hamlin.
There are major NASCAR Cup Series changes on the horizon
Memorial Day weekend is about the time each year to start Silly Season, the endless speculation about which drivers, crew chiefs, and sponsors will be on the move. Fans didn't get nearly enough of it in 2020 as the pandemic instilled the need in many drivers and teams to stand pat.
This year, however, Busch, Brad Keselowski, Matt DiBenedetto, and Austin Dillon highlight a long list of drivers who are potential free agents. On top of that, Kaulig Racing seems committed to fielding a full-time team, JR Motorsports may enter the Cup Series, and both 23XI Racing and Trackhouse Racing are looking at adding second cars.
That makes for a lot of possibilities, and the whispers of Busch moving to 23XI kicked in on the eve of Kyle Larson taking the checkered flag at the Coca-Cola 600 to close out the May schedule.
Busch says he's assessing his NASCAR future
Busch has been forceful recently in dispelling speculation that he'll retire after the 2021 season, his 22nd in the Cup Series. He has only finished better than seventh in season points three times, including winning the 2004 series championship, but Busch possesses a loyal following, generally remains competitive from week to week, and – crucially – has a tight relationship with Monster Energy.
If Busch leaves Chip Ganassi Racing, there is the possibility of him bringing the sponsorship along with him. That alone bumps him to the head of the free-agent class.
Speaking on SiriusXM NASCAR Radio on Wednesday, Busch discussed his impending free agency ahead of 2022, when the series introduces its Next Gen cars.
"Why not go out there and challenge myself with something new with the Next Gen car?" he said. "And, so, talks are gonna start here at Ganassi first. I respect Chip. I respect this team. We'll talk with Chevrolet, Monster Energy — they have a big say in what's going on. As a sponsor, they're out there to win, and to win, and to win, that's all they want, and we're not doing that right now. So, we've gotta sort through that. But, yes, other teams are calling, 23XI, Trackhouse, there's just all kinds of options everywhere."
Translation: Busch can play the field in the coming months.
If not Ganassi, then why not Trackhouse?
Justin Marks lost out in the bidding after Leavine Family Racing sold off its operations last year, but he rebounded quickly. Marks partnered with popular rapper Pitbull, arranged to lease a charter from Spire Motorsports, aligned with Richard Childress Racing for engines, and hired Daniel Suarez to drive the No. 99 Chevy.
Suarez's results have been getting stronger as the season progresses. He is just five points behind Bubba Wallace of 23XI in the middle of the pack but looking like the surer long-term bet. On top of that, Trackhouse races the same Chevys that Busch has driven for most of the past decade; 23XI is a Toyota team.
Trackhouse and 23XI both need to secure charters, which will come at a price, if they want guaranteed spots on starting grids next season, so neither team can make a move on Busch until they have locked that down. If both succeed, then Busch and probably Keselowski should find themselves in the driver's seat, so to speak, in the competition to land with new teams.
Like Sportscasting on Facebook. Follow us on Twitter @sportscasting19.