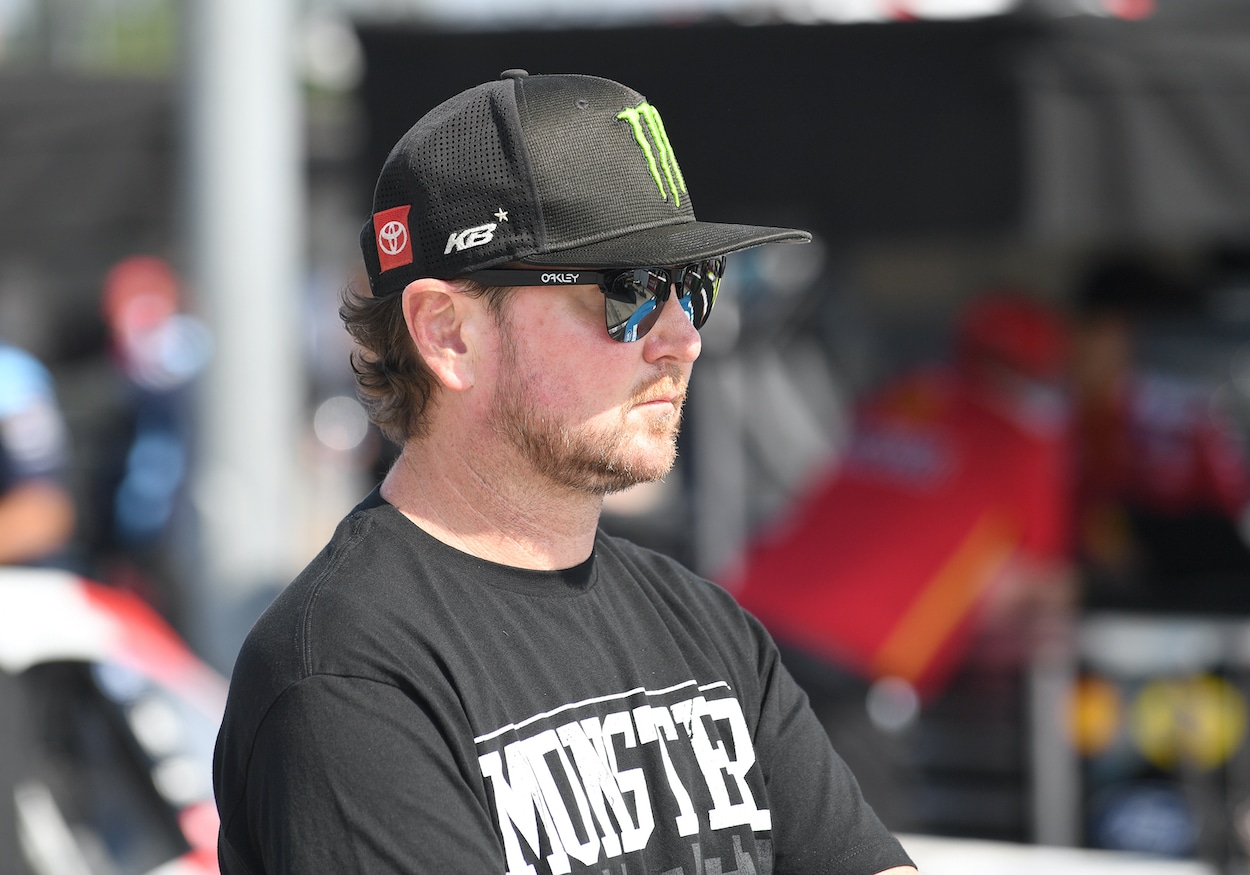 Kurt Busch Makes Sad Admission Why He Wasn't at Pocono This Past Weekend
Kurt Busch was not at Pocono Raceway this past weekend on the anniversary of his accident. He candidly admitted the sad reason why on Twitter.
Kurt Busch suffered a concussion a year ago at Pocono. No one could have imagined that it would be the last time he strapped inside a NASCAR Cup Series car. 
This past weekend on the anniversary of that unfortunate crash at the 2.5-mile track, the 2004 champion, who has worked in a support role for his 23XI Racing team, was nowhere to be found. He revealed the sad reason why on Twitter.
Kurt Busch wrecks at Pocono and never gets back in car
Kurt Busch had been in plenty of big accidents throughout his long career. There was the head-on crash with Jeff Burton in 2005 at Bristol. In 2010, he slammed hard into the outside wall at Pocono before rebounding and hitting the inside wall just as hard. Three years later, Busch had one of his scariest crashes at Talladega when he got upside down before landing on top of Ryan Newman's car and going for an unexpected ride.
When he got sideways and backed the No. 45 car into the wall last year at Pocono during qualifying, it didn't appear to be anything extraordinary. But, as everyone found out, the back end of the Next Gen car was too stiff and the drivers absorbed much of the energy from the impact. 
Initially, he was out for a few races. Ultimately, he didn't return for the rest of the 2022 season and announced in October that he was stepping away from full-time competition in 2023. 
Busch makes sad admission why he missed Pocono this year
While Busch hasn't raced this year, he's certainly been a valuable part of the 23XI Racing team, working race weekends in a support role with drivers Tyler Reddick and Bubba Wallace. 
However, the 44-year-old driver wasn't at the track this past weekend at Pocono. He revealed why on Twitter a couple of days after the race.  
"Emotional weekend for me personally," he wrote. "I knew I wasn't ready to go back to Pocono, but I still have so much passion for @NASCAR, my race team @23XIRacing, and our sponsors. @MonsterEnergy @ToyotaRacing @McDonalds @Jumpman23
"I was invited to a one of a kind ski boat race in the world and had to go. The adrenaline of competing for a win in such unique event brought me back to chasing checkered flags. Being part of a win, helped bring some closure. Way to go team! 2023 Catalina Ski Boat Race Champs."
Could he return?
It's painful for any NASCAR fan to read Busch's words, knowing that he's still bothered by what happened at Pocono a year ago. It doesn't help to know that he never received a proper sendoff along the lines of what Kevin Harvick is receiving in his final year.
To his credit, Busch has always remained optimistic and hopeful of a return, if maybe just for a one-off race. Who knows if that's just wishful thinking on his part. 
23XI Racing team co-owner Denny Hamlin said at the start of the 2023 season that the team was preparing a third car in case Busch was able to return on a part-time basis. It hasn't happened yet. It may never happen.
All any fans can hope is skipping this year's Pocono race and winning a ski boat competition allow him to move on from last year's painful memory and find some much-deserved peace after a very successful career.
To stay up to date on the latest happenings in NASCAR, including breaking stories you can't find anywhere else, follow Kyle on YouTube and Twitter.