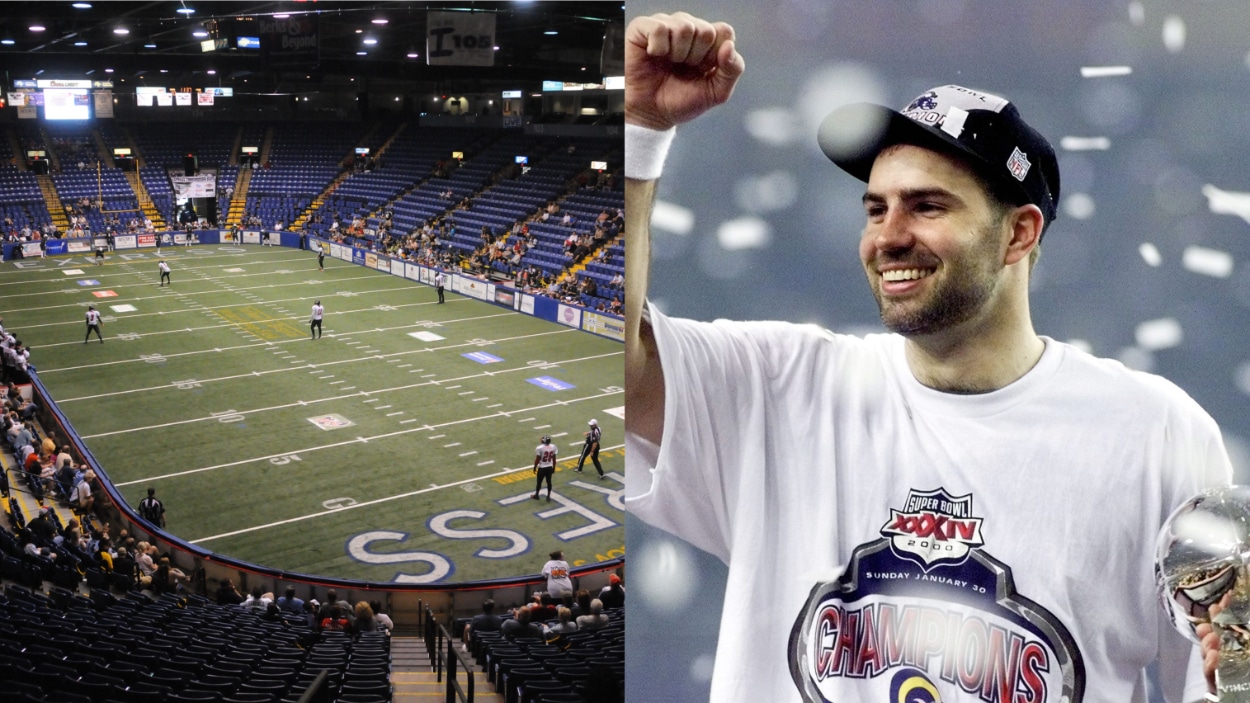 Is Kurt Warner the Most Successful Arena Football League Alumnus of All Time?
Kurt Warner went from the Arena Football League to the Pro Football Hall of Fame, but is he the best NFL player ever to come from the AFL?
The Legend of Kurt Warner is well-known. The Northern Iowa quarterback got cut during his first NFL training camp. Then, he went from stocking grocery store shelves to the Arena Football League to NFL Europe to Super Bowl champion to the Pro Football Hall of Fame. Warner wasn't the first or last NFL player to spend time in the Arena Football League. However, the real question is, is Kurt Warner the most successful AFL alumnus of all time?
Kurt Warner is an Arena Football League Hall of Famer
After the Green Bay Packers cut undrafted rookie QB Kurt Warner in his first training camp, the Iowa native kept his football dreams alive by playing for his home-state Iowa Barnstormers in the Arena Football League.
The original AFL started in 1987, playing American football on 66-yard-by-28-yard fields (the standard size of a North American professional hockey rink) in indoor arenas usually used for hockey and basketball.
Indoor football is played eight-on-eight, and the rules of the game are designed to create a fast-paced, high-scoring, passing-based game.
The Barnstormers joined the AFL in 1995, and Kurt Warner was the expansion team's quarterback. In the franchise's first season, the team made the playoffs and won a game. In Warner's second and third seasons, the team made the ArenaBowl but lost both times. They fell to the Tampa Bay Storm in 1996 and the Arizona Rattlers in 1997.
Despite never winning the big one, Warner's time in the AFL led to his shot in NFL Europe with the Amsterdam Admirals and, eventually, the St. Louis Rams. His three seasons at the helm of the Barnstormers also landed him in the Arena Football League Hall of Fame.
Warner's stats in the AFL looked like this, per ArenaFan.com:
| | | | | | | | |
| --- | --- | --- | --- | --- | --- | --- | --- |
| Year | Attempts | Completions | Comp % | Yards | TDs | INTs | QB Rating |
| 1995 | 400 | 237 | 59.2% | 2,980 | 43 | 14 | 94.79 |
| 1996 | 422 | 259 | 61.4% | 3,336 | 61 | 15 | 107.49 |
| 1997 | 498 | 322 | 64.7% | 4,149 | 79 | 14 | 118.55 |
| TOTAL: | 1,320 | 818 | 62.0% | 10,465 | 183 | 43 | 107.84 |
As you can see, Warner's time in the Arena Football League helped him improve each season, and he often credits his time with the Barnstormers as a crucial period in his development as a QB.
And Warner isn't the only professional football player who used the AFL as a springboard to an NFL career.
The best NFL players who came from the AFL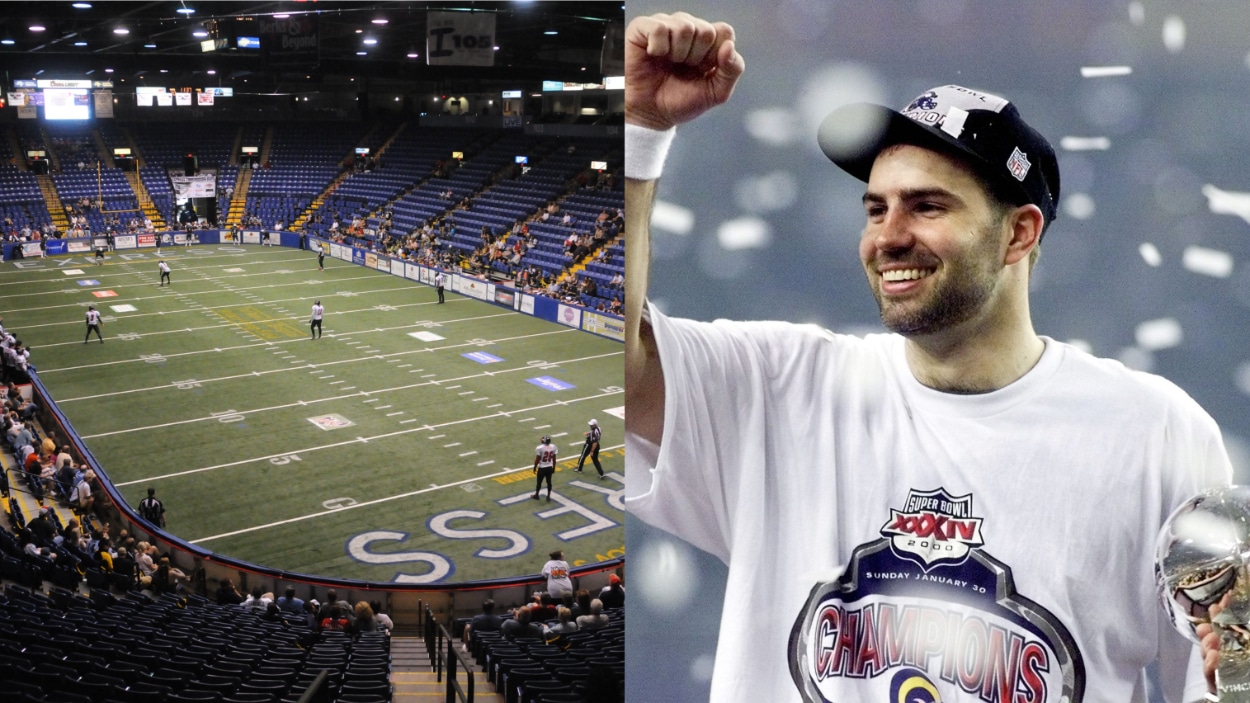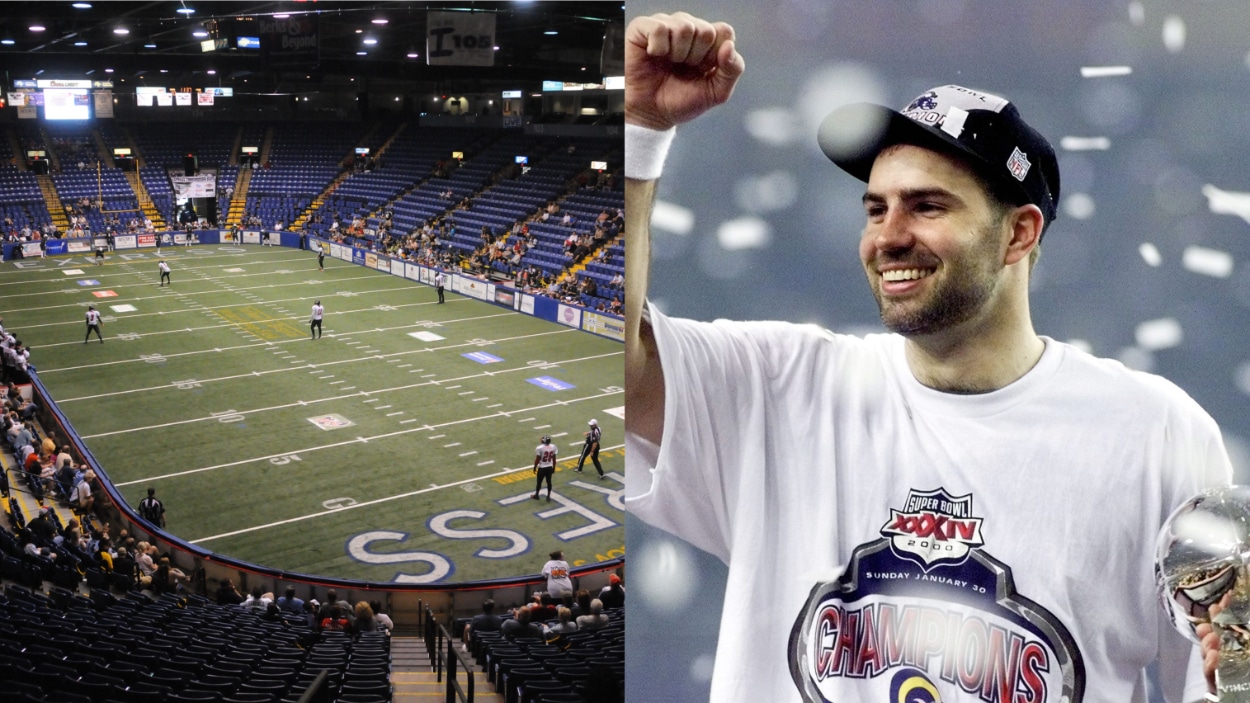 The Arena Football League played its first season in 1987 and played football (in several different iterations) until the 2019 season. Over that time, more than 100 players have played in both leagues.
In most cases, players who've spent time in the NFL end their careers in the AFL, trying to prolong their professional football dreams. Well-known players like Quincy Carter, Alonzo Spellman, and Lincoln Kennedy took this route.
However, there are a few players, like Warner, who played in the AFL before getting a shot in the world's best football league and becoming legitimate NFL players. Here are the best NFL players to take that route.
5. WR Chris Doehring
AFL Team: Carolina Cobras
NFL Teams: Indianapolis Colts, Denver Broncos, Washington Commanders, Pittsburgh Steelers
Chris Doering did play in the NFL before the AFL, but he only recorded six catches for 44 yards and no touchdowns. The former Florida Gator then went to the AFL in 2001, and when he returned to The Show, he put up his two best seasons in the league. Between 2002 with the Commanders and 2003 with the Steelers, Doehring made 18 catches each season, gaining 432 yards and scoring three touchdowns on those 36 grabs.  
4. WR Oronde Gadsden
AFL Team: Portland Forest Dragons
NFL Teams: Miami Dolphins
Orande Gadsden was briefly on the Cowboys and Steelers before going to the AFL in 1998 and winning Rookie of the Year with the Forest Dragons. That earned him a contract from the Dolphins, where Gadsden played the next six seasons and became a productive player, making 227 catches for 3,252 yards and 22 touchdowns.
3. K Mike Vanderjagt
AFL Team: Tampa Bay Storm, Minnesota Fighting Pike
NFL Teams: Indianapolis Colts, Dallas Cowboys
Peyton Manning's favorite "liquored-up" kicker played in his home country of Canada after his time with the West Virginia Mountaineers in college before playing two seasons in the Arena Football League. He then played nine NFL seasons, making a Pro Bowl and an All-Pro team in 2003. Vanderjagt's 1,067 career points are good for 58th-best in NFL history.
2. WR David Patten
AFL Team: Albany Firebirds
NFL Teams: New York Giants, Cleveland Browns, New England Patriots, Washington Commanders, New Orleans Saints
David Patten went undrafted in 1996 out of tiny Western Carolina and signed with the AFL's Albany Firebirds. Once he hooked on in the NFL with the New York Giants the following year, though, he had quite a career. Patten won three Super Bowls with the Patriots in the early 2000s as one of Bill Belichick's jack-of-all-trades. The WR retired in 2010 after posting 324 catches for 4,715 yards and scoring 25 total touchdowns. He also returned 111 kicks in his career for 2,273 yards and even threw a 60-yard TD pass. Patten tragically died in a motorcycle accident in 2021 at the age of 47.
1. QB Kurt Warner
AFL Team: Iowa Barnstormers
NFL Teams: St. Louis Rams, Arizona Cardinals, New York Giants
No surprise here. Kurt Warner is, indeed, the best NFL player to ever come from the Arena Football League. He played 11 NFL seasons, had a 67-49 record as a starter, threw for 32,344 yards and 208 touchdowns, went to four Pro Bowls, made two All-Pro teams, won two MVP Awards, and is a Super Bowl MVP and champion.