Kyle Busch Surprisingly Defends Joey Logano While Criticizing NASCAR for New Change in 2023
Kyle Busch and Joey Logano have a long history of not necessarily seeing eye to eye. The pair renewed their conflict earlier this year at the Clash at the Coliseum, including the Richard Childress Racing driver offering some choice words for his fellow two-time Cup Series champion after the race.
This week before the race at Phoenix, the 37-year-old talked with the media about a specific moment in his first winning run with RCR at Fontana a few weeks earlier and expressed his displeasure with a new rule change for 2023 that had a massive impact in that race. He also surprisingly defended the Team Penske driver in the process. 
Kyle Busch not happy with Joey Logano after Clash
Kyle Busch finished third at the exhibition Clash at the Coliseum in his first-ever NASCAR-sanctioned event driving with RCR. While pleased with that strong result, he was unhappy with Joey Logano, who got into the rear and spun the No. 8 just past the halfway point of the race. 
"Logano didn't get hit by nobody," Busch told reporters after the race. "He just flat out drove through me so he's got another one coming. I owe him a few."
Busch was actually reserved in those initial comments to reporters. He saved his adult version for later with Claire B. Lang on SiriusXM NASCAR Radio.
"It's really unfortunate to be raced by guys that are so two-faced," he said. "We were in the TV booth earlier and nice together and when we're all done with that, he's like, 'Hey man, good luck tonight.' I'm like, 'OK. Great. Thanks. Yeah. Whatever.' And then, lo and behold, there you go, he wrecks me. Don't even talk to me if you're going to be that kind of an assh*** on the race track."
Busch defends Logano while criticizing NASCAR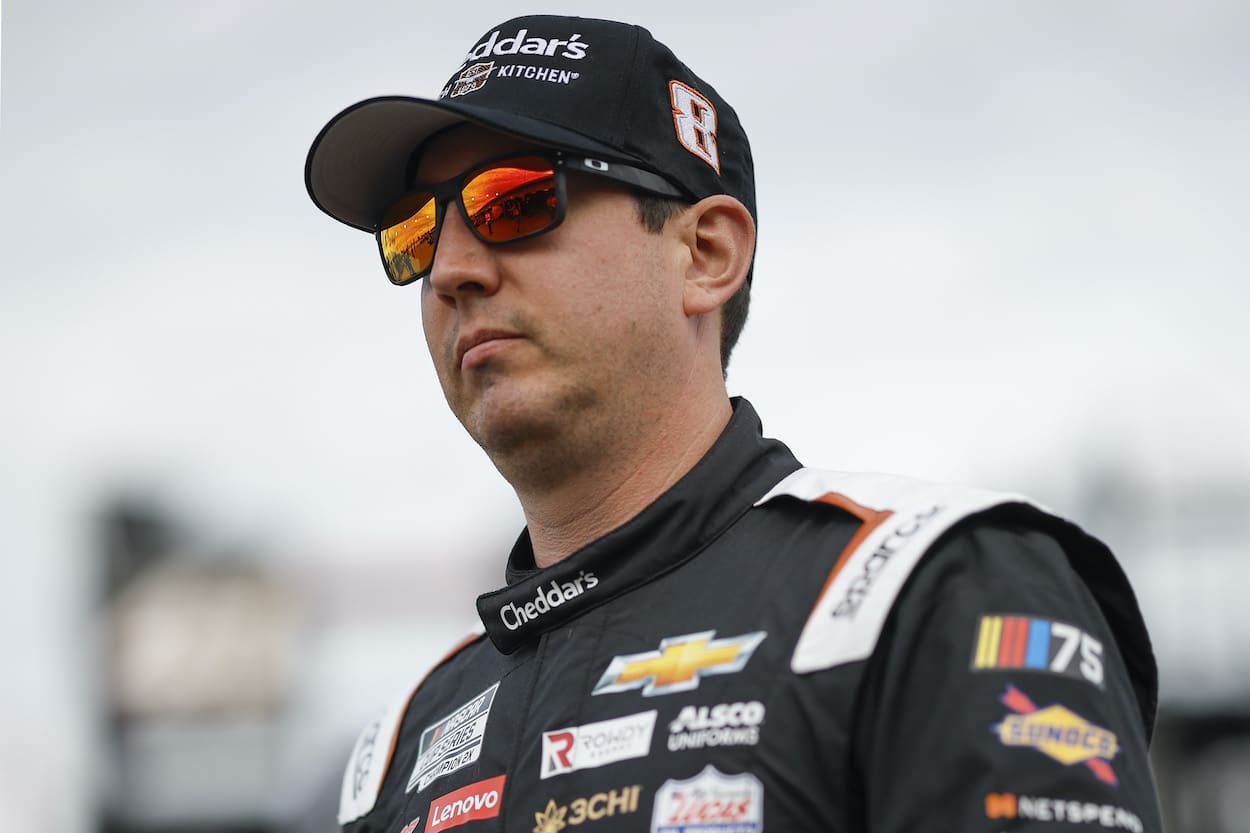 A couple of weeks ago at Auto Club Speedway, Logano led the field to green on a restart early in the second stage. Busch lined up a couple of rows back, and, fortunately, in front of the chaos that ensued when numerous cars mistimed the start and had to check up, producing an accordion effect with multiple cars slamming into the car in front of them. 
Several drivers later pointed the finger at Logano for causing the mess.
This week before the race at Phoenix, Busch was asked if he thought the extended restart zone implemented for 2023 gave the leader an advantage on the restart. Interestingly, he returned to Fontana. 
"No. I think all it's done is caused that wreck at California," Busch bluntly admitted. "In my opinion, it's done nothing different. Nothing on the positive end. It's only added a negative end to it because at California, Joey was just maintaining his speed and everybody was gaining, gaining, gaining, closing up their gaps because they all try to lay back and then time the run. 
"So he just waited for everybody to run into everybody and then went at the end of the zone. And so the bigger you make that zone the more anticipation everybody has and the more accordion effect you get. I knew that going in and I was not a proponent of lengthening the zone but nobody tends to listen to me a whole lot."
No one had Kyle Busch defending Joey Logano on their bingo card. But you can be sure those warm feelings won't last. History says so.
For the latest breaking news and information about NASCAR's three national series, check out @kdsportswriter on Twitter.