Kyle Busch Goes Full Kyle Busch, Gives Brutally Honest Review of His Own Documentary, Saying It Left Out Elements, Including Why He's Misunderstood
Kyle Busch didn't sugarcoat his thoughts about his own upcoming documentary, saying it was "OK," wished it was longer, and pointed out multiple flaws.
A select few sports figures have had careers and lives worthy of a docuseries. Michael Jordan fits the bill. Lance Armstrong is another. Most others fall in the category of interesting stories but not worthy of a multi-part series. Kyle Busch fits this category, although he'd beg to differ.
This weekend at Sonoma, the Joe Gibbs Racing driver visited with reporters and talked about his upcoming documentary, which debuts later this month. Interestingly, he wasn't as enthusiastic about it as you might think, even calling attention to a couple of things he thought were missing from the film. 
Kyle Busch 'Rowdy' documentary debuts this month
Kyle Busch, or "Rowdy," as he's known to many, has a story to tell. The future NASCAR Hall of Famer is unquestionably a lightning rod for controversy. It's been like that since the drop of the green flag on his career when fans booed him during his first Xfinity Series start because he was the younger brother of Kurt. 
Since that first race, the two-time Cup Series champ has had a lot more boos and cheers as he's driven to become one of the most successful drivers in the sport's history, winning more than anyone else in both the Xfinity and Truck Series while amassing an impressive 60 wins in Cup. 
But there's much more to the JGR driver than what he does on the track. All of it is the subject of a new documentary called "Rowdy," which has a worldwide premiere special event in Nashville on June 23. Several days later, on June 29, it will be shown in a one-night screening in theaters nationwide.
Gives brutally honest review of film
This weekend before making laps at Sonoma, he visited with the media and was questioned about the upcoming flick. Busch, who isn't one to sugarcoat his thoughts, didn't about the movie, even specifically calling out what he viewed as deficiencies in the film.
"For anybody that's been around the sport for a while, nothing in there is anything new," Busch said. "More so for the casual fan, if you will, to learn and understand. Or, if you're a newer NASCAR fan and only been around for the last five or eight years, you don't necessarily know the whole history of where I came from and what all went down in the early days. 
"I feel like the film is OK. There's definitely some elements that got left out that's just timing. Wasn't enough time to show that. Wish we had an opportunity to do something more of the Jordan feature that was eight, nine hours worth of film that was put out. But it is what it is. Looking forward to people to understand a little bit more about the Rowdy background."
Busch admits it doesn't fully capture why he's misunderstood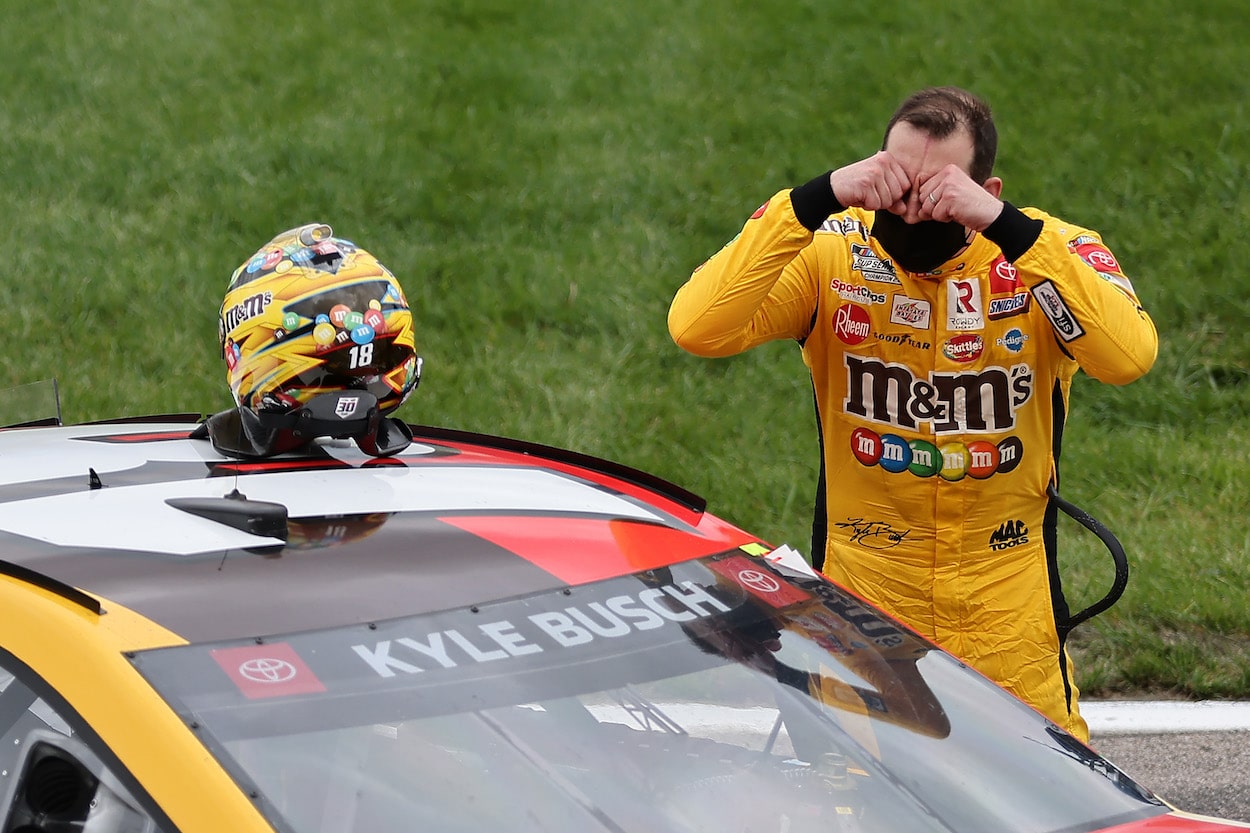 After answering several questions about the upcoming road course race in California, another reporter returned to the upcoming doc and posed a question that caught the driver by surprise when he asked him what he hoped fans would understand about his career after watching the movie.  
"That's a good question," the 37-year-old said. "I don't know. Honestly, nobody's asked me that. I don't know. I feel like anything running through my mind, I'm trying to interpret it as people would understand me talking about it, and all that comes across as whining, so I'm going to have to think on that one first."
The reporter then followed up by asking if the driver felt that he had been been misunderstood or misinterpreted throughout much of his career. 
"Yes, that would be very fair," the driver said. "I feel as though there's been a lot of instances and scenarios where there's buildup to certain actions, and I don't feel as though that that buildup has ever been characterized to get me to that point to get the pot to finally boil over. So to showcase a little bit of that, and that's one of the other points of the movie that was not fully given in there was some other boilover points. Anyways, that's just kind of part of it."
Busch not raving but instead calling out issues with his own documentary is the most Kyle Busch-thing ever. His supporters love his honesty. His haters think, as he said, he's a whiner or complainer. They aren't mutually exclusive.
Like Sportscasting on Facebook. Follow us on Twitter @sportscasting19 and subscribe to our YouTube channel.