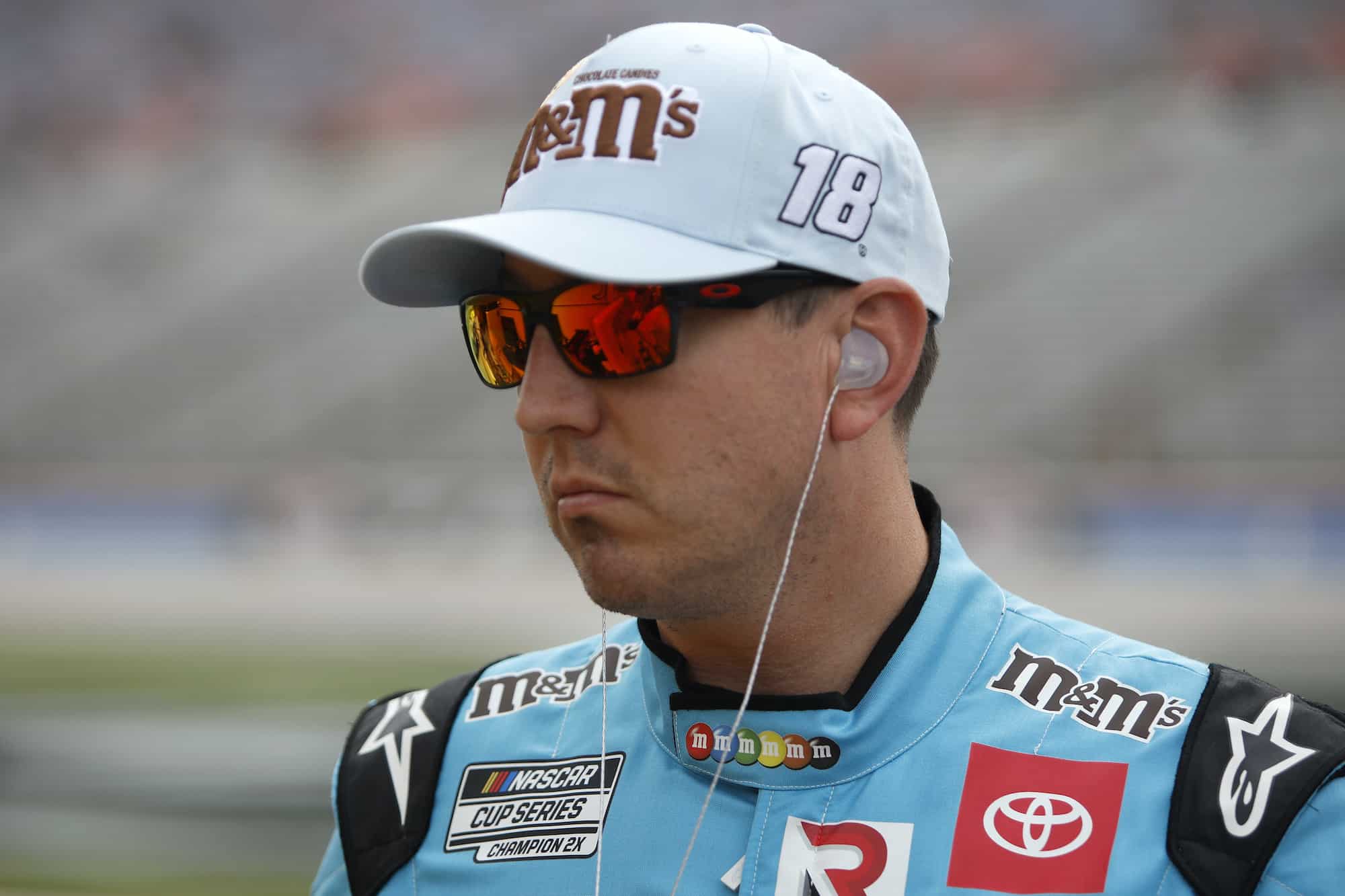 Kyle Busch Recalls Joe Gibbs Denying Him Chance to Race Indianapolis 500 and Holds Out Hope for Racing Prestigious Event in Future
Kyle Busch revisits Joe Gibbs denying him a chance to race the Indianapolis 500 and why he holds out hope for racing the prestigious event in the future.
Outside of winning the Daytona 500, Kyle Busch has pretty much accomplished everything there is to accomplish in the NASCAR Cup Series. He's won 60 times and a couple of titles. A spot in the Hall of Fame awaits when he decides to hang it up.
While Busch remains focused on his Cup career, Jimmie Johnson's transition to IndyCar and, more specifically, his first running of the Indianapolis 500 has his attention. But the 37-year-old driver isn't just interested in watching one of the biggest races in motorsports, he recently acknowledged that he's still interested in racing in it one day.
Kyle Busch watched brother Kurt successfully run at Indy
Kyle Busch has always watched older brother Kurt blaze the path before him. Kurt made his full-time debut with the Cup Series in 2001. Kyle followed in 2005. Kurt won his first championship in 2004. Kyle did it in 2015.
A year before that, Kyle watched as his older sibling pulled off the rare racing double, competing in the Indianapolis 500 and then later that day in the Coca-Cola 600. 
And Kurt didn't just run the prestigious race at the Brickyard; he was competitive, battling upfront with the leaders for much of the day before finishing a solid sixth.   
Kyle Busch missed chance in 2017 but hopeful to race in future
Kyle Busch planned to follow in his brother's footsteps and race the Indianapolis 500 back in 2017. Everything was in place for it to happen. Then, it all fell apart when Joe Gibbs denied him. He recently talked about that situation and his thoughts about running the Greatest Spectacle in Racing at some point in the future. 
"It's certainly on my radar," Busch said. "The year that I had it sold and committed and sponsorship was there and everything like that, I got told no. I haven't necessarily tried to sell sponsorship since. There was an easy verbal yes commitment, and things have changed obviously. Don't have that these days. Overall, excited to be able to watch and cheering for our old pal Jimmie Johnson to go out there and run well and be good."
Could find himself competing against Kyle Larson
If Kyle Busch does one day race at a future Indianapolis 500, he might not be the only Kyle from NASCAR competing. Kyle Larson made headlines last year not only because of his success in the Cup Series but his multitude of accomplishments across other forms of racing. Naturally, the Hendrick Motorsports driver was questioned about one day pursuing the Indy 500. He admitted interest.
Earlier this year, Larson received just the opposite news as Busch did several years ago when Jeff Gordon announced that HMS would be open to the 2021 Cup Series champion competing with the IndyCar Series and specifically the Indianapolis 500.   
"@JeffGordonWeb says that @TeamHendrick is open to letting @KyleLarsonRacin race in the Indy 500, and Rick Hendrick added that he and Gordon are also eyeing other series to potentially enter Hendrick Motorsports into in the future on top of @NASCAR," Adam Stern of the Sports Business Journal tweeted.
Jimmie Johnson looked good in the past week and qualified 12th. If he has a top finish, expect talk of both Kyles competing in a future race to heat up. Then it will be a race to see which one makes it there first. 
Like Sportscasting on Facebook. Follow us on Twitter @sportscasting19 and subscribe to our YouTube channel.