A Kyle Busch-Ross Chastain Fight Is Coming and It's Going to Be Awesome
A Ross Chastain vs. Kyle Busch duel for the NASCAR Cup Series title would be incredible.
Ross Chastain and Kyle Busch currently hold the top two spots in the NASCAR Cup Series points standings and could be the two drivers that would produce one of the most intriguing championship battles if their exploits early in the 2023 season are any indication.
Chastain and Busch have arrived at the top of the points standings in similar manners. Chastain led 103 laps and posted five finishes of 13th or better through the first six races, although he has yet to win. Busch has led only 40 laps but has four top-10 finishes, including a win at Auto Club Speedway.
Kyle Busch and Ross Chastain have already battled for the lead multiple times this year
Busch actually had to pass Chastain late in the race at Fontana to score that victory. Busch eventually won by nearly 3 seconds ahead of Chase Elliott, as Chastain faded to third, but Chastain had held off Busch for many laps while in the lead in the final quarter of the race until the pair came to pit road with 34 laps to go. Busch got off of pit road first and pulled away, but they had a spirited-yet-clean battle for the lead throughout much of the previous green-flag run.
Their next chance to go head-to-head came Saturday in the Craftsman Truck Series race at the Circuit of the Americas. Chastain won the pole award in the No. 1 truck for Niece Motorsports, and Busch started second in his own No. 51 truck for Kyle Busch Motorsports.
Busch passed Chastain to lead the third lap of the race, but otherwise, Chastain led Busch through the first eight laps, which covered more than 27 miles on the 3.4-mile road course. They again ran aggressively but raced clean in what was the most entertaining battle of the race. They combined to lead 22 of the first 27 laps until pit strategies put eventual winner Zane Smith out front for the final 15 laps.
Busch finished second more than 5 seconds behind Smith, while Chastain finished the race in fifth, but they were still the stars of an otherwise bland show at COTA. They could do the same for the Cup Series going forward, especially when clean battles between top drivers have become increasingly rare.
"We have completely lost any sense of respect in the garage between the drivers at all," Busch said Saturday at Atlanta Motor Speedway. "That's where the problem lies. Nobody gives two (expletive) about anybody else.
"It's just a problem where everybody takes advantage of everybody as much as they can. We're all selfish, granted. But there was an etiquette that once did live here."
Busch and Chastain are unlikely foes to wage a clean battle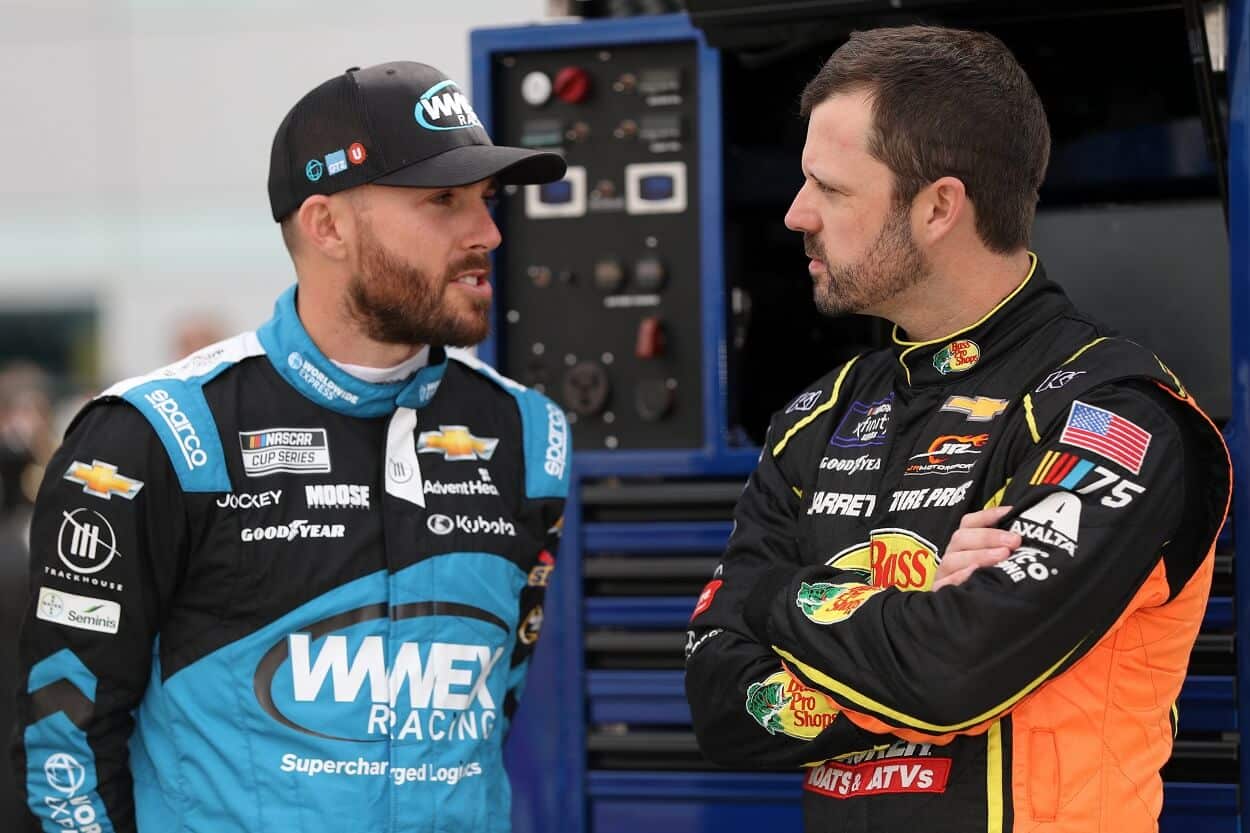 Busch and Chastain, ironically, would likely be at the bottom of most fans' list of drivers who race with the most respect, given their respective histories. Busch has had numerous run-ins with drivers throughout his 19 years as a full-time Cup Series driver, and Chastain had a lengthy list of fellow competitors upset with him a year ago because of his aggressive driving.
Chastain's nearly year-long feud with Denny Hamlin eventually cost him a decent finish two weeks ago when Hamlin decided to intentionally wreck Chastain on the final restart. That incident came after Chastain had wrecked Hamlin at least three times in the previous calendar year.
A head-to-head battle between Busch and Chastain would seemingly set up fireworks and post-race drama with their reputations as two of the most aggressive drivers in the sport, but that has been the exact opposite when they have raced each other for the lead so far this season, at least on the track.
Their potential rivalry would also be a nice blend of generations, much the way Hamlin and Chastain were a year ago, especially if they are able to avoid the wrecks.
The way Joey Logano and Brad Keselowski battled at the end of the Atlanta race is a positive example. They traded the lead three times in the final 44 laps without incident. That was highly remarkable with the pack-racing conditions that now exist at Atlanta, but Keselowski made a point to talk about how important it was for the two veterans to race with respect even though he ultimately finished second behind Logano.
"The coolest thing about this race is two veterans showed you can run a race here side by side, bump-drafting, and not wreck the field," Keselowski said on pit road after the race. "It can happen if you race respectfully. I thought everybody did a great job."
Busch and Chastain have been at the front of the field as much as anybody through the first six Cup Series races and an additional Truck Series event. Perhaps they can carry that into a memorable championship bout through the rest of the season.