Kyle Busch Surprises Rowdy Nation with Breaking News and Does Something He Hinted at in 2021 
Kyle Busch likes surprises. Look at what he did the other night following the Clash at the Coliseum when he approached the medals podium and unexpectedly goosed former Joe Gibbs Racing teammate Martin Truex Jr. from behind. He did something similar with Denny Hamlin at the end of last year at Homestead during NBC's prerace show.
On Friday, the 37-year-old delivered a pretty big surprise to his fans when he announced that he is coming out of Xfinity Series retirement and will be racing a part-time schedule in NASCAR's second-tier division in 2023, and doing something he hinted at in 2021. 
Kyle Busch retires from Xfinity Series racing
In 2021, Kyle Busch said at the beginning of the year that it would be his last racing in the Xfinity Series. The driver sent signals throughout the season confirming that it would be his last, but many of his fans still refused to believe it. 
Following his fifth and final win that year at Atlanta, the JGR driver was reflective in his postrace interview and made some closing remarks that seemed to put all those doubts to rest. He did, however, leave a small opening.
"Thanks to Joe Gibbs Racing, Toyota, Xfinity, Nationwide, Busch beer for the series and everything that they've done over the years," Busch said. "It's been awesome to run here and ride here."
"Is that indeed the last ride for you in the Xfinity Series, Kyle?" NBC's Marty Snider asked.
"Yeah. Yeah. As far as I know," the driver responded. "As far as what's going to happen right now, yeah. It's never say never, but yeah, this is it." 
Busch coming back to Xfinity
Never say never. Busch knew better than to permanently close the door on the most successful career in series history. On Friday, he propped the door open, walked through, and announced he's returning for his allowed five races in 2023. 
The Richard Childress Racing driver dropped the surprise news in a clever social media post that featured a more than minute-long video that opened with a wall of static-filled TVs, which eventually featured three screens that showed the retirement announcements of Tom Brady, Michael Jordan, and Busch from Xfinity. 
The next videos showed the news announcements about the returns of all three. After Busch's announcement, which a mock television anchor delivered, the driver appeared and asked fans if they had missed him. He concluded by crossing his arms and saying, "I'm back."
He will be driving for Kaulig Racing in the No. 10 car. 
His return is good for NASCAR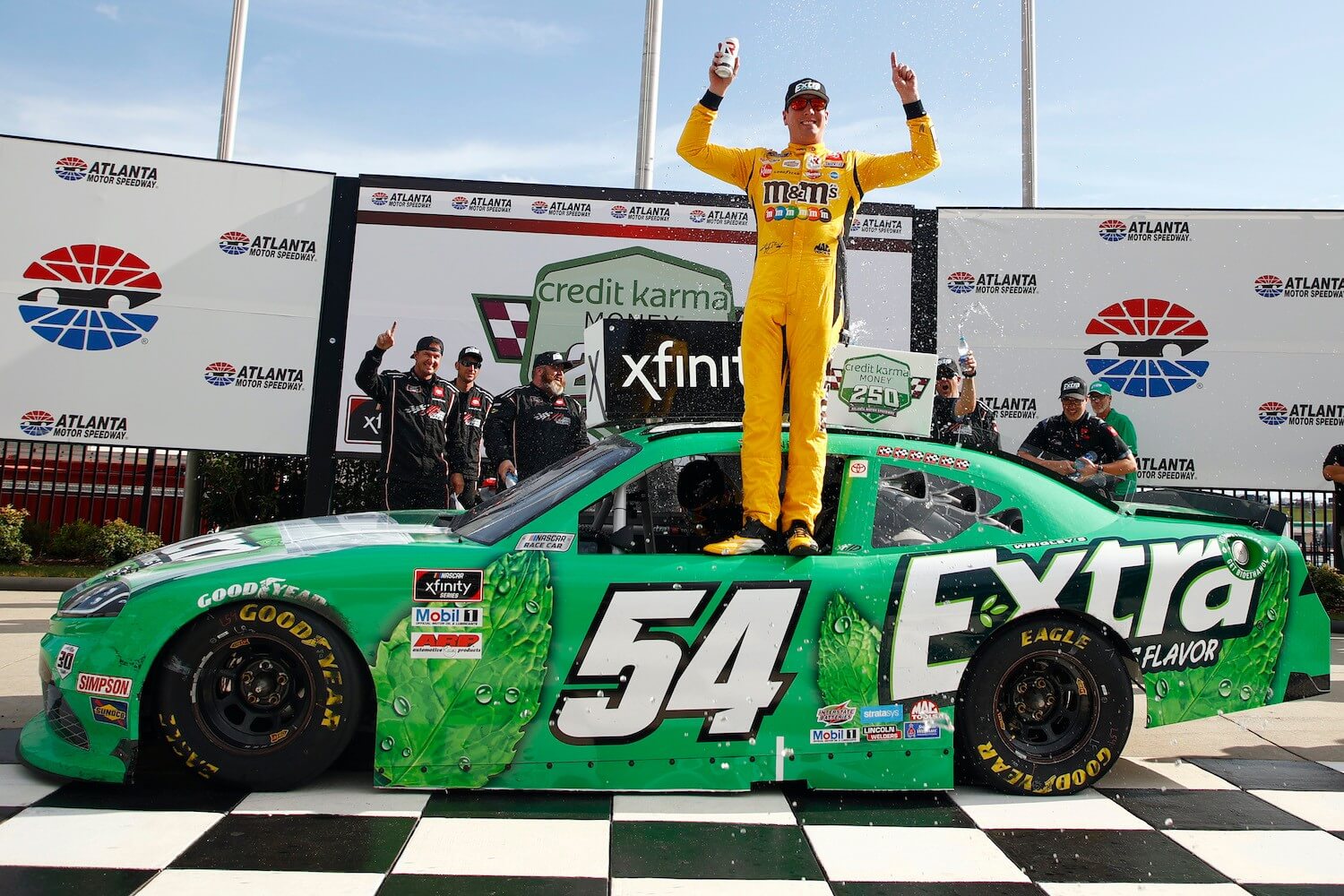 Busch returning to compete on a limited schedule in the Xfinity Series is good for NASCAR. While many of his loyal fans were vocal after the announcement, with some saying they hadn't watched races in the series since he left, the decision will draw even more overall eyeballs to the sport's secondary division, both on television and in the stands. 
That's because every time the fans watch him get inside an Xfinity car, there's a high likelihood they'll see history and a new record added to an unsurmountable number of them that include 362 starts with an astonishing 102 wins or a win every 3.5 starts. 
In 2021, he won all five races he entered. Whether that happens in 2023 remains to be seen. What is clear is Busch's return to the Xfinity Series, even on a part-time basis, is a plus for NASCAR fans. And the right kind of surprise Rowdy Nation wants to read about unlike the headlines from just a few days earlier.