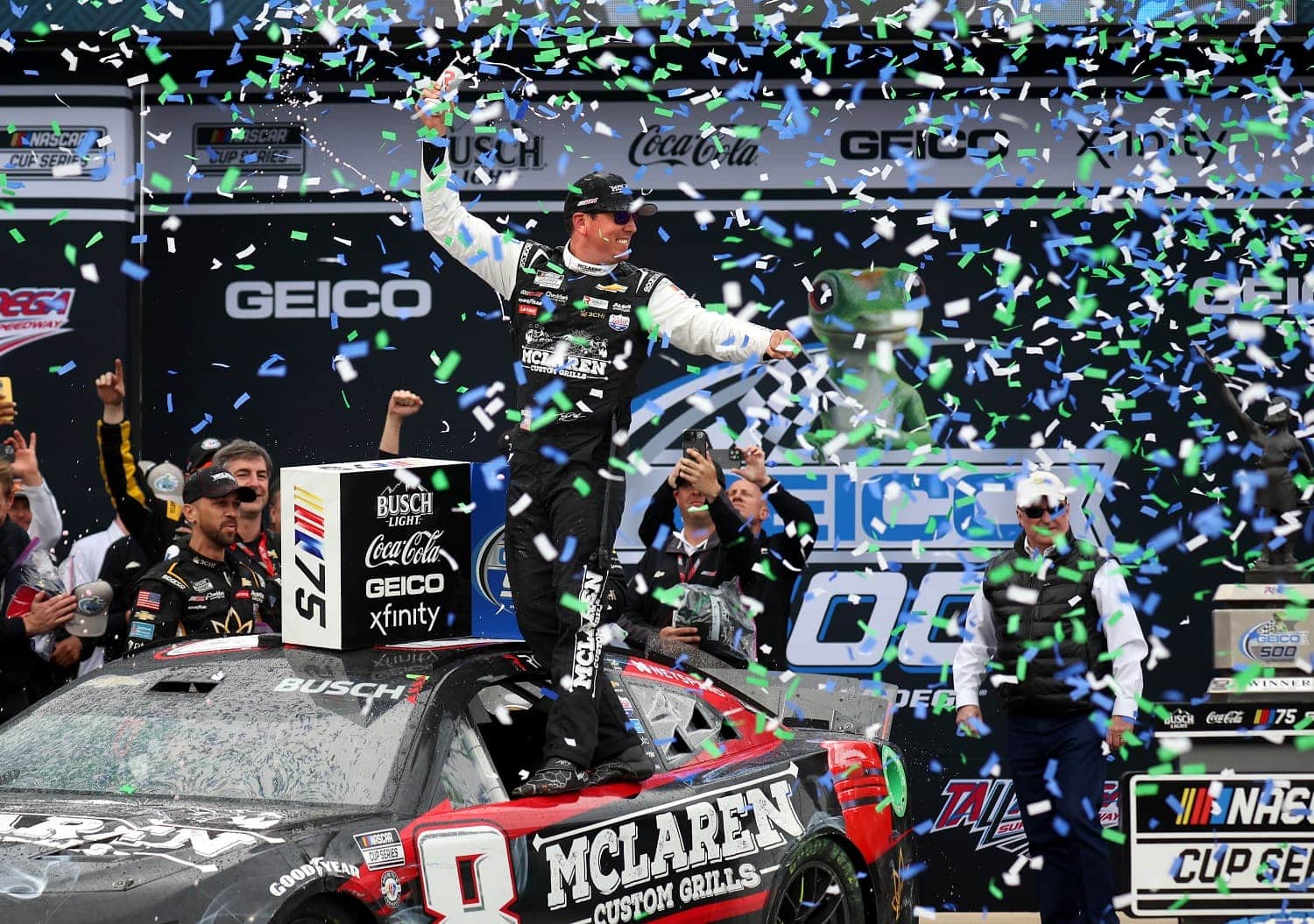 Kyle Busch Triggering a Crash Was a Happy Problem for His New Sponsor
Kyle Busch brought home a winner for a first-time NASCAR sponsor, but there were unintended consequences.
Kyle Busch avoided "The Big One" and all the lesser wrecks on Sunday at Talladega Superspeedway, but he most certainly caused a crash. It's bringing his sponsor some attention the company couldn't have bought. Unfortunately for McLaren Custom Grills, its customers couldn't buy anything either.
It seems Busch's second NASCAR Cup Series victory of the season broke the internet.
The relationship between Kyle Bush and new sponsors is flourishing already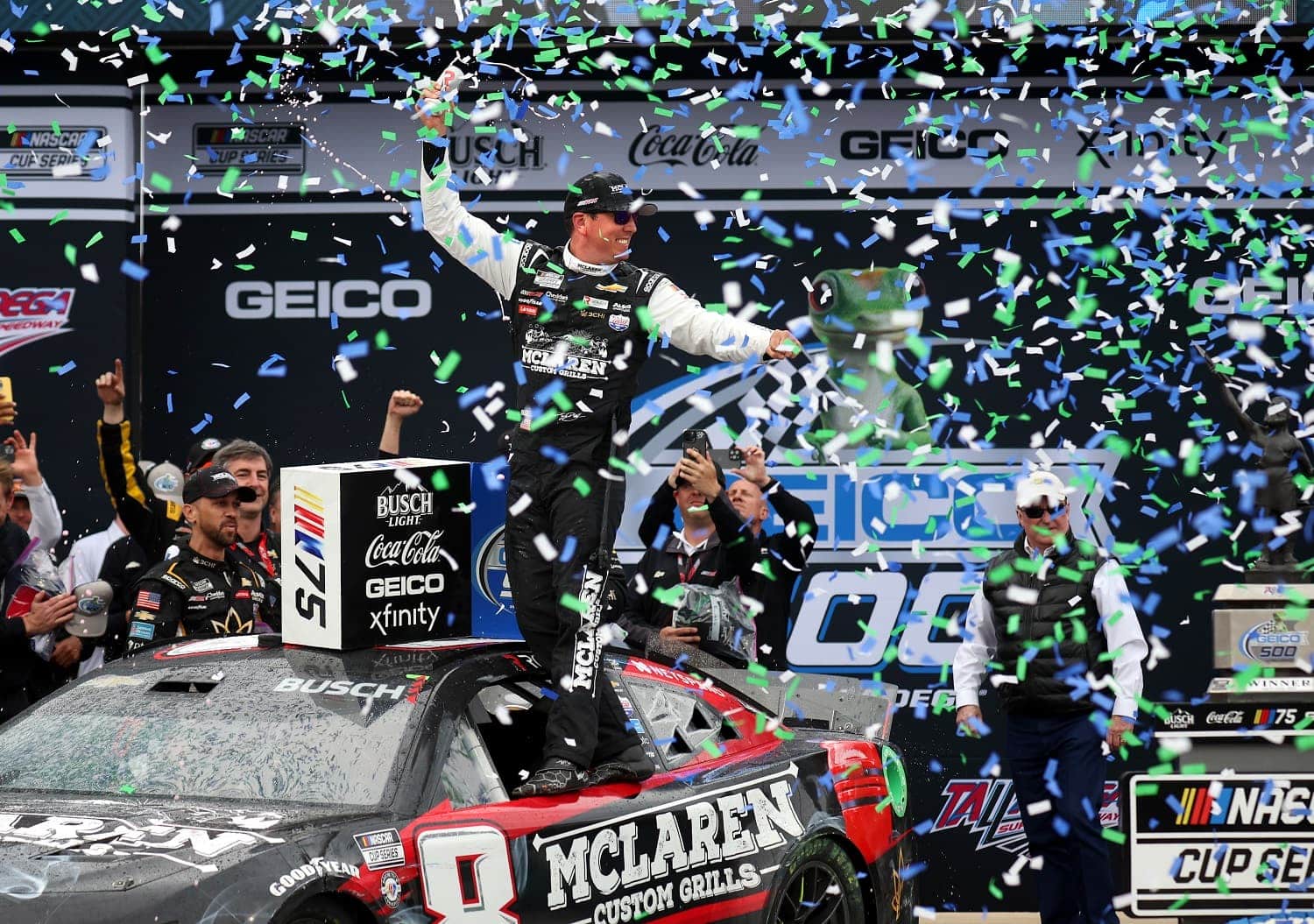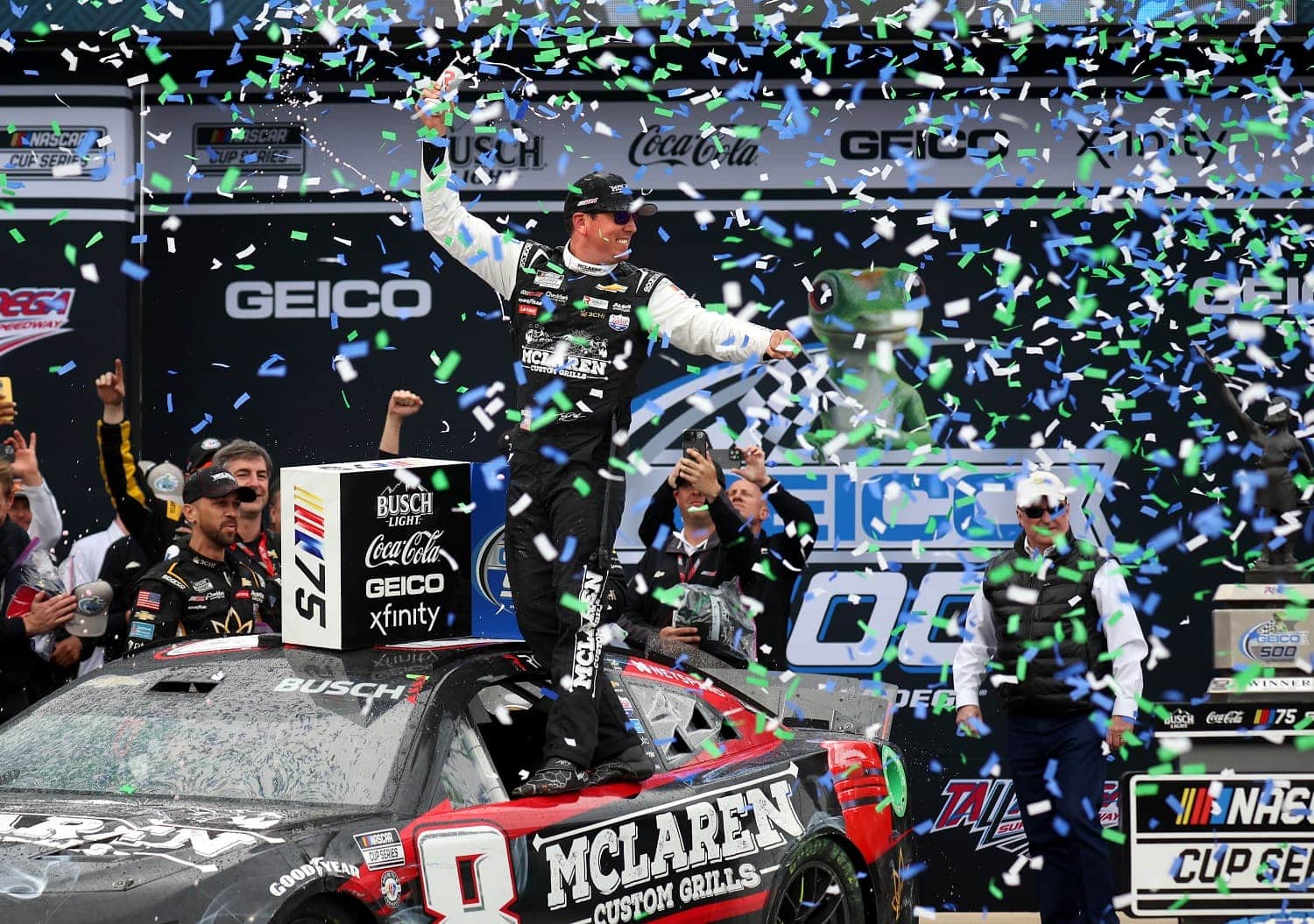 Kyle Busch's switch to Richard Childress Racing to replace Tyler Reddick was major news in NASCAR, and one of the immediate questions was whether sponsors would stick with the RCR team given Busch's reputation for rubbing people the wrong way at times by speaking his mind.
Lenovo, 3CHI, and Cheddar's are among the Reddick sponsors giving Busch the benefit of the doubt in his first season. Meanwhile, RCR went to work lining up some new partners, and two of them have already adorned the hood of the No. 8 Chevy while parked in Victory Lane.
Busch scored his 61st Cup Series win at Fontana on Feb. 29 while driving the Lucas Oil car. That company has a history of sponsoring cars at all levels in NASCAR, but it hadn't been present in the top series since making one appearance per season on RCR cars from 2017-19.
This weekend at Talladega, it was McLaren Custom Grills' turn in the spotlight. While Busch only led three laps in the race, he was up front when it counted most, and then he threw his new sponsor a big plug during an interview Fox aired live at the finish line.
"Just a great day for another new sponsor at RCR with McLaren Custom Grills," Busch said. "If you ain't got a custom grill yet, these McLarens are pretty bomb. You have to check them out."
Kyle Busch did too good a job plugging his new sponsor
Ratings data isn't in yet, but there were likely more than 3 million people watching the end of the GEICO 500 at Talladega. It's not unusual for viewers to fire up laptops, tablets, and smartphones when they hear an unfamiliar person or brand mentioned. Thus, it stands to reason Kyle Busch's mention of McLaren Custom Grills triggered a sizeable number of online searches.
In this instance, however, the McLaren folks weren't prepared for what was coming. The traffic surge brought down the company's website server. The dreaded "Internal Server Error" title was followed by a note about the server being unable to complete the request.
The McLaren social media team quickly stepped up its game.
"Our website is currently down because of the overwhelming amount of interest," they posted to Instagram. "Don't worry, we're working on it and it will be back up in no time."
Expect to see more of the sponsor in the future
McLaren Custom Grills and Richard Childress Racing announced their sponsorship deal last week, just in time for the race at Talladega. The announcement said McLaren, based in Winnipeg, Manitoba, Canada, entered a multi-race agreement to sponsor Busch's car in its first foray into NASCAR.
The announcement said McLaren, which manufactures the official barbeque grill of the NBA, will produce custom products geared toward fans of the driver and RCR.
"Both Richard Childress Racing and Kyle Busch have wide-reaching fan appeal so we can't wait to cater to their passionate fan base with our custom grills," owner Mike McLaren said. "We believe this race team partnership is the perfect platform for our custom grills and can't wait to see the McLaren Custom Grill Chevy on the track this season."
Got a question or observation about racing? Sportscasting's John Moriello does a mailbag column each Friday. Write to him at [email protected]