Kyle Larson's Latest Brush With Controversy Didn't Faze Martin Truex Jr. Like It Triggered Bubba Wallace
Kyle Larson was in the middle of a controversy for the second straight week. This time, however, the other driver accepted responsibility.
The season was already bumpy for Kyle Larson before the NASCAR Cup Series playoff races at Las Vegas and Homestead-Miami. What's happened these past two weekends just makes it that much crazier.
At least no one this time tried using his Next Gen car as a battering ram to take the defending series champion out. Larson's victory in the Dixie Vodka 400 wasn't without controversy, but the driver on the receiving end of a bad break manned up and accepted his share of the responsibility.
Kyle Larson scores his third win of the season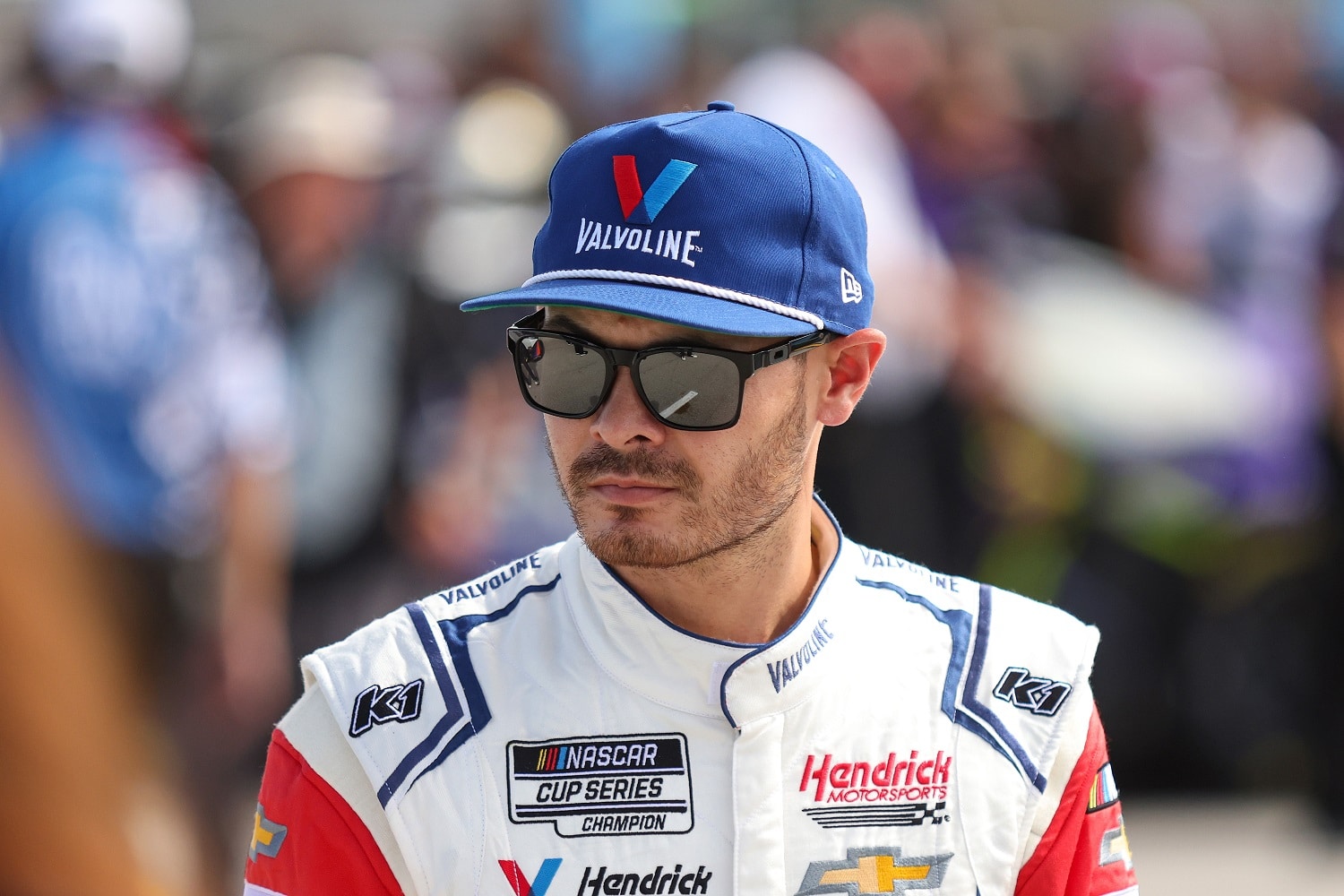 Kyle Larson was dominating at Homestead-Miami, leading 199 of 267 laps to win for the third time this year. Coming on the heels of a 10-win season during which he captured the Cup Series championship, finding himself racing for nothing but pride for the final month of the season qualifies as a letdown.
But the performance Sunday reminded fans that Larson is a masterful driver. He rode the wall for nearly all 400 miles and made nary a mistake on a track that scuffed up the right-side panels on multiple other cars.
Larson's two hours at the front of the field before a national television audience served as a powerful juxtaposition with Bubba Wallace, visible only on Twitter after NASCAR suspended him over last weekend's messy incident in Las Vegas. Unhappy about being run up the track, whereupon Wallace put himself into the wall, the driver of the No. 45 Toyota went hunting for Larson's Chevy and intentionally rammed him.
Afterward, Wallace confronted the driver of the "5" in the infield and shoved him repeatedly. In interviews that followed, the Toyota driver was unapologetic in his comments. When he went to social media a day later to issue various apologies, Wallace did not express regrets to Larson.
Martin Truex Jr. owned up to his mistake
Kyle Larson was on an 87-lap run in the lead when Martin Truex Jr. caught a big break. Truex was already in the pits on Lap 212 when a spin by Ryan Blaney brought out a caution flag. The ensuing sequence allowed him to come back onto the track in first place, and Truex was leading with 21 laps to go when Tyler Reddick's spin brought out another caution.
Truex and Larson joined a caravan heading for a final tire change. As they came down the pit lane, Truex was late in veering off to his stall on the left. When he suddenly slowed, Larson bumped the No. 19 Toyota, sending Truex into a 180-degree spin and crew members scurrying. The elongated pit stop would cost Truex the lead and the victory.
While it looked bad at first glance, and Larson initially wasn't sure how much he was at fault, replays confirmed Truex would have had difficulty getting to his stall even without the contact.  After hearing Larson speak in the post-race interview, Truex had no qualms about taking responsibility, averting what could have been an awkward Victory Lane ceremony for Hendrick Motorsports.
"These windshields right now with the sun like that and all this stuff covering it," he explained to NBC Sports. "And I did see my box late for sure. So, I slowed down before I turned out of the way of the '5' there. Obviously partly on me. I didn't expect to get turned around,
"I'm glad nobody got hurt there. Overall, it's just disappointing to have a good day going like that and have a shot of winning and couldn't close the deal."
Kyle Larson still has a goal to shoot for
Though his hopes of repeating as the Cup Series champion ended two weeks ago at the Charlotte Roval, Kyle Larson remains focused down the final stretch of the season because a big prize remains.
The owners' championship is separate from the drivers' championship and lucrative, too. NASCAR disperses money to teams at the end of the season based on the owners' standings, and Larson's No. 5 Chevy goes to the Championship 4 race in two weeks as one of the four cars still in contention for the top prize.
"We get to go race for an owner's title in Phoenix in a couple weeks," Larson said. "We're still technically not out of it. I can't win the (individual) championship, but it means more to me to win it as a team. We're going to go to Phoenix and try to get another championship."
Got a question or observation about racing? Sportscasting's John Moriello does a mailbag column each Friday. Write to him at [email protected].
Have thoughts on this topic? Keep the conversation rolling in our comments section below.