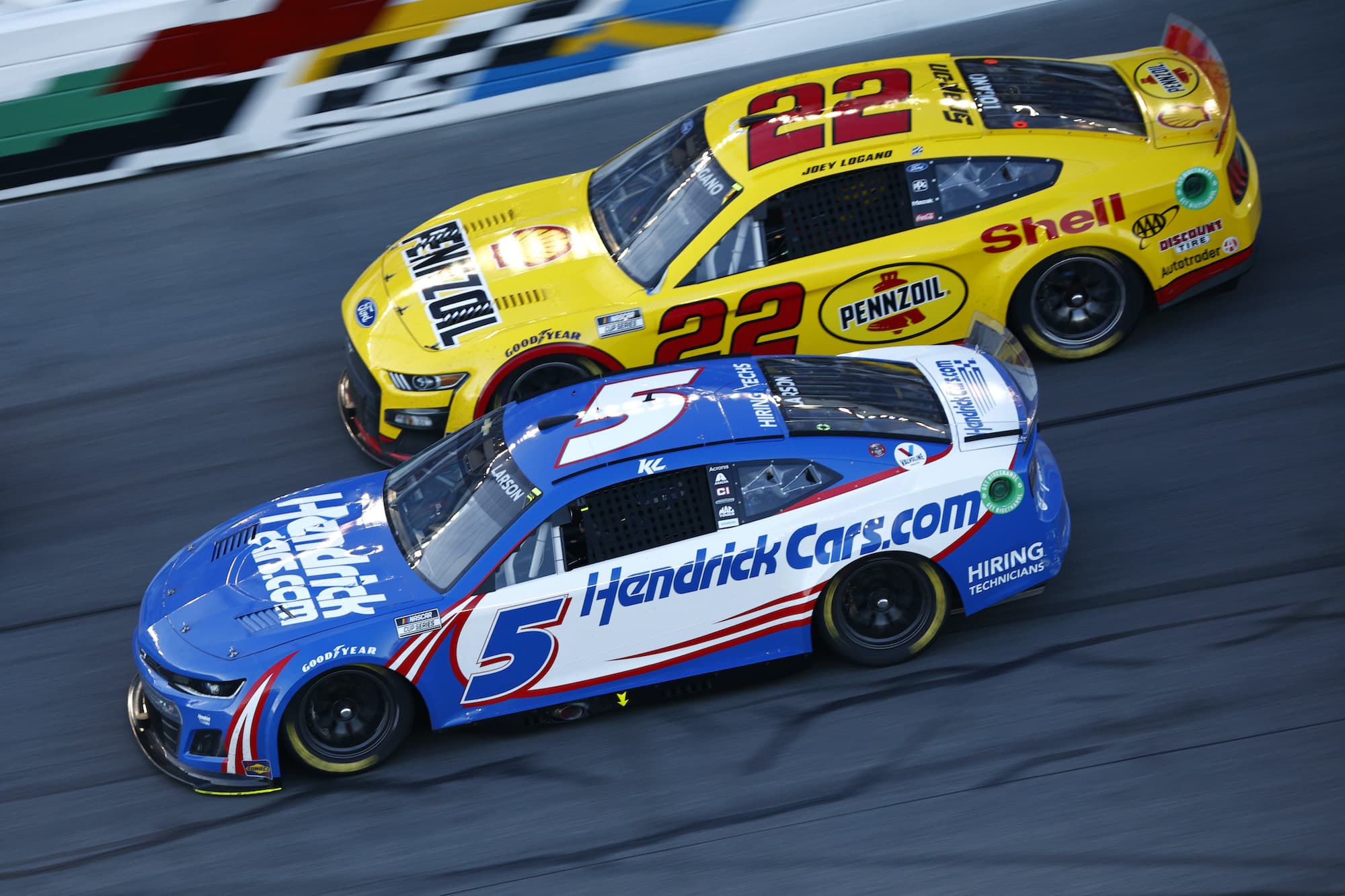 Kyle Larson Taught Joey Logano a Lesson at Kansas and Showed Why Their Peers Have Dramatically Different Views of Each Driver
Kyle Larson said something over his radio this weekend at Kansas that revealed why many drivers respect his talent and his style more than Joey Logano.
Kyle Larson is the reigning Cup Series champion. Joey Logano won it back in 2018. This year, each driver has one victory to his credit. Both drivers are undeniably successful. 
Despite those statistical similarities, their driving approaches are dramatically different. The past two weeks proved that and revealed why many of their fellow drivers view one with more respect over the other.   
Joey Logano moves William Byron and justifies it as retaliation
Joey Logano has a well-documented history of aggressive driving. Just ask Matt Kenseth, Denny Hamlin, or Kyle Busch. William Byron begrudgingly had his name added to the list a few weeks ago at Darlington.
Logano and Byron both had race-winning cars. On a restart with under 30 laps to go, the No. 24 slid up the track coming out of Turn 2, making contact with the No. 22 on his outside, which ushered the Penske car into the outside wall and took away his momentum, and allowed the Hendrick Motorsports car to surge out into the lead. 
That's all the ammunition Logano needed. With just a couple of laps to go and quickly closing the gap, it was quite apparent to everyone watching that Byron was a sitting duck and the Penske driver would be able to make the pass without much of a challenge. 
He made the pass, but only after driving hard into the rear bumper of Byron, sending the No. 24 into the outside wall. Logano slipped by and raced to victory. Byron finished 13th. 
Afterward, Logano repeatedly said his bump-and-dump was a retaliation for the move that happened on the restart when he got squeezed into the wall, which Byron and most pundits said wasn't anything malicious. 
Kyle Larson refuses to blame Kurt Busch for contact at Kansas
A week later at Kansas, Byron's HMS teammate Kyle Larson found himself in a similar situation. Racing hard on the outside against Kurt Busch for the lead with eight laps to go, the 23XI Racing car and Larson made contact, with the No. 5 getting squeezed up into the outside wall. 
Over the radio, Larson's spotter Tyler Monn offered his thoughts on what happened and unsurprisingly sided with his driver. 
"45 just put us in the fence," Monn said. 
"No, he didn't," Larson promptly responded. 
Just like that, it was over. Larson could have easily echoed the frustration of what his spotter had said moments earlier, which then would have justified a retaliatory move later, but he didn't. He accepted that he had tried to get his nose in there and it didn't work. As they say — it was just racing. 
Larson accepted responsibility for incident with Chase Elliott at Fontana 
Kyle Larson accepting responsibility and not manufacturing drama isn't anything new. This year during his win in the second race of the season at Fontana, the 29-year-old driver showed just why so many in the garage respect his driving talent and clean racing style.
He made a move late in the race that many believed was an attempt to block his teammate Chase Elliott, which sent the No. 9 hard into the wall. After the race, Larson went out of his way to acknowledge that he had messed up. Ironically, Logano played a role in the mishap.
"I didn't get through 3 and 4 very well. Joey did a good job on the bottom," Larson said. "And then we were side-drafting each other, and I'm not even looking in my mirror at that point because all I'm worried about is Joey. I'm looking out of my A-post window, and I had a run, so I went to peel off, and as soon as I peeled off, my spotter is yelling, 'Outside! Outside! Outside.' I had no clue he was even coming. 
"I hate that I ended his day after they worked so hard to get back to the lead lap and back in contention to win. It was an honest mistake on probably both of our faults. I should have had more awareness in my mirror and my spotter could have told me he was coming with a big run and we would have avoided that mess."
Kyle Larson has shown time and time again that he's going to race clean and if he makes a mistake, own up to it. Conversely, Joey Logano has shown if there's an incident with another car and it's even slightly questionable who's at fault, he's going to use it as motivation and justification to retaliate. That mentality may win him races, but it's certainly not winning him any friends.
Like Sportscasting on Facebook. Follow us on Twitter @sportscasting19 and subscribe to our YouTube channel.