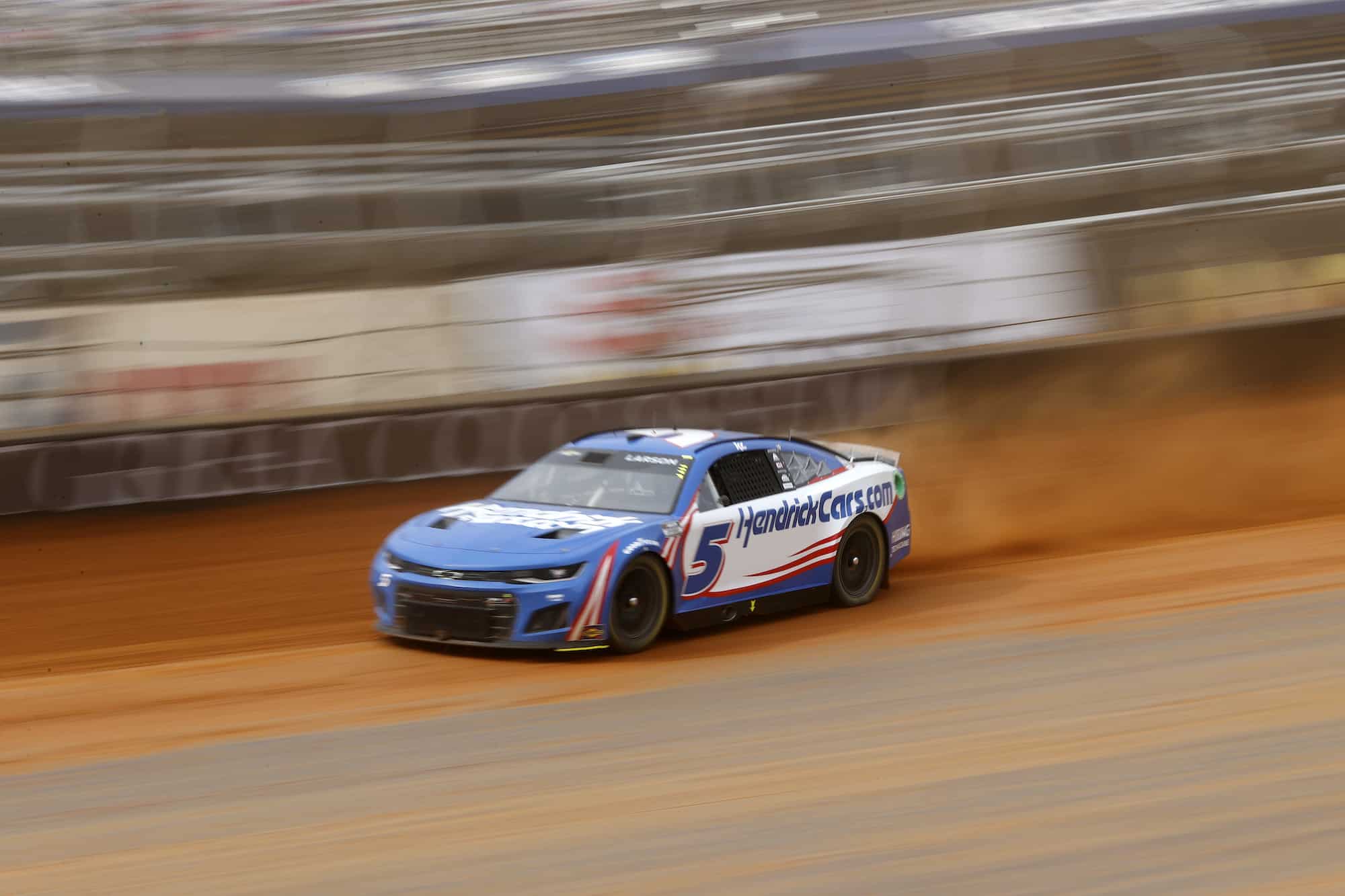 Kyle Larson Doesn't Mince Words and Tells NASCAR What He Thinks About Future Dirt Races
Kyle Larson is an accomplished racer on all track styles, including dirt. You wouldn't know that he was a fan of the dirt based on his recent remarks about NASCAR racing on that surface in the future.
En route to winning the 2021 Cup Series championship, Kyle Larson won 10 races with NASCAR and numerous other trophies during the week on a variety of track styles, including dirt. He didn't fare well when the Cup cars raced the lone time of the season on the Bristol dirt. 
Before this year's dirt race at Bristol, the Hendrick Motorsports driver shared his feelings on the track and what he thought NASCAR needed to do to improve it going forward or else it was "wasting everybody's time." This last week during an interview, Larson provided his updated thoughts and didn't mince his words. 
Kyle Larson tells NASCAR changes need to be made at Bristol dirt race
Kyle Larson is unquestionably one of the most respected drivers in the Cup Series garage. And it's not only because of his NASCAR accomplishments but because he's achieved that same level of success in other styles of racing. So you can bet other drivers and NASCAR officials were paying attention last month when he appeared on SiriusXM NASCAR Radio and delivered some harsh remarks on racing dirt at Bristol.
"The way I look at it if we're not going to take the windshields out then why are we racing on dirt? We shouldn't race on dirt if we're not going to take the windshields out and actually have a dirt race with moisture in the track and being able to produce a real dirt race," Larson said. "I feel like we're wasting everybody's time a little bit and not giving the fans and the competitors what we all deserve. In my opinion, if we're not going to take the windshields out, we might as well never put dirt on Bristol again, which I'm all for not putting dirt on Bristol, whether we have windshields or not. I think the racing at Bristol is amazing just as normal."
Kyle Larson provides updated thoughts on dirt racing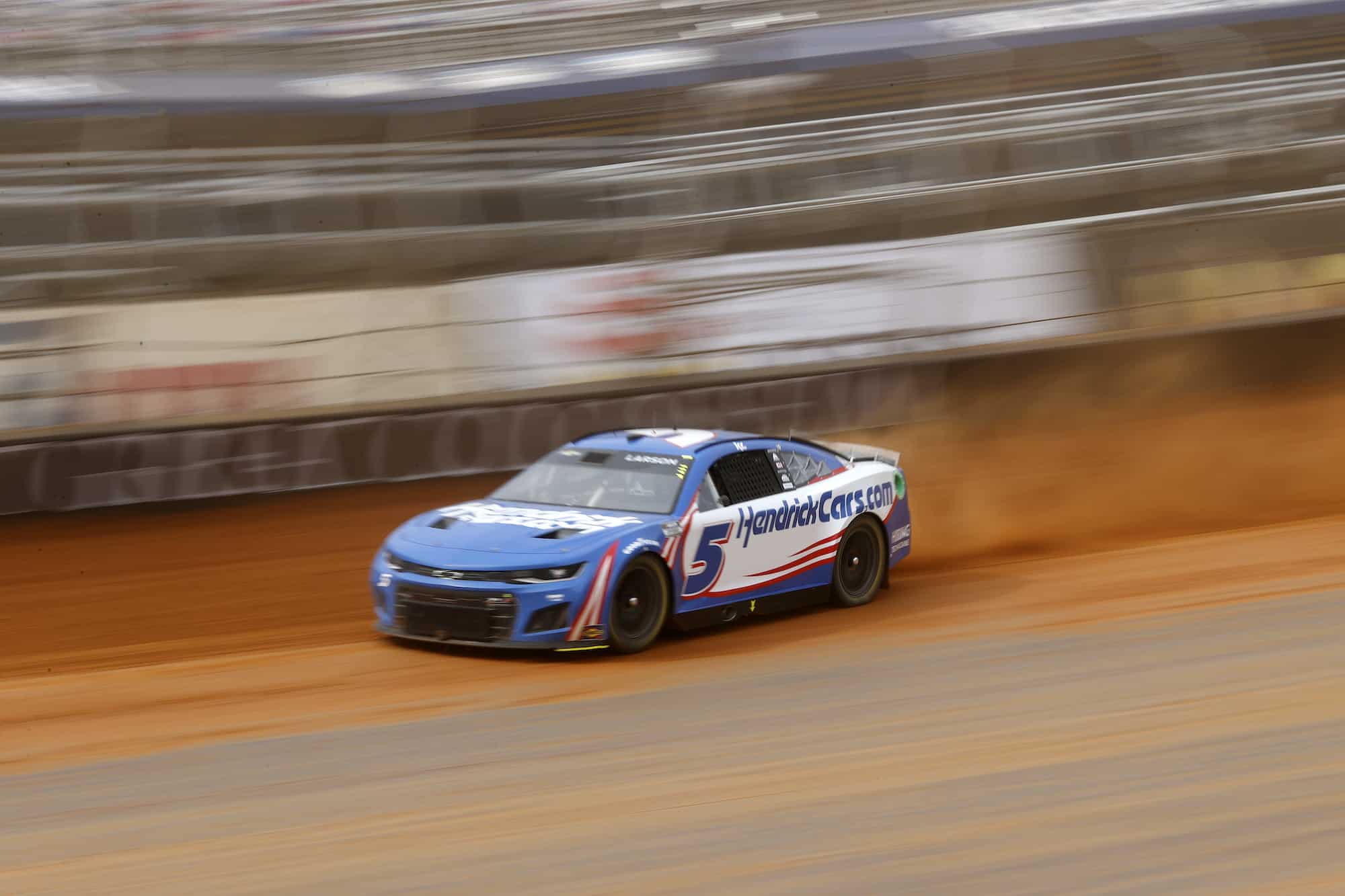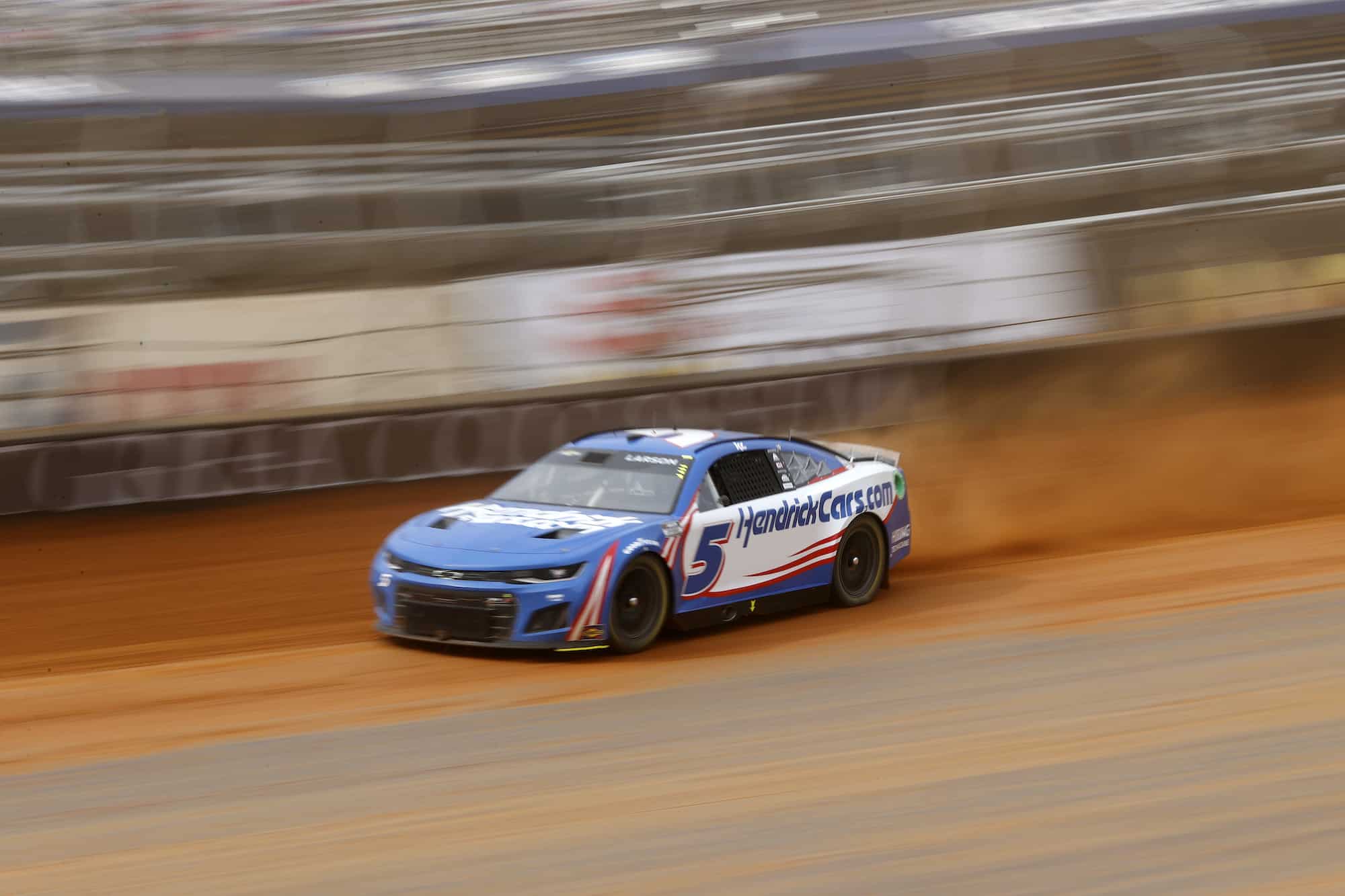 After getting in an early crash and finishing 29th in 2021, Larson stayed clean on the Bristol dirt this year, putting in a solid performance and recording a fourth-place finish. Despite that dramatically-improved result, the 29-year-old driver is still not a fan of NASCAR running on dirt in its current form. 
He admitted as much during his 12 Questions interview with The Athletic's Jeff Gluck last week when asked to look down the road five years and identify what he's most optimistic about and what worries him the most. 
On the positive side, the HMS driver said the Next Gen car has produced fun racing and its saving costs for the teams is a "promising thing." He also said the veteran drivers are discussing the upcoming TV contract and how it should provide an opportunity for teams and drivers to make more money.
"Stuff I'm worried about? I can't really think of anything off the top my head," he said. "I feel like NASCAR continues to do a good job with the schedules and freshening that up and adding some excitement. Maybe the only thing I'd be nervous about is I enjoy road courses, but I don't want too many of them. And no more dirt races."
He's not the only Kyle that feels that way
Five words. Larson could have ended his answer about not wanting more road courses, but didn't. He threw in that last little sentence making sure everyone knew exactly what he thinks about racing on dirt in the future. But he's not the only big-name driver who isn't a fan of dirt racing in Cup cars.
Ironically, this year's winner, Kyle Busch, revealed where he stood before this year's race when questioned if NASCAR should cut the cord if the race didn't go well.   
"Cut the cord. As Richard Petty says, it takes our sport backwards," Busch suggested. 
Busch won. Larson finished fourth. The results confirm the race went well for both of them. And by all accounts, it was an overall success. Speedway Motorsports, which owns the track, said dirt will be returning in 2023. 
If NASCAR officials were wise, they would be working right now in trying to find a way to remove the windshields per Larson's suggestion and get the reigning champ and most accomplished dirt racer in the series on their side. If not, they can expect more complaining in the future and he likely won't be alone.
Like Sportscasting on Facebook. Follow us on Twitter @sportscasting19 and subscribe to our YouTube channel.