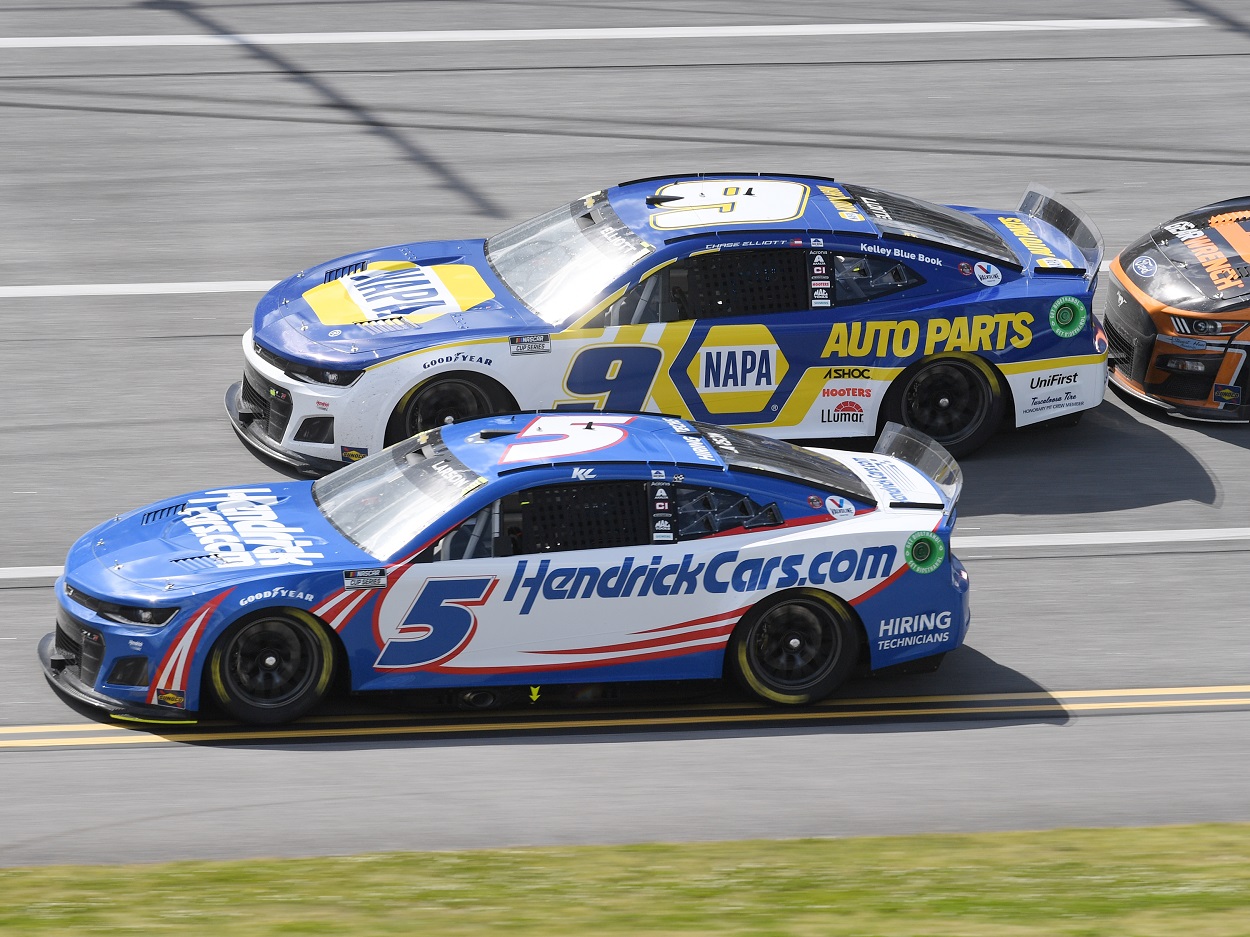 Hendrick Motorsports' Performance at Talladega Should Terrify Stewart-Haas Racing
Hendrick Motorsports' performance at Sunday's NASCAR Cup Series race at Talladega could mean trouble for other teams.
Hendrick Motorsports brought a massively different approach to the second true superspeedway race of the 2022 NASCAR Cup Series season. And what happened at Talladega could have a drastic effect on how the regular season ends.
The HMS Chevrolets opened the regular season with four of the first five starting spots for the Daytona 500. This type of qualifying performance has become a tradition for owner Rick Hendrick. 
His cars have won six of the last seven Daytona 500 pole awards, including five straight from 2015 to 2019. Ricky Stenhouse Jr. was the only non-HMS driver to win a pole when he did so in 2020, but he still had a Hendrick-powered engine under the hood.
The actual races have turned out quite different, however. A Hendrick Motorsports car hasn't won the Daytona 500 since Dale Earnhardt Jr. captured the victory in 2014 and has won only two Daytona races since.
The 2022 Daytona 500 proved to be a big wake-up call, as three of the organization's four cars finished 24th or worse despite their strong qualifying efforts.
Hendrick Motorsports shifted focus to racing rather than qualifying for Talladega
With 284 wins, the most successful organization in NASCAR history brought a decidedly different approach to Sunday's race at Talladega Superspeedway. Kyle Larson was the fastest HMS car in qualifying with a fifth-place result, followed by William Byron in eighth. Still, their other teammates, Alex Bowman and Chase Elliott, started 27th and 28th, respectively.
"We changed the car a lot (from Daytona)," Bowman said after qualifying. "Just trying to have speed in a pack instead of speed by ourself, and it's just a little different philosophy."
That philosophy quickly proved correct. Larson and Byron combined to lead 80 of the 188 laps, Larson took the lead briefly late in the final lap, and three of the four HMS cars finished ninth or better. 
"Really proud of my team, Larson said on pit road after the race. "We did a great job executing all race long. The car was great. I felt like we could push people great. I felt like we could receive pushes well."
Hendrick Motorsports' success at superspeedways could hurt other teams' playoff chances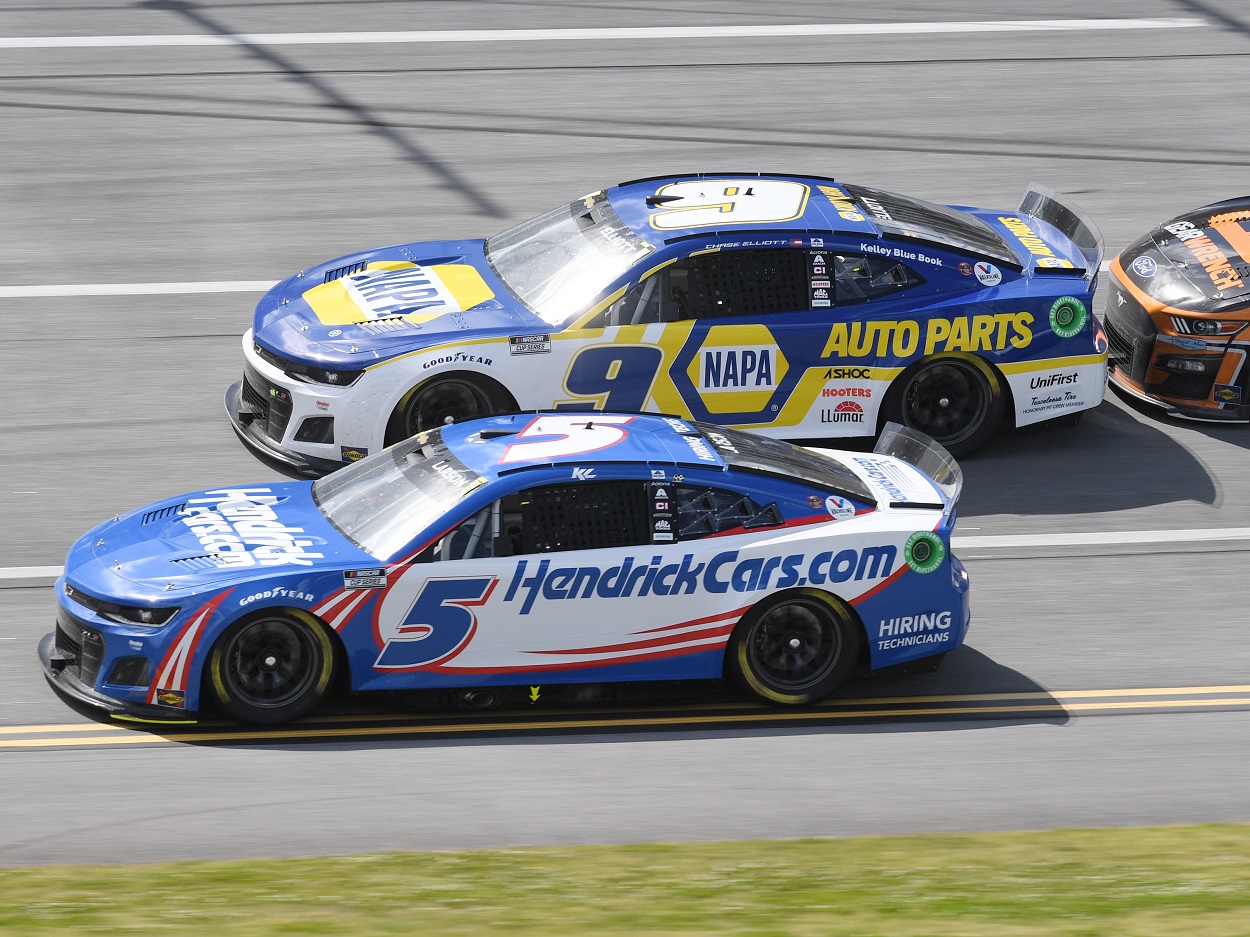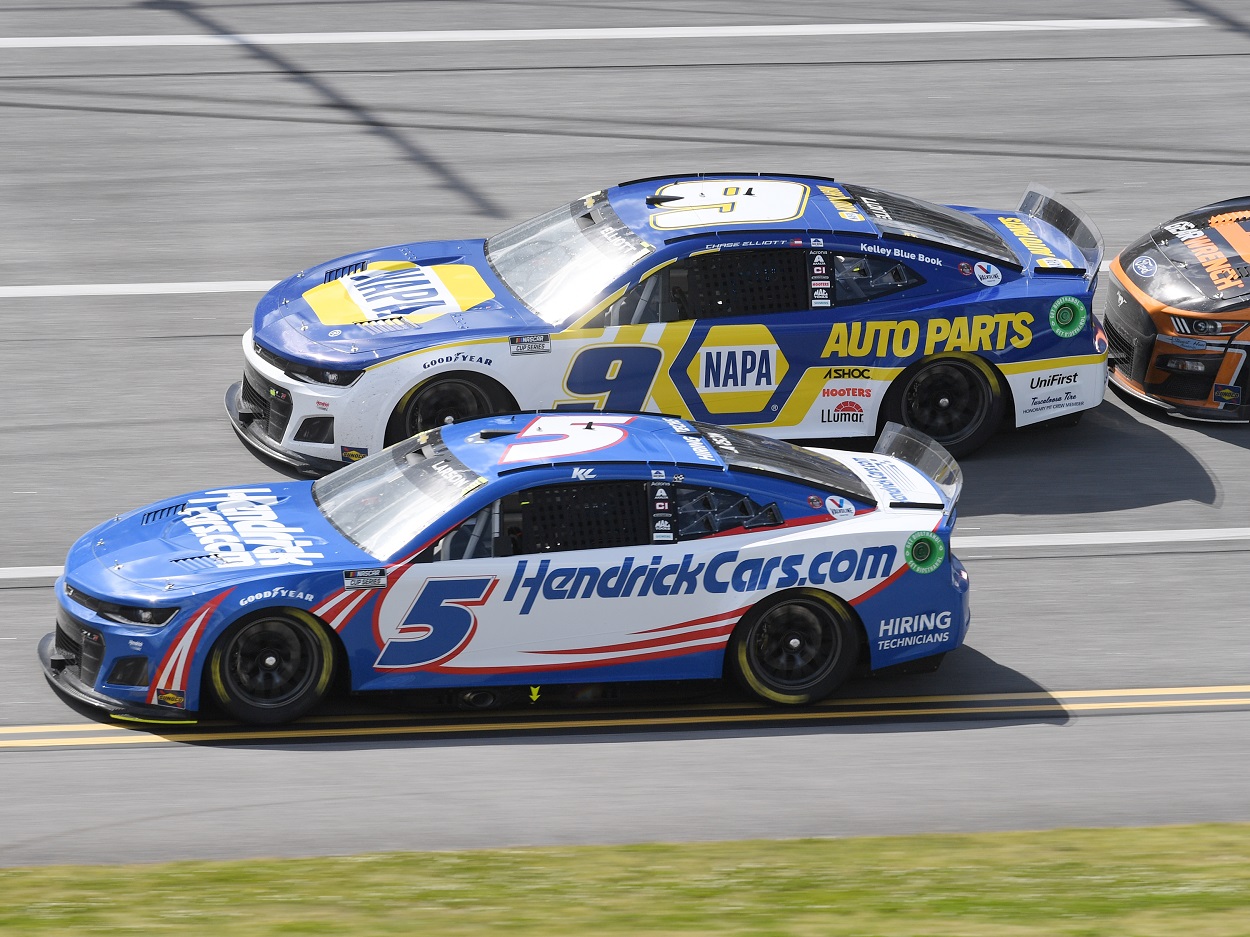 The HMS surge at Talladega could send shockwaves through the rest of the NASCAR Cup Series, especially teams that might have to bank on a win in the regular-season finale in August at Daytona International Speedway as their only chance to reach the NASCAR playoffs.
That could be particularly a problem for Ford teams, specifically the quartet at Stewart-Haas Racing.
Chase Briscoe is already eligible for the playoffs thanks to his win last month at Phoenix Raceway, but his teammates Aric Almirola, Kevin Harvick, and Cole Custer might be in trouble.
Almirola leads that group of drivers at 10th in the points standings, followed closely by Harvick in 11th, but those positions become much more precarious when eight different drivers have already won at least one race. 
That leaves only eight open spots in the field of 16 drivers if no other driver wins an event in the remaining 16 regular-season races. Those slots will assuredly get filled in as the season progresses, but no SHR driver aside from Briscoe has shown a legitimate chance to win a race.
Almirola's lone top-five finish came in the Daytona 500, and Harvick's only top-5 was because a strategy call got him to second at Richmond Raceway. Custer has failed to register a top-10 finish yet this year.
Chances to win figure to be few and far between for those drivers based on the first 10 races this season, but superspeedway events typically provide a more significant opportunity for upsets, and 10 or more drivers often have a chance to win even up to the final lap.
Fords have had an advantage at superspeedways in previous races, but Chevy flipped the script at Talladega
Ford drivers had primarily been the favorites at recent superspeedway events. A Ford driver has won each of the last three races at Daytona and 10 of the last 14 at Talladega. Conventional wisdom said HMS Chevrolets would dominate qualifying, and Fords would dominate the race.
Chevrolet may have flipped that script. Six of the top nine finishers Sunday at Talladega drove Chevys, and Michael McDowell was the only Ford representative.
If Ford has lost its advantage at superspeedways, the end of the regular season might be even more nerve-wracking for teams such as SHR that have struggled to find consistent success on non-superspeedways. 
They might no longer have the cushion of a strong run at Daytona to lean on as a final shot to make the playoffs.
All stats courtesy of Racing Reference