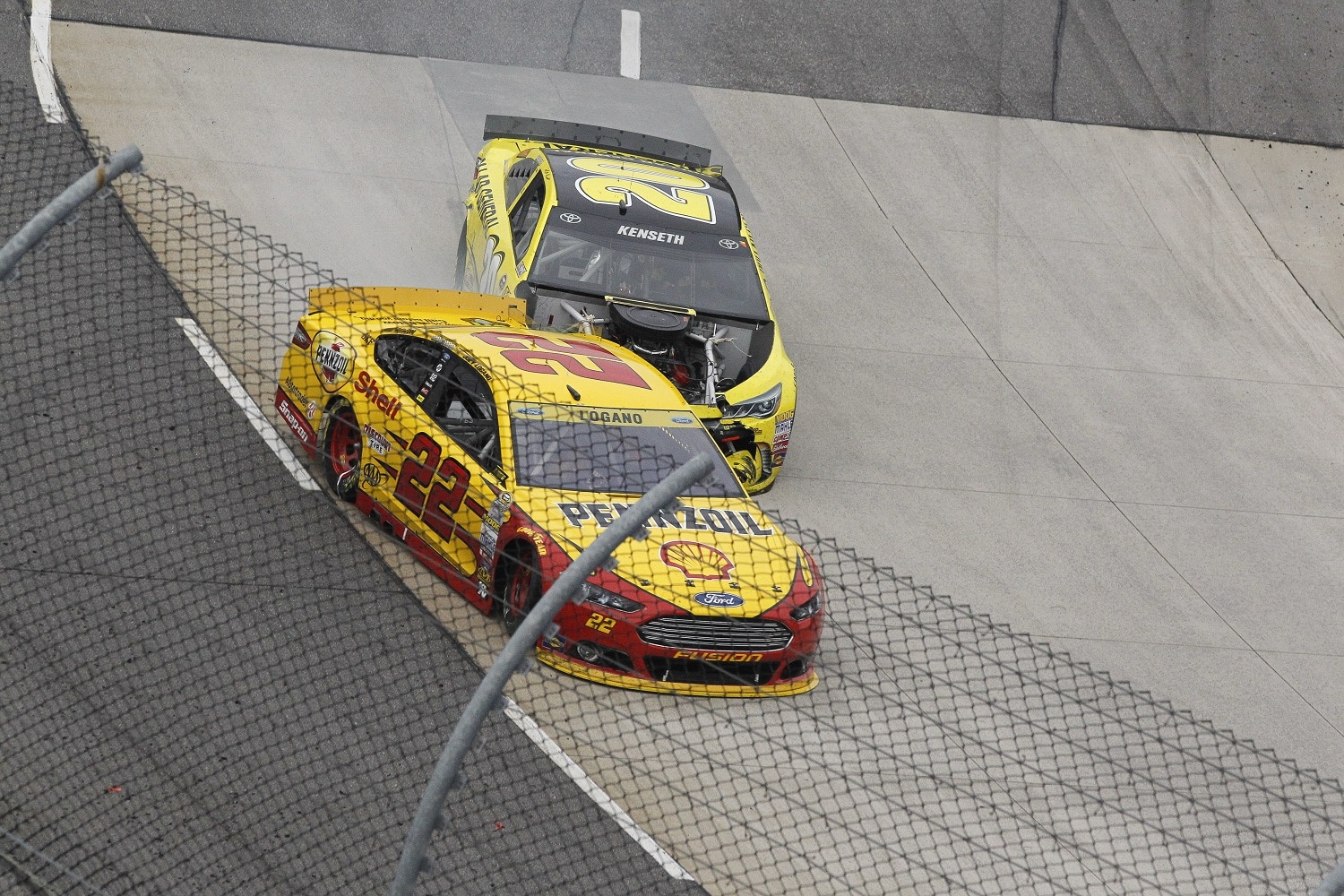 Joey Logano Has Completely Forgotten What Matt Kenseth Taught Him After a Kansas Speedway Incident in 2015
Matt Kenseth made Joey Logano pay dearly in 2015 at Martinsville, a lesson Logano seems to have forgotten.
Joey Logano remains under the impression that the best way to climb out of a hole is to keep digging. A week after plowing into William Byron and rationalizing that the move was justified, Logano continues to insist he holds the high moral ground.
"If he wants to keep going back and forth, I'll keep swinging. I don't think that's a good play for him in the long run," Logano said of Byron on Saturday.
For Logano's sake, here's hoping Matt Kenseth picks up the phone and tells his former NASCAR Cup Series enemy to let it go.
The irony of Joey Logano racing at Kansas Speedway this weekend is real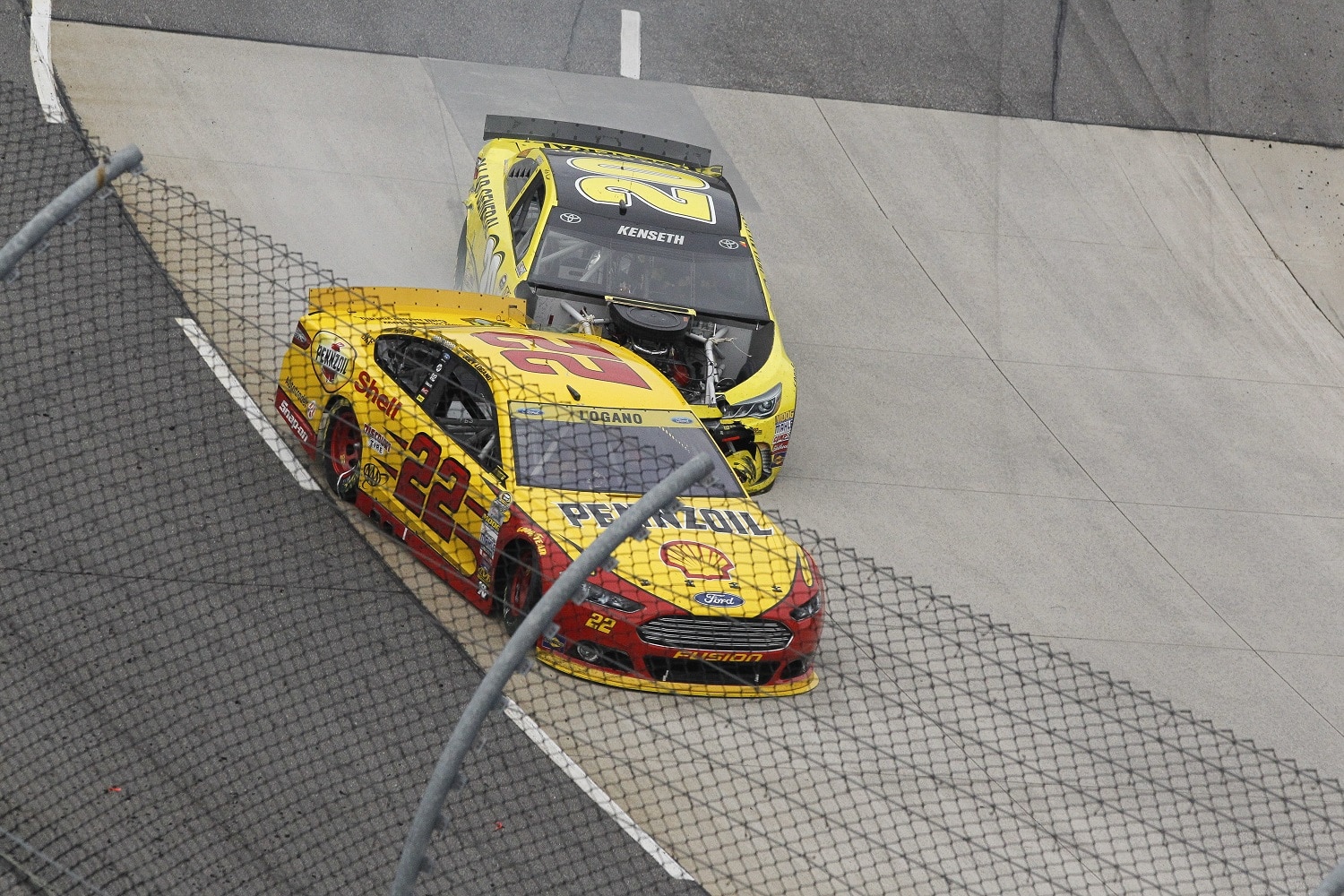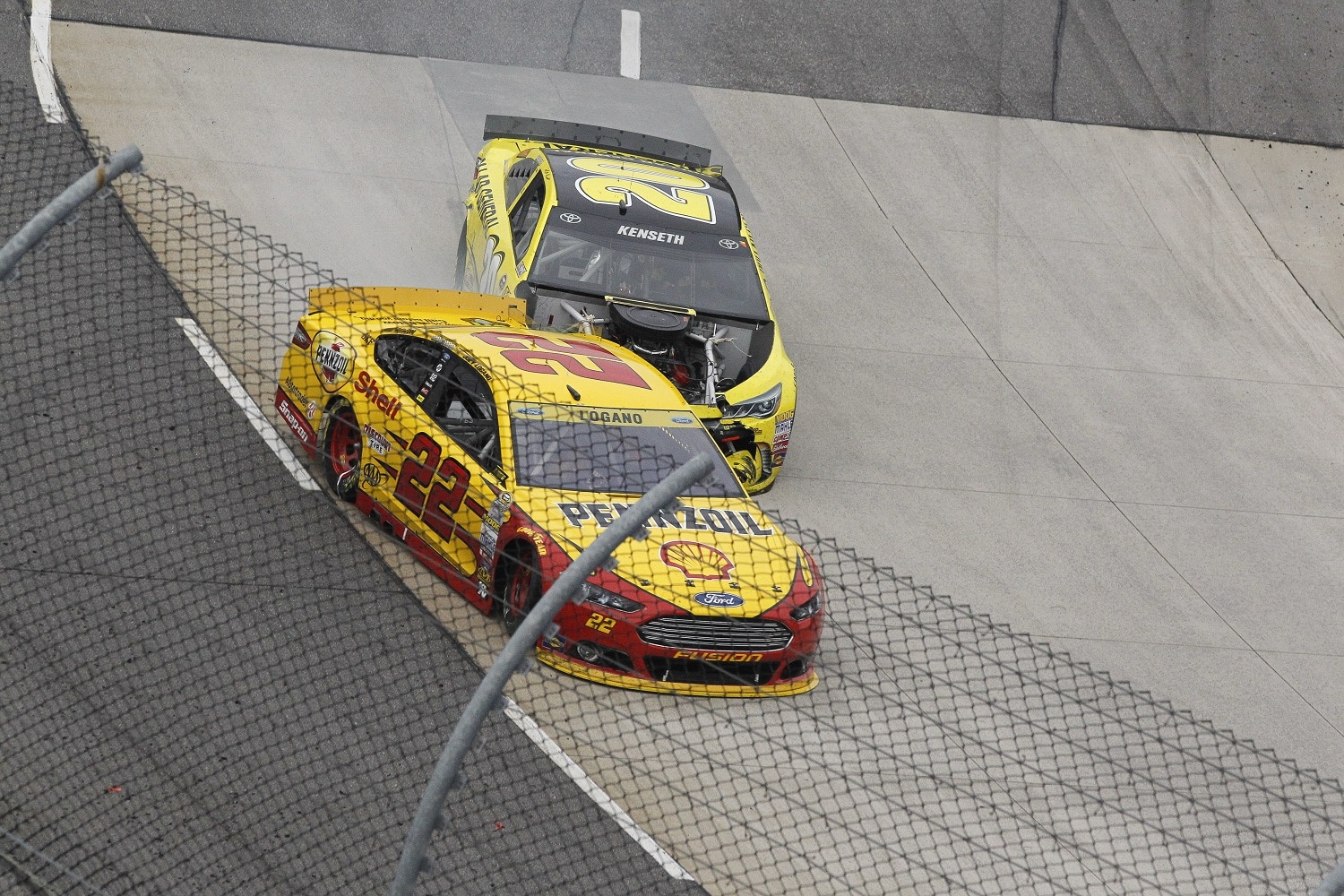 There's no need to rehash what transpired last weekend at Darlington between Joey Logano and William Byron very much beyond recalling that Logano plowed into Byron with just over a lap to go, sending the Chevy into the wall and dropping the rising Hendrick Motorsports star from the lead to 13th place.
Logano said his justification was an incident on the final restart in which Byron forced him wide. However, the car barely scraped the outside wall, and only a staunch supporter would argue that the subsequent act of revenge was proportional.
There's little reason to expect further acrimony between the two on Sunday because it would be too obvious. But if Byron should take out Logano, accidentally or otherwise, then Kansas Speedway is the oh-so-perfect venue. It goes back to the lesson Matt Kenseth taught Logano in 2015.
It's a lesson that Logano has forgotten.
2018 was not Joey Logano's best NASCAR Cup Series season
A look at the record book shows Joey Logano capturing his only NASCAR Cup Series championship in 2018. Logano won three races, scored 26 top-10 finishes, and logged an average finish of 10.7. The pieces came together, and he earned the title.
Realistically, though, 2015 was a vastly superior season. Logano won six times, recorded 28 top-10 results, and posted an average finish of 9.2. Despite it all, Logano finished sixth in points that year after his season all but ended with 37th place three weeks before the Championship 4.
The trouble started at Kansas Speedway two weeks earlier, the day Logano scored the second of three consecutive victories by dumping Matt Kenseth with five laps to go. The move wasn't as blatant as what we just saw at Darlington, but it was still obvious enough.
Two weeks later, Kenseth made it known how he felt.
Joey Logano has completely forgotten what Matt Kenseth taught him
Matt Kenseth was matching Joey Logano stride for stride and then some in 2015. He won four times on the way to the regular-season points championship and again at Loudon in the second playoff race. Two weeks later, however, crash damage at Charlotte led to a 42nd-place finish, leaving Kenseth more or less needing to win one of the next two races to make the cut to eight survivors.
Kenseth was within reach of that victory the following week at Kansas when Logano dumped him. Finishing 14th there and then 26th at Talladega left Kenseth out of the race and bitter.
On Nov. 1, 2015, Kenseth served up his revenge. After Logano led 207 of the first 458 laps in the Goody's Headache Relief Shot 500, Kenseth's lapped car (Logano teammate Brad Keselowski spun him earlier) tucked in behind Logano, spun him, and then followed the No. 22 Ford into the wall to total the car.
It earned a hearty ovation from the Martinsville crowd, contributed to Logano not qualifying for the Championship 4, and resulted in NASCAR parking Kenseth for two races.
Byron is unlikely to do something so dramatic in the playoffs, but he's already playoff-bound and has 14 regular-season races to pick his spot if he's so inclined. If it does happen, count on the crowd to cheer as loudly as 2015 at Martinsville.
All stats courtesy of Racing Reference.