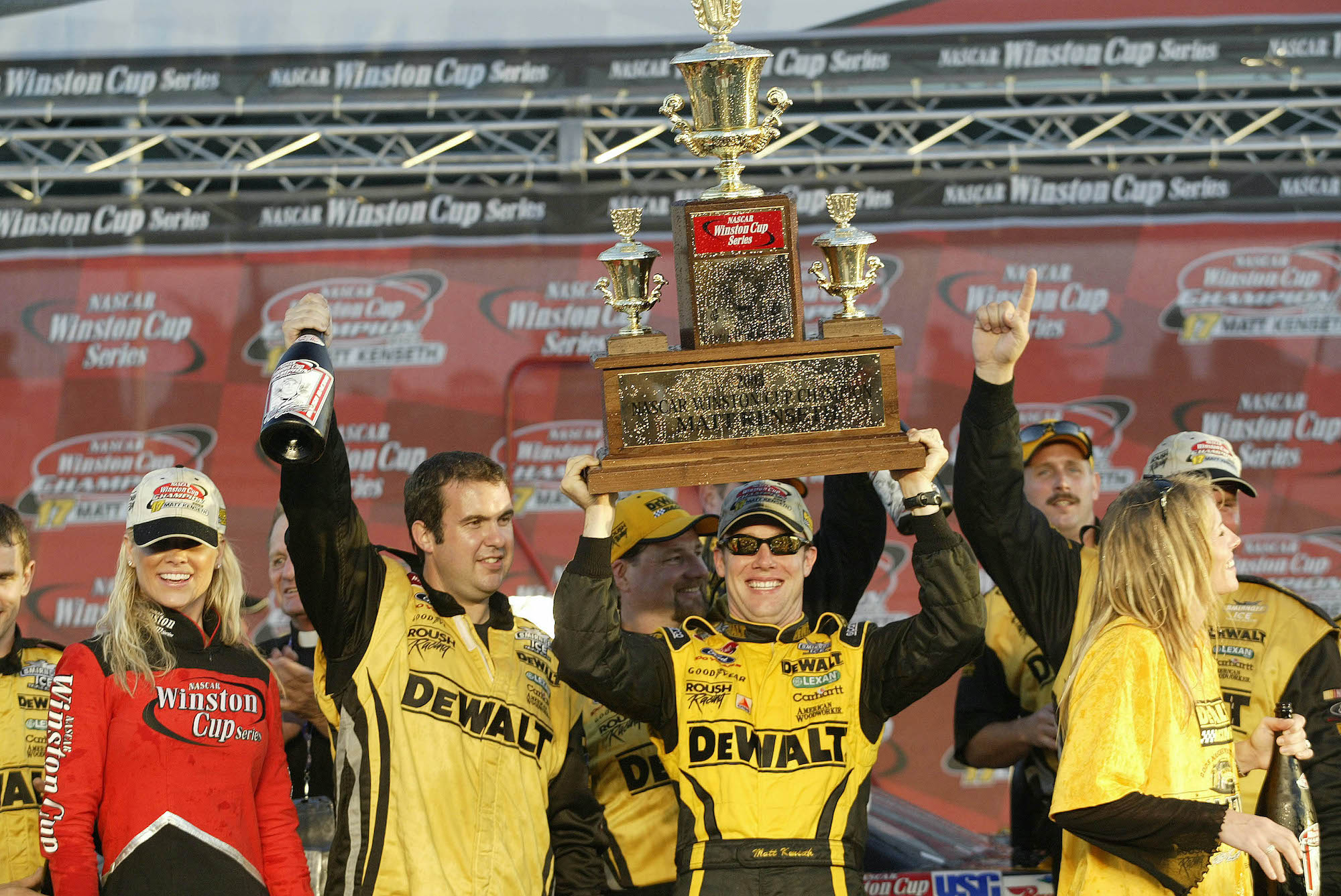 Matt Kenseth Reveals He's Kept 2 Trophies on Display in House for Years and They're Likely Not What You Think
Matt Kenseth was announced this week as a member of the 2023 Hall of Fame class. In an interview after the announcement, he reflected on his career and talked about his trophy collection, including the two he's kept in his house for years.
Matt Kenseth is officially bound for the NASCAR Hall of Fame. Before he's enshrined, he'll have plenty of trophy choices to choose from for inclusion in his display.  
This week after being announced as part of the 2023 Hall of Fame class, the 2003 Cup Series champion appeared on SiriusXM NASCAR Radio and reflected on his career. He also talked about his trophy collection and revealed the two special trophies he displays in his house and they're likely not what you think.  
Matt Kenseth announced as member of 2023 Hall of Fame class
Matt Kenseth is a first-ballot Hall of Famer, and deservedly so. Most thought it would take just one time on the ballot because of a career that included a long list of accomplishments.
In his 18 full-time seasons plus a couple of part-time in 2018 and 2019, the Wisconsin native won an impressive 39 times in Cup, including multiple crown jewels. His first trophy came at the prestigious Coca-Cola 600 his rookie year. 
He followed that with a couple of Daytona 500 wins (2009 and 2012) and the Southern 500 in 2013. 
While he won the championship in 2003, a season in which he scored just a single win at Las Vegas, his most successful year from a total number of wins standpoint occurred in 2013, when he won seven times. His last win came at Phoenix in the second-to-last race of the 2017 season.  
Kenseth reveals he has two trophies on display in house
With 39 wins, you'd think those crown jewel trophies or the championship might be his favorites and be on display somewhere special for all to see. On Wednesday, after NASCAR announced he would join the 2023 Class, including Kirk Shelmerdine and Hershel McGriff, Kenseth visited with SiriusXM NASCAR Radio and talked about what being inducted into the Hall meant for him. 
When asked if he kept any trophies in a special place, the 50-year-old revealed he didn't have one but two that he was particularly fond of.
"I will say the original Winston Cup that they gave us at the race track in Rockingham in 2003 (actually 2002) when we won that race," Kenseth said. "That one actually has a little blemish on it so I know which one it is because there are duplicates around and stuff like that they use, but the one I actually had with me in the car that day and hoisted over my head. That one has always been in my house. That one and the gold car that Goodyear gives you for the championships. Those are the two things that ever since that day it's always been on display in my house and I walk by all the time."
Where are the rest?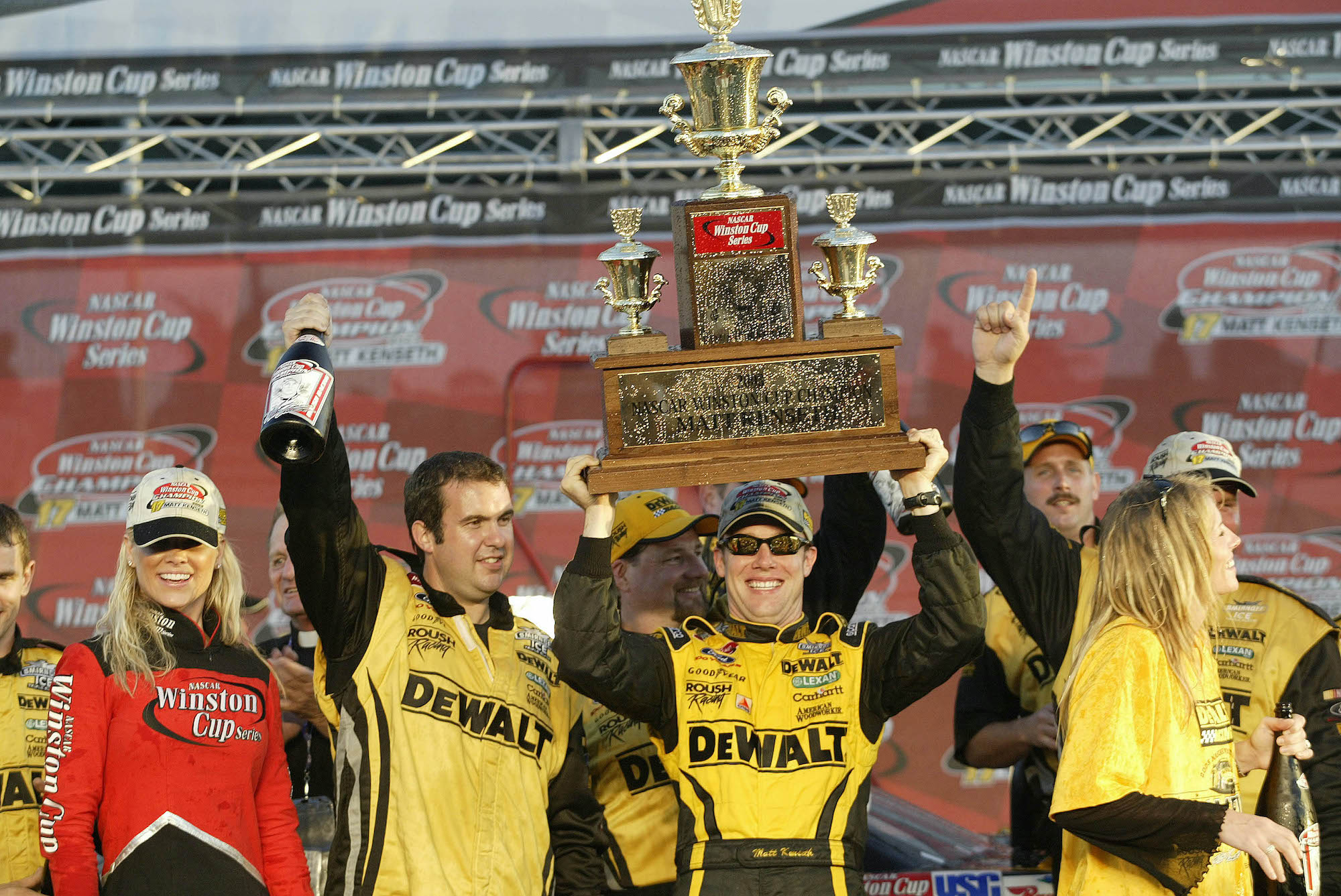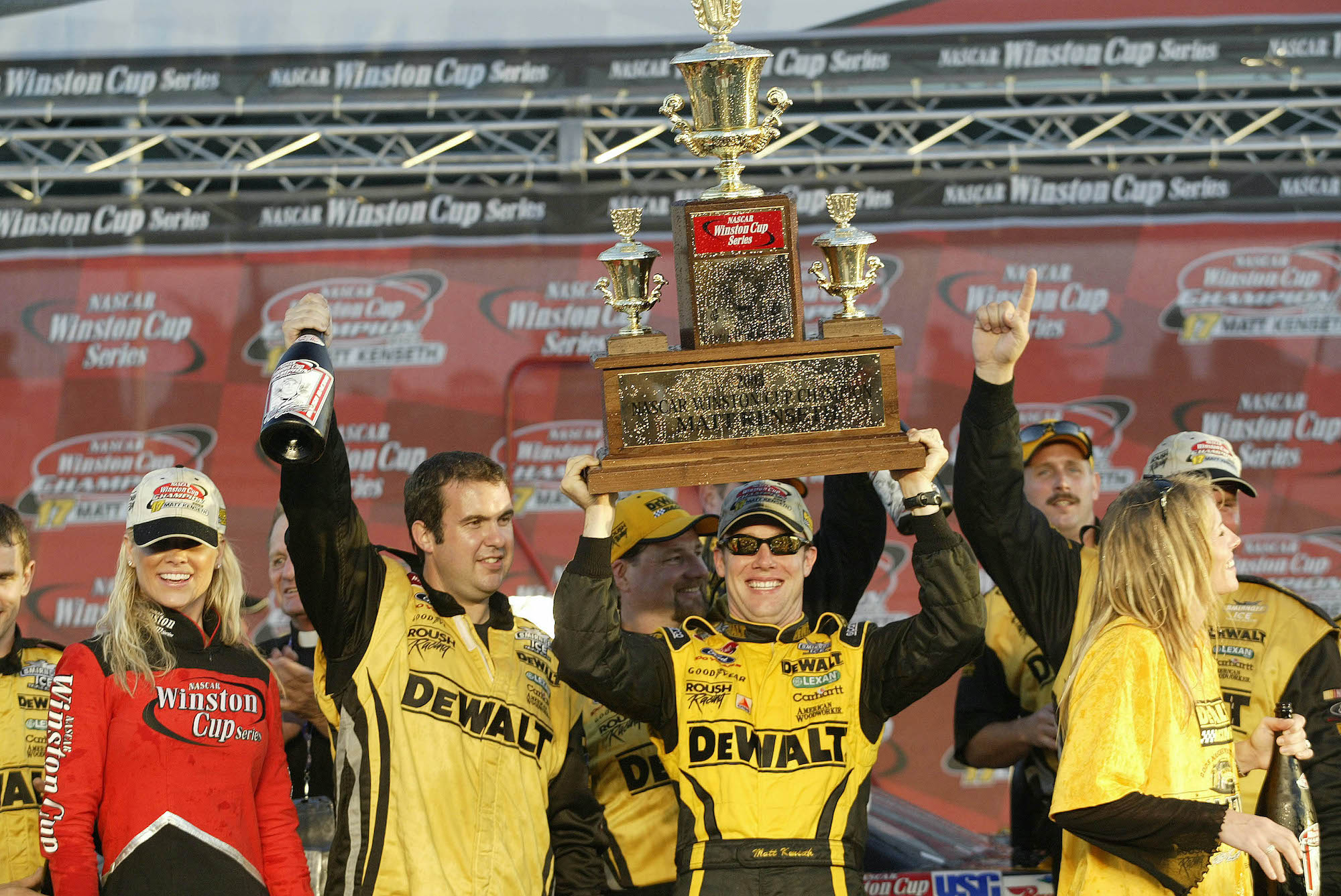 In 2004, a year after winning the Cup Series title, Kenseth opened a museum in Wisconsin that housed all of his trophies, cars, and other memorabilia from his career. In 2017, it closed. 
Kenseth said in the interview that all of those items were returned to him but haven't been put on display just yet.
"I have some piled all over the place right now," he admitted. "After we closed all of our stuff down in Wisconsin, I kind of brought everything back down to North Carolina with me. It's kind of all scattered everywhere so I'm trying to get some shelves and some stuff built for my shop to kind of put some of that stuff up. I have a lot of stuff that's all laying around."
He may have plans to build some shelves for some of his trophies to display at home but he should probably start planning for some of his prized collection to reside at its new home in the NASCAR Hall of Fame.  
Like Sportscasting on Facebook. Follow us on Twitter @sportscasting19.