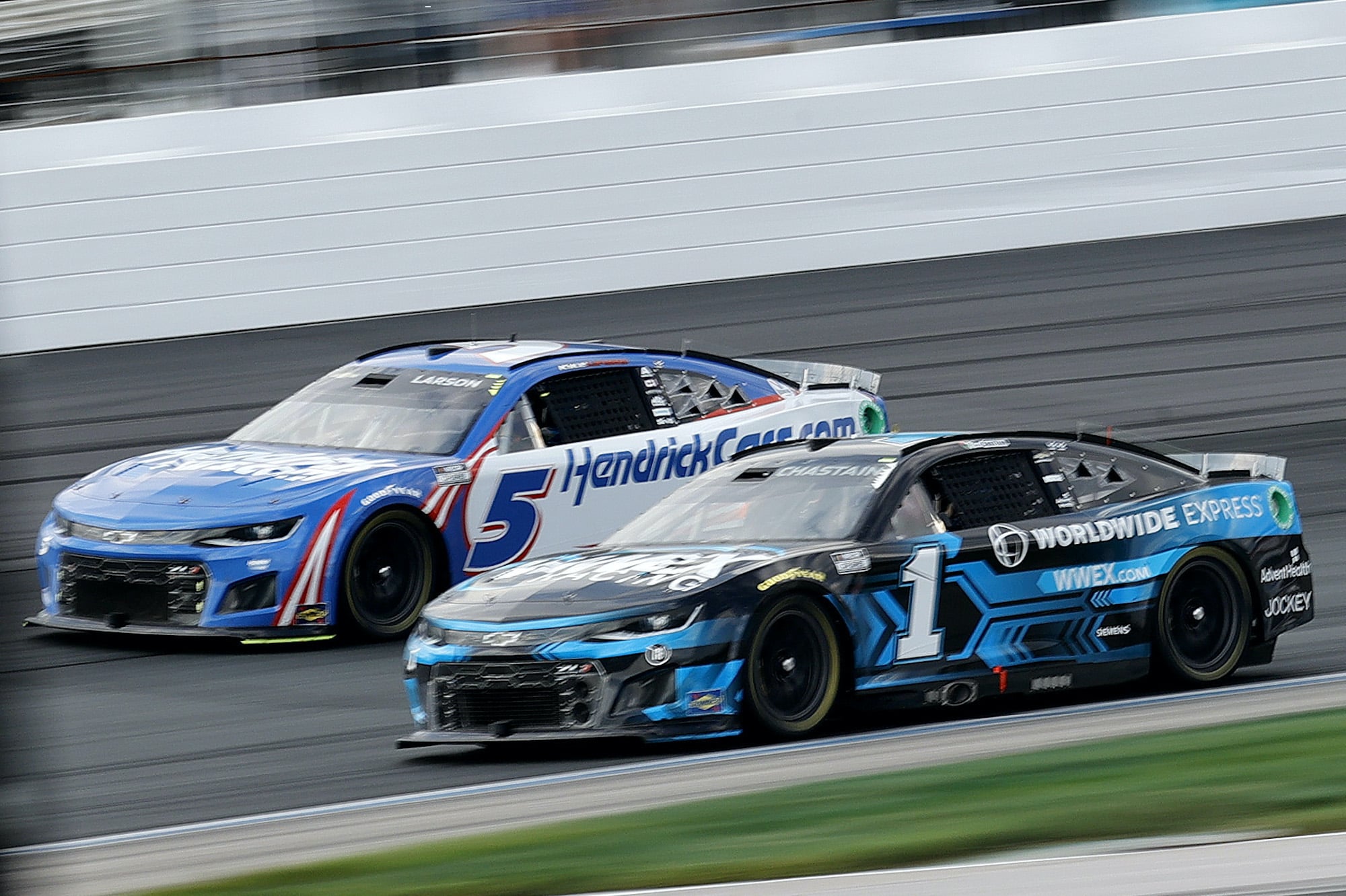 Kyle Larson Warns Ross Chastain Payback Is Coming on Eve of Playoffs
Kyle Larson didn't mince words this week when he warned Ross Chastain that payback is coming in the 2022 Cup Series playoffs.
Ross Chastain has had a 2022 NASCAR Cup Series season to remember. It's been a banner year as far as on-track results are concerned, scoring his first two career Cup victories. However, it has not been all good as he's ruffled a few feathers along the way.  
Just last week, Kyle Busch didn't sugarcoat what he had to say when he warned the Trackhouse Racing driver about suffering the repercussions of his actions in the upcoming playoffs. This week, reigning champion Kyle Larson joined the conversation and said based on the way multiple other drivers feel, the watermelon farmer might have a postseason he wants to forget.  
Ross Chastain and Kyle Busch had incident at Richmond
Ross Chastain already had multiple on-track incidents with Denny Hamlin and Martin Truex Jr. At Richmond in mid-July, he added Kyle Busch to the list, spinning the No. 18 in the middle of the race. After it was over, the two-time Cup Series champion creatively converted the Trackhouse driver's name into a verb during the postrace interview. 
"We got Chastained this week," he said. "We were his victim this week."
Before the final regular season race at Daytona last weekend, Fox's Bob Pockrass asked Busch about Chastain needing to have a give-and-take relationship with other drivers to win the championship.
"Absolutely, you need give and take to win the championship, yes," Busch said. 
The reporter then asked if the watermelon farmer will receive benefit of the doubt when it comes to the end of the playoffs and going to Phoenix. 
"Absolutely not," the driver said. "No way. No chance. I don't think people are paying him back yet just because they're waiting for the right time."  
Kyle Larson and rest of garage know how Chastain races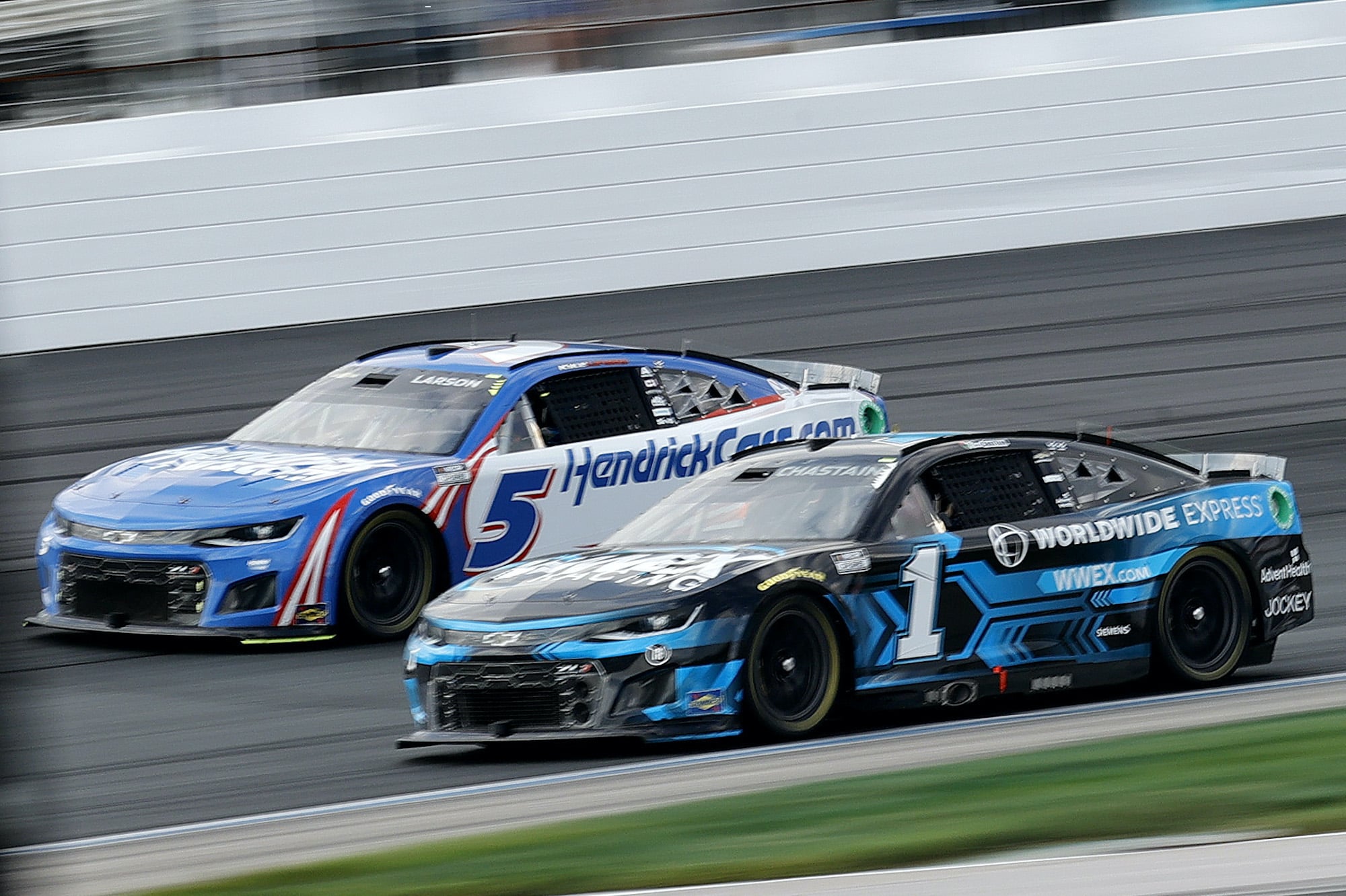 Chastain has unsurprisingly developed a reputation in the garage. Even drivers who've avoided incidents are leery of racing around him. The perfect example of this came in early August at Michigan when defending Cup champion Kyle Larson was presented an offer from his team to partner with the No. 1 car.
"If you and Ross can work together here, try to pull away," his spotter told him.
"Ha," Larson quickly responded. "Ross doesn't work together with anybody. Funny."
"I mean, I get it, but it may help us both get away from those guys and then we can battle it out later," Larson's crew chief Cliff Daniels added. 
Larson declined his crew chief's advice and never worked with Chastain.
This week, just days before the start of the postseason, Pockrass asked Larson what he thinks might happen with Chastain in the playoffs. The Hendrick Motorsports driver didn't mince words.
"Ross has like a two-page list of guys its seems like," Larson admitted. "It's the Cup Series. I feel like we've seen it in the past. People will make life pretty tough on you.
"In my opinion, if they didn't have people mad at them, I think they'd be the championship favorite. But it will be interesting to see and follow along with it. But yeah, I can't imagine with everybody that seems to be upset with him that will be an easy playoff for him."
Making a bunch of enemies
Interestingly, that "two-page list" Larson is referring to is JGR-heavy, with Hamlin, Busch, and Truex on it. The No. 11 team seemingly "owes" Chastain the most after multiple blatant incidents initiated by the No. 1 car. Busch's incident at Richmond was relatively minor, as he recovered and finished in the top 10. 
If there's anyone out of the JGR stable Chastain should be weary of, it's the driver who has nothing to lose. Martin Truex Jr. is out of the playoffs. In July, the 2017 Cup champion made an appearance on SiriusXM NASCAR Radio and warned the younger driver.
"He's making a bunch of enemies and people tend to remember that stuff when the playoffs come around and things get heated," Truex said. "So we'll see how it all plays out." 
In addition to Truex, other drivers with potential beef with Chastain include Chase Elliott and Austin Dillon. In other words, the No. 1 driver might be running into more drivers in the postseason and it won't be intentional, but only because he's looking in his mirror so much.   
Like Sportscasting on Facebook. Follow us on Twitter @sportscasting19 and subscribe to our YouTube channel.