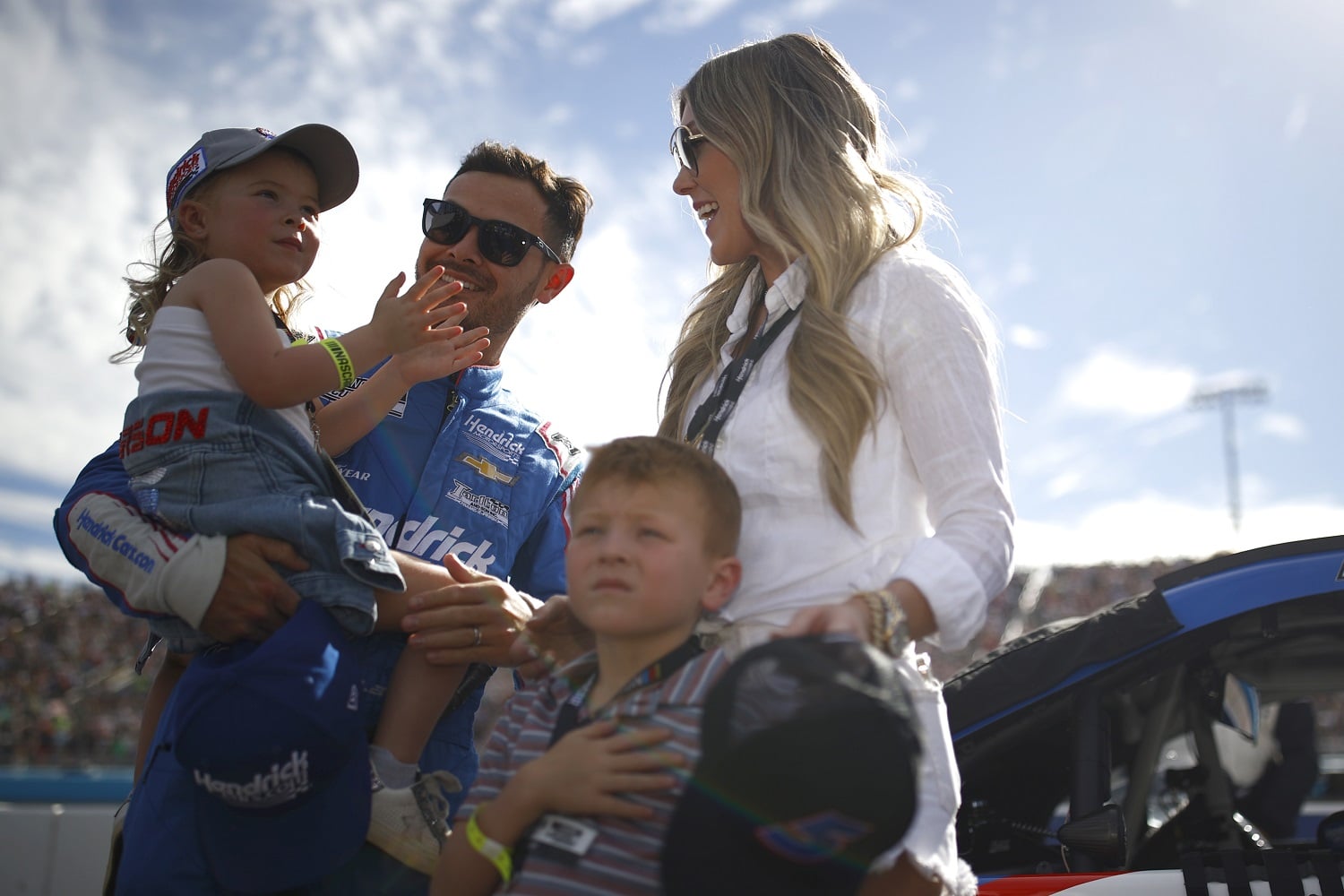 Kyle Larson's Wife Reveals Their Daughter's Medical Condition to Educate the Public
Kyle Larson's wife, Katelyn, has gone public with their daughter's autoimmune disorder to raise awareness of Alopecia.
Race for the Championship, which is NBC's Formula 1: Drive to Survive knockoff coinciding with the NASCAR Cup Series playoffs, made its debut Thursday on the USA Network. The drone footage from inside the Hendrick Motorsports shop alone was worth watching the entire hour of the debut episode.
But there was plenty else to relish, including Daniel Suarez talking about adapting to life in America, Joey Logano showing his pleasant side as a dad, and Kyle Larson at home with his family. As much as we learned about Larson from the show, we learned much a day later about daughter Audrey from Larson's wife, Katelyn.
Katelyn Larson makes a medical revelation on Instagram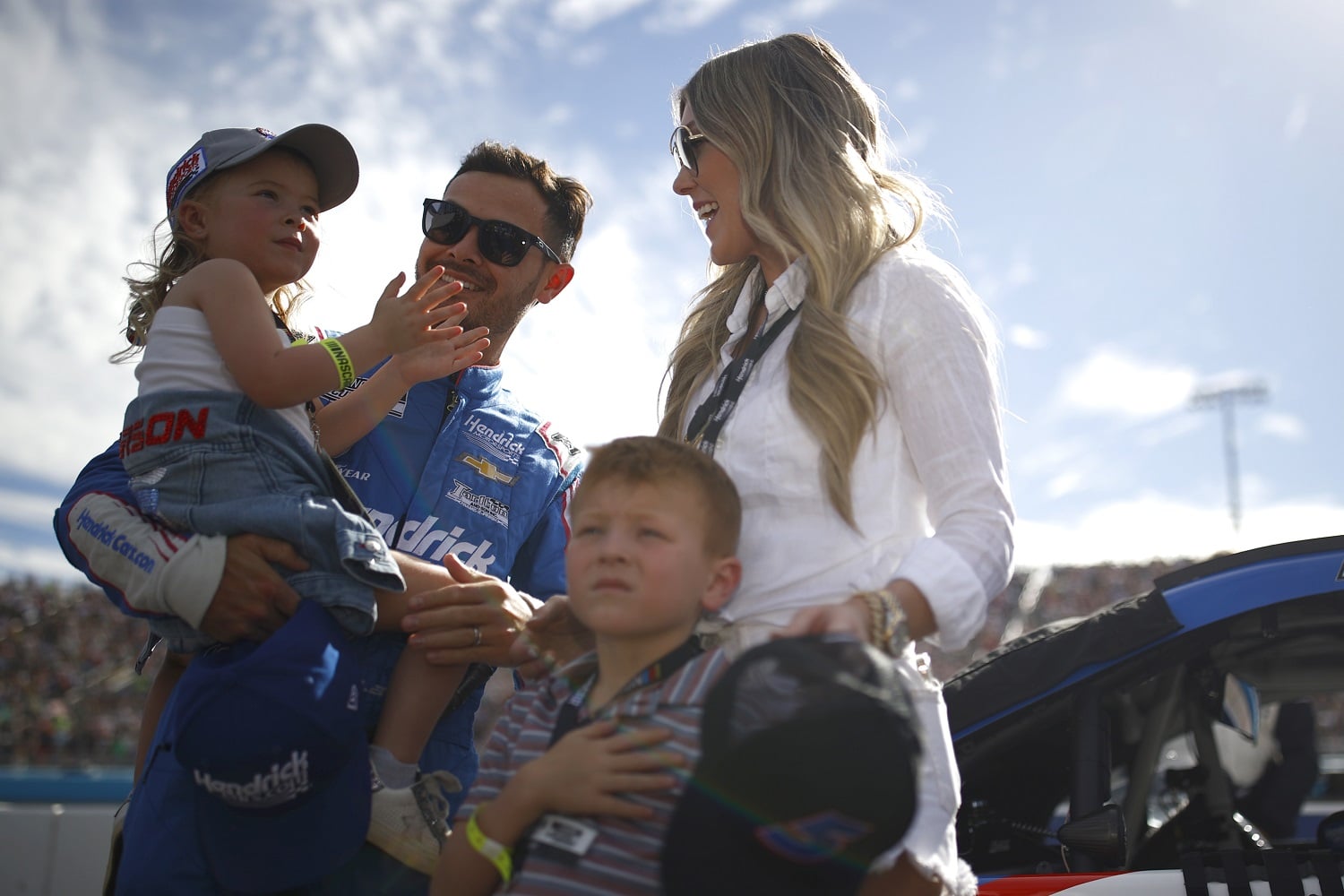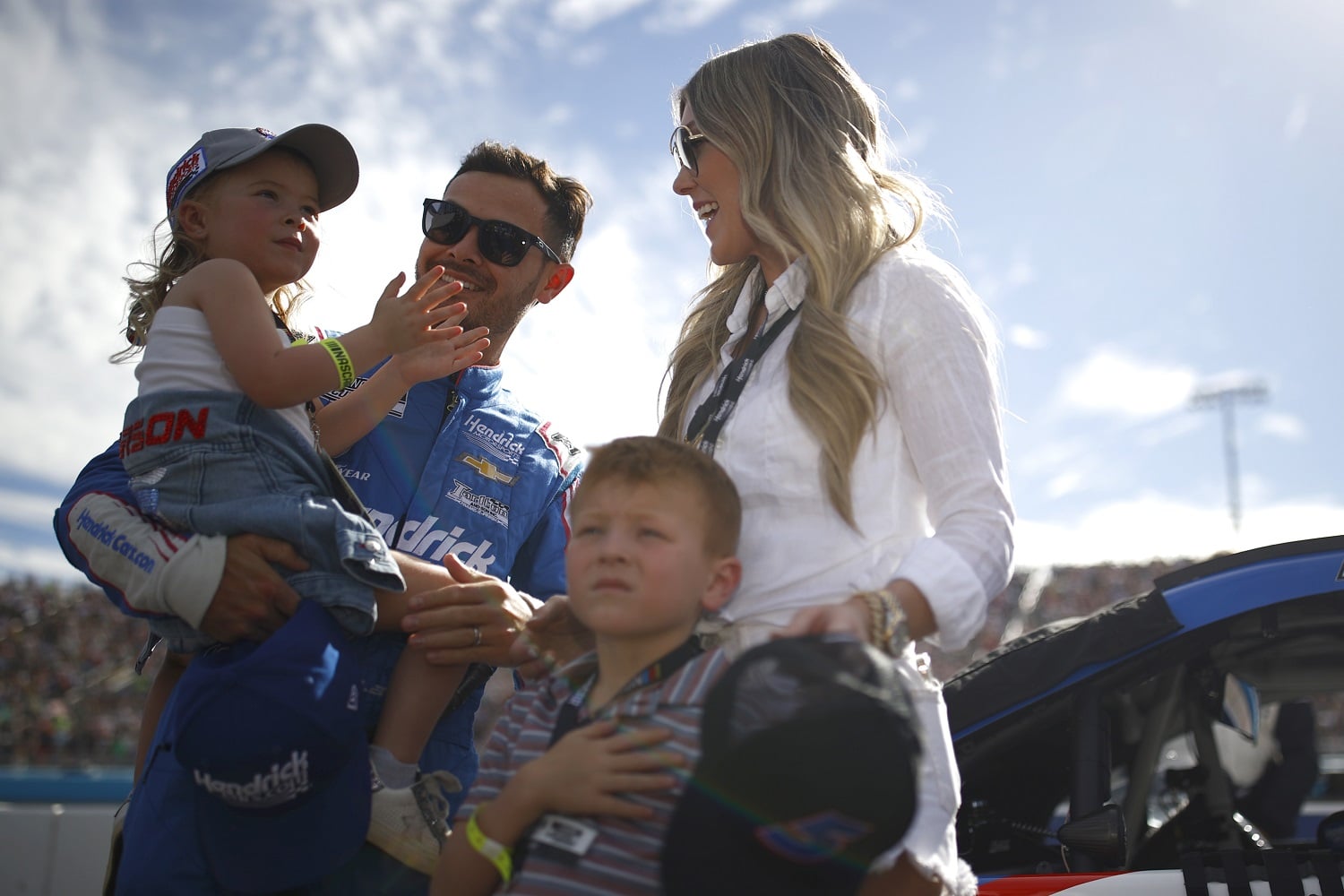 Video from the Kyle Larson segment on Race for the Championship included the driver and his wife with their two young children. Viewers likely noticed 4-year-old daughter Audrey wearing hats or other accessories.
In a post to Instagram on Friday, Katelyn Larson revealed Audrey's diagnosis of Alopecia, an autoimmune disorder causing hair loss. The youngster has experienced the effects since she was 18 months old, but doctors made the definitive diagnosis earlier this year.
In an extensive interview with TobyChristie.com, Katelyn Larson said the family has gone public to draw attention to Alopecia Awareness Month. The couple also wanted to head off potential speculation about more serious health issues.
"I would stress about it and be very emotional about it because, as much as I knew nothing really bad was happening to her, it was just hair that was being lost, people would look at you and stare at you and ask, 'Why does she always have a hat on her head?'" Katelyn Larson said. "She kind of looked like she was going through chemotherapy losing her hair.
"I just wanted to protect her from anything that might come out later. But I also think it's good to talk about it and let people know that things are happening in our lives."
Katelyn Larson is conscious of potentially setting off a firestorm
Doctors are unable to pinpoint the cause of Alopecia. Katelyn Larson, the wife of defending NASCAR Cup Series champion Kyle Larson, has tried tracking the occasional episodes of her daughter's hair loss to other medical factors. For instance, Audrey has multiple allegories, including dairy products.
Larson noticed new flare-ups and hair loss coincided with the normal schedule of vaccinations for children. Even vaguely suggesting as much, especially in the COVID-19 era, can be a fast track toward being labeled an "anti-vaxxer." The website noted the National Library of Medicine's National Center for Biotechnology Information states evidence connecting vaccination and autoimmune diseases is lacking.
"In the beginning, it was like, 'Why is this randomly happening?' she said. "And then I kind of linked it to flu shots and vaccines, and I didn't want to talk about that because it can be very controversial. But I have linked it back to that, I believe. Because the two years that she did get one, her hair fell out shortly after."
Doctors have suggested a connection to stress, but Larson understandably wonders what kind of stress a toddler can experience beyond dietary challenges associated with Audrey's allergies.
Kyle Larson's website is making a big fundraising push
Katelyn and Kyle Larson are selling a new shirt on the driver's racing website to draw attention to Alopecia Awareness Month. Promoting the "KL" brand has helped the couple raise money for their charity efforts, but they're going all-in on this effort.
"We normally would just donate $5 per shirt, but this time we are going to take full proceeds from the shirt sales, and the Kyle Larson Foundation is going to match all proceeds and donate the full amount to the National Alopecia Areata Foundation," Katelyn Larson said.
Like Sportscasting on Facebook. Follow us on Twitter @sportscasting19 and subscribe to our YouTube channel.
Got a question or observation about racing? Sportscasting's John Moriello does a mailbag column each Friday. Write to him at [email protected].