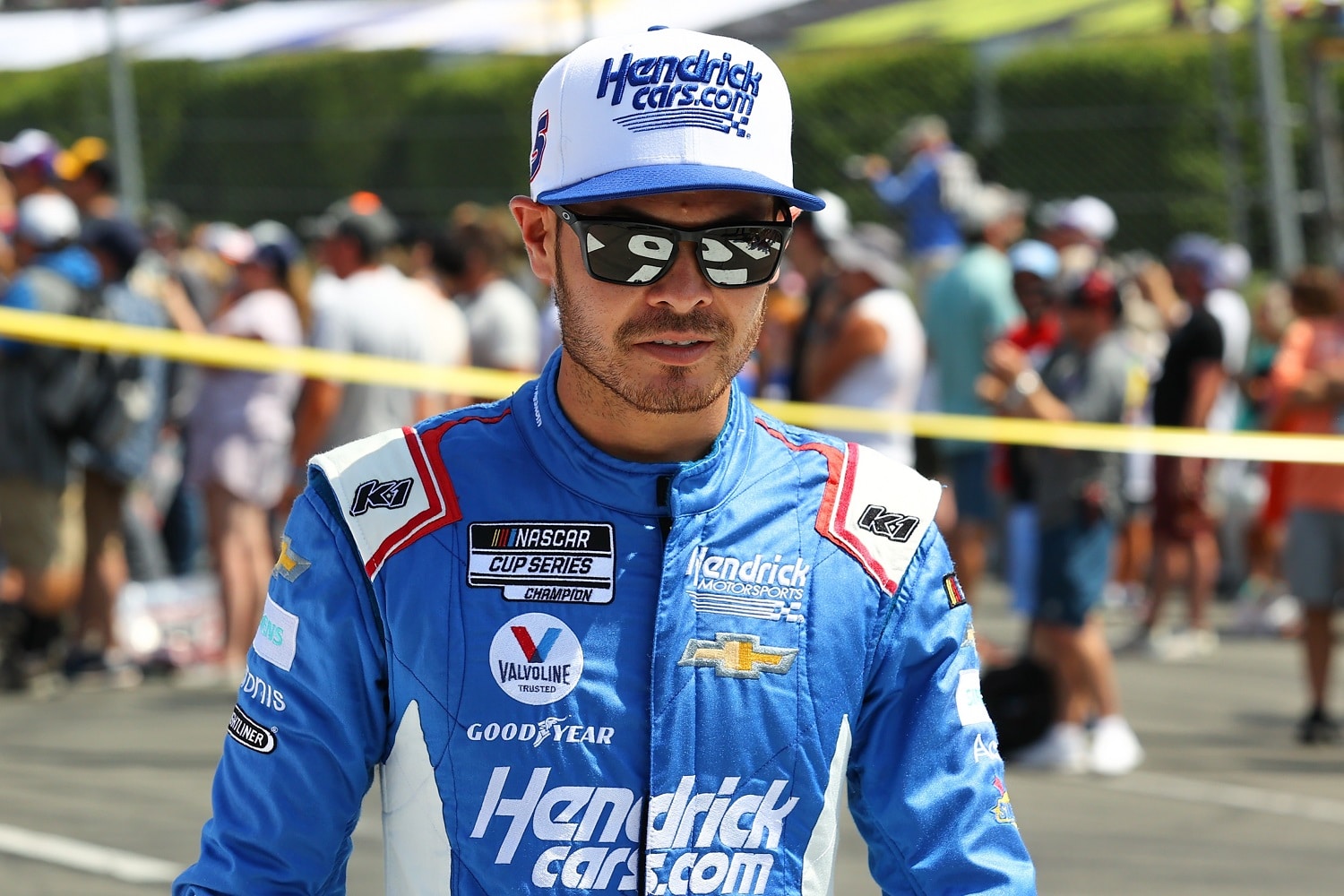 Kyle Larson Has Found a Worthy Adversary Not Named Chase Elliott: 'If He Was in Equipment Equal to Mine, He Would Be Winning Races Frequently'
Kyle Larson scored a pair of victories at Watkins Glen, holding off one of the best drivers on road courses.
You'll see stories this week about how Kyle Larson is back in the groove following victories in NASCAR Xfinity and Cup Series cars over the weekend at Watkins Glen.
Truth be told, he's scarcely been out of the groove this year. He'll end the regular season next weekend with no more than three victories compared to the five from a year ago (plus five more in the playoffs), but Larson is running a solid second in Cup Series points.
Larson runs against NASCAR's best, including teammate and 2020 Cup Series champion Chase Elliott, every week. On Sunday, he lavished praise on a competitor he only sees about half the time.
Kyle Larson outran AJ Allmendinger to the checkered flag twice in two days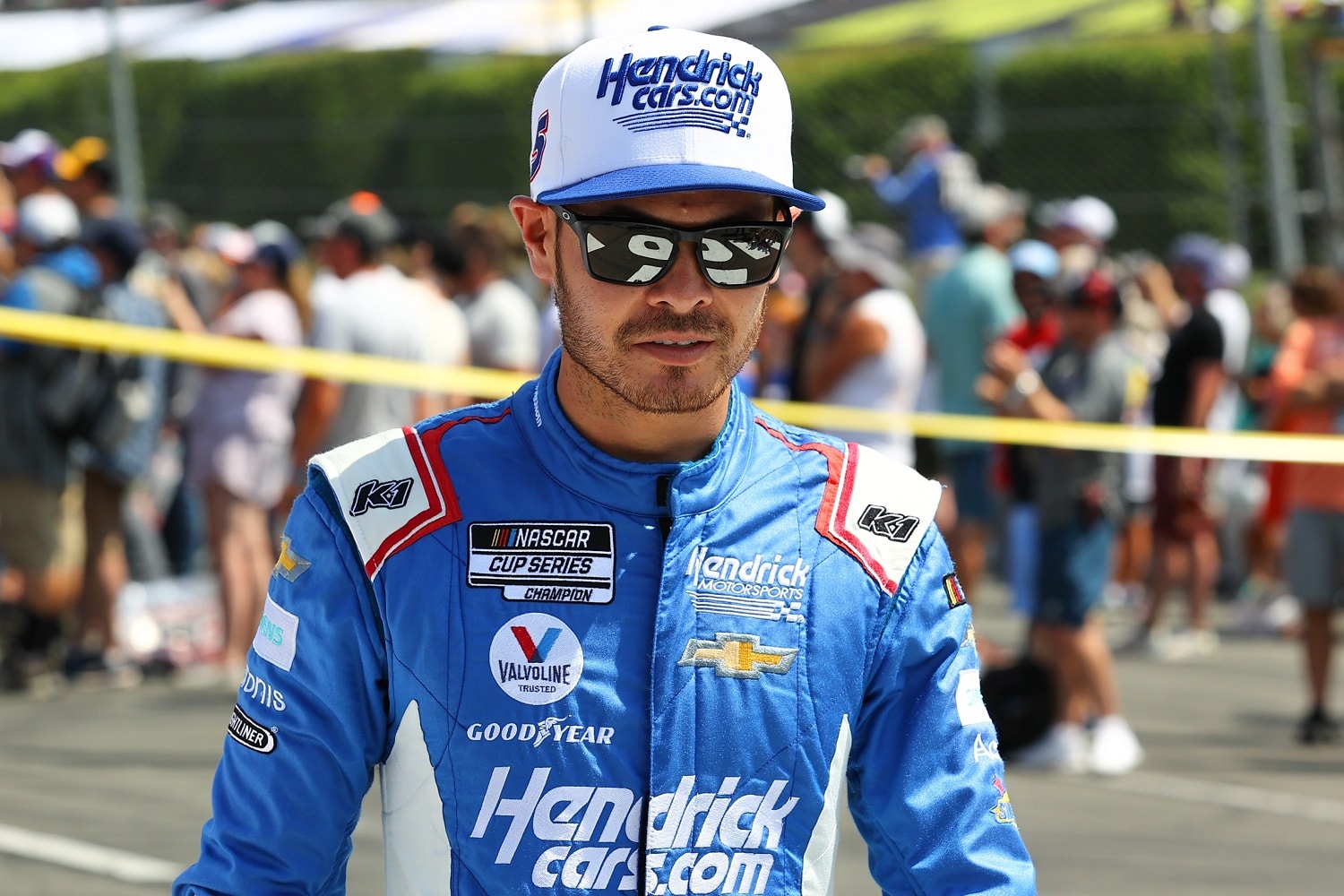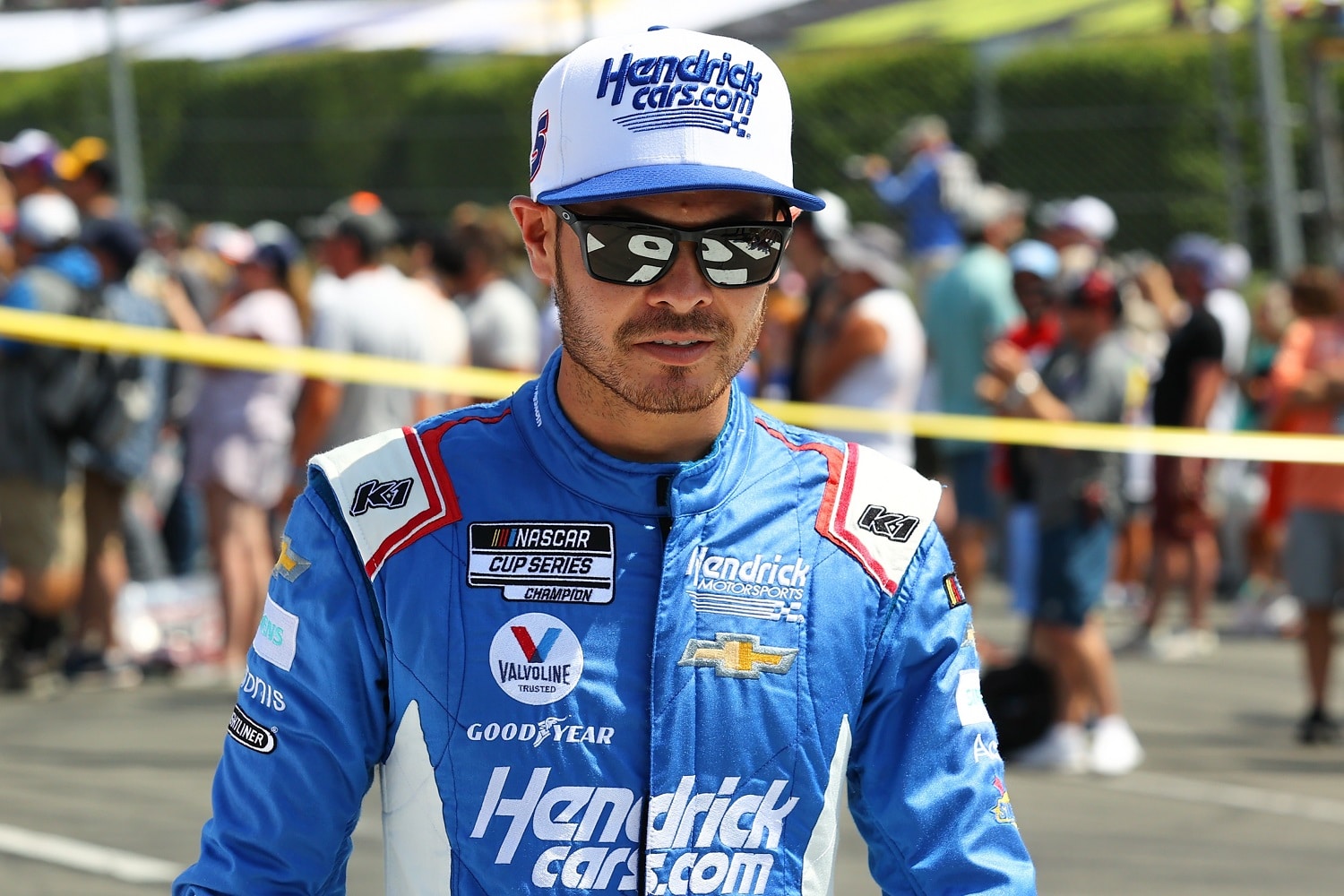 He's back in the spotlight in no small measure because of the battle with Hendrick Motorsports teammate Chase Elliott on the final restart of Sunday's NASCAR Cup Series race at Watkins Glen. However, Kyle Larson merited the attention for scoring victories on consecutive days.
On Saturday, the defending Cup Series champion benefitted from HMS teammate William Byron's scrap with Ty Gibbs, taking the pair out of the lead late in the day. On Sunday, Larson did the heavy lifting himself, moving Elliott wide on the last restart to force the regular-season points champion out of the way.
The runner-up each day was AJ Allmendinger, a NASCAR veteran with mixed results on ovals but a superb record on road courses. Allmendinger competes full-time in the Xfinity Series and part-time in the Cup Series for Kaulig Racing, so Larson doesn't see him often.
Allmendinger has won 13 of 82 career starts in the Xfinity Series, including nine on road courses. His two career triumphs in the top series have also been on the roads.
He pressed Larson every step of the way after the late lead changes in both weekend races at Watkins Glen, but Larson is no slouch himself as a driver, and the Hendrick Motorsports star has seemingly limitless resources from the most successful organization in Cup Series history.
"I've always had a lot of respect for AJ," Larson said. "He does a really good job in the Xfinity Series, but I feel like he's one of if not the most underrated guys in the NASCAR, any series in NASCAR, of my career that I've had in stock cars.
The NASCAR champion acknowledges his built-in advantage
One of the ongoing criticisms of the Next Gen car has been that NASCAR may have done too good a job of making the cars from the three manufacturers similar, though fans of the Ford and Toyota teams aren't on board with that as much as Chevy fans are.
However, drivers still make a difference, and Kyle Larson appreciates the wizardry of AJ Allmendinger.
"As good of a job as he does in the Xfinity Series on ovals, I feel he really carries that car a lot of times," Larson said, according to NASCAR.com. "You can compare him to his teammates, and he's always outrunning them. I feel like that's a good way to kind of judge how good a driver is.
"There's no doubt in my mind if he was in equipment equal to mine, he would be winning races frequently. He continues to get better. I love getting the chance to race him."
All stats courtesy of Racing Reference.
Like Sportscasting on Facebook. Follow us on Twitter @sportscasting19 and subscribe to our YouTube channel.
Got a question or observation about racing? Sportscasting's John Moriello does a mailbag column each Friday. Write to him at [email protected].