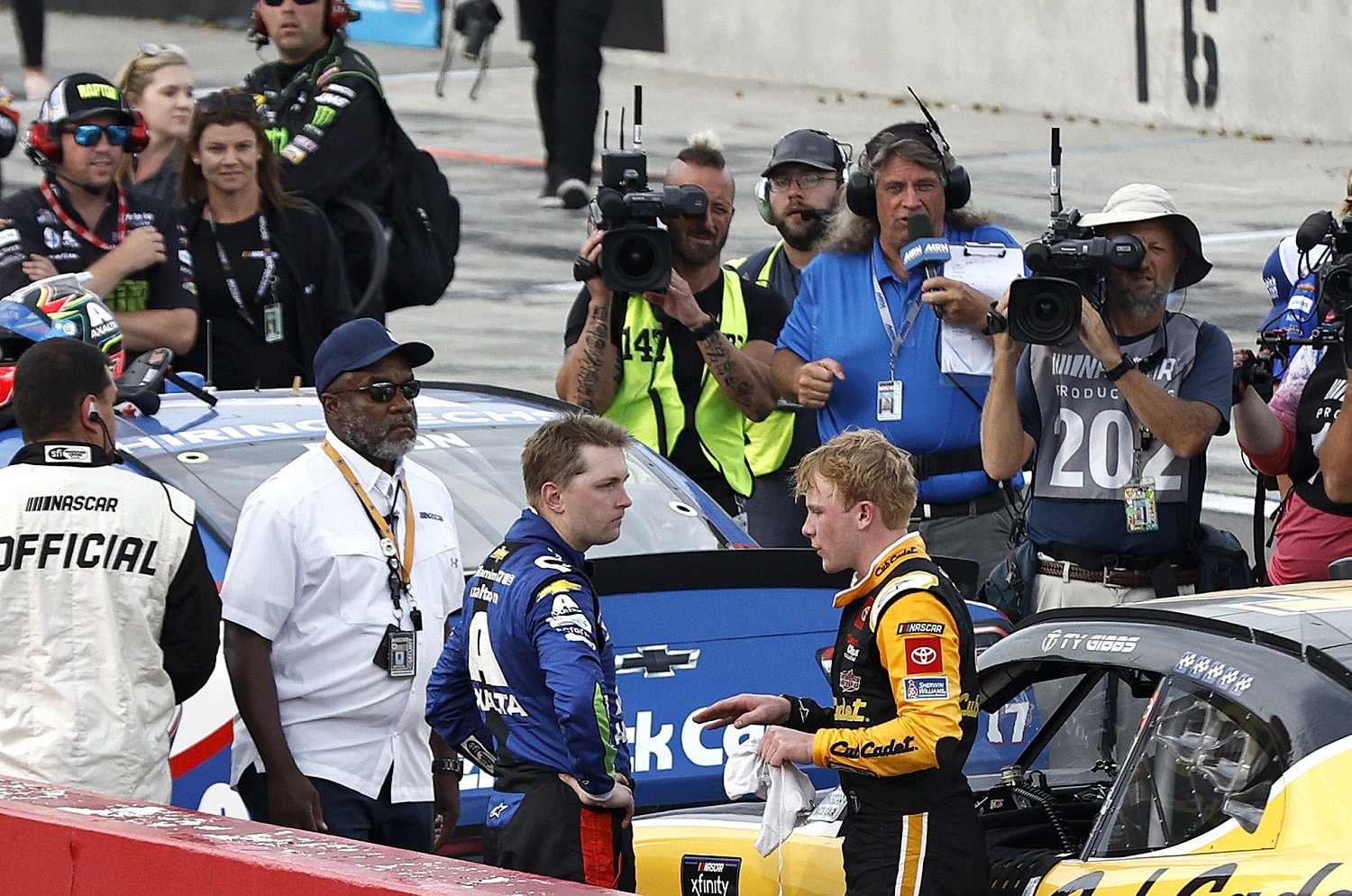 Ty Gibbs Caused Himself More Pain Than William Byron Could Have Inflicted After a Bonehead Move
Ty Gibbs' muscle move late in the Watkins Glen Xfinity race backfired, taking him and William Byron out of contention.
Just to be clear, Ty Gibbs and William Byron are incapable of conducting the male equivalent of a cat fight. Gibbs possesses the looks and physique of the JV basketball water boy, and Byron's track record for conduct makes Dale Carnegie look like a street thug.
So, Gibbs vs. Byron would be a kitten fight at best.
But the proverbial cooler heads prevailed Saturday after the NASCAR Xfinity Series race at Watkins Glen, and nothing happened after their on-track incident. Credit Gibbs for realizing he lacked the moral high ground and Byron for comprehending he didn't lose much because of Gibbs' ill-advised muscle move.
Ty Gibbs and William Byron are back in action in Sunday's Cup Series race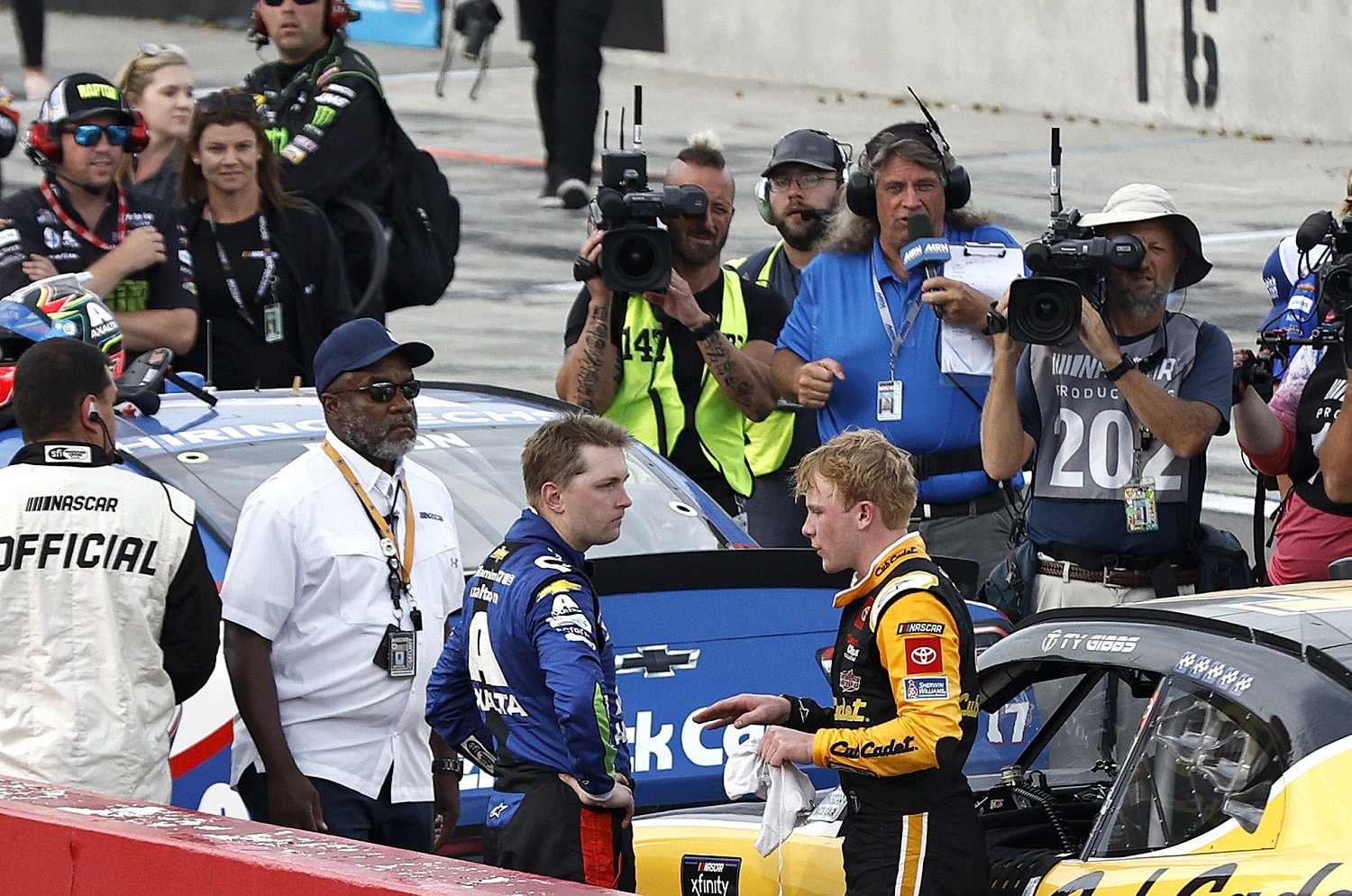 Two drivers among the best in their respective series talked through their skirmish and quickly resolved the situation like gentlemen. Call it situational awareness: Ty Gibbs and William Byron are going to be working in close proximity to each other again on Sunday. If either is harboring ill feelings from Saturday's incident, they've got a couple of hours of track time to get their revenge.
That's one of the quirks of NASCAR, particularly on a road course weekend. Cup Series drivers like Kyle Larson and Ross Chastain often drop in on the Xfinity Series race to reacquaint themselves with the braking zones and racing lines, then race against a totally different field on Sunday.
In this instance, William Byron hopped into an Xfinity car on Saturday for a race in which Ty Gibbs was hoping to make up ground on AJ Allmendinger in the points race while also pulling away from Justin Allgaier and Noah Gragson with playoff points at stake.
However, Gibbs will be driving in Sunday's Cup Series race in his ongoing role as Kurt Busch's substitute. Byron will be looking for playoff points from the race while also trying to pass Kyle Busch and Kevin Harvick in the season standings for even more points once the playoffs start.
Ty Gibbs and William Byron went at it at Watkins Glen
The results in Saturday's NASCAR Xfinity Series race showed William Byron in 25th place and Ty Gibbs in 27th, which didn't reflect actual performance. They traded leads in the first 16 laps, and each had additional stints out front later in the scheduled 82-lap event at Watkins Glen.
Coming off a restart with five laps to go, Gibbs and Byron raced just about side-by-side for half a lap until Gibbs' Toyota could no longer hold its line on the inside position on the inner loop. He sideswiped Byron's Chevy, and both slid off the course as the rest of the field roared past and eventual winner Kyle Larson took the lead.
Gibbs' stubbornness was ill-advised, but he accepted the blame.
"Going into the bus stop two-wide definitely not ever works," he conceded. "But I felt like I had to do it. I didn't want to pull by and let him win. I felt like that was my only shot because I feel like we were both equally fast and I feel like letting him by, I'm gonna lose that gap in the bus stop and I don't know if I'm ever gonna get that back for the rest of the race."
Said Byron: "He tried to match me into there and I still kind of felt like I gave him a lane on the curb. But he got in the dirt and once he got in the dirt, he was into my door."
The drivers talked it out immediately afterward
Everyone in the sport remembers Ty Gibbs throwing punches at Sam Mayer after their on-track incident at Martinsville in April, so reporters and photographers rushed in to observe William Byron and Ty Gibbs as they rolled into the pits after the race.
Rather than confrontation, however, there was conversation. In a sense, that wasn't unexpected; Gibbs reined himself in after the incident with Mayer, and Byron is about as non-confrontational as it gets in NASCAR.
Gibbs may have shown bad judgment on the track, but it was strictly in the context of racing hard. Both realized as much, and Gibbs came out the loser because he cost himself 25 valuable points. Byron may have wanted the win, but it didn't cost him points, and first place in Xfinity races doesn't pay nearly as much as it does in the Cup Series.
"I feel like he was very mature in that situation and he could have probably punched me but he didn't," Gibbs said. "But, you know, he's a very, very mature and respectable driver as we've all saw with him coming through the ranks. But it was my fault, and he just came up and asked me and I feel like I respect that. I just was going for the win."
Sunday will be the first chance to see whether both drivers have moved past it.
Like Sportscasting on Facebook. Follow us on Twitter @sportscasting19 and subscribe to our YouTube channel.
Got a question or observation about racing? Sportscasting's John Moriello does a mailbag column each Friday. Write to him at [email protected].