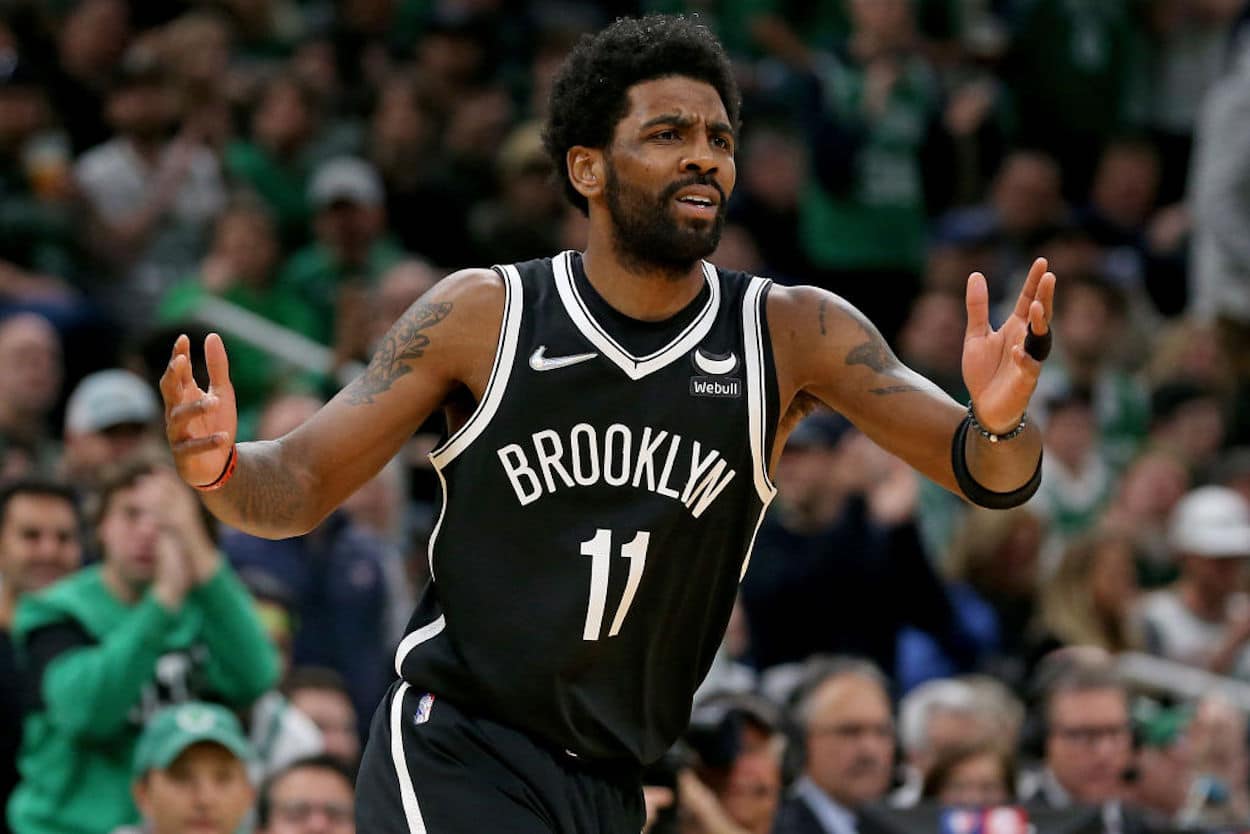 Kyrie Irving's Comments About His NBA 75 Snub Show the Consequences of His Questionable Choices
While Kyrie Irving's latest comment isn't too egregious on its own, it collapses under the sheer weight of his previous missteps.
At this point in the NBA postseason, the Brooklyn Nets are old news. The Eastern Conference club fell at the first hurdle and was swept out of the playoffs. Kyrie Irving and Kevin Durant will have to wait until next year to make another run at the Larry O'Brien Trophy.
While it would be easy for those players to fade into the background and let the on-court action take center stage, that hasn't quite happened. Irving, for his part, recently appeared on The ETCs podcast. So far, that sounds pretty ordinary, right?
Athletes do appear on podcasts all the time, but Irving still managed to do things in his own way. When he addressed his failure to make the NBA 75 squad, the guard suggested that he wasn't upset because he's used to being ostracized. While there's nothing wrong with that sentiment in a vacuum, it will only further his image as an aloof and arrogant star.
Kyrie Irving addressed his NBA 75 snub on a recent podcast
While we've all collectively moved on from the pageantry, the 2021-22 campaign marked the NBA's 75th anniversary. That produced plenty of fanfare, some cool commercials, and a special team made up of the league's top 75 players.
Those sorts of lists are inevitably going to create some disagreement; everyone will have a favorite player or two who they feel should have made the cut. In this case, one of the guys who fell short was Kyrie Irving.
Although there's some room to debate his place in NBA history — supporters can cite Irving's role in the Cavs' 2016 championship run, and critics can contend that most of his individual accolades have dried up — Kyrie explained why he wasn't too bothered by the fact that he missed the cut.
"I'm used to this since seventh grade when I was called a weirdo and sat in the cafeteria by myself," the guard explained (h/t New York Daily News' Stefan Bondy). "I don't mind it. Because along the way I'm going to find my authentic community that accepts me for my greatness."
On the surface, that sounds like a completely normal, if not praiseworthy, comment. No one should place the entirety of their self-worth on public opinion. With that being said, though, the comment just feels different coming from Kyrie Irving.
This comment will be another part of Irving's less-than-ideal public image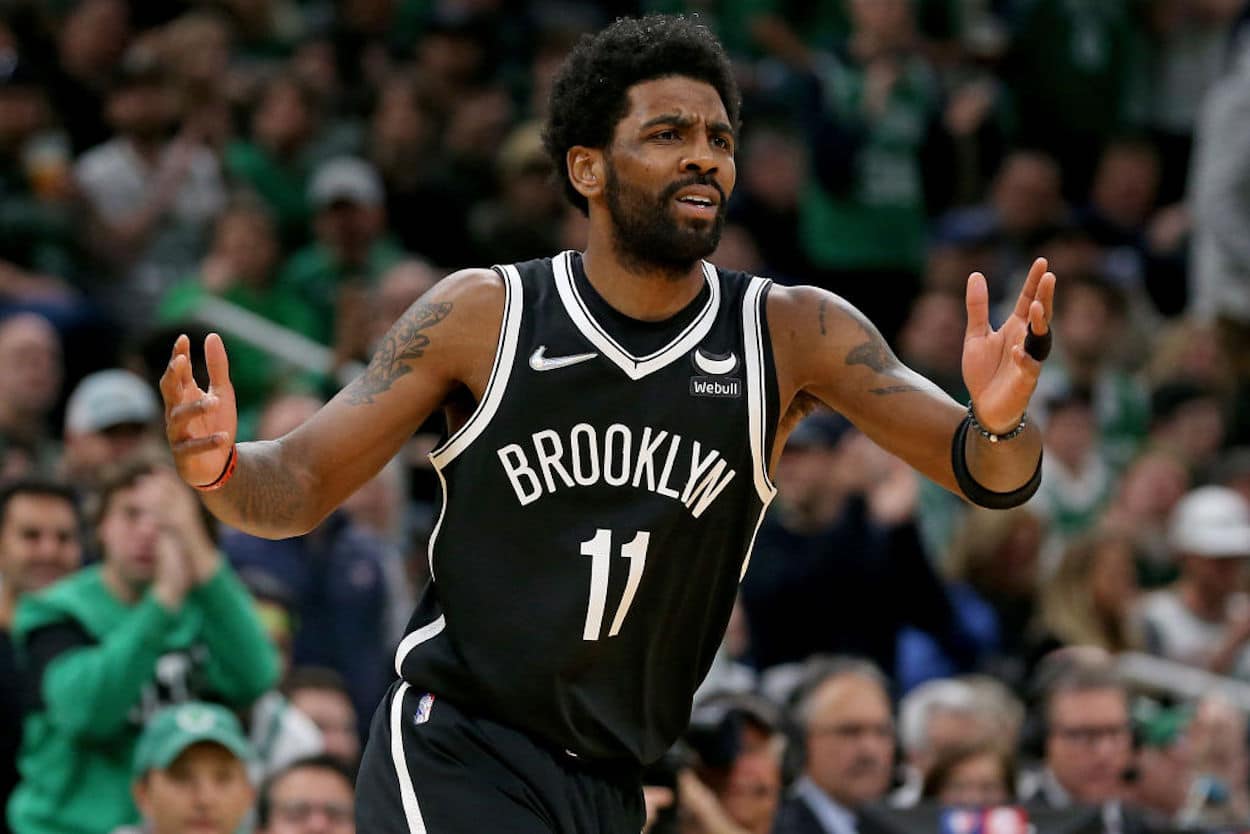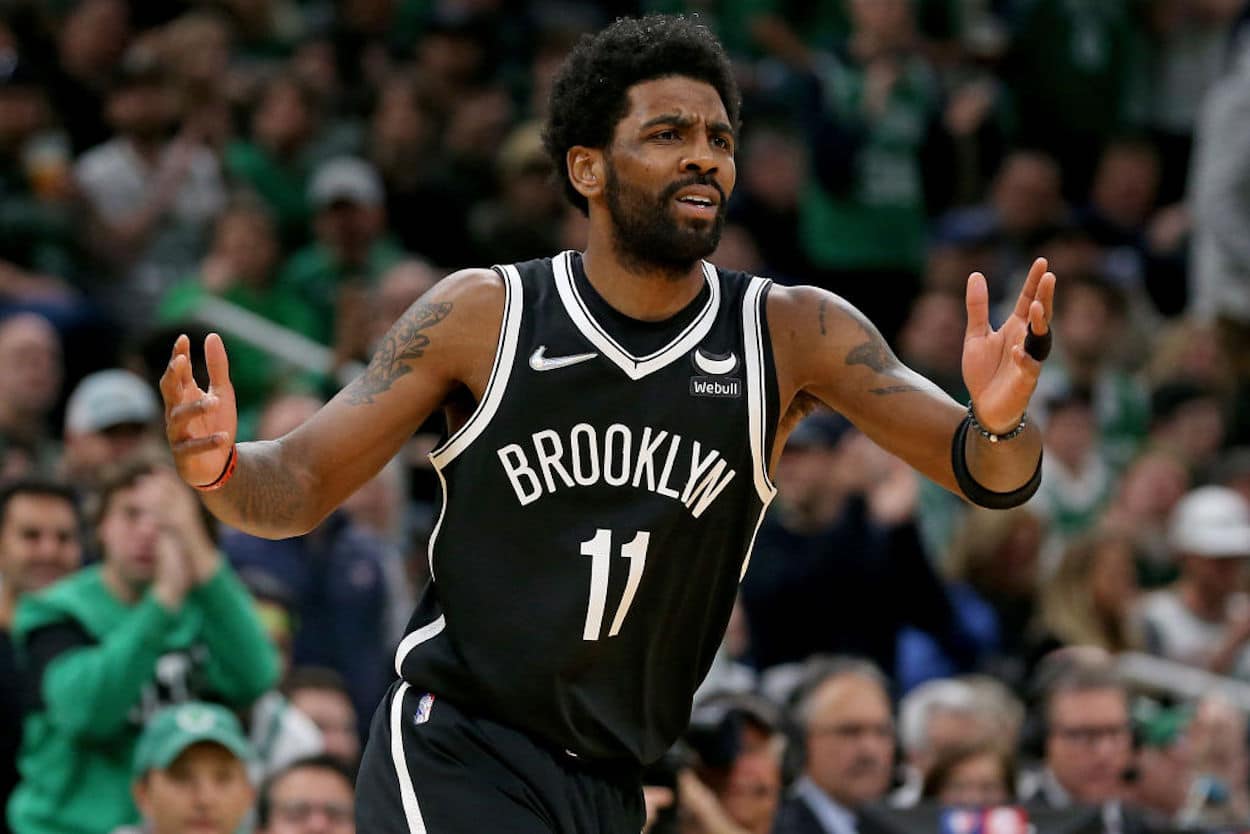 In isolation, Kyrie's comments about finding those who accept him aren't too problematic. When taken within the full context, though, it becomes part of a larger pattern.
During his time in the Association, Irving has developed a reputation as somewhat of a self-centered star. While that's not unprecedented in the world of sports — athletes have to have supreme trust in their own talents — Kyrie usually takes things beyond the court in a way that's damaged his public image.
At one point, the guard infamously claimed the world was flat. As documented in an NBA.com post, that saga kept evolving, with Irving suggesting that he was trying to make a point about how ideas spread on social media, then saying he had done research on both sides of the matter and eventually admitting he should have kept things to himself.
While that's a silly example, it does demonstrate a move Kyrie has broken out on several occasions: making a bold claim, writing it off as something else, and then trying to move on without consequences.
Moving back to basketball, Irving left Cleveland to join the Boston Celtics and, in 2019, left town to join the Nets after teasing a future in Beantown. While that's completely his right, every athlete knows their choices come with consequences. When you talk about hoping fans can move on from feeling aggrieved, that doesn't portray maturity; it sounds like someone unwilling to take face the music and take his metaphorical lumps.
That's all before getting into the entire COVID-19 situation. Irving, of course, refused to be vaccinated and missed a good chunk of the 2021-22 campaign. Beyond the risk to himself and his teammates, it feels somewhat hypocritical to position yourself as a leader within the Nets organization, only to remove yourself from the action under the guise of "freedom."
While all of those instances are different, there does seem to be a common thread. Irving makes a choice, and when there's blowback, you're the one who's misunderstanding him or otherwise being a bit harsh.
Circling back to Irving's NBA 75 comments
Let's return to Irving's NBA 75 comments through that lens.
Do they feel like he's saying he trusts his own self-worth? Or does it sound like the guard is saying that he is great, and those who really know what they're talking about will appreciate him, and if you don't, that's on you?
You can be the judge of that.
To be clear, I'm not suggesting that Irving stop speaking his mind. If anything, I wish all athletes would be more genuine and open when speaking to the media. However, he has to understand that his current image is largely self-created. At this point, he's lost any benefit of the doubt.
It's one thing to talk a big game and own up to it. It's another to play things close to your chest and be intentionally bland. Either way, those actions have consequences. That's the part Kyrie Irving has failed to grasp. And now, based on his past body of work, he's created a situation in which everything gets viewed through a specific lens.
Is that perfect or fair? Probably not. At this point, though, Irving is the only one who can change it.
According to the Centers for Disease Control and Prevention (CDC), "More than 576 million doses of COVID-19 vaccine had been given in the United States from December 14, 2020, through May 2, 2022. … COVID-19 vaccines are safe and effective."