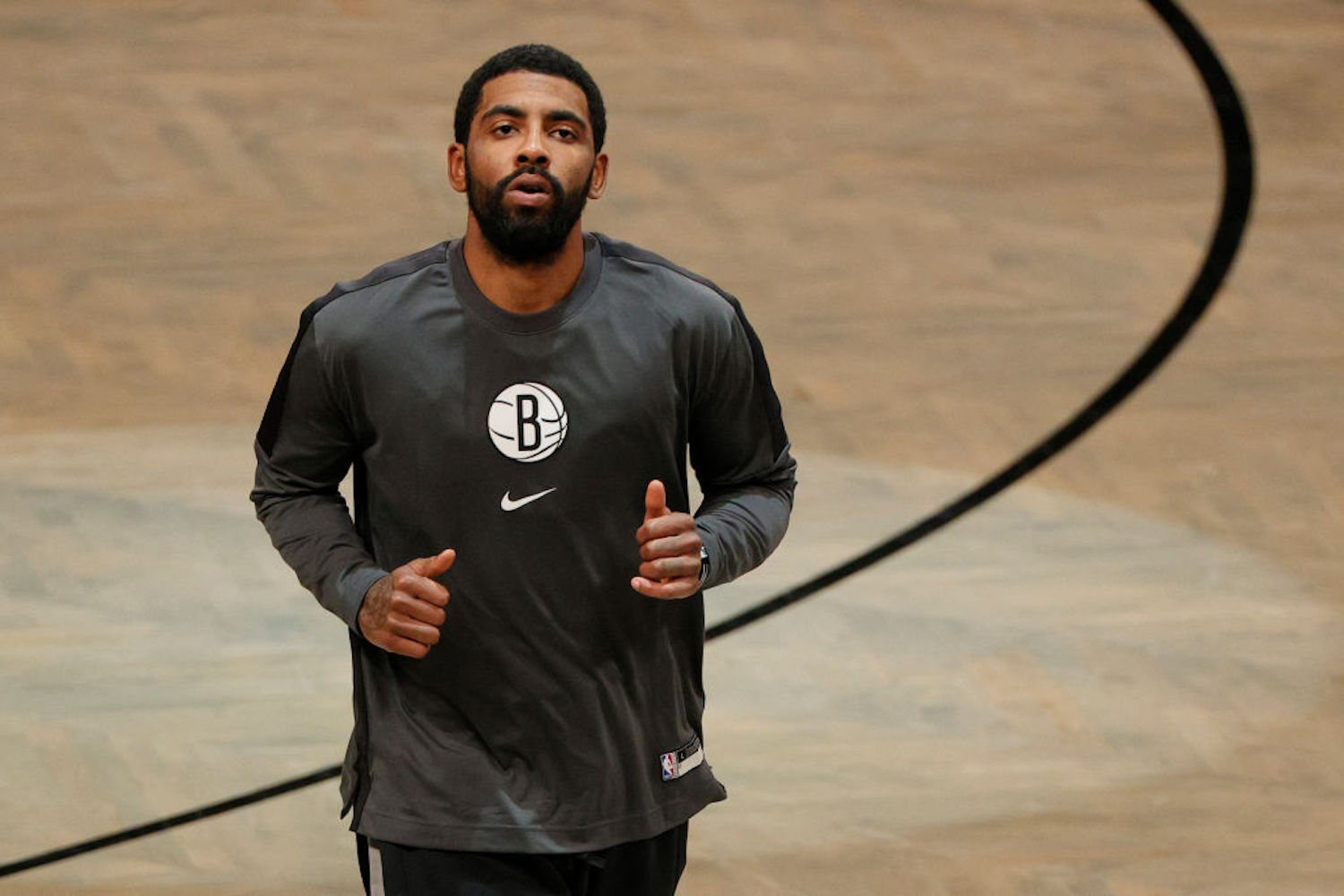 Kyrie Irving Just Got Busted for Partying at a Club After Ditching the Nets for 'Personal Reasons'
Kyrie Irving recently took a hiatus from the Brooklyn Nets for what he called 'personal reasons,' but it turns out he just wanted to party.
Kyrie Irving has had an eventful start to the season with the Brooklyn Nets. He dropped 37 points in a dominant win against the Boston Celtics at the start of the year, but he's gone AWOL in the last week.
After going off the grid and missing the Nets' last three games due to "personal reasons," Irving was caught on camera partying in a club for his sister's 30th birthday. And no, there weren't any masks or social distancing rules being followed. Irving should expect to hear from the league sooner than later.
Kyrie Irving is off the grid
After playing in seven of Brooklyn's first eight games this season, Kyrie Irving inexplicably went missing from the team late last week. Irving failed to show up for the Nets' home game against the 76ers on Jan. 7, and not even head coach Steve Nash knew why.
"I can't really comment because I haven't spoken to him, and it's personal reasons," Nash said that day.
Irving and Nash have been in some sort of contact throughout the last couple of days, though. On Sunday, Nash said he spoke to Irving but doesn't know when he will be back with the team.
"Ky is still on personal leave. All the communication between Ky and the organization I'm going to keep private and I'm sure you'll hear from him at some point," Nash said.
Irving has now missed three straight games for the Nets during his personal leave of absence, and he's about to miss a fourth on Tuesday night when Brooklyn faces off against the Nuggets. The All-Star guard hasn't spoken to the media or revealed his whereabouts over the past six days.
Kyrie Irving busted for partying at a nightclub
There has been plenty of speculation over the last few days regarding Irving's mysterious disappearance from the Nets. Brian Lewis of The New York Post reported Irving's absence is related to the US Capitol riots that took place last Wednesday, a day before Irving stopped showing up for work.
Late Monday night, rumors started surfacing that Irving has been partying with Drake in Toronto, but there's no evidence to prove that's the case. There is, however, a new video that shows Irving celebrating his sister, Asia's, 30th birthday in a nightclub surrounded by friends and family.
Rob Perez, who works as a host and producer for FanDuel but doubles as an Internet investigator, released a video on Twitter breaking down the Irving footage. Perez determined Irving was partying at a club in his hometown of West Orange, NJ, not Toronto. Irving's father, Drederick, celebrates his birthday on Jan. 11, while Asia celebrates hers on Jan. 12, so the timing makes perfect sense for a family party. All three were spotted in the video dancing together.
Now, celebrating a family member's birthday isn't forbidden by the NBA, but breaking the league's COVID-19 protocol is. And doing so after ditching your team for "personal" reasons? It's not looking good for Irving.
Kyrie Irving should expect to hear from the league office soon
Whenever Irving does decide to come back to work, he'll surely face some sort of punishment from the Nets and/or the NBA. If the viral video does in fact prove that Irving was partying in a club during his hiatus, he was in direct violation of the league's COVID-19 protocol guide.
"While in their team's home market, team personnel will be prohibited from going to bars, lounges or clubs, from attending live entertainment or sports events, from using gyms, spas or pools, or from participating in social gatherings with more than 15 people," the guide states.
Irving should expect to hear from the league office soon, and a fine or suspension could be on the horizon. That is if Irving ever decides to rejoin his team this season.